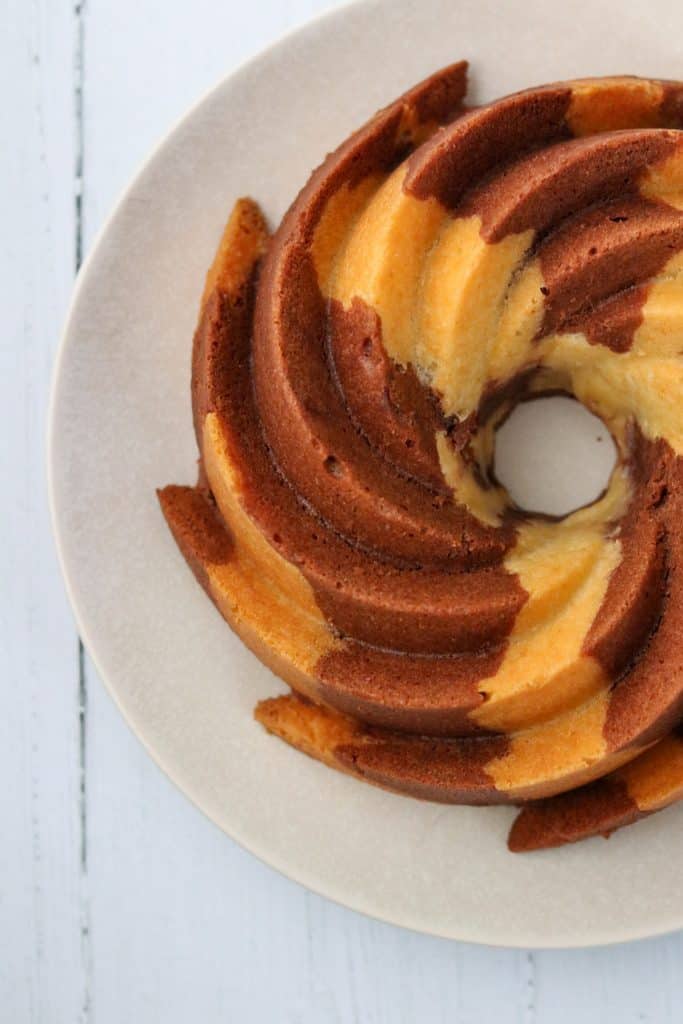 I think you would be hard pressed to find someone who, when asked what their favorite type of cake is, says "marble cake, of course!" Generally something one comes across at a graduation or birthday party, the marble cake seems to be the choice of the indecisive. Hmmm…do I want chocolate or vanilla…how about both? But as we all know, marble cake is not usually the coming together of two delicious flavors into something greater than the sum of its parts. It does have a pretty swirl, though, and does its job of making us feel like we are making everyone happy.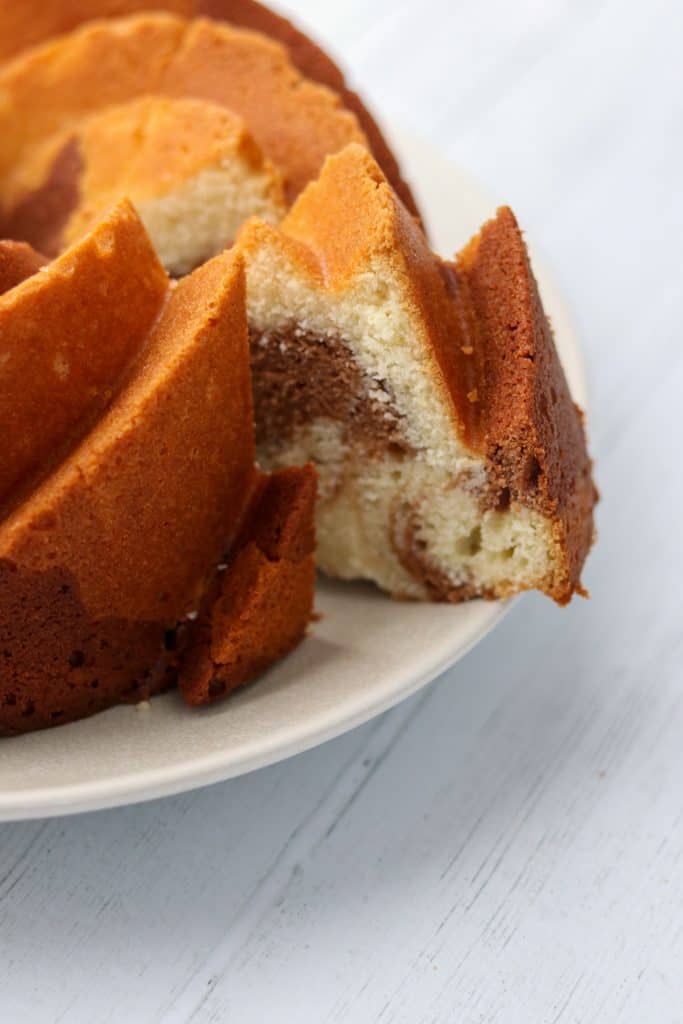 Introducing the Tiger Cake
In the Nordic countries, a marble cake is known as a Tiger Cake. Isn't that charming? Perhaps the poor marble cake just needs a name change and a good recipe to go along with it. I recently set out to make my own version of Tiger Cake, one that was not only beautiful but delicious in its own right. I also wanted my Tiger Cake to be a fika-style cake…..something unfussy and simple enough to make on a lazy weekend morning and pair with an afternoon cup of coffee or tea.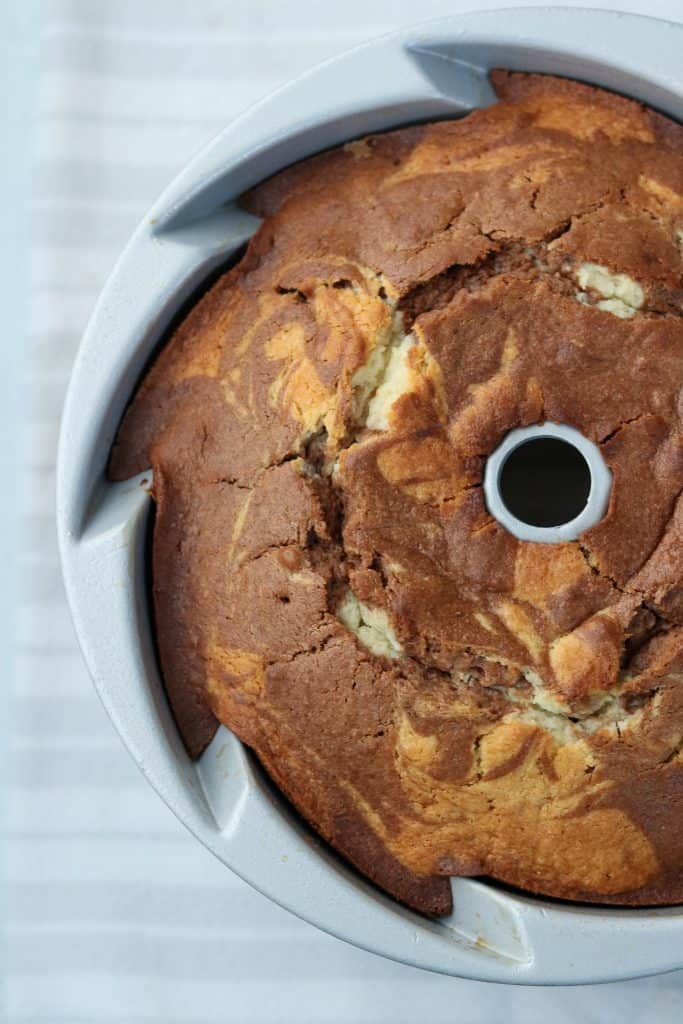 The recipes I found in my research were all quite similar. There was one, however, from an issue of King Arthur Flour's Sift magazine (such a beautiful publication if you haven't seen it), that included almond flour in addition to all-purpose along with a bit of almond extract. I knew I wanted both in my recipe as that touch of almond flavor brings a delightful Scandinavian vibe to any baked good. The almond flour and a bit of sour cream in the batter added much needed tenderness and a moist texture in the final product that is something between a butter cake and a pound cake.
The Bundt Pan Wins
After trying a recipe or two that called for a loaf pan, I quickly decided I wanted to bake my cake in a bundt pan. It adds visual interest and has a way of turning a very simple cake into something special just because of the pan you chose to bake it in.
As far as achieving a "tiger look" with batter, I read a few different theories on the best way to create that marbled appearance In the end I chose to simply alternate spoonfuls of batter in the bundt pan and than swirl a a skewer through it a few times in a figure-8 motion. This did the trick and wasn't overly fussy or time consuming.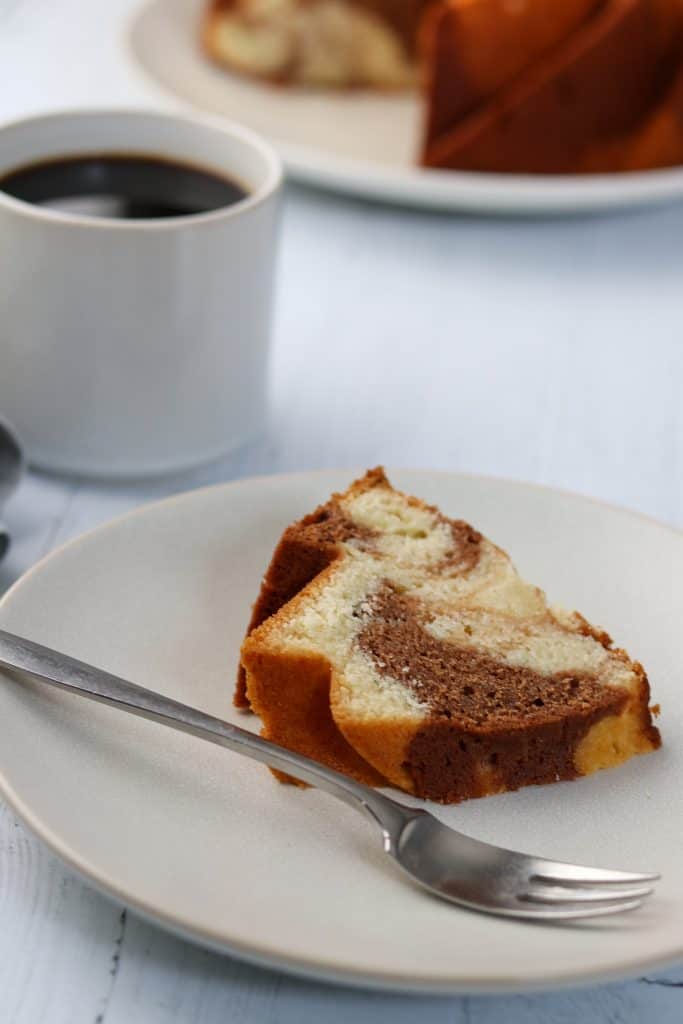 Tips and Tricks for Great Almond Tiger Cake
I've got just a few thoughts for making your Almond Tiger Cake the best it can be:
Use a baking spray rather than greasing and flouring your bundt pan. I've done both, and the appearance of the cake baked in a pan sprayed with baking spray is far superior to that of a greased and floured pan. It can be difficult to prevent flour from settling in the grooves of your bundt pan, and this can lead to unsightly lines of flour in your baked cake. In order to achieve the best appearance possible, go with the baking spray.
Use a bit of almond flour in the batter. There is a wonderful article here at the King Arthur Flour website which discusses the virtues of including a bit of almond flour in your baked goods. It does, indeed, create a tender and moist final product. You will find it in many of the cakes I bake and for good reason.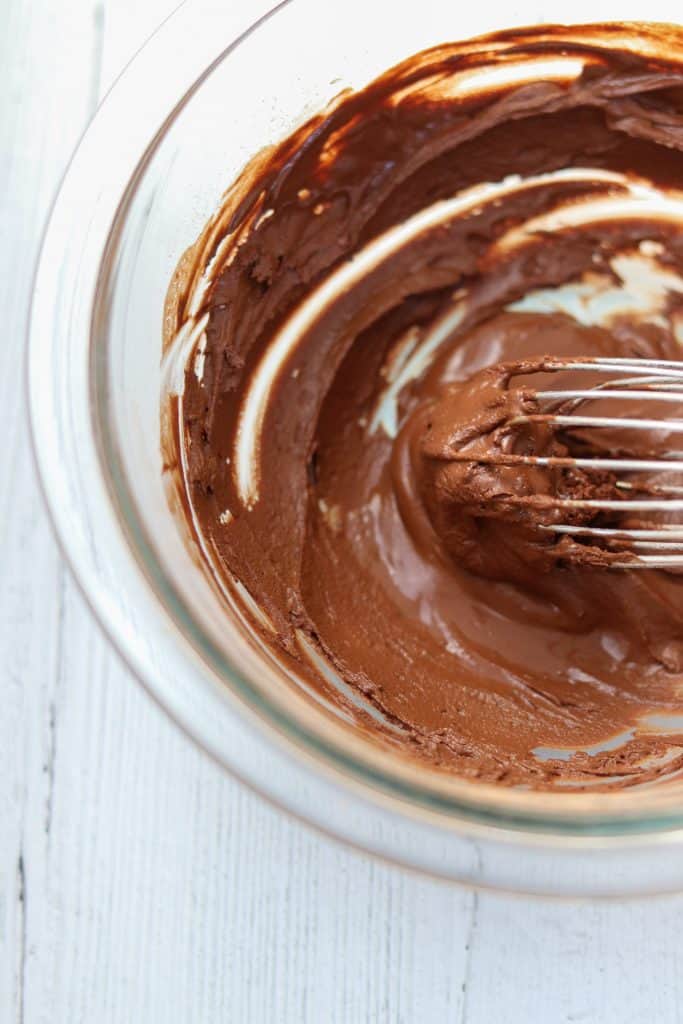 Create a paste with the cocoa powder, espresso powder and hot water prior to folding it in to half of the batter. This helps it come together more quickly and easily than if you simply add the cocoa powder straight to the batter and mix from there. Overmixing is never a good idea as it can toughen the texture of your cake. The more gently and efficiently you can fold the chocolate mixture into the batter, the happier you will be with your final product. And the espresso powder? It will deepen the chocolate flavor without adding any coffee flavor. It really makes a big difference.
Don't overthink the pattern as you alternate spoonfuls of batter in the cake pan. This isn't meant to be perfect, just a charming, haphazard mix of chocolate and vanilla swirled together.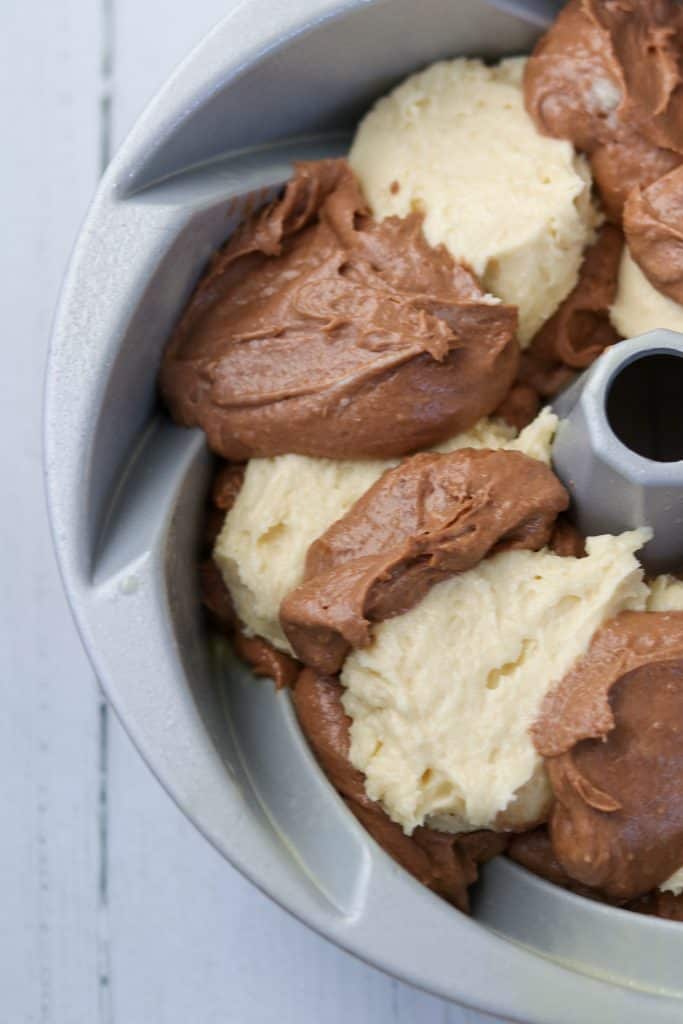 Tap the pan on the counter a few times to help the batter settle and resist the urge to smooth out the top of the batter. This will help create that tiger appearance in the baked cake.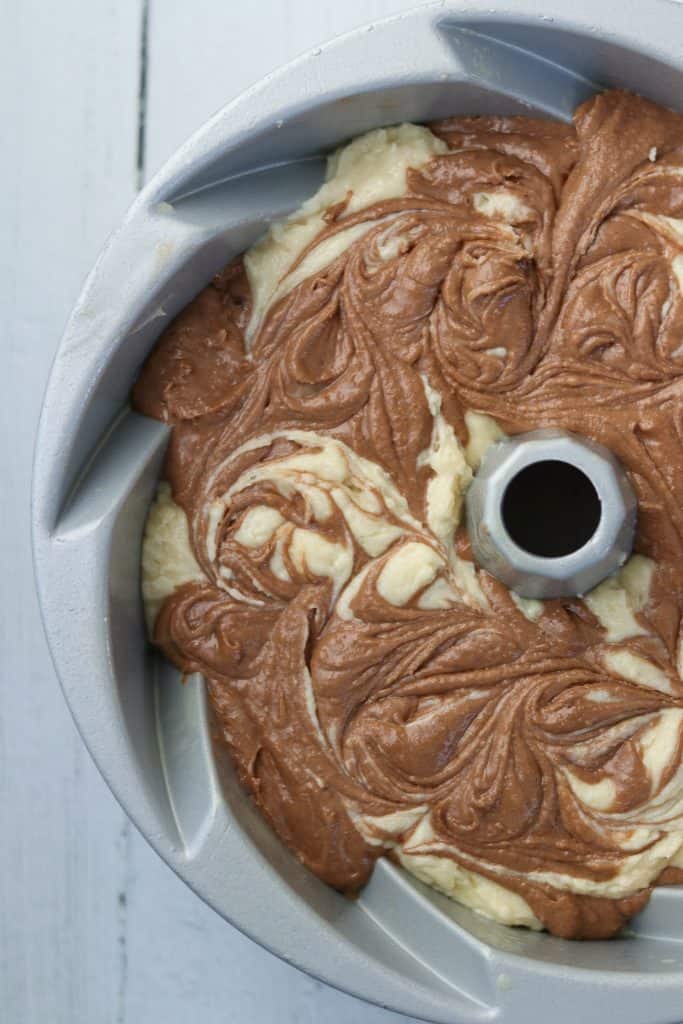 Run a skewer through the batter in a figure-eight motion a few times until swirls begin to appear. Not only will this create the look you are after, it will also help the batter settle without you having to smooth out the top.
Go forth and make this easy and delicious Tiger Cake! This one is worth it, I promise. Who knows? Maybe it will become your new favorite.
Print
Almond Tiger Cake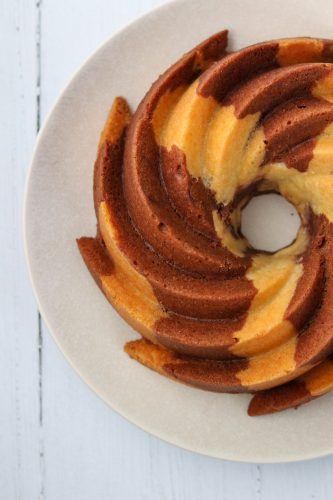 A deliciously moist and tender marble cake made with a bit of almond flour and almond extract.
Author:
Prep Time:

20 minutes

Cook Time:

1 hour

Total Time:

1 hour 20 minutes + cooling time

Yield:

1

9-inch bundt cake

1

x
Category:

desserts, fika

Method:

baking

Cuisine:

Nordic, Scandinavian, Swedish
Scale
Ingredients
3 cups all purpose flour
¾ cup almond flour
2 teaspoons baking powder
1 ¼ teaspoons fine salt
1 cup (2 sticks) unsalted butter, room temperature
2 cups sugar
2 large eggs
½ cup sour cream
2 teaspoons vanilla extract
1 teaspoon almond extract
1 cup whole milk
¼ cup cocoa powder
¼ teaspoon espresso powder
3 tablespoons hot water
Instructions
Preheat oven to 350 degrees.  Spray a 10 cup capacity bundt pan with baking spray (such as Pam for Baking) or, alternatively, grease and flour the pan.  Set aside.

Combine flour, almond flour, baking powder and salt in a medium bowl and whisk together.  Set aside.

Combine butter and sugar in the work bowl of a stand mixer.  Cream together at medium speed until light and fluffy, 2-3 minutes.  Add eggs one at a time, thoroughly mixing between each addition and scraping down the sides of the bowl as necessary.  Add the sour cream and extracts and mix until smooth. Reduce mixer speed to low and add ⅓ of the milk followed by ⅓ of the flour mixture and mix until just combined.  Repeat this process two more times ending with the final ⅓ of the flour mixture.

Transfer about half of the batter to a separate bowl.  Whisk cocoa powder and espresso powder with hot water in a small bowl until a thick paste forms.  Fold cocoa mixture into this batch of batter until consistent in color.

Alternate dropping heaping spoonfuls of the white and brown batters into the prepared pan, creating a checkerboard effect.  Tap the pan on the counter a few times to help the batter settle.

Stick a skewer into the batter and swirl it back and forth in a figure eight motion as you make your way around the pan a few times creating a marbled effect.

Transfer pan to the oven and bake until a skewer inserted in the center of the cake comes out clean, about 55-60 minutes.  Transfer pan to a wire rack and cool for 20 minutes. Invert cake onto a serving plate and cool completely before serving.