Barley Risotto Cakes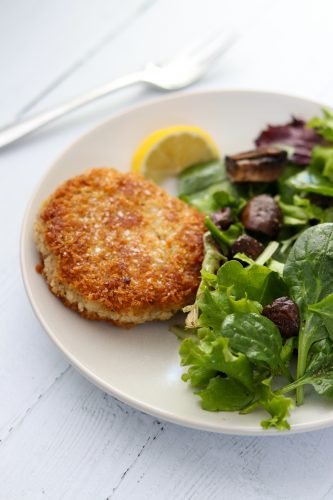 Crispy on the outside, creamy and cheesy on the inside.  These easy Barley Risotto Cakes are a great way to transform leftover risotto into something really special.
Author:
Prep Time:

10 minutes

Cook Time:

8 minutes

Total Time:

18 minutes

Yield:

2 cakes

Category:

lunch, dinner, winter

Cuisine:

Nordic, Scandinavian
Ingredients
1 cup leftover Barley Risotto, chilled
2 tablespoons shredded Danish havarti cheese (mozzarella or Fontina would also be fine)
1 large egg
¾ cup panko bread crumbs
Vegetable oil for frying
Coarse salt for sprinkling
Lemon wedges for serving
Divide risotto into two equal portions.  Form each portion into a 3 inch wide cake.

Make an indentation in the top of each cake with your thumb.  Put 1 tablespoon of cheese inside each indentation and carefully mold the risotto around the cheese, making sure that the cheese mixture is completely encased inside the risotto.

Beat egg in a shallow dish and transfer panko bread crumbs to a second shallow dish.

Coat each cake in egg and then in panko, pressing down on the crumbs so that they adhere to the cakes.

Pour enough oil into a small skillet so that it reaches a depth of about ¼ inch.  Heat oil over medium heat. Add cakes to the pan and reduce heat to medium low. Cook until golden brown and warmed through, about 4 minutes per side.  Transfer cakes to a paper towel lined plate and sprinkle with coarse salt. Serve with lemon wedges.
Keywords: risotto, barley, cakes, easy, crispy