Easy Overnight Danish Rye (Rugbrød)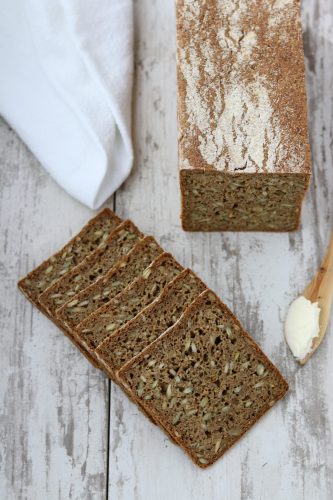 An easy overnight version of classic Danish rye bread with no sourdough.  
Author:
Prep Time:

20 minutes plus 12 hours resting time

Cook Time:

1 hour, 30 minutes

Total Time:

approximately 14 hours, largely unattended

Yield:

One 13 inch loaf

Category:

Bread

Cuisine:

Nordic, Danish, Scandinavian
For the Soaker: 

Combine all the ingredients for the soaker in a medium bowl.  Cover with plastic wrap and let sit at room temperature overnight, approximately 8-12 hours.

For the Dough:  Combine both flours, yeast and water in a separate bowl.  Stir to combine as best you can (mixture will be thick), and then knead briefly with your hands until you have a cohesive mixture.  Dough will be very thick and clay-like in texture. Cover with plastic wrap and let sit at room temperature overnight, about 8-12 hours.

Grease a 13 x 4 inch pullman loaf pan with butter and dust with rye flour, including the lid.  Set aside. Combine the soaker, flour mixture, salt and molasses in the bowl of a stand mixer. Fit mixer with paddle attachment and mix on low speed for 2-3 minutes until everything is thoroughly combined, scraping down the sides of the bowl from time to time.  Increase speed to medium and mix for an additional 2-3 minutes, stopping to occasionally scrape down the sides of the bowl. Mixture will be quite sticky.

Transfer the dough to the prepared pan.  Smooth out the top and sift a thin layer of rye flour over the surface of the dough.  Place lid on pan and let the dough rise for 1½ -3 hours at room temperature or until it is about ½ inch from the top of the pan.  The time that it takes for your dough to rise will largely depend on the temperature of the dough and your kitchen.

Meanwhile, preheat oven to 500 degrees.  Bake loaf with the lid on for 15 minutes.  Reduce temperature to 400 degrees and continue to bake, covered, for an additional 15 minutes.  Remove pan from oven and carefully slide the lid off. Reduce temperature to 325 degrees and bake, uncovered, for an additional 45 minutes.  Remove from the oven and immediately turn loaf out onto a metal cooling rack set inside a rimmed baking sheet.  Return bread to the oven for an additional 10 minutes.  Remove from the oven and allow the bread to cool completely before slicing, at least 3 hours. Rye bread is even better a day after baking.  If you can wait until the following day, let the bread sit uncovered at room temperature overnight before slicing.  The bread will keep at room temperature for 3 days loosely wrapped in foil. Freeze for longer storage.
Notes
Rugbrød is traditionally made with rye chops, uniformly cut pieces of rye grain.  They are available through King Arthur Flour's online store at www.kingarthurflour.com.  Because rye chops are difficult to find, I call for using a whole grain hot cereal mix such as Bob's Red Mill's 7 grain cereal mix.  These mixes contained a variety of coarsely milled whole grains, including rye, and make a fine stand in for rye chops.
Adapted from The New Nordic by Simon Bajada
Keywords: Danish, rye, bread, rugbrød, smørrebrød, Scandinavian, Nordic