Golden Beets with Arugula, Lightly Pickled Shallots, Rye Berries and Herbed Skyr Sauce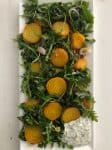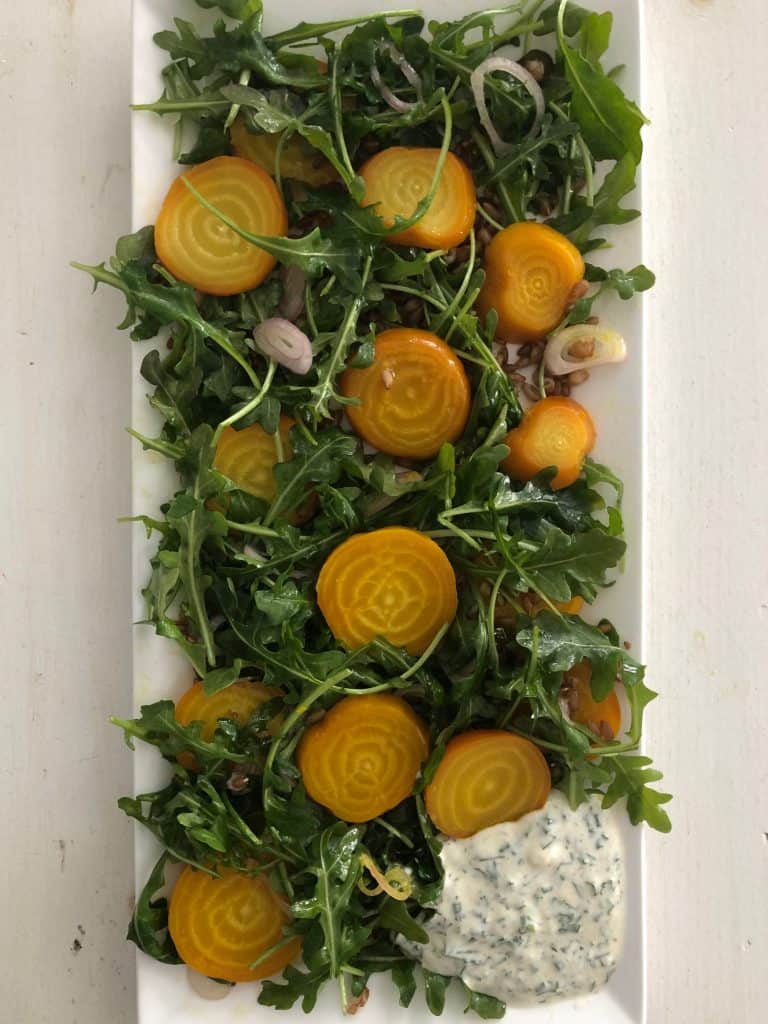 A beautiful combination of roasted beets, rye berries, dressed greens and an irresistible creamy skyr sauce.
Ingredients
½ cup rye berries
1 bunch golden beets, preferably small to medium size
2 small shallots, cut thin into rings
2 tablespoons white wine vinegar
3 tablespoons extra-virgin olive oil, plus more for drizzling on beets
1 teaspoon honey
4-6 cups baby arugula
Coarse salt and freshly ground pepper
Herbed Skyr Sauce for serving
Place rye berries in a bowl with plenty of cold water.  Cover and soak overnight at room temperature.  Drain and rinse. Bring a medium size pot of water to a boil. Add salt.  Add rye berries. Simmer vigorously until grains are pleasantly tender but still have a little bite to them, about 50-60 minutes.  Drain and set aside to cool slightly.

Meanwhile, roast the beets:  Preheat oven to 400 degrees. Wash and trim beets.  Rub with olive oil and place inside a tightly sealed foil pouch.  Roast until the beets are tender, about 45-60 minutes. The time will depend on the size of your beets.  Open the foil pouch and set aside to cool. Once the beets are cool enough to handle, use a paper towel to help remove the skins from the beets.  They should slide off quite easily.

Cover shallots with vinegar and set aside for 10 minutes.  Whisk in honey and olive oil. Season with salt and pepper to taste.

Assemble the salad:  Slice beets into wedges or circles.  Sprinkle with a little salt and pepper.  Toss arugula and ½-¾ cup of the cooked rye berries with the dressing and the shallots (you will have leftover rye berries).  Season with more salt to taste if necessary. Artfully arrange on a platter with beet slices. Place a large dollop of Herbed Skyr Sauce on the platter.  Serve.
Notes
Feel free to substitute red beets for for the golden beets.
This would make a lovely mason jar salad to bring with you on the go!  Layer the cooked rye on the bottom, then the beets, then the arugula. Package the dressing and skyr sauce seperately.
Keywords: beets, salad, rye, Icelandic yogurt, skyr