Nordic Lemon Wafers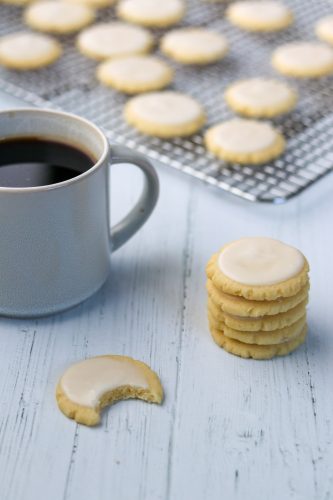 The perfect lemon cookie for afternoon fika…buttery and tender with just the right amount of lemon flavor and covered in a light cream cheese glaze to finish things off just right.
Ingredients
1 ½ cups all purpose flour
2 tablespoons cornstarch
½ teaspoon fine salt
¼ teaspoon baking powder
⅛ teaspoon baking soda
10 tablespoons unsalted butter, room temperature
½ cup granulated sugar
2 tablespoons freshly sqeezed lemon juice
1 large egg yolk
1 ½ teaspoons lemon extract
Glaze:
1 cup powdered sugar
1 tablespoon softened cream cheese
2 tablespoons freshly squeezed lemon juice
Pinch of salt
Whisk flour, cornstarch, salt, baking powder and baking soda together in a medium bowl.  Set aside.

Combine butter and sugar together in the bowl of a stand mixer.  Mix on medium speed until light and fluffy, 2-3 minutes, scraping down the sides of the bowl as needed.  Add lemon juice, egg yolk and lemon extract and mix until fully combined. Reduce speed to low and slowly add dry ingredients until dough just comes together.

Wrap the dough with plastic wrap and press into a 6 inch disk.  Refrigerate until firm, at least 1 hour.

Preheat oven to 325 degrees and line a baking sheet with parchment paper.  Remove dough round from the fridge. Working with about a teaspoon of dough at a time, roll dough into a ball between your hands and transfer to the baking sheet, leaving an inch and a half between each cookie.  Flatten each ball with the back of a glass covered in parchment paper (to prevent sticking) until you have a disk that is about ¼ inch thick. Bake for 12-14 minutes or until cookies are firm and just beginning to brown on the edges.  Cool slightly on the baking sheet and then transfer to a wire baking rack to cool completely. Repeat with remaining dough.

Once cookies have cooled to room temperature, whisk glaze ingredients together.  Top each cookie with a small dollop of glaze. Allow glaze to dry before serving, about 15 minutes.
Notes
These cookies freeze nicely, especially if you hold off on glazing until right before you eat them.
Adapted from The Perfect Cookie by America's Test Kitchen
Keywords: lemon, cookie, Nordic, Scandinavian, fika