Raspberry Hazelnut Hearts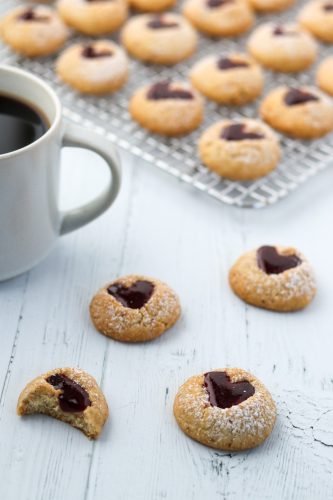 Crispy, hazelnut-y and filled wit raspberry jam, this easy and festive take on the thumbprint cookie is sure to become a year round fika favorite.
Ingredients
¾ cup hazelnuts
1 cup all purpose flour
¼ teaspoon fine salt
8 tablespoons unsalted butter, room temperature
⅓ cup granulated sugar
1 large egg yolk
½ teaspoon vanilla extract
¼ teaspoon almond extract
¾ cup raspberry jam or preserves
Powdered sugar for sprinkling, optional
Adjust oven racks to upper and lower middle positions and preheat oven to 350 degrees.  Place hazelnuts on a rimmed baking sheet lined with parchment paper. Toast in the oven until golden and fragrant, about 10 minutes.  Transfer nuts to a clean kitchen towel and wrap them inside allowing the nuts to steam for a minute or so. Rub the nuts between the kitchen towel to remove the skins (don't worry if all the skins don't come off). 

Transfer toasted hazelnuts to a food processor along with flour and salt.  Process until mixture is finely ground.

Place butter and sugar in the work bowl of a stand mixer.  Mix on medium until light and fluffy, about 3 minutes. Add egg yolk and extracts and mix until fully combined.  Slowly add flour and hazelnut mixture and mix on low until just combined.

Line two rimmed baking sheets with parchment paper.  Drop 12 tablespoons of dough onto each baking sheet and roll each tablespoon of dough into a ball leaving at least an inch and a half of space between each cookie.  Using the flat edge of an eating utensil or rubber spatula, create a deep V shape in the center of each cookie (for heart-shaped thumbprints) or press the back of a rounded teaspoon in the center of each cookie (for traditional thumbprints).

Bake cookies for 16-18 minutes or until golden brown, rotating baking sheets halfway through.  Cool cookies on the baking sheets for 5 minutes and then transfer to a wire rack to cool completely.

Meanwhile, make the raspberry filling.  Heat jam in a saucepan over medium low heat until bubbling.  Pour through a fine mesh strainer and discard seeds. Spoon jam into the center of cooled cookies (or use a squeeze bottle or piping bag for more precision).  Allow jam to set slightly before serving. Sprinkle with powdered sugar if desired.
Notes
Inspired and adapted from Scandinavian Classic Baking by Pat Sinclair, The Perfect Cookie by America's Test Kitchen and the January/February 2020 issue of Martha Stewart Living Magazine.
Keywords: raspberry, hazelnut, cookies, thumbprint, fika, Valentine's Day, heart