Roasted Beet and Raspberry Skyr Parfaits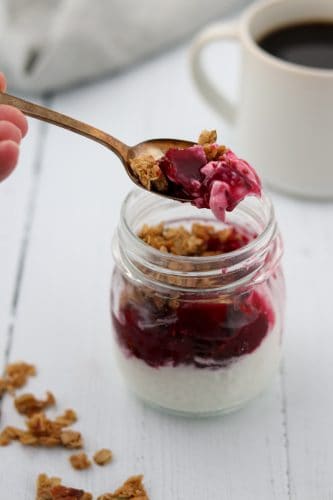 An unusual but delicious Nordic breakfast parfait featuring roasted beets, raspberry preserves and Icelandic yogurt.
Author:
Prep Time:

5 minutes

Total Time:

5 minutes

Yield:

2 parfaits

Category:

breakfast

Cuisine:

Nordic, Scandinavian
Ingredients
¾ cup chopped roasted beets (see note below)
2 heaping tablespoons raspberry jam or preserves
Plain skyr (Icelandic yogurt) or greek yogurt
Nordic Morning Granola (or other granola of your choice)
Toss beets with raspberry jam.

To assemble parfaits, put a generous scoop of yogurt in the bottom of a bowl, glass or jar.  Top with half the beet mixture and a sprinkle of granola. Repeat with second parfait. Serve.
Notes
To roast beets: Preheat oven to 400 degrees.  Place scrubbed and trimmed beets on a piece of aluminum foil and rub oil over them with your hands.  Sprinkle with salt and wrap tightly inside foil. Transfer foil packet to a baking sheet. Bake until beets are tender (you should be able to insert a knife into the beet with little resistance), about 45 minutes to an hour.  Larger beets will take longer to cook than smaller ones. Remove beets from the oven. Once they are cool enough to handle, rub the skins off using a paper towel. Cut each beet into ½ inch cubes.
Keywords: beets, raspberry, parfait, skyr, yogurt, granola