Swedish 75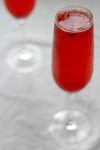 A gorgeous and delicious lingonberry-infused champagne cocktail.
Scale
Ingredients
3 tablespoons fresh lemon juice
6 tablespoons gin
2 tablespoons lingonberry jam
Ice cubes for shaking
½ cup dry sparkling wine, chilled (I use Italian Prosecco from Trader Joe's)
Frozen lingonberries or a twist of lemon peel for garnish (optional)
Instructions
Combine lemon juice, gin and lingonberry jam in a cocktail shaker with plenty of ice.  Shake vigorously. Strain into a champagne flute and top with sparkling wine. Garnish with lingonberries or lemon peel if desired.  Serve.
Keywords: French 75, sparkling wine, champagne, lingonberries, lingonberry jam, cocktail