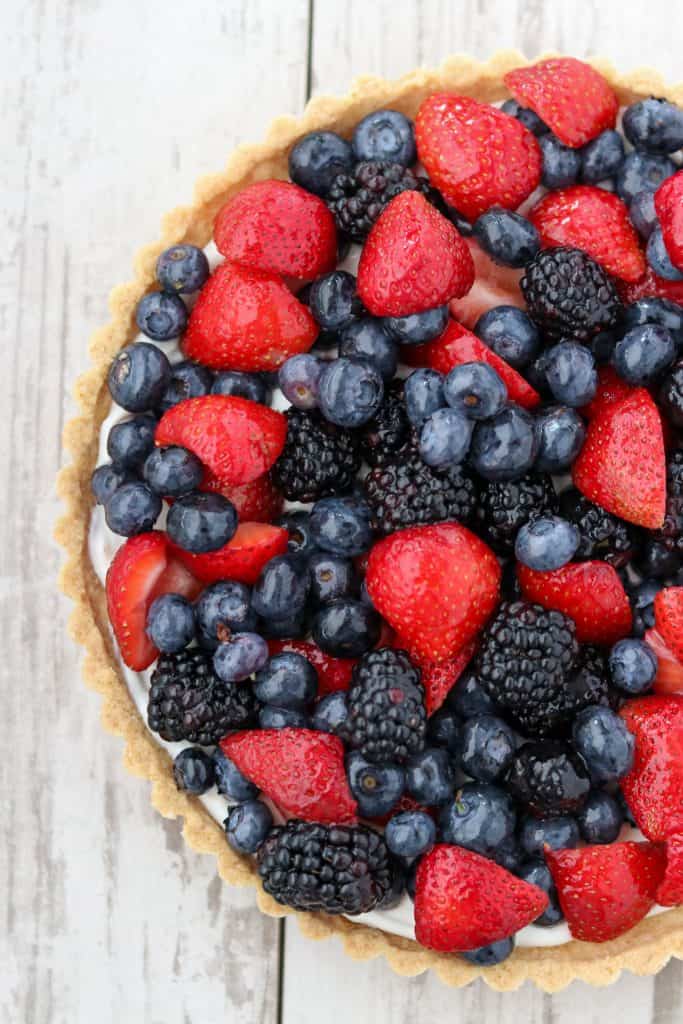 What is Skyr?
Skyr (pronounced skeer) is a dairy product that has been an important part of Icelandic food culture for over a thousand years. Here in the United States, it is often marketed as the Nordic answer to Greek yogurt. In Iceland, however, skyr as technically considered a fresh cheese, something like quark, because of the addition of rennet in the recipe. Most commercial brands no longer use rennet to make skyr, just particular strains of probiotics that are unique to the product, and different from those used to make yogurt. Skyr is also strained, much like Greek yogurt is, which helps give it a thick, creamy texture and high protein content. It takes 4 cups of milk to make 1 cup of skyr.
How to Enjoy Skyr
There are many ways to enjoy skyr. It makes a nutritious accompaniment to your morning granola and fruit. Or stir in a little lemon juice, garlic and fresh herbs to make a savory sauce to pair with roasted vegetables or a bowl of cooked lentils. In Iceland, they serve it for dessert with sugar, fresh berries and drizzled with cream. This may seems strange in a dairy-on-dairy kind of way, but skyr is naturally low in fat and pairs deliciously with a little full-fat cream poured over the top. Just don't stir it all together before you eat it....the point is to have a little cream and a little skyr in each bite, distinct from one another.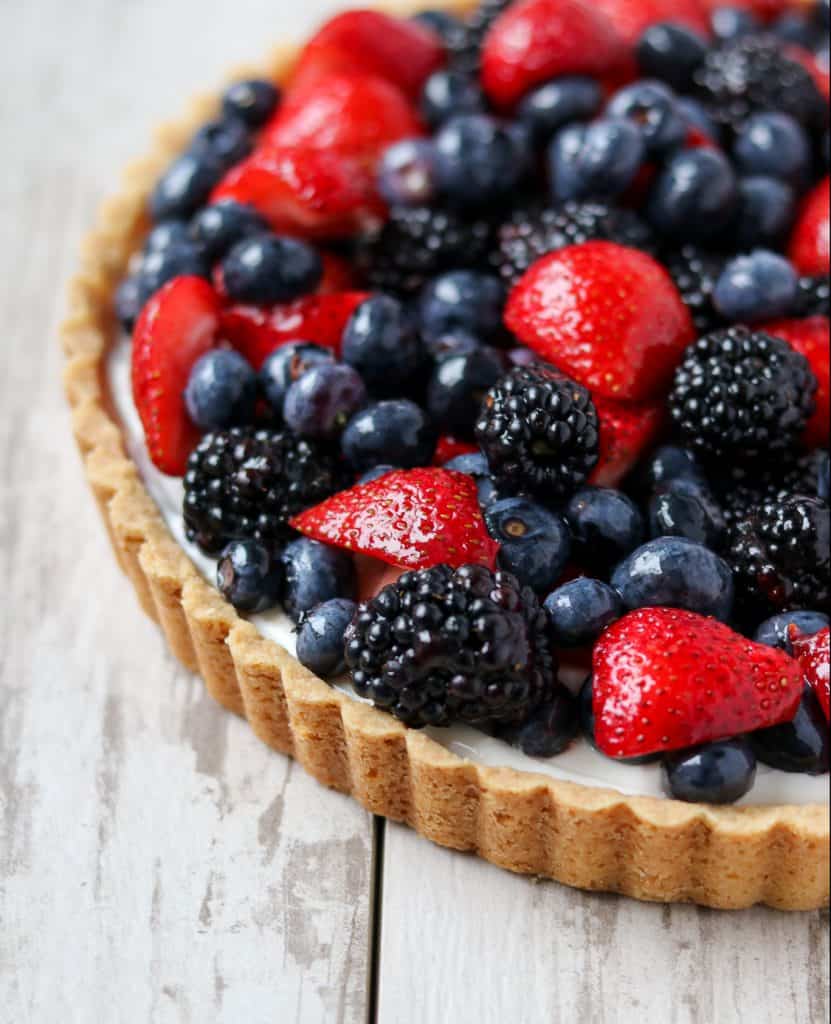 This tart is perhaps the most beautiful way to enjoy your skyr....a buttery, crisp crust filled with a combination of skyr and cream cheese and topped with heaps of fresh summer berries. It is a stunning and delicious dessert for any summer occasion (4th of July, perhaps?) and is incredibly simple to put together. This is just the thing to bring to the neighbor's barbecue or the family picnic....it's an eye-catcher even before you take the first bite. I promise, there will be praise and accolades. You will be recognized as the amazing Nordic Kitchen God or Goddess that you are. While it's best served chilled on the day it is made, I will happily eat the leftovers of this tart for at least a day or two afterwards, oftentimes as an unconventional breakfast.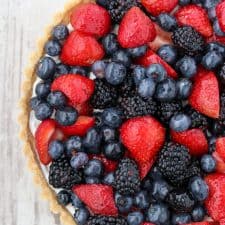 Summer Skyr Tart with Fresh Berries
A fresh, easy and gorgeous summer berry tart with a skyr and cream cheese filling.
Print
Pin
Rate
Servings:
8
servings (one 9-inch tart)
Ingredients
For the Crust:
1 ¼

cups

all purpose flour

⅓

cup

granulated sugar

½

teaspoon

fine salt

½

cup

unsalted butter

chilled and cut into ½ inch pieces
For the Filling:
4

ounces

cream cheese

room temperature

1

cup

skyr

Icelandic yogurt, set at room temperature for about an hour

¼

cup

sugar

4

cups

mixed strawberries

blueberries and/or blackberries

¼

cup

strawberry natural fruit spread or jam
Instructions
Preheat oven to 350 degrees.  Process flour, sugar and salt together in a food processor until just combined. Scatter butter pieces over the top.  Process until mixture has a sandy texture, about 12 long pulses. Turn dough out into a

9 inch round tart pan with a removable bottom

.

Press dough into an even layer over the bottom and up the sides of the tart pan creating a crust.  Flour the bottom of a metal measuring cup and press it over the bottom and sides of the crust to help even everything out.  Freeze tart shell for 15 minutes.

Prick the bottom of the crust several times with a fork.  Place tart pan on a baking sheet and bake until golden brown, about 25-30 minutes.  Check on the crust occasionally to ensure that it isn't puffing up. If it is, gently press it down with a fork or wooden spoon.  Allow tart shell to cool completely in the tart pan.

Make the filling:  Combine cream cheese, skyr and sugar in a stand mixer fitted with a paddle attachment.  Mix on medium speed until filling is fully combined and slightly increased in volume, about 3 minutes.

Transfer filling to cooled tart shell (continue to keep the tart shell in the pan. The crust can be delicate and the pan will help support it while you are going through the process of filling it).  Even out the filling with an offset spatula.  

Warm jam for about 30 seconds in the microwave until it becomes liquid.  Strain through a fine mesh strainer. In a large bowl, gently toss mixed berries with strained jam.

Carefully spoon berries on top of tart filling.  Lightly cover with plastic wrap or invert a plastic container over the top of the tart and chill for at least an hour or up to 6 hours. Leave in pan until just before serving.
Notes
If you can't find skyr, Greek yogurt can be used in its place.
Nutrition
Calories:
345
kcal
|
Carbohydrates:
44
g
|
Protein:
6
g
|
Fat:
17
g
|
Saturated Fat:
10
g
|
Cholesterol:
47
mg
|
Sodium:
206
mg
|
Potassium:
194
mg
|
Fiber:
2
g
|
Sugar:
25
g
|
Vitamin A:
554
IU
|
Vitamin C:
43
mg
|
Calcium:
61
mg
|
Iron:
1
mg