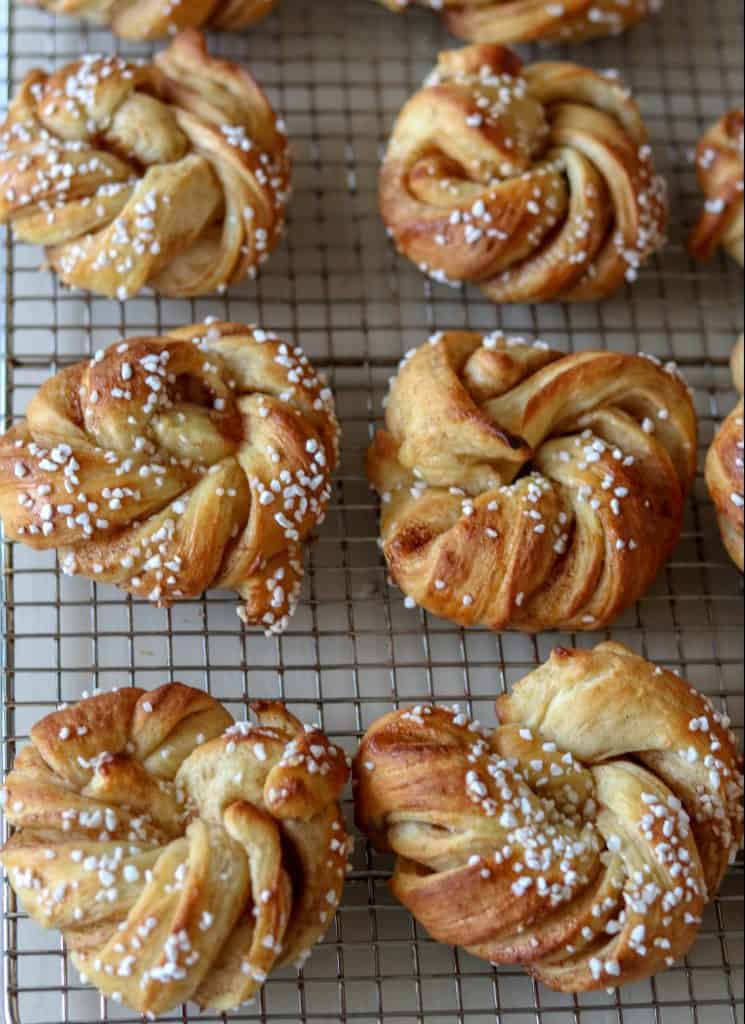 I am an idealist by nature. Someone once told me after I had taken a personality test that my particular type liked the idea of something better than the thing itself. YES. Exactly. What does this have to do with Swedish Cinnamon Buns, you might ask? Well, as my personality might suggest, I have a very romantic notion about what a good cinnamon bun should be. The icon of fika treats, the perfect cinnamon bun should be billowy soft on the inside and laced with a touch of cardamom and a decadent swirl of cinnamon and sugar. It should be twisty and golden brown on the outside, showered generously with crunchy pearl sugar. Oh, and did I mention they should be relatively straightforward and easy to make? This is meant to be a simple homemade fika treat, not a two day bakery-style affair.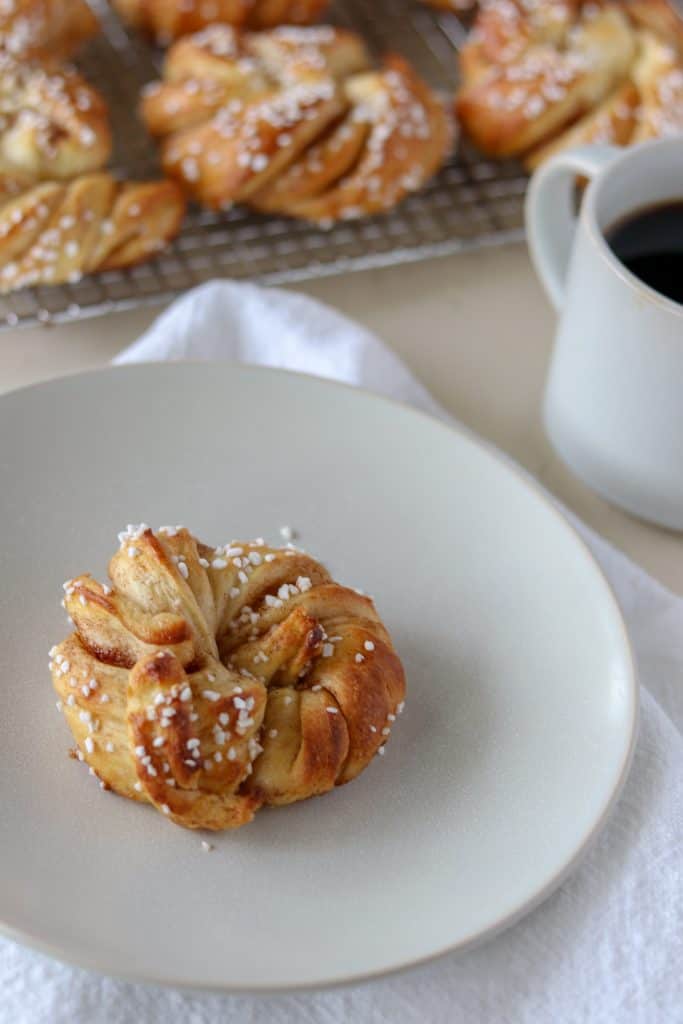 I've made several cinnamon bun recipes at home over the years and to be honest, none of them have really come close to what I really longed for them to be. Sure, they weren't bad straight out of the oven, but they were never as tender as I had hoped and quickly became tough and stale as they cooled. And then there is the matter of the heavy-handed cardamom. I know some of you can't get enough of the stuff, and many of the recipes I tried called for up to two full teaspoons of cardamom in the dough itself AND additional cardamom in the filling along with the cinnamon. Personally, I just want a hint of it. Just enough to let me know it's there.
Fortunately for you, I decided to channel my idealistic tendencies and demanding nature into something constructive and downright delicious: Creating MY ideal Swedish Cinnamon Bun. I began by researching several of the basic recipes out there. I found them to be very similar in nature…melted butter, milk, maybe an egg, yeast, flour, a bit of sugar (not too much, these are not meant to be overly sweet), salt and cardamom and a filling of butter, cinnamon and sugar that may or may not contain additional cardamom. There were a couple of recipes that swapped out buttermilk for the milk. I decided to start there, hoping that the acidic buttermilk would result in a more tender bun. This batch wasn't bad, but they were by no means "billowy" and they aged quickly becoming dry within the first 12 hours of baking. Back to the drawing board.
I thought about playing around with the kind of flour I was using, maybe adding a portion of oat or pastry flour to reduce the amount of gluten in the dough which I thought might bring about a more tender result. But this was defeating the idea of simplicity. I liked that these buns were made with ingredients that I was likely to just have around the kitchen on any given day. I wanted to avoid speciality flours and overcomplicating the ingredient list.
I went back to my research and found a recipe from King Arthur Flour for Soft Cinnamon Rolls. Promising! This particular recipe used a Japanese bread-making method called tangzhong which they claimed would result in exceptionally soft cinnamon rolls that would STAY soft for a couple of days. Yes, please. I began researching the technique itself. Basically, a small amount of the flour and liquid (water, milk or a combination of the two) is cooked on the stove for a very short period of time creating a roux-like mixture. This process gelatinizes the starches in the flour allowing them to absorb more liquid and results in a higher rise (hello billowy buns!) and a more tender, moist bun that stays that way for a longer period of time.
I practically ran to the kitchen with my original recipe in hand. I ditched the buttermilk idea. I cooked a modest amount of water, milk and flour on the stove until it thickened like a roux and set it aside to cool while I assembled the remaining ingredients. With a few more minor adjustments to accommodate for the additional liquid, I mixed the dough adding the cooled roux. The dough itself was silky and smooth, a dream to work with. I folded in my filling, twisted my buns into a pretty shape and slid them hopefully into the oven. 12 minutes later, the most AMAZING cinnamon buns emerged. I could hardly believe it was nearly the same recipe with the simple addition of the tangzhong. Seriously friends, this technique is a game-changer. The rolls were just as I had imagined them….soft, tender and billowy with the golden brown crust of my dreams and just the right amount of cardamom. Sometimes being an idealist has its advantages. And now I have the perfect Swedish Cinnamon Bun recipe to prove it.
Print
Swedish Cinnamon Buns
Billowy soft Swedish Cinnamon Buns that are absolutely worth making.
Author:
Prep Time:

25 minutes + 45 minutes to roll and shape rolls + 1 hour and 45 minutes rising time

Cook Time:

12-14 minutes

Total Time:

3 1/2 hours (largely unattended)

Yield:

12 buns

Category:

fika, baking

Method:

baking

Cuisine:

Swedish, Scandinavian, Nordic
Ingredients
For the Tangzhong:
5 tablespoons water
5 tablespoons whole milk
3 tablespoons all-purpose flour
For the Dough:
5 tablespoons melted unsalted butter, cooled
½ cup whole milk, slightly warm
2 teaspoons instant yeast
¼ teaspoon cardamom seeds, removed from the outer pod and crushed in a mortar and pestle or spice grinder OR ½ teaspoon ground cardamom (optional)
1 teaspoon fine salt
¼ cup granulated sugar
3 cups + 2 tablespoons all-purpose flour
1 large egg
All of the tangzhong, cooled
For the Filling:
5 tablespoons soft unsalted butter
1 teaspoon all-purpose flour
Pinch of fine salt
3 tablespoons packed light brown sugar
2 teaspoons ground cinnamon
For the Egg Wash and Topping:
1 large egg
1 tablespoon water
Pearl sugar for topping
Instructions
Make the tangzhong: Combine water, milk and flour in a medium saucepan.  Whisk until combined and no lumps remain. Place saucepan over medium heat and cook mixture, whisking constantly, until it thickens, about 1-2 minutes.  Set aside to cool.

Make the dough:  While the tangzhong is cooling, begin preparing the rest of the ingredients for the dough.  If you haven't already, melt the butter and warm the milk to give them a chance to cool slightly.  Combine yeast, cardamom (if using), salt, sugar and flour in the bowl of a stand mixer. Whisk briefly by hand to combine.  

Attach the dough hook to the mixer.  Add melted and cooled butter, slightly warm milk, egg and the cooled tangzhong (it can be slightly warm to the touch) to the dry ingredients.  Mix on medium low until fully combined, scraping down the sides of the bowl as necessary.

Increase mixer speed to medium and knead mixture for 4 minutes or until dough is smooth and clears the side of the bowl.  It's okay if it's sticking to the bottom of the bowl. You can also mix and knead the dough by hand but it will take longer, more like 8-10 minutes.

Cover bowl with plastic wrap and allow the dough to rise for an hour or until 1 ½ or 2 times its original size.  The time will largely depend on the temperature of your kitchen.

In the meantime, make the filling.  Combine butter, flour, salt, brown sugar and cinnamon in a medium bowl.  Using a fork, mix ingredients together until a smooth, spreadable paste forms.

Once the dough has risen, preheat oven to 425 degrees.  Line two baking sheets with parchment paper. Remove the dough from the bowl and place it onto a clean countertop.  Roll out with a rolling pin until it is in the shape of a rectangle that is about 16 by 20 inches in size. The dough should be smooth enough that you do not need to add flour during the rolling process. If yours is sticking the rolling pin, however, sprinkle a little flour over the dough as necessary to prevent this from happening.  

Using an off-set spatula, spread filling in a thin layer over the entire surface of the dough. 

Fold the dough like a business letter going the long way:  bring the top third of the dough down over the center third and bring the bottom third up over both the center and top third.  You may need a metal dough scraper to help coax your dough from the counter top if it is sticking. Roll out folded dough just to flatten slightly.

Using your dough scraper, sharp knife or a pizza wheel, cut the folded dough into 12 equal size pieces.

Working with one piece of dough at a time, twist the strip of dough as you hold it between your thumbs and forefingers until it has a nice spiralized appearance.

While you continue to hold the dough in the thumb and forefinger of one hand, use your free hand to wrap the twisted strip of dough around the three middle fingers of the hand that holds the dough strip, tucking the last bit of the dough strip up and through the center of the circle you have just created (see photo below).  Place shaped bun on a prepared baking sheet. Once you have six buns shaped and placed on one of the baking sheets, cover with plastic wrap and set aside. Continue with remaining buns, shaping and placing them on the second baking sheet before covering with plastic wrap. Let covered buns rise for an additional 30-45 minutes. 

Meanwhile, make the egg wash.  Whisk egg and water together in a small bowl.  Once the buns have risen and are ready to go into the oven, remove plastic wrap and brush the surface of each bun with the egg wash  Generously sprinkle pearl sugar over the top of each bun.

Starting with the batch of buns you shaped first, bake one pan of buns at a time for 12-14 minutes or until golden brown.  Repeat with remaining pan. Move to a wire rack to cool slightly and serve.  Store at room temperature in an airtight container for up to two days.  Rewarm for a few minutes in a 300 degree oven if desired.
Notes
*Some helpful pieces of baking equipment for making Swedish Cinnamon Buns:
Mortar and pestle:  If you are grinding your own whole spices at home, I highly recommend using a mortar and pestle like this one.  Yes, you can use a spice grinder or a dedicated coffee grinder to the work for you but there is something ancient and lovely about grinding spices on a stone surface the old-fashioned way.
Rolling pin:  This is more necessary to this recipe than just helpful.  I like a french-style rolling pin like this one. I feel like it gives me more control in shaping the dough.
Metal bench or dough scraper:  This handy tool helps release dough from a work surface gently without tearing and is also sharp enough to cut dough.  I highly recommend having this inexpensive and versatile tool in your baking drawer.
Small offset spatula:  This tool is absolutely perfect for spreading fillings over dough.  It is also nice for frosting small desserts like cupcakes and the like.
*Don't worry too much about the shape of the buns, especially when you first make them.  It may take a little time to get the hang of the shaping process. I hope my instructions and photos are helpful, but if you need a little more assistance there are countless videos online for shaping Swedish cinnamon buns.  Google away!  Just remember that however you twist them will be just fine and they will be delicious in any shape.  I myself prefer a bun that is a little more rustic in nature.
Keywords: cinnamon bun, Swedish, fika, cardamom, tangzhong