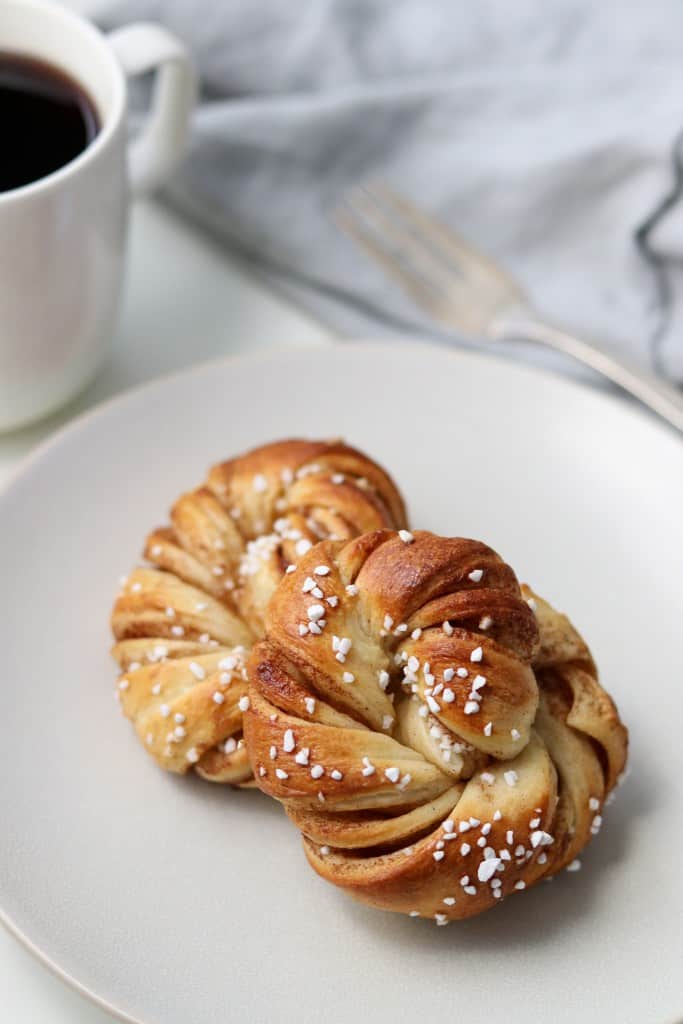 I am an idealist by nature, and I have a very romantic notion about what a good cinnamon bun should be. The icon of fika treats, the perfect cinnamon bun should be billowy soft on the inside and laced with a touch of cardamom and a decadent swirl of cinnamon and sugar. It should be twisty and golden brown on the outside, showered generously with crunchy pearl sugar. Oh, and did I mention they should be relatively straightforward and easy to make? This is meant to be a simple homemade fika treat, not a two day bakery-style affair.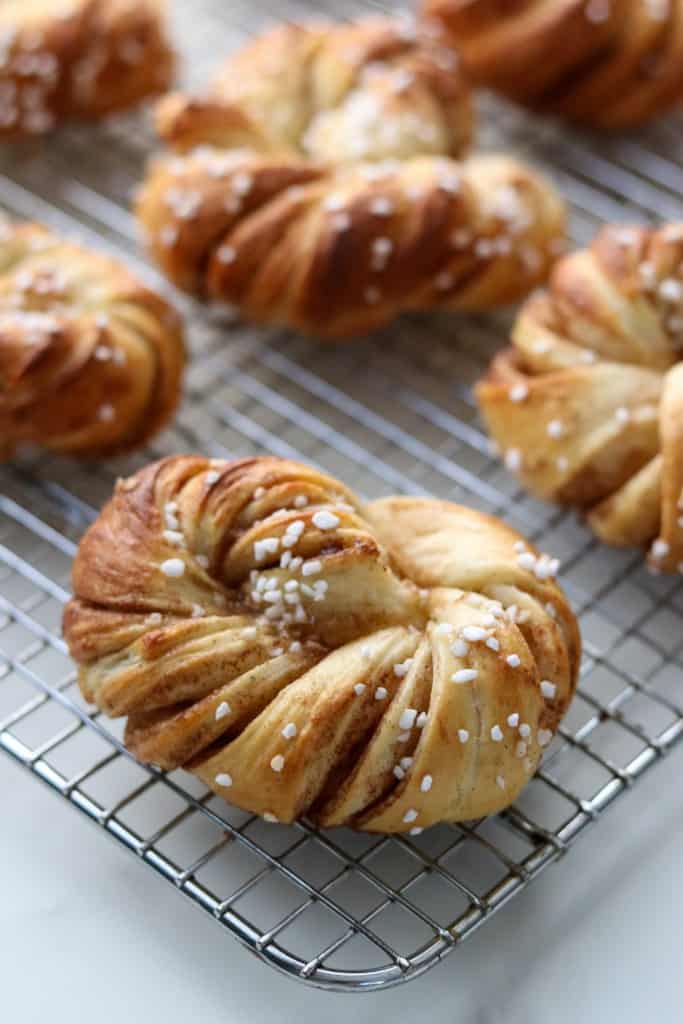 I've made several cinnamon bun recipes at home over the years and to be honest, none of them have really come close to what I really longed for them to be. Sure, they weren't bad straight out of the oven, but they were never as tender as I had hoped and quickly became tough and stale as they cooled.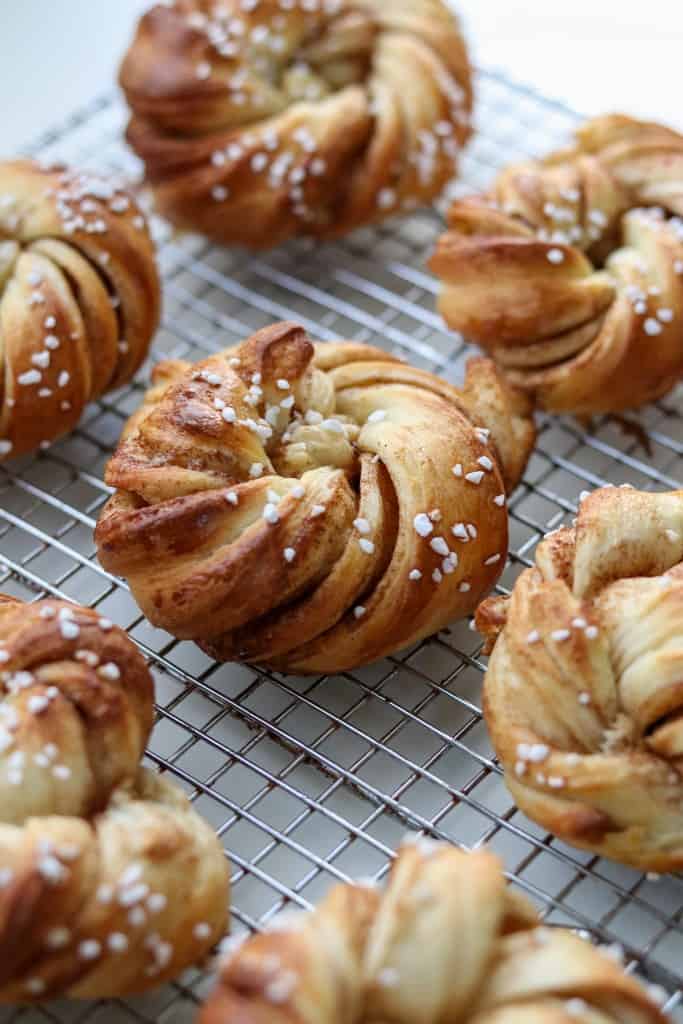 My Ideal Swedish Cinnamon Bun
Soft and Billowy
I decided to channel my idealistic tendencies and demanding nature into something constructive and downright delicious: Creating MY ideal Swedish Cinnamon Bun. I began by researching several of the basic recipes out there. Most are very similar in nature...melted butter, milk, maybe an egg, yeast, flour, a bit of sugar (not too much, these are not meant to be overly sweet), salt and cardamom and a filling of butter, cinnamon and sugar. There were a couple of recipes that swapped out buttermilk for the milk. I gave this a try hoping that the acidic buttermilk would result in a more tender bun. This batch wasn't bad, but they were by no means "billowy" and they aged quickly becoming dry within the first 12 hours of baking.
The Tangzhong Method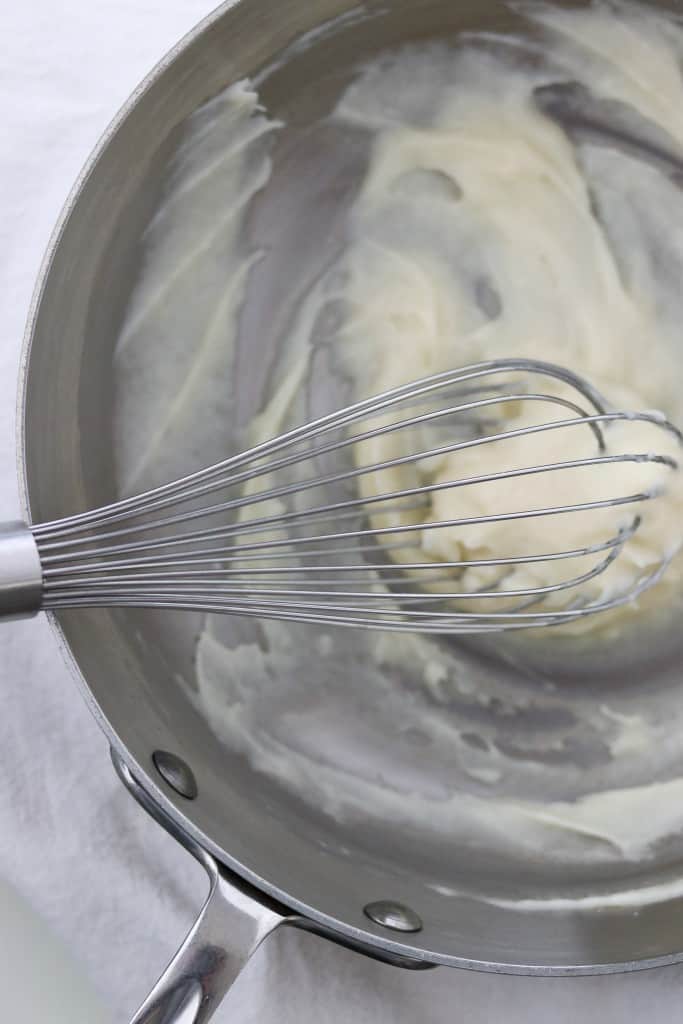 I went back to my research and found a recipe from King Arthur Flour for Soft Cinnamon Rolls. Promising! This particular recipe used a Japanese bread-making method called tangzhong which they claimed would result in exceptionally soft cinnamon rolls that would STAY soft for a couple of days. Yes, please. I began researching the technique itself. Basically, a small amount of the flour and liquid (water, milk or a combination of the two) is cooked on the stove for a very short period of time creating a roux-like mixture. This process gelatinizes the starches in the flour allowing them to absorb more liquid and results in a higher rise (hello billowy buns!) and a more tender, moist bun that stays that way for a longer period of time.
This technique was easily incorporated into my basic bun recipe and resulted in the most perfectly soft, golden brown Swedish cinnamon buns I had every tasted. Finally, an easy cinnamon bun worth making!
The Ingredients
The easy tangzhong method outline above is what makes these buns special. The ingredients themselves couldn't be more basic and straightforward:
Flour
Sugar
Milk
Instant yeast (more on this below)
Fine salt
Butter
Egg
Brown sugar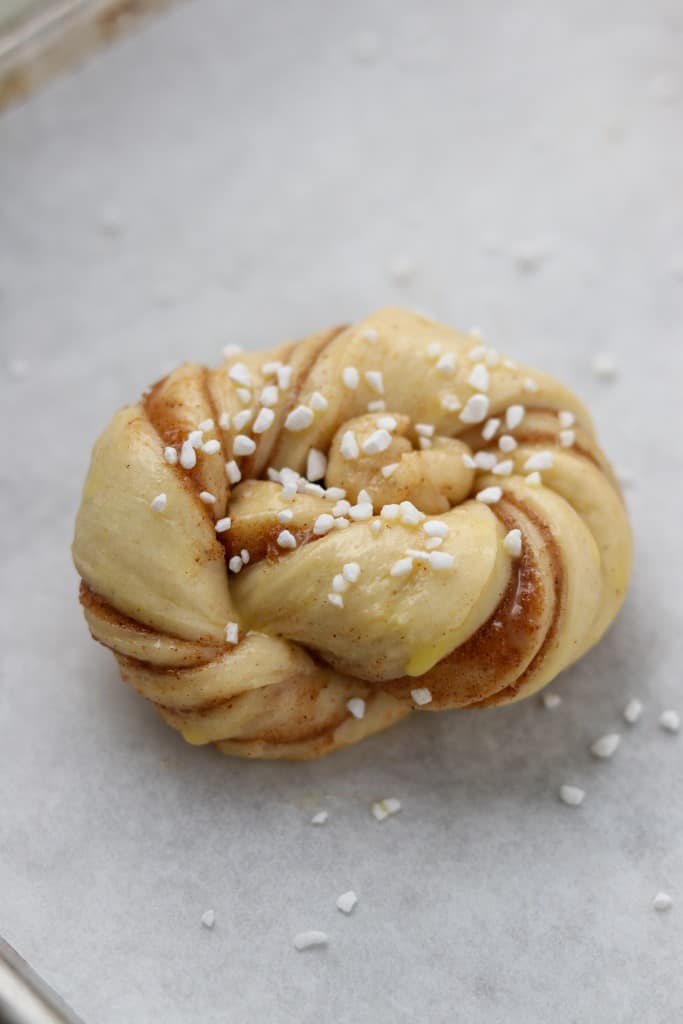 Tips and Tricks for the Best Swedish Cinnamon Buns
Making Swedish Cinnamon Buns is a relatively simple process, but I have a few tips and tricks for ensuring that your buns are perfect every time:
Use the Tangzhong Method. As I mentioned above, the simple process of creating a roux with water, milk and flour and adding it to the dough makes a HUGE difference in the final product. The dough itself is silky and smooth, and the buns emerge from the oven soft and tender with a golden brown crust. It's 5 minutes well spent.
Use Instant Yeast. Instant yeast is my go-to for baked goods. When you go to the store to buy yeast, you will see two different kinds: Instant or rapid rise yeast and active dry yeast. The essential difference between the two is that instant yeast can be mixed right in with the dry ingredients whereas active dry yeast needs to be proofed in warm liquid prior to adding it to the recipe. Instant yeast is also more reliable, effective and fast-acting. While this recipe calls for instant yeast, you can certainly substitute active dry yeast for the instant yeast by proofing it in the warm milk prior to adding it to the dough.
Roll the dough out on an unfloured countertop and use a dough scraper to help coax it off of the surface if necessary. It's nice if the dough sticks to the countertop just enough so that it keeps it in place as you are rolling. If you've floured the surface, this won't happen. A dough scraper is an inexpensive and excellent tool to have in your kitchen and will easily help the dough release from countertop.
If you are having a hard time twisting and shaping the buns because they seem too warm, pop them into the refrigerator briefly. Depending on the time of year and the temperature of my kitchen, sometimes the strips of filled dough become too soft and are difficult to work with. Simply cover them with plastic wrap and place them in the refrigerator until they firm up slightly and continue with the recipe.
Don't worry too much about the twisting and shaping, especially at first. It may take a little time to get the hang of the shaping process. Hopefully my instructions and photos are helpful, but really however you twist them will be just fine and they will be delicious in any shape. I personally prefer a bun that is a little more rustic in nature anyway. Need more instruction? Watch the video included in this post for a full tutorial on how to make and shape cinnamon buns.
I hope you give these Swedish Cinnamon Buns a try! They are especially wonderful as an afternoon fika treat with a cup of coffee. Looking for more traditional Swedish treats to enjoy with your afternoon cup of coffee? I've got you covered: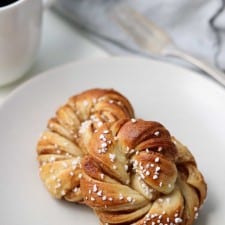 Swedish Cinnamon Buns
Traditional Swedish cinnamon buns (Kanelbullar) made with a sweet, buttery cardamom dough and a brown sugar cinnamon filling. Golden brown on the outside and soft and tender on the inside, they are cinnamon bun perfection!
Print
Pin
Rate
Ingredients
For the Tangzhong:
5

tablespoons

water

5

tablespoons

whole milk

3

tablespoons

all-purpose flour
For the Dough:
5

tablespoons

melted unsalted butter

cooled

½

cup

whole milk

slightly warm

2

teaspoons

instant yeast

½

teaspoon

ground cardamom

optional

1

teaspoon

fine salt

¼

cup

granulated sugar

3

cups

+ 2 tablespoons all-purpose flour

1

large egg

All of the tangzhong

cooled
For the Filling:
5

tablespoons

soft unsalted butter

1

teaspoon

all-purpose flour

Pinch

of fine salt

3

tablespoons

packed light brown sugar

2

teaspoons

ground cinnamon
For the Egg Wash and Topping:
1

large egg

1

tablespoon

water

Pearl sugar for topping
Instructions
Make the tangzhong: Combine water, milk and flour in a medium saucepan.  Whisk until combined and no lumps remain. Place saucepan over medium heat and cook mixture, whisking constantly, until it thickens, about 1-2 minutes.  Set aside to cool.

Make the dough:  While the tangzhong is cooling, begin preparing the rest of the ingredients for the dough.  If you haven't already, melt the butter and warm the milk to give them a chance to cool slightly.  Combine yeast, cardamom, salt, sugar and flour in the bowl of a stand mixer. Whisk briefly by hand to combine.  

Attach the dough hook to the mixer.  Add melted and cooled butter, slightly warm milk, egg and the cooled tangzhong (it can be slightly warm to the touch) to the dry ingredients.  Mix on medium low until fully combined, scraping down the sides of the bowl as necessary.

Increase mixer speed to medium and knead mixture for 4 minutes or until dough is smooth and clears the side of the bowl.  It's okay if it's sticking to the bottom of the bowl. You can also mix and knead the dough by hand but it will take longer, more like 8-10 minutes.

Cover bowl with plastic wrap and allow the dough to rise for an hour or until 1 ½ or 2 times its original size.  The time will largely depend on the temperature of your kitchen.

In the meantime, make the filling.  Combine butter, flour, salt, brown sugar and cinnamon in a medium bowl.  Using a fork, mix ingredients together until a smooth, spreadable paste forms.

Once the dough has risen, preheat oven to 425 degrees.  Line two baking sheets with parchment paper. Remove the dough from the bowl and place it onto a clean countertop.  Roll out with a rolling pin until it is in the shape of a rectangle that is about 16 by 20 inches in size. The dough should be smooth enough that you do not need to add flour during the rolling process. If yours is sticking the rolling pin, however, sprinkle a little flour over the dough as necessary to prevent this from happening.  

Using an off-set spatula, spread filling in a thin layer over the entire surface of the dough. 

Fold the dough like a business letter going the long way:  bring the top third of the dough down over the center third and bring the bottom third up over both the center and top third.  You may need a metal dough scraper to help coax your dough from the counter top if it is sticking. Roll out folded dough just to flatten slightly.

Using your dough scraper, sharp knife or a pizza wheel, cut the folded dough into 12 equal size pieces.

Working with one piece of dough at a time, twist the strip of dough as you hold it between your thumbs and forefingers until it has a nice spiralized appearance.

While you continue to hold the dough in the thumb and forefinger of one hand, use your free hand to wrap the twisted strip of dough around the three middle fingers of the hand that holds the dough strip, tucking the last bit of the dough strip up and through the center of the circle you have just created (see photo below).  Place shaped bun on a prepared baking sheet. Once you have six buns shaped and placed on one of the baking sheets, cover with plastic wrap and set aside. Continue with remaining buns, shaping and placing them on the second baking sheet before covering with plastic wrap. Let covered buns rise for an additional 30-45 minutes. 

Meanwhile, make the egg wash.  Whisk egg and water together in a small bowl.  Once the buns have risen and are ready to go into the oven, remove plastic wrap and brush the surface of each bun with the egg wash  Generously sprinkle pearl sugar over the top of each bun.

Starting with the batch of buns you shaped first, bake one pan of buns at a time for 12-14 minutes or until golden brown.  Repeat with remaining pan. Move to a wire rack to cool slightly and serve.  Store at room temperature in an airtight container for up to two days.  Rewarm for a few minutes in a 300 degree oven if desired.
Nutrition
Calories:
261
kcal
|
Carbohydrates:
35
g
|
Protein:
6
g
|
Fat:
11
g
|
Saturated Fat:
7
g
|
Cholesterol:
54
mg
|
Sodium:
256
mg
|
Potassium:
88
mg
|
Fiber:
2
g
|
Sugar:
8
g
|
Vitamin A:
357
IU
|
Calcium:
36
mg
|
Iron:
2
mg