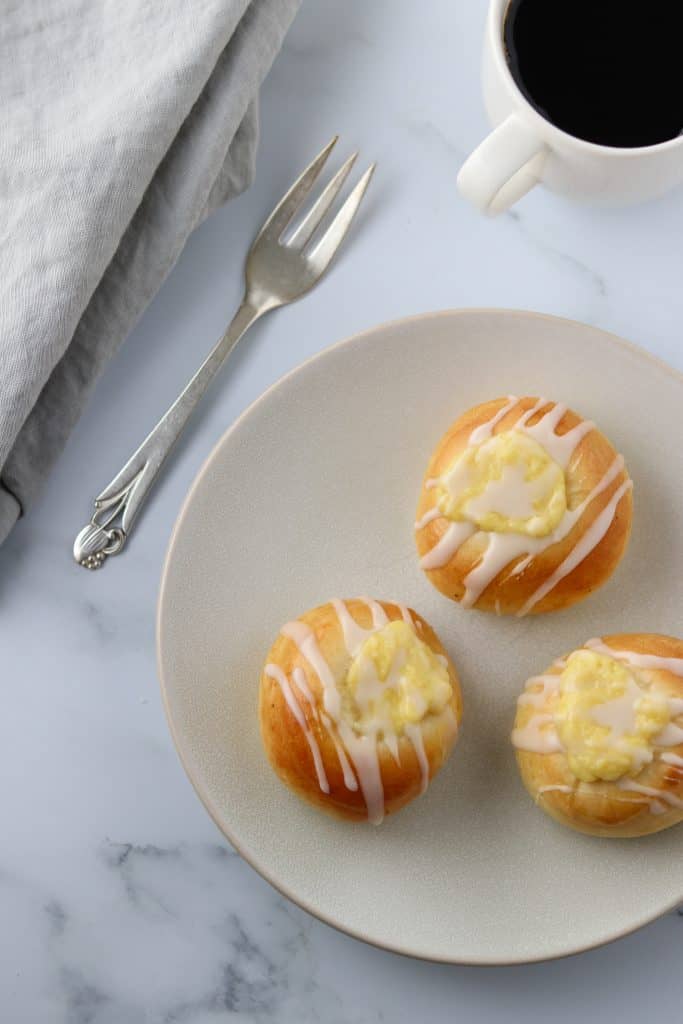 What are Norwegian Vanilla Custard Buns?
These Norwegian Vanilla Custard Buns are known as "School Buns" or "School Bread" in Norway. A favorite with children, they are often tucked into a lunchbox as a treat or even served in the cafeteria as part of school lunch. The sweet simplicity of this vanilla bun most certainly has a child-like quality to it, but make no mistake, they are a delicious treat for people of all ages. Soft cardamom dough surrounds a rich, vanilla cream center, and to top it off...a bit of sweet vanilla icing. These comforting Norwegian Vanilla Custard Buns are sure to become a favorite with your people, young and old alike.
Sweet, Soft Bun Dough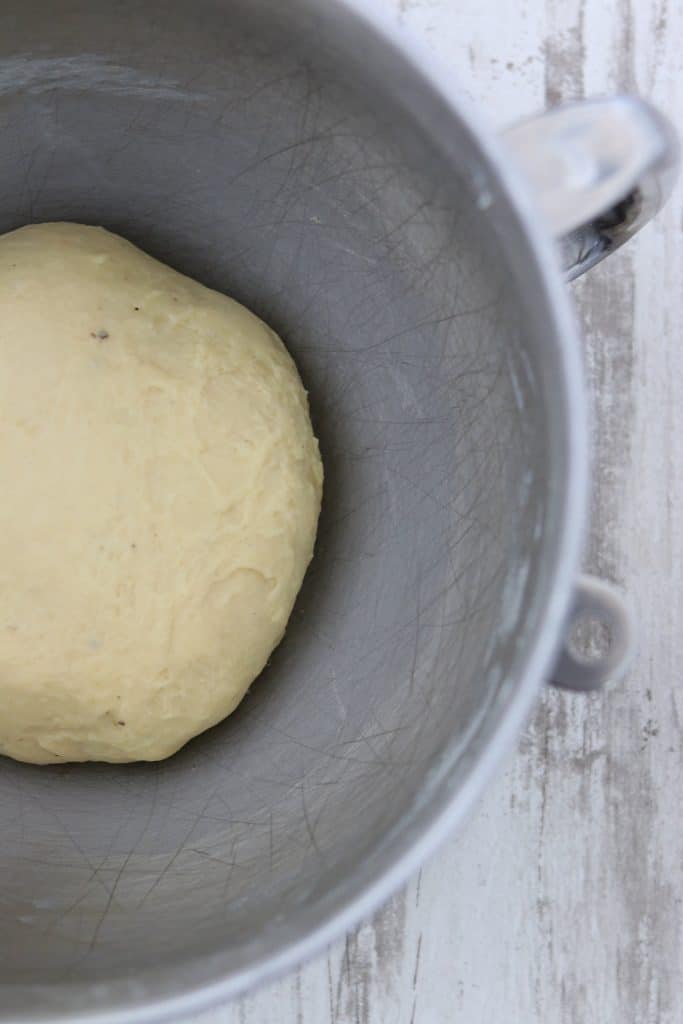 Sweet bun dough forms the base of many Scandinavian baked goods. Fortunately, this means that if you have a good, reliable recipe for sweet bun dough, it can be used interchangeably in a a variety of different treats. The dough recipe I'm using here is one that I created for my Swedish Cinnamon Buns (if you haven't tried these yet, you must! They are consistently a reader favorite). It's a little unique in that it uses the tangzhong method....a technique used in making Japanese milk bread. It sounds fancy and intimidating, but I promise it's not. It involves one teeny, tiny extra step that GREATLY enhances the texture of the final bun.
What is the Tangzhong Method?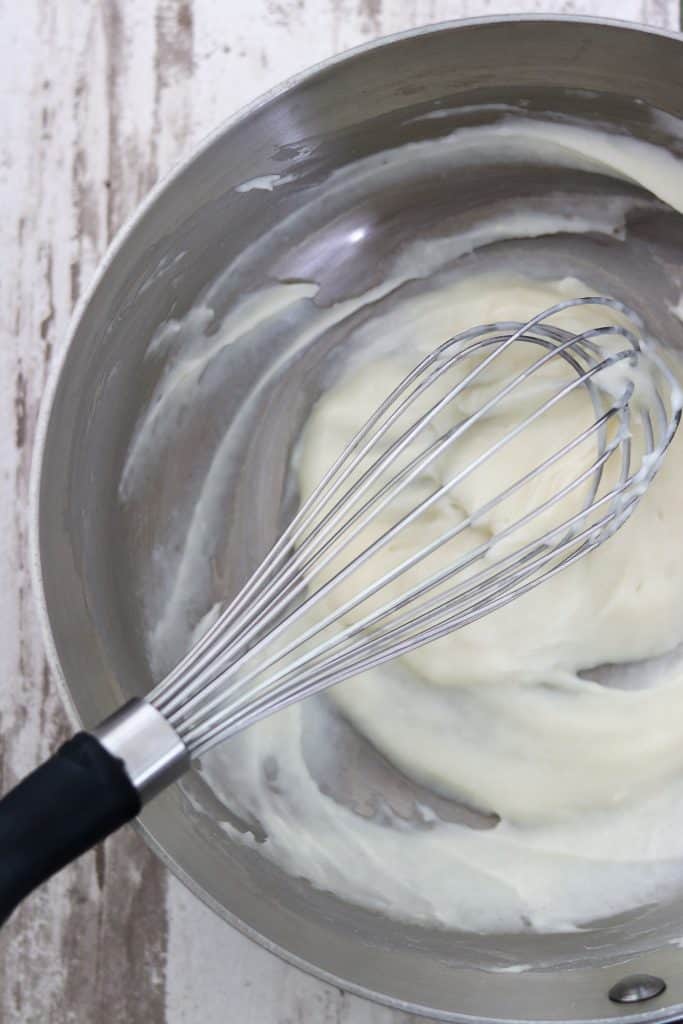 This extra step known as the tangzhong method is deceptively simple, but the results are downright magical. A small amount of the flour and liquid (water, milk or a combination of the two) is cooked on the stove for a very short period of time creating a roux-like mixture. This process gelatinizes the starches in the flour allowing them to absorb more liquid. This roux-like substance is then cooled to room temperature and added to the rest of the ingredients when mixing the dough. This results in a higher rise and a more tender, moist bun that stays that way for a longer period of time. As I said, this 5-minute extra step is WELL worth it for the soft, billowy buns that are the result! Interested in learning more about the tangzhong method? This post over at the the King Arthur Flour blog does a very nice job of explaining it.
What is the Difference Between Instant and Active Dry Yeast?
The other thing to know about this dough recipe is that it uses instant yeast rather than active dry. What is the difference between the two? Instant yeast has more active cells than active dry. This means it works more quickly, efficiently and reliably. It also doesn't need to be activated in warm water prior to use as active dry yeast does. You can simply mix it right in with the dry ingredients and go about your business. It is my preferred form of commercial yeast for all of these reasons, and I use it in all of my yeast-based recipes.
If you are planning to use active dry yeast in place of the instant here, know that you will have to activate it in a bit of warm liquid prior to use or your buns will not rise properly.
Luxurious Vanilla Custard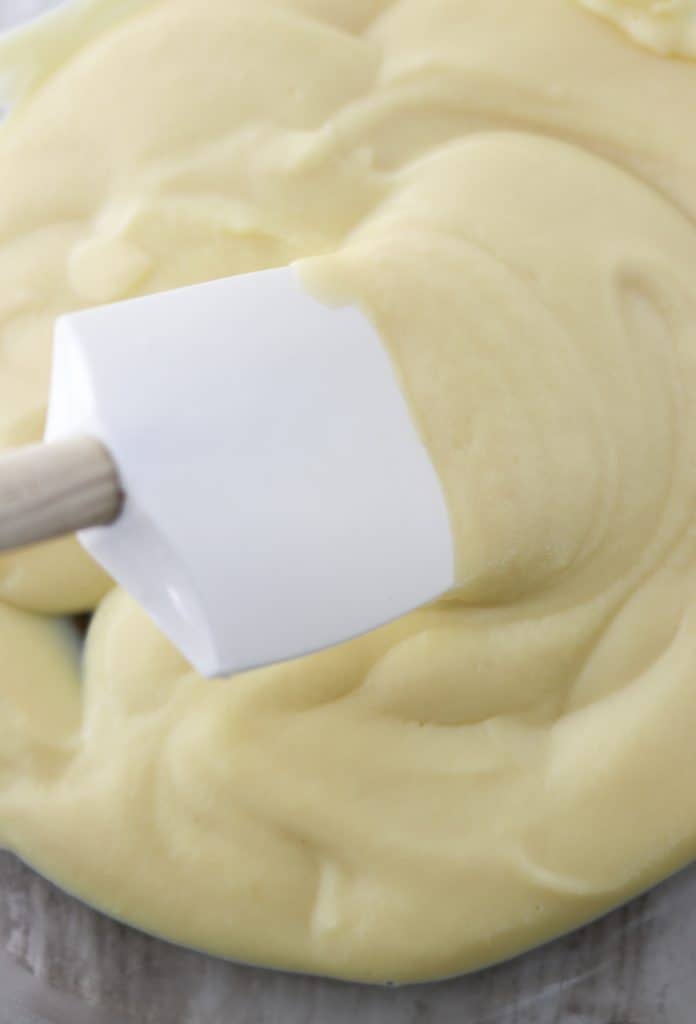 I have a go-to custard recipe that is really easy and works well as a filling in these Norwegian Vanilla Custard Buns. All of the ingredients (minus the vanilla) are simply whisked together in a saucepan over medium-low heat until the mixture thickens into a pudding-like texture. The hot custard is then transferred to a fine mesh strainer and pressed through it using a rubber spatula. This helps ensure a smooth, silky filling. Sometimes bits of egg yolk coagulate during the cooking process and can leave your custard a bit lumpy if they are not strained out. The vanilla is then stirred in at the very end.
The vanilla custard can be prepared up to two days in advance and stored in the refrigerator until you are ready to use it. Like pudding, custard will develop a skin unless you place something directly on the surface when storing it. I like to put a bit or parchment or wax paper directly on the top of the custard and then cover the bowl with plastic wrap to prevent a skin from forming.
No Puffing Up in the Center, Please!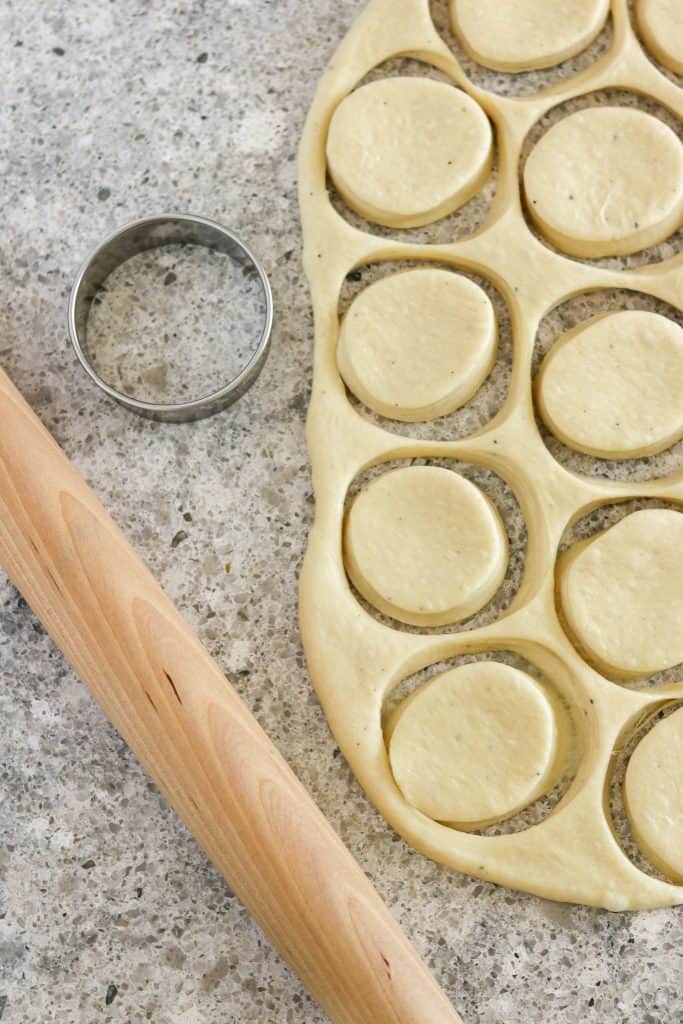 Most of the recipes for Norwegian Vanilla Custard Buns that I have found instruct you to roll each bun into a ball and then make an indentation in the center for the pastry cream. Sounds easy enough, but the first two times I made these buns, the center puffed right back up and out, pushing the filling up and out with it. Not exactly what I was going for. I tried several different methods for creating a well in the center that stayed put, but nothing really did the trick. I did a little research and came across a method used in making kolaches, the Eastern European filled sweet buns. Instead of starting with the dough in a bun shape, this recipe suggested rolling the dough to ½ inch thickness and cutting it into rounds. Intriguing! After a short rise, an indentation is made and filled with the desired filling. I crossed my fingers and gave it a try.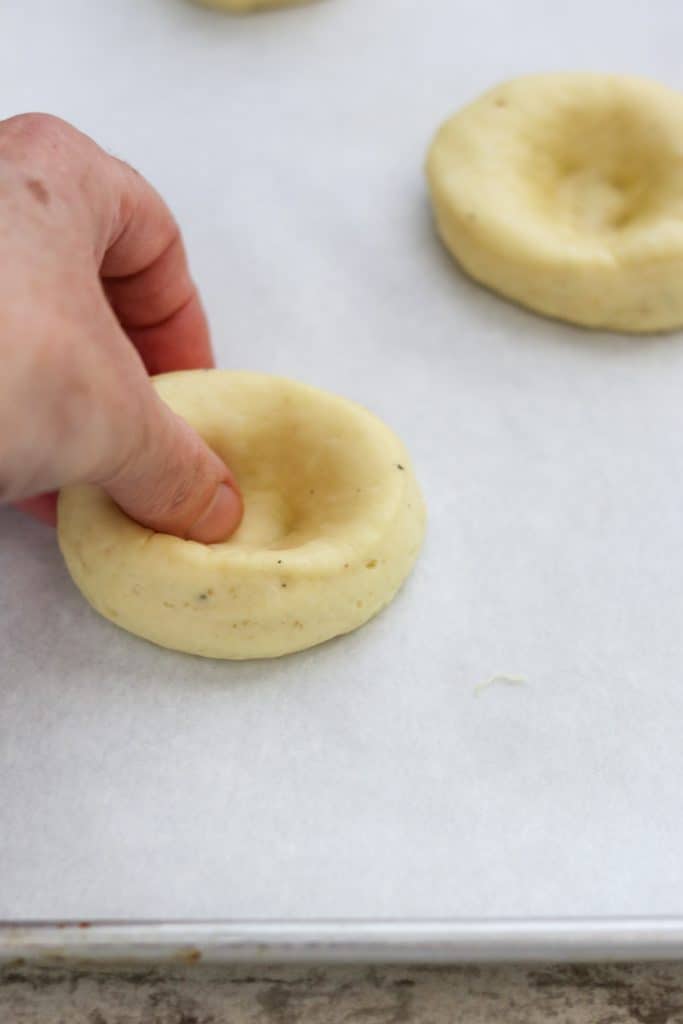 Success! This method definitely helped keep the custard in the middle of the bun where it belongs. The filling does appear to be puffed up when the buns first come out of the oven, but it will settle back down as the buns cool.
Baking the Buns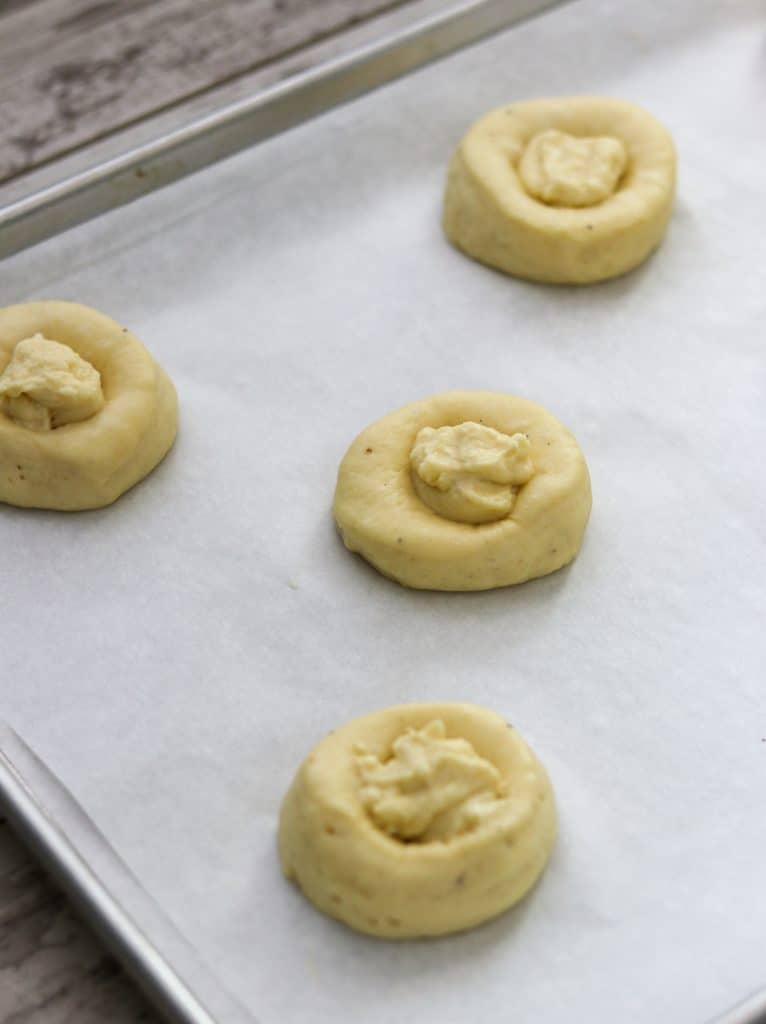 Because of the filling, these buns do better at a lower temperature and a little longer time in the oven (350 degrees for about 18 minutes). This helps ensure that they bake all the way through and there is no soggy, doughy spot in between the bun and the filling. Just be sure to switch and rotate your baking sheets halfway through the baking time to ensure an even bake for all of the buns.
Drizzle the Buns with Icing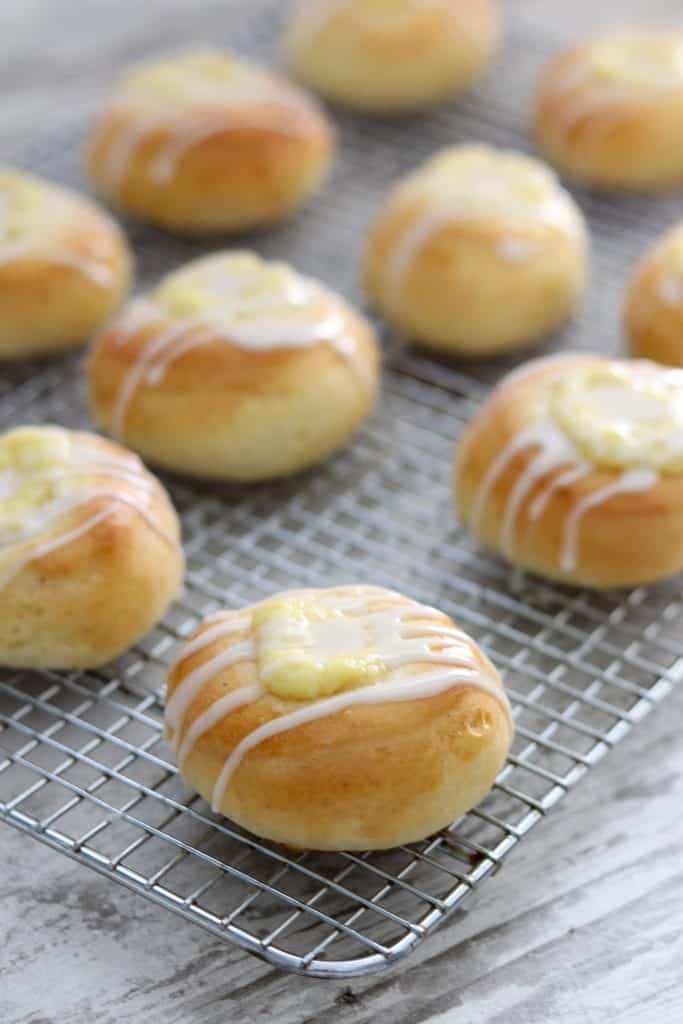 Once the buns have cooled, it's time to drizzle them with a simple powdered sugar icing. The traditional way to serve these Norwegian Cream Buns is with a sprinkle of coconut. As I live with several people who are coconut adverse, I skip this step. But you do what makes you happy.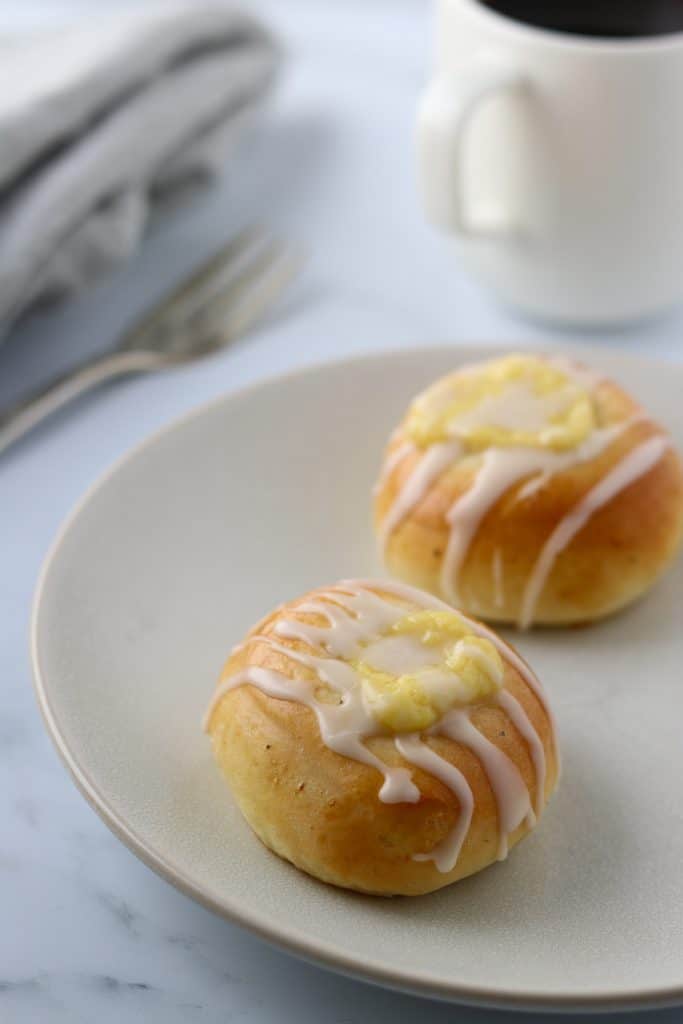 I hope you give these Norwegian Vanilla Custard Buns a try! They are soft, creamy and easy to love.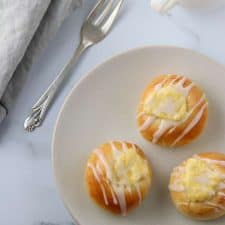 Norwegian Vanilla Custard Buns (Skoleboller or Skolebrød)
A delicious vanilla custard-filled cardamom bun drizzled with powdered sugar icing. A Norwegian classic!
Print
Pin
Rate
Ingredients
For the Tangzhong:
5

tablespoons

water

5

tablespoons

whole milk

3

tablespoons

all-purpose flour
For the Dough:
5

tablespoons

melted unsalted butter

cooled

½

cup

whole milk

slightly warm

2

teaspoons

instant yeast

½

teaspoon

ground whole cardamom seeds or ½ teaspoon ground cardamom

optional

1

teaspoon

fine salt

¼

cup

granulated sugar

3

cups

+ 2 tablespoons all-purpose flour

1

large egg

All of the Tangzhong

cooled
For the Vanilla Custard Filling:
2

large egg yolks

1 ½

tablespoons

unsalted butter

1

tablespoon

cornstarch

1

cup

half and half

2

tablespoons

sugar

Pinch

of fine salt

1

teaspoon

vanilla extract
For the Egg Wash:
1

large egg

1

tablespoon

water
For the Icing:
¾

cup

powdered sugar

1 ½

tablespoons

milk or water

½

teaspoon

vanilla extract

Pinch

of fine salt

Shredded coconut for sprinkling

optional
Instructions
Make the Tangzhong:  Combine water, milk and flour in a medium saucepan.  Whisk until combined and no lumps remain.  Place saucepan over medium heat and cook mixture, whisking constantly, until it thickens, about 1-2 minutes.  Set aside to cool.

Make the Dough:  While the tangzhong is cooling, begin preparing the rest of the ingredients for the dough.  Combine yeast, cardamom (if using), salt, sugar and flour in the bowl of a stand mixer.  Whisk briefly by hand to combine.  

Attach the dough hook to the mixer.  Add melted and cooled butter, milk, egg and the cooled tangzhong (it can be slightly warm to the touch) to the dry ingredients.  Mix on medium low until fully combined.

Increase mixer speed to medium and knead mixture for 3-4 minutes or until dough is slightly tacky but not sticky and clears the side of the bowl.  It's okay if it's sticking to the bottom of the bowl slightly.  Add an extra tablespoon of flour as necessary if your dough seems too sticky.  You can also mix and knead the dough by hand but it will take longer, more like 8-10 minutes.

Cover bowl with plastic wrap and allow the dough to rise for an hour to an hour and a half or until 1 ½ or 2 times its original size.  The time will largely depend on the temperature of your kitchen.

Meanwhile, make the Vanilla Custard Filling.  Whisk egg yolks, butter, cornstarch, half and half, sugar and salt together in a medium saucepan.  Place pan over medium low heat and whisk constantly until mixture is smooth and thick, about 3-5 minutes.  Strain mixture through a fine mesh strainer into a clean bowl.  Stir in vanilla. Place a piece of parchment paper directly on top of the pastry cream, followed by a layer of plastic wrap (this prevents the custard from forming a skin).  Refrigerate until you are ready to use.  (The Vanilla Custard Filling can be made 1-2 days in advance.)

Once the dough has risen, preheat the oven to 350 degrees.  Line two baking sheets with parchment paper.  Remove the dough from the bowl and place it onto a clean, unfloured countertop.  Using a rolling pin, roll the dough until it is about half an inch thick.  Cut circles out of the dough using a 3 inch biscuit cutter.  Place the buns on the prepared baking sheets leaving 2 inches of space between each bun.  Cover and let the buns rise for 30 minutes at room temperature.  (Feel free to gather the scraps and roll them a second time to cut out more buns).

Using your thumb and fingers, create a defined well in the center of each bun.  Fill each well with a heaping teaspoon of Vanilla Custard Filling.

Whisk the egg and water together for the egg wash.  Brush the outside of each bun with the egg wash, taking care to avoid the custard center.  Transfer buns to the oven and bake until golden brown, rotating the pans halfway through, about 18 minutes.  Remove the buns from the oven and allow them to cool to room temperature.  

Meanwhile, make the Icing.  Whisk all ingredients together in a medium bowl until smooth.  Drizzle the icing on each bun and sprinkle with coconut if desired.  Serve.
Nutrition
Calories:
221
kcal
|
Carbohydrates:
32
g
|
Protein:
5
g
|
Fat:
8
g
|
Saturated Fat:
5
g
|
Cholesterol:
64
mg
|
Sodium:
199
mg
|
Potassium:
85
mg
|
Fiber:
1
g
|
Sugar:
11
g
|
Vitamin A:
277
IU
|
Vitamin C:
1
mg
|
Calcium:
40
mg
|
Iron:
1
mg