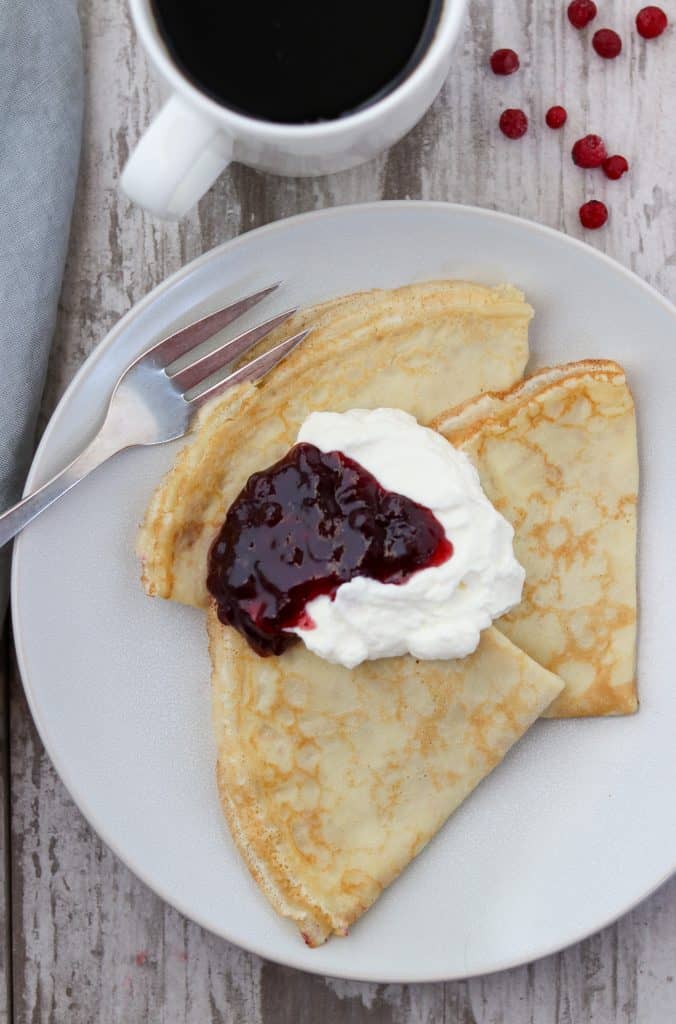 Swedish pancakes are one of the most well-known Scandinavian delicacies, and rightfully so. Tender, buttery and most likely served with a generous spoonful of lingonberries and a dollop of whipped cream, there is much to account for their popularity. Other Scandinavian delicacies may take a little getting used to (I'm looking at YOU, pickled herring), but the Swedish pancake poses only deliciousness. No hardship whatsoever.
How are Swedish Pancakes different from American Pancakes?
Unlike American pancakes which are prized for being tall and fluffy, Swedish pancakes are thin, delicate and crepe-like. They are traditionally made in a special pan called a plett, which has thin 3-inch round indentations designed for cooking the pancakes. The Swedish pancake batter itself has many similar ingredients to American pancakes (milk, butter, eggs, flour, etc.), but the consistency of the batter is much thinner, and it does not contain any leavening agents. Most Swedish pancake recipes also recommend a brief rest of the batter prior to cooking which helps ensure a uniformly thin and tender pancake.
When served, American pancakes are often buttered, stacked and drenched generously in maple syrup. Swedish pancakes, on the other hand, are traditionally rolled or folded and served with lingonberries, butter and/or whipped cream.
American pancakes are almost always eaten for breakfast. Swedish pancakes, however, are traditionally served on Thursday evenings as a dessert following a meal of hearty pea soup. According to Food's Ready, a cookbook put together by IKEA food services, this tradition harkens back to when Sweden was a Catholic country and it was customary to fast on Fridays. People would fill up on pea soup and pancakes the night before to help them get through that long day ahead without food.
When I was growing up, Swedish pancakes were strictly for Christmas morning. My mother made giant platters of the them, heaped high with lingonberries and butter. Not a present would be opened until my brother and I had singlehandedly cleaned up the kitchen after breakfast while the adults lingered over coffee and cookies. While I have fond memories of these special Christmas morning breakfasts, I see no reason why Swedish pancakes should be relegated to a once a year meal. So simple and delicious, why not enjoy them all year round?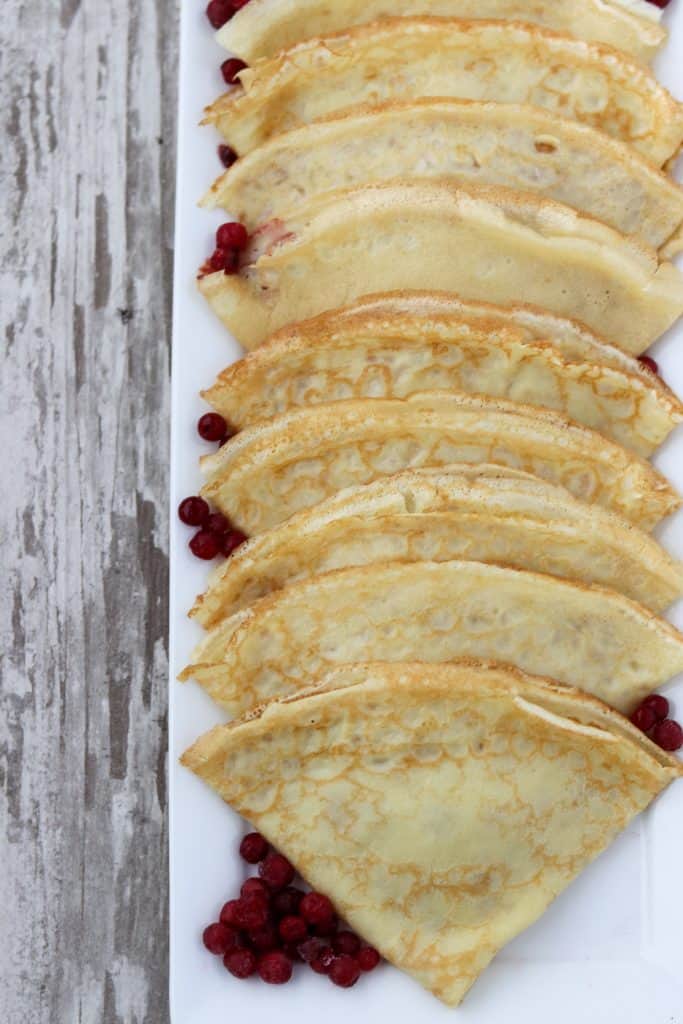 Making Easy and Delicious Swedish Pancakes at Home
Use a blender to mix your batter ingredients. This creates an incredibly smooth, lump-free batter every time and couldn't be easier. Just put everything in, let it whirl about and you're done.
Rest the batter for at least two hours or up to two days. As I mentioned above, this will help ensure that your pancakes are uniform in texture and as tender as they can be. I recommend mixing the batter the night before so that it's ready when you are.
Use a 10 inch nonstick skillet to make your Swedish pancakes. While those little 3 inch pancakes made in a plett are charming, they are small and somewhat insubstantial. It is just as common these days to see Swedish pancakes in a larger form, more like a small crepe. Choosing this modern, bigger pancake shape also means you have one less piece of special equipment to buy….a small nonstick skillet will do the job just fine.
Brush the skillet with melted butter prior to cooking each pancake. This imparts delicious flavor and just the right amount of browning to the pancakes.
Lift and swirl that skillet! Lift the heated skillet off of the burner before you pour the batter into the skillet. Once you pour the batter in, swirl it around so that it coats the bottom of the pan evenly. Continue swirling until the batter is just set. Then return the skillet to the heat. This technique may take a little practice but it makes for a pancake that is nicely browned and uniform in thickness.
Place a dollop of lingonberry butter inside each pancake. This is a little trick I learned from my mother. She would mix lingonberries and butter together and place a bit inside each warm pancake as it came off of the heat. Just a little bit of lingonberries and butter on the inside of the folded pancake makes a big difference in flavor.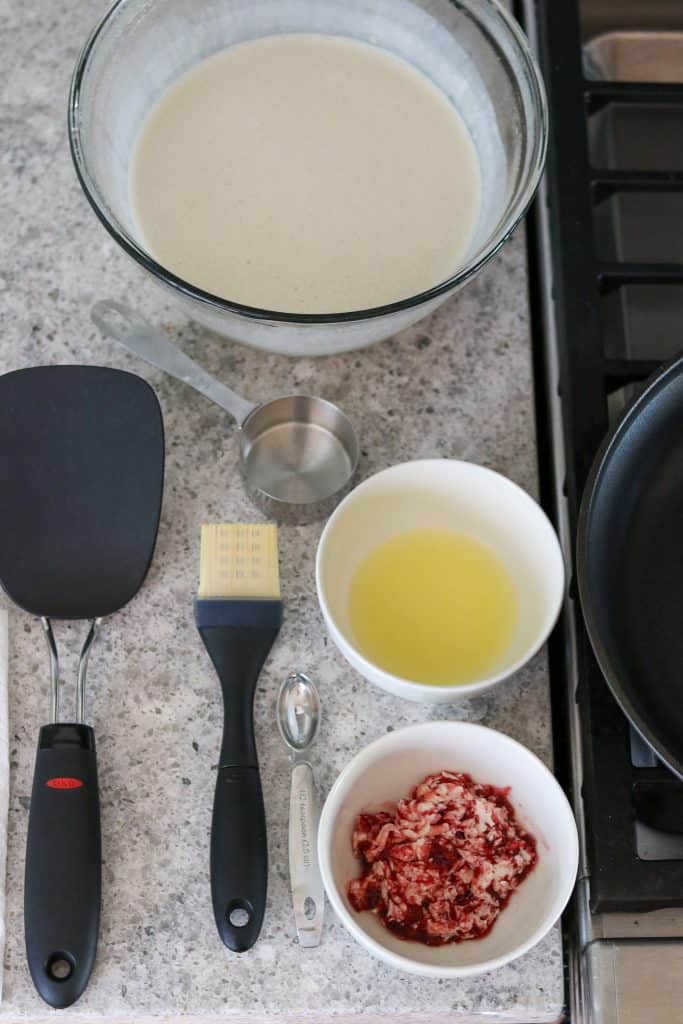 This recipe for Swedish pancakes is quite easy and forgiving. Several of the recipes I tried during the testing process were fussy and often ended with fragile, torn pancakes. Not pretty. These, on the other hand, are delicate and tender but still easy to maneuver without any ripping or tearing.
So don't wait until Christmas morning….go forth and make Swedish pancakes with confidence and ease. On any day of the week! They do not disappoint.
Print
Swedish Pancakes with Lingonberries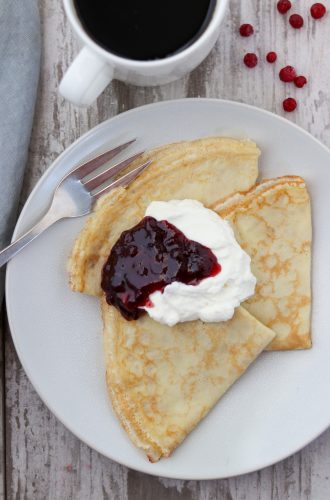 An easy and delicious recipe for a true Scandinavian classic.  Tender and delicate pancakes served with lingonberries, butter and whipped cream.  
Author:
Prep Time:

10 minutes + 2 hours resting time

Cook Time:

25 minutes

Total Time:

2 hours 35 minutes

Yield:

approximately 10 pancakes

Category:

breakfast, dessert

Cuisine:

Nordic, Scandinavian, Swedish
Ingredients
For the Pancake Batter:
1 cup all-purpose flour
1 tablespoon sugar
¼ teaspoon salt
2 eggs
1 cup whole milk
6 tablespoons water
3 tablespoons unsalted butter, melted and cooled, plus more for the pan
½ teaspoon vanilla
For the Lingonberry Butter:
2 tablespoons unsalted butter, room temperature
1 tablespoon lingonberry preserves, such as the Felix brand
Pinch of salt
To Serve:
Lingonberry preserves
Butter (optional)
Lightly sweetened whipped cream (optional)
Instructions
Make the Pancake Batter: 

Combine all ingredients in a blender and blend until completely smooth.  Transfer to the refrigerator to rest for at least 2 hours or up to 2 days.

Meanwhile, make the Lingonberry Butter:  Combine lingonberry preserves, butter and salt together in a small bowl with a fork.  Set aside.

Preheat oven to 200 degrees and place an empty heatproof tray or baking sheet inside.  Heat a 10 inch nonstick skillet over medium heat.  Stir the batter briefly to recombine. Brush skillet with melted butter.  Pick the skillet up off of the burner and quickly add ¼ cup of batter. Immediately begin swirling the batter around the skillet so that it coats the bottom of the pan.  Continue swirling until the batter is just set.  Return skillet to the burner. Cook until the pancake is golden brown in spots on the bottom, about 30 seconds. Use a thin spatula to loosen the pancake, flip it over continue to cook on the other side for about 20 seconds.  Transfer to a plate and add a small (about ½ teaspoon) dollop of lingonberry butter to on the top of the pancake. Fold into quarters. Transfer to oven to keep warm and repeat with remaining batter, wiping out skillet in between pancakes with paper towel as needed.

To serve, top pancakes with lingonberry preserves, additional butter and/or whipped cream.
Keywords: Swedish, pancakes, lingonberries, Scandinavian