Swedish pancakes are one of the most well-known Scandinavian delicacies, and rightfully so. Tender, buttery and most likely served with butter and lingonberry preserves, there is much to account for their popularity.
The good news is that they are easy to make and require no special equipment other than a nonstick pan. Ready to get started? Let me walk you through the process start to finish.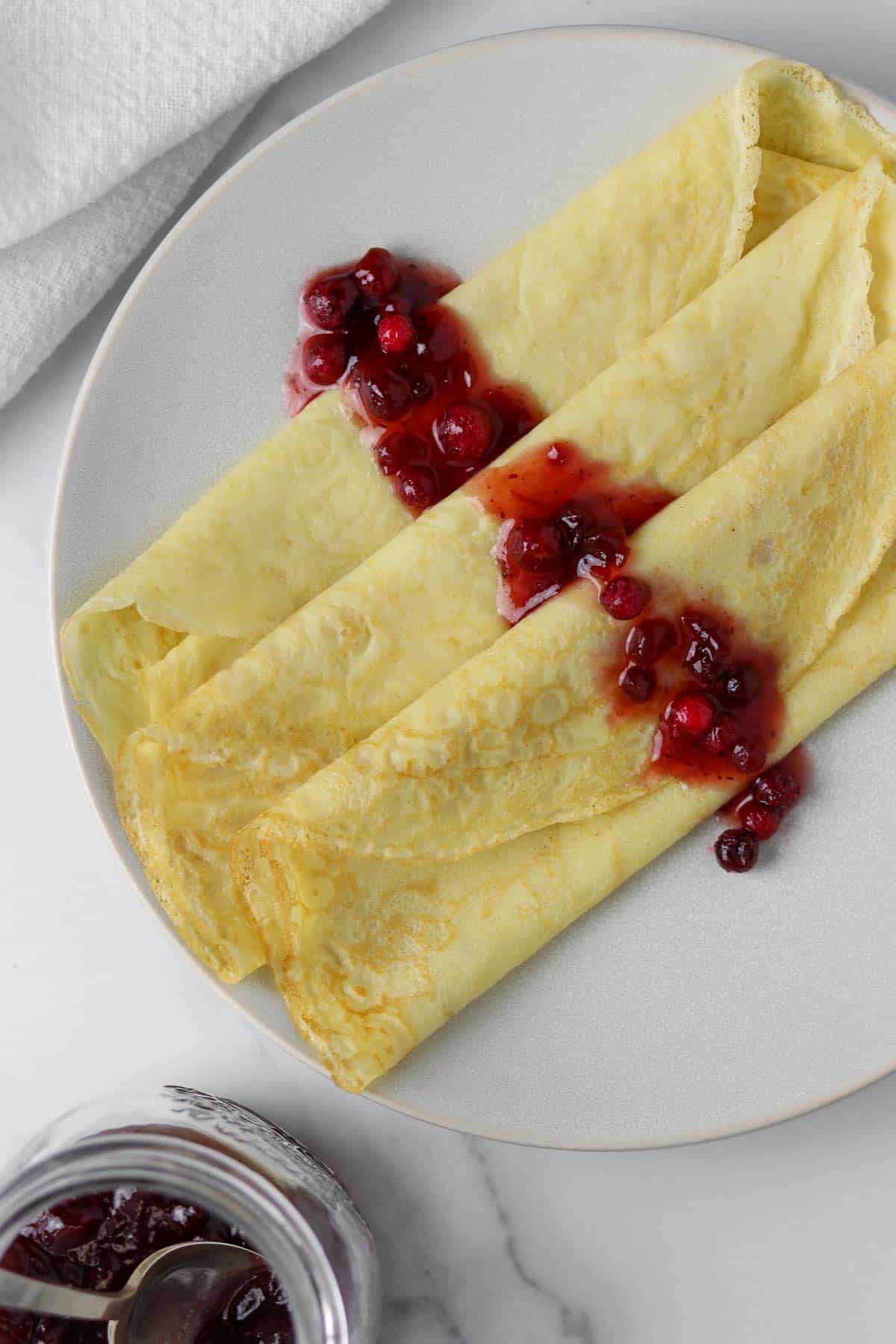 Why This Recipe Works
This is sure to become your go-to recipe for Swedish pancakes because:
This recipe for Swedish pancakes is easy and forgiving. Several of the recipes I tried during the testing process were fussy and often ended with fragile, torn pancakes. These, on the other hand, are delicate and tender but still easy to maneuver without any ripping or tearing.
These pancakes contain just the right amount of sugar and a hint of vanilla extract creating the perfect backdrop for butter, lingonberries or whatever else you decide to serve with your Swedish pancakes.
Each pancake is filled with a dollop of Lingonberry Butter for an added burst of Nordic flavor.
The instructions are simple and easy to master once you get the hang of it!
The Ingredients
For the Swedish Pancakes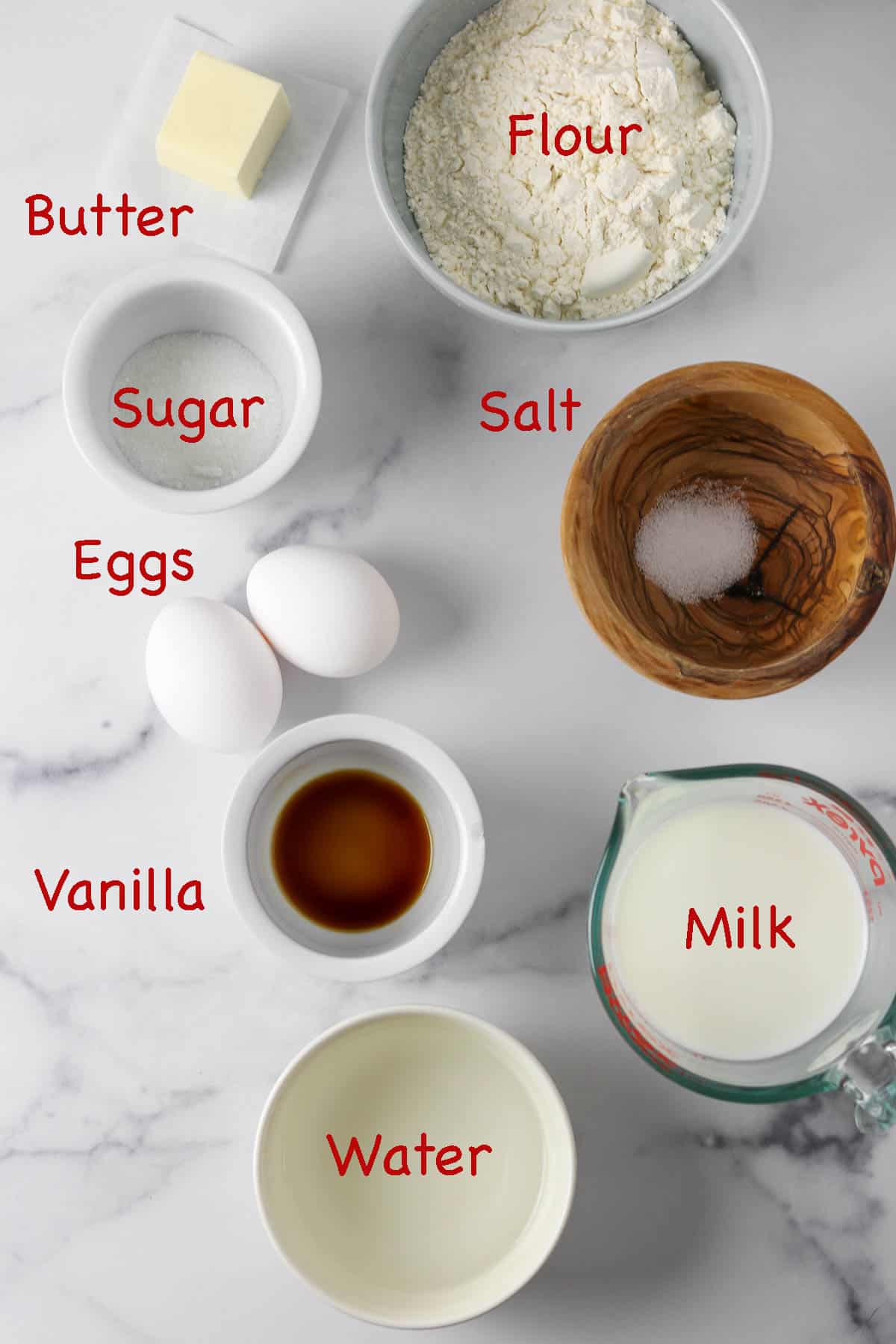 Pretty much your standard pancake ingredients here. You will notice that there is more liquid in this recipe (a combination of water and milk) as compared to a standard American pancake recipe. That facilitates getting these pancakes nice and thin, more like a crepe than a traditional pancake.
For the Lingonberry Butter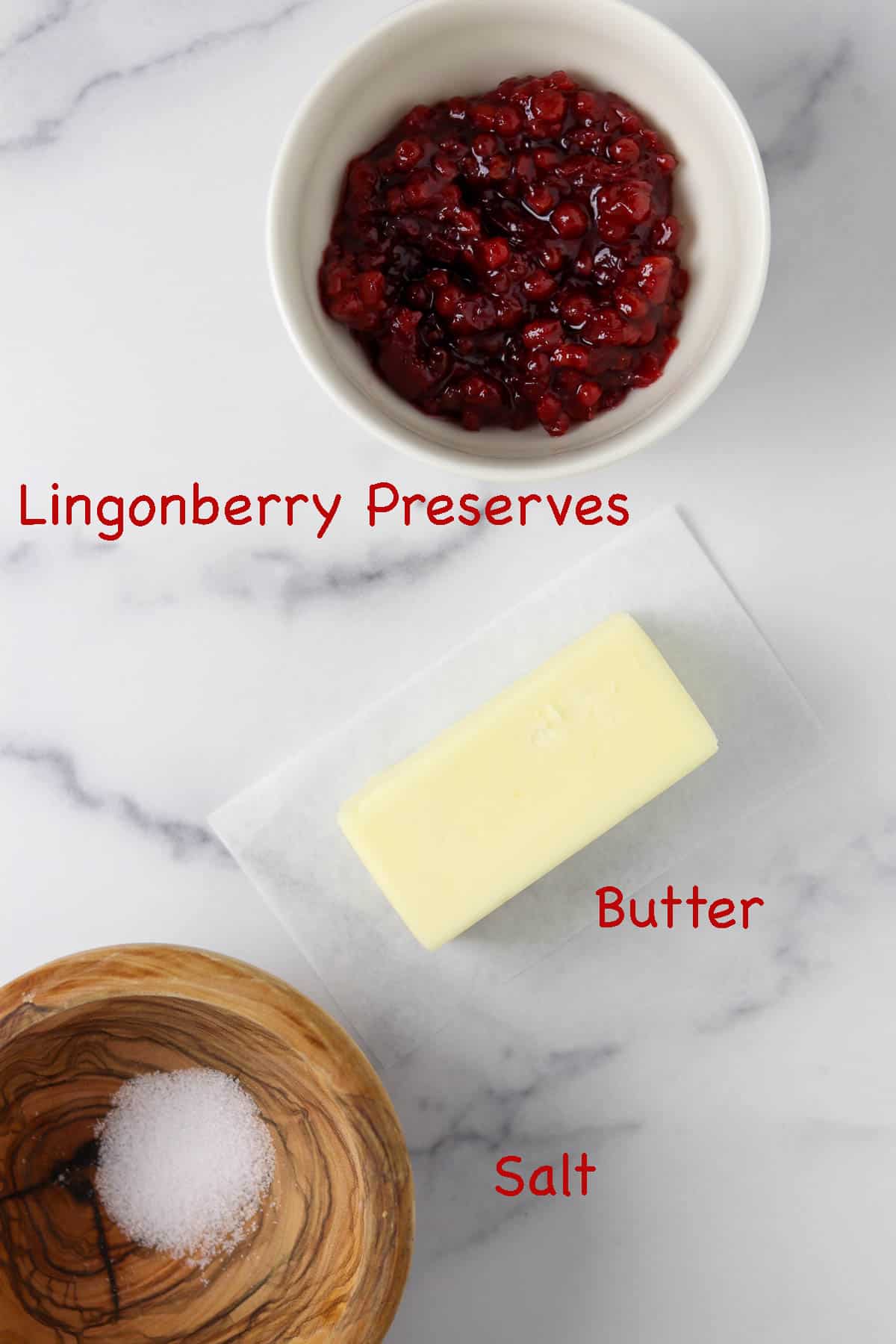 Lingonberry preserves can be found at some large grocery store chains and Scandinavian specialty stores. And you can always order them from Amazon!
How to Make Swedish Pancakes
Use a blender to mix your batter ingredients. This creates an incredibly smooth, lump-free batter every time and couldn't be easier. Just put everything in, let it whirl about and you're done.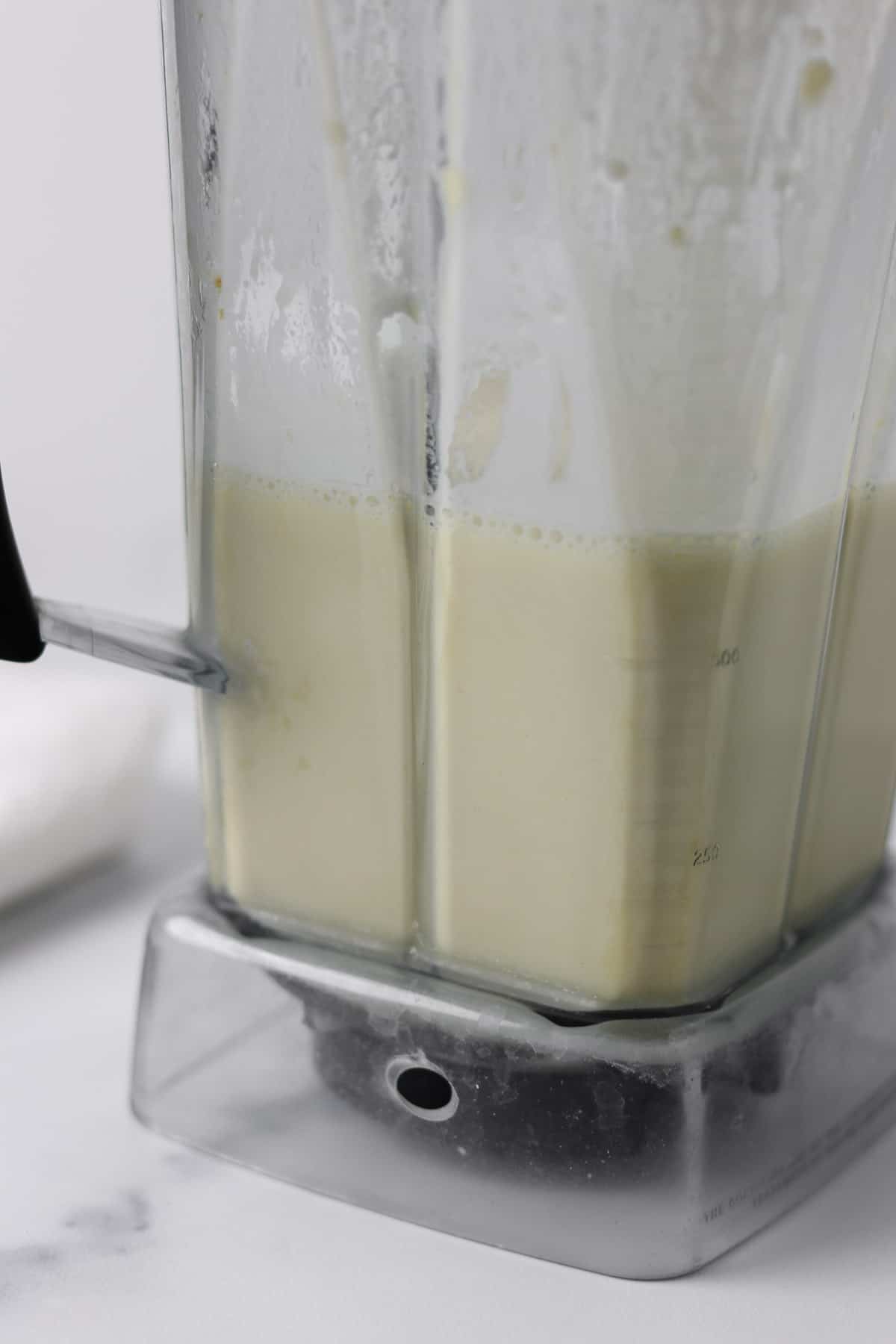 Rest the batter for at least two hours or up to two days. This will help ensure that your pancakes are uniform in texture and as tender as they can be. I recommend mixing the batter the night before so that it's ready when you are.
Meanwhile, mix up the lingonberry butter. You can also do this up to two days ahead of time and store the butter tightly covered in the refrigerator. Bring to room temperature prior to using.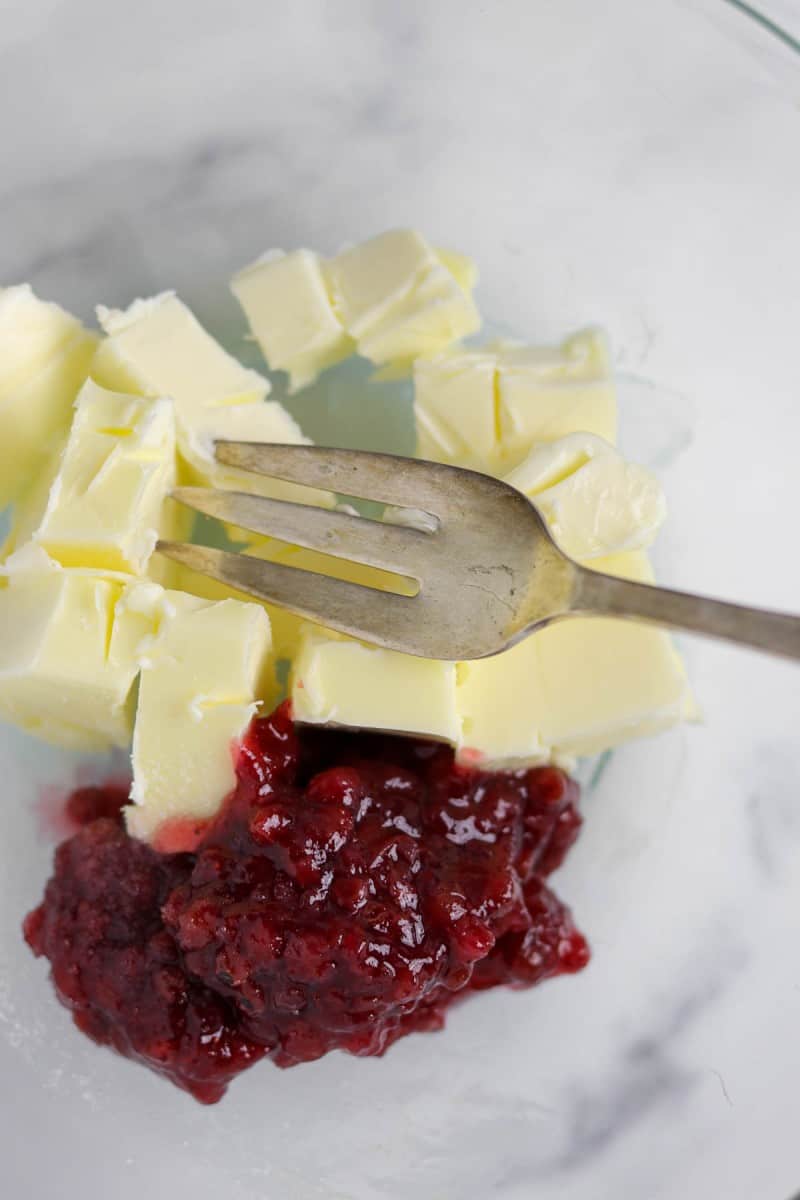 Use a 10 inch nonstick skillet to make your Swedish pancakes. While you can purchase a special pan called a "plett" for making Swedish pancakes that are just 3 inches in diameter, it is just as common these days to see Swedish pancakes in a larger form, more like a small crepe. Choosing this modern, bigger pancake shape also means you have one less piece of special equipment to buy....a small nonstick skillet will do the job just fine.
Brush the skillet with melted butter prior to cooking each pancake. This imparts delicious flavor and just the right amount of browning to the pancakes.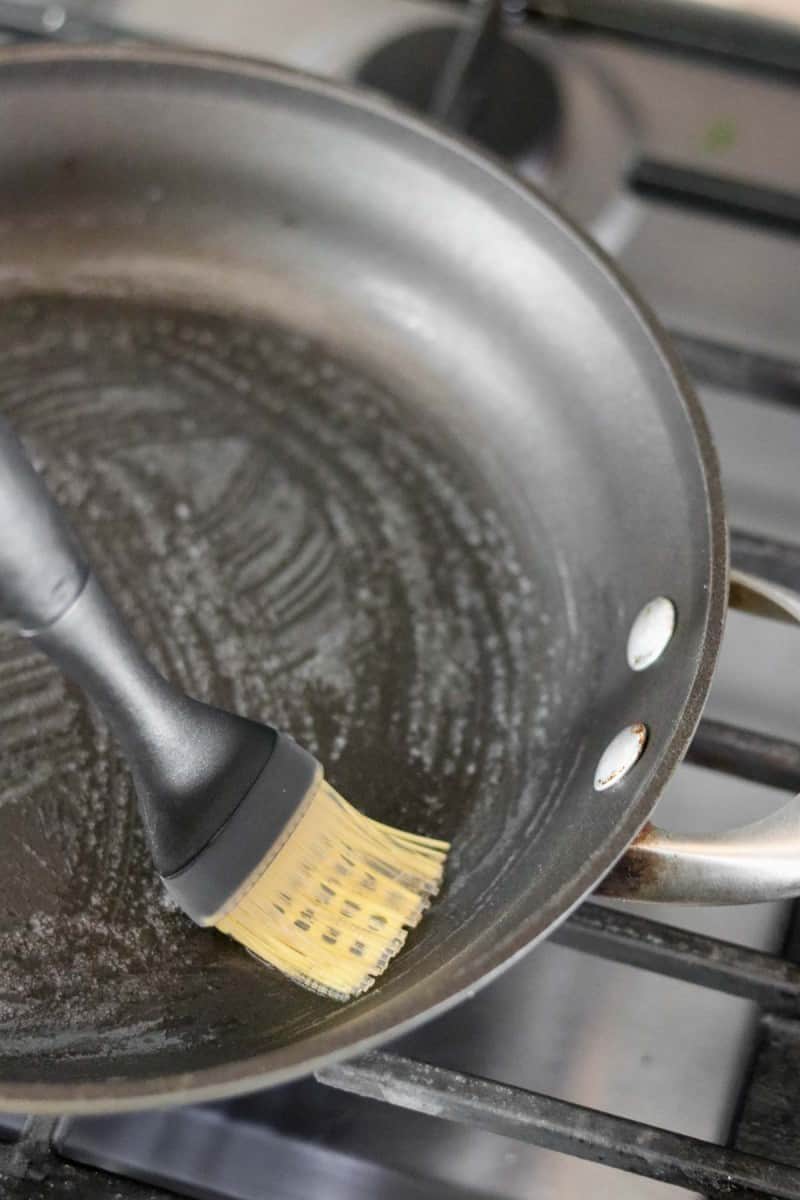 Lift and swirl that skillet! Lift the heated skillet off of the burner before you pour the batter into the skillet. Once you pour the batter in, swirl it around so that it coats the bottom of the pan evenly. Continue swirling until the batter is just set. Then return the skillet to the heat. Cook for 30 seconds or so.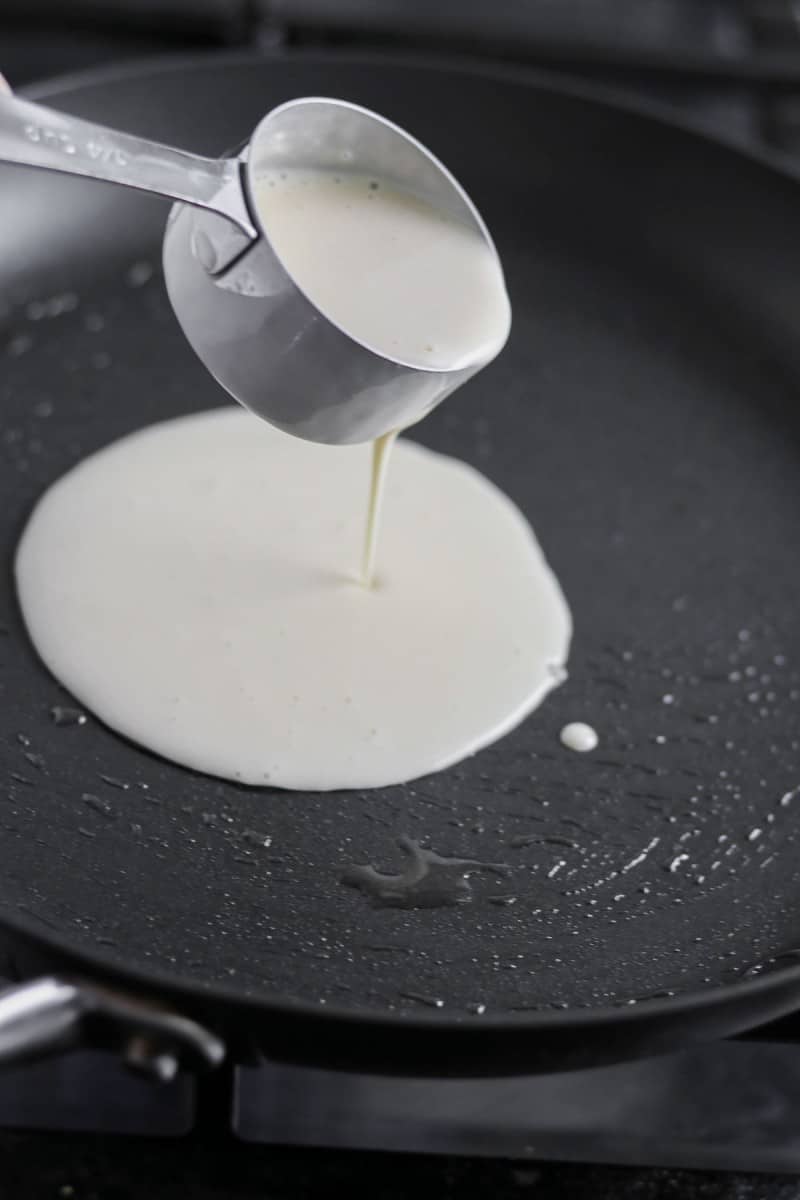 Carefully flip the pancake with a nonstick spatula. Gently loosen the edges and slide the spatula underneath. Quickly flip the pancake over so it can brown on the other side. Let the pancake cook for another 30 seconds.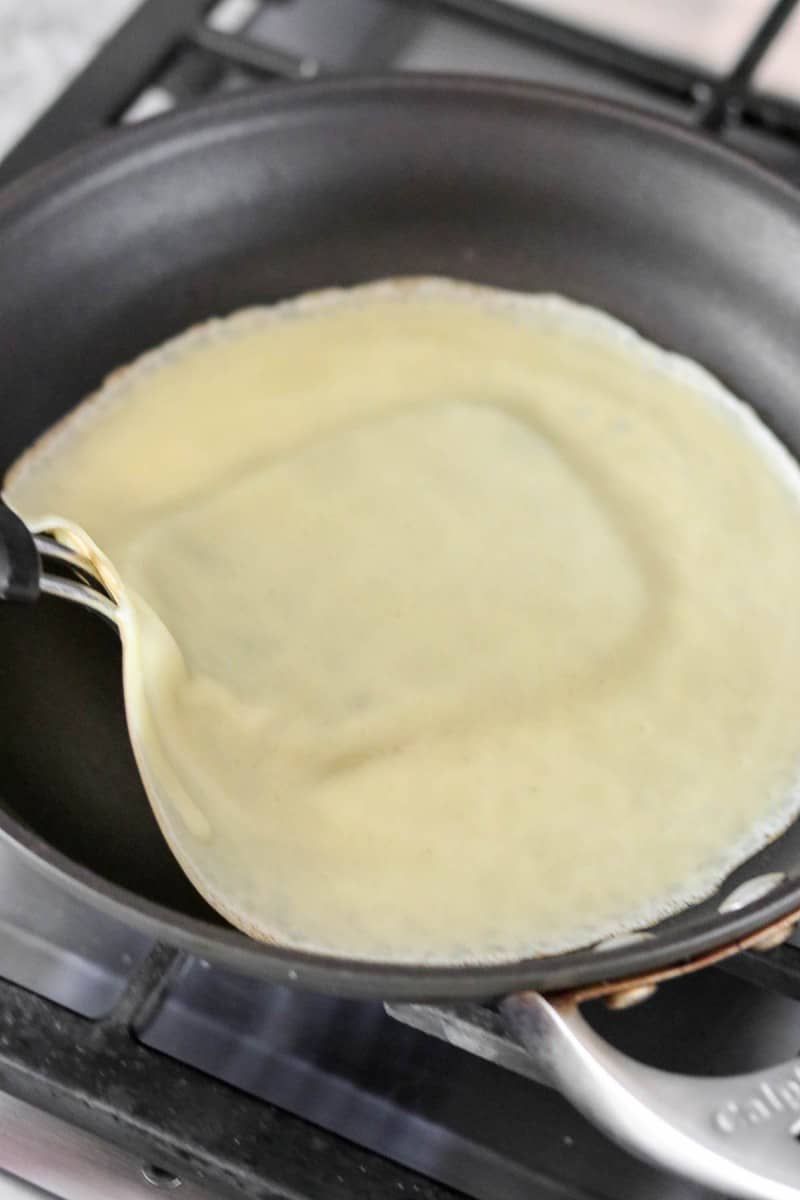 Use that nonstick spatula to remove the pancake from the skillet and transfer it to a heatproof plate. Cover with foil and transfer to a 200 degree oven to keep warm.
Repeat with remaining batter.
To serve, top each warm pancake with a dollop (or two!) of the lingonberry butter. Fold lengthwise into thirds. Serve topped with additional lingonberry preserves and leftover lingonberry butter.
Expert Tips for Making Swedish Pancakes
Once you get a hang of the process, making Swedish pancakes is pretty simple. A few important tips to keep in mind:
Monitor the heat of your pan. You may need to adjust the heat down slightly if your pancakes are browning too quickly.
Wipe out the pan with a paper towel as needed in between pancakes. The surface of the pan may start to collect overly browned butter or cooked batter as you go, which you don't want to impart to the next pancake.
Learn to perfect the "lift and swirl" technique with the batter when you pour it into the skillet. This is the most important aspect of making Swedish pancakes that are round and an even thickness throughout. Watch the video linked below to get a better idea of what this looks like in action.
FAQs
How are Swedish pancakes different from American pancakes?
Unlike American pancakes which are prized for being tall and fluffy, Swedish pancakes are thin, delicate and crepe-like. They are traditionally made in a special pan called a plett, which has thin 3-inch round indentations designed for cooking the pancakes.

The Swedish pancake batter itself has many similar ingredients to American pancakes (milk, butter, eggs, flour, etc.), but the consistency of the batter is much thinner, and it does not contain any leavening agents. Most Swedish pancake recipes also recommend a brief rest of the batter prior to cooking which helps ensure a uniformly thin and tender pancake.

When served, American pancakes are often buttered, stacked and drenched generously in maple syrup. Swedish pancakes, on the other hand, are traditionally rolled or folded and served with lingonberries, butter and sometimes whipped or sour cream.
What is the history of Swedish pancakes?
Historically Swedish pancakes were served on Thursday evenings as a dessert following a meal of hearty pea soup. According to Food's Ready, a cookbook put together by IKEA food services, this tradition harkens back to when Sweden was a Catholic country and it was customary to fast on Fridays. People would fill up on pea soup and pancakes the night before to help them get through that long day ahead without food.
What can I serve with Swedish pancakes besides lingonberries?
Just about anything goes! The Swedish pancake is really a blank canvas waiting for your creative filling and topping ideas. For example, in this recipe I've tucked a little vanilla pastry cream inside and spooned a homemade blueberry compote on top. Depending on the season, apple, pear or peach compote would all be delicious options.
Can I make Swedish pancakes ahead of time?
Yes! Once you have made the pancakes and allowed them to cool to room temperature, wrap the stack of pancakes tightly in plastic wrap and store in the fridge for a day or two. When you are ready to serve, you can warm a single serving in the microwave as needed, or transfer the whole stack of pancakes to a large piece of foil and wrap tightly. Warm in a 300 degree oven in the pancakes are heated through.
Can I freeze Swedish pancakes?
Yes, unfilled Swedish pancakes freeze quite well. Once your pancakes have cooled to room temperature, stack them in between squares of parchment or wax paper. Wrap the stack in plastic wrap and then place the wrapped stack inside of a freezer bag. Use within 4-6 weeks. When you are ready to serve, you can warm a single serving in the microwave as needed, or remove the plastic wrap and transfer the whole stack of pancakes to a large piece of foil and wrap tightly. Warm in a 300 degree oven in the pancakes are heated through.
Looking for more classic Swedish recipes? Give these a try: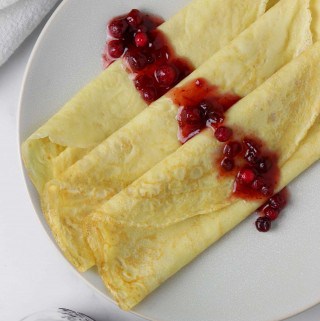 Swedish Pancakes with Lingonberries
An easy and delicious recipe for a true Scandinavian classic.  Tender and delicate pancakes served with lingonberries and butter.  
Print
Pin
Rate
Ingredients
For the Pancake Batter:
1

cup

all-purpose flour

1

tablespoon

sugar

¼

teaspoon

salt

2

eggs

1

cup

whole milk

6

tablespoons

water

3

tablespoons

unsalted butter

melted and cooled, plus more for the pan

½

teaspoon

vanilla
For the Lingonberry Butter:
¼

cup

unsalted butter

room temperature

2

tablespoons

lingonberry preserves

Pinch

of salt
Instructions
Make the Pancake Batter:  Combine all ingredients in a blender and blend until completely smooth.  Transfer to the refrigerator to rest for at least 2 hours or up to 2 days.

Meanwhile, make the Lingonberry Butter:  Combine lingonberry preserves, butter and salt together in a small bowl with a fork.  Set aside.

Preheat oven to 200 degrees.  Heat a 10 inch nonstick skillet over medium heat.  Stir the batter briefly to recombine. Brush skillet with melted butter.  Pick the skillet up off of the burner and quickly add ¼ cup of batter. Immediately begin swirling the batter around the skillet so that it coats the bottom of the pan.  Continue swirling until the batter is just set.  Return skillet to the burner. Cook until the pancake is golden brown in spots on the bottom, about 30 seconds. Use a thin spatula to loosen the pancake, flip it over continue to cook on the other side for about 30 seconds.  Transfer to a plate. Cover with foil and transfer to oven to keep warm and repeat with remaining batter, wiping out skillet in between pancakes with paper towel as needed.

When you are ready to serve, top each warm pancake with lingonberry butter and fold into thirds. Serve topped with lingonberry preserves.
Nutrition
Calories:
399
kcal
|
Carbohydrates:
37
g
|
Protein:
8
g
|
Fat:
24
g
|
Saturated Fat:
15
g
|
Cholesterol:
141
mg
|
Sodium:
210
mg
|
Potassium:
142
mg
|
Fiber:
1
g
|
Sugar:
11
g
|
Vitamin A:
832
IU
|
Vitamin C:
1
mg
|
Calcium:
90
mg
|
Iron:
2
mg
If you loved this recipe, give it a star review! Also, snap a picture of your Swedish Pancakes and share it with me on Instagram using the hashtag #truenorthkitchen and tagging me @true_north_kitchen.