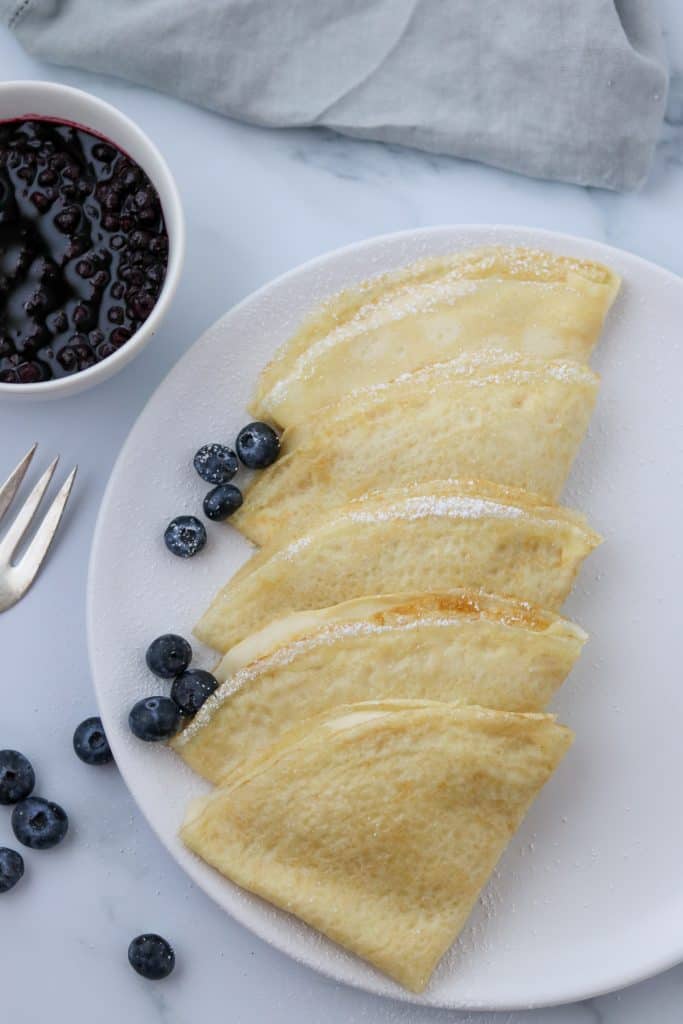 Swedish Pancakes with Lingonberries are a classic for a reason. Thin, buttery pancakes filled with lingonberry butter and topped with Stirred Lingonberries, Swedish Pancakes are always sure to please. But it's nice to switch things up now and then and try a variation on the same theme. Swedish Pancakes are, after all, very similar to French crepes. And just like crepes, they can be filled and topped with a wide variety of delicious things, both savory and sweet.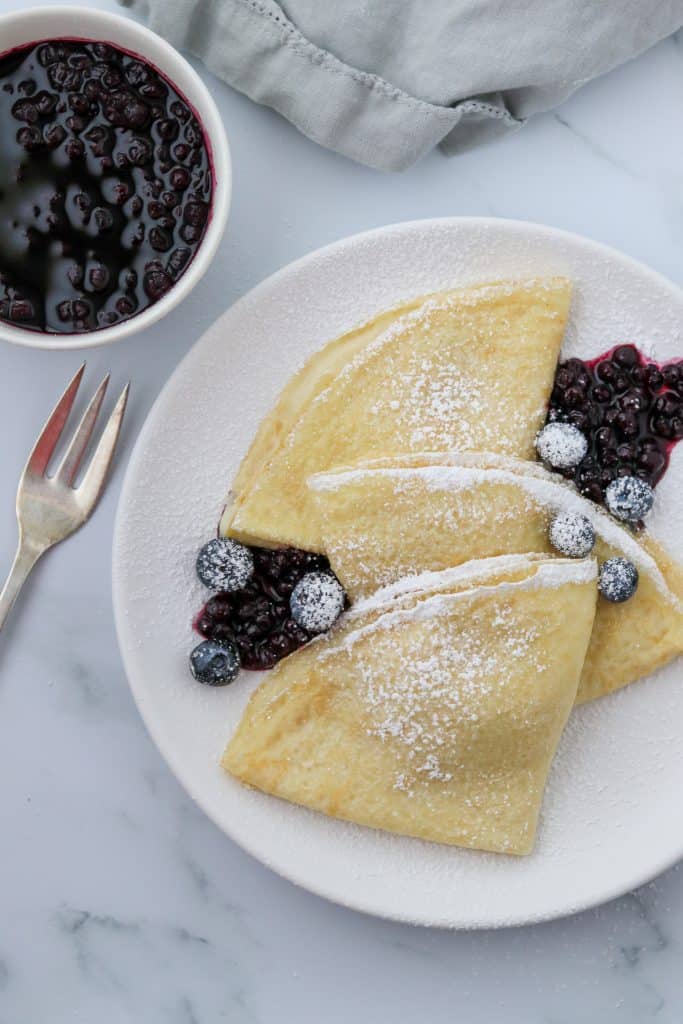 As summer draws to a close, I thought it might be a good time to bring blueberries and Swedish Pancakes together in a dessert sort of way. A local restaurant here in Omaha serves crepes that are filled with a luscious vanilla pastry cream and topped with a bright blueberry sauce. I thought that just might translate well to my basic Swedish Pancake recipe and Blueberry Cardamom Compote.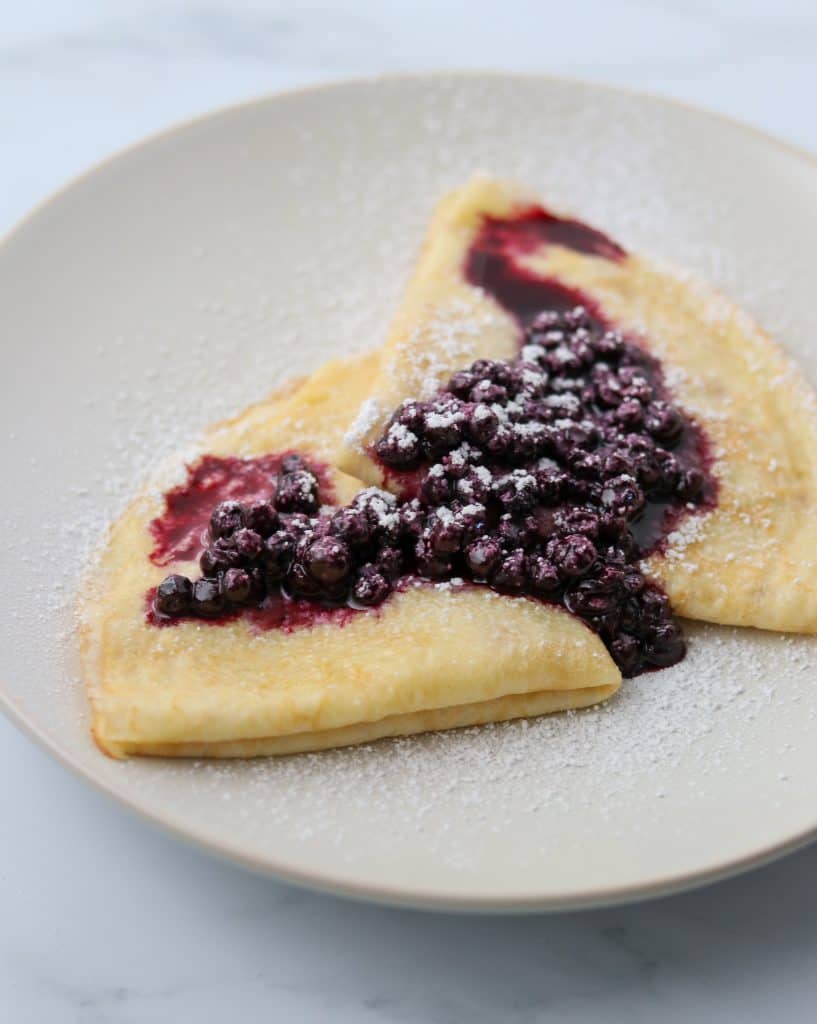 And I was not wrong! The combination of thin, tender pancakes, vanilla pastry cream and warm blueberry compote is a show-stopper that is sure to wow family and guests alike. They make a stunning dessert or a slightly decadent breakfast for the blueberry lovers in your life.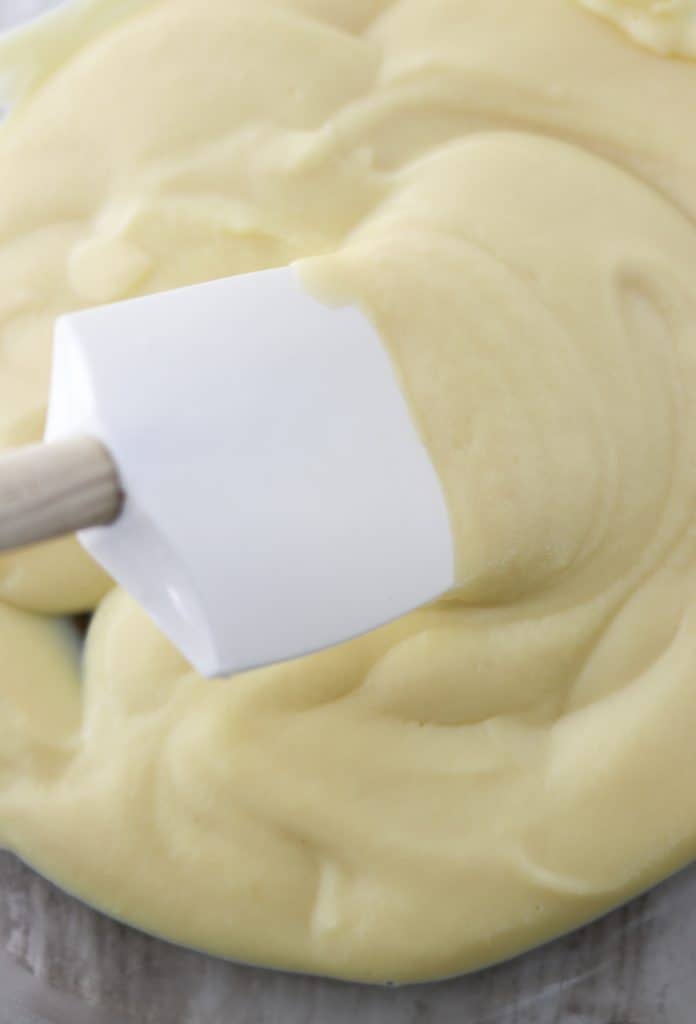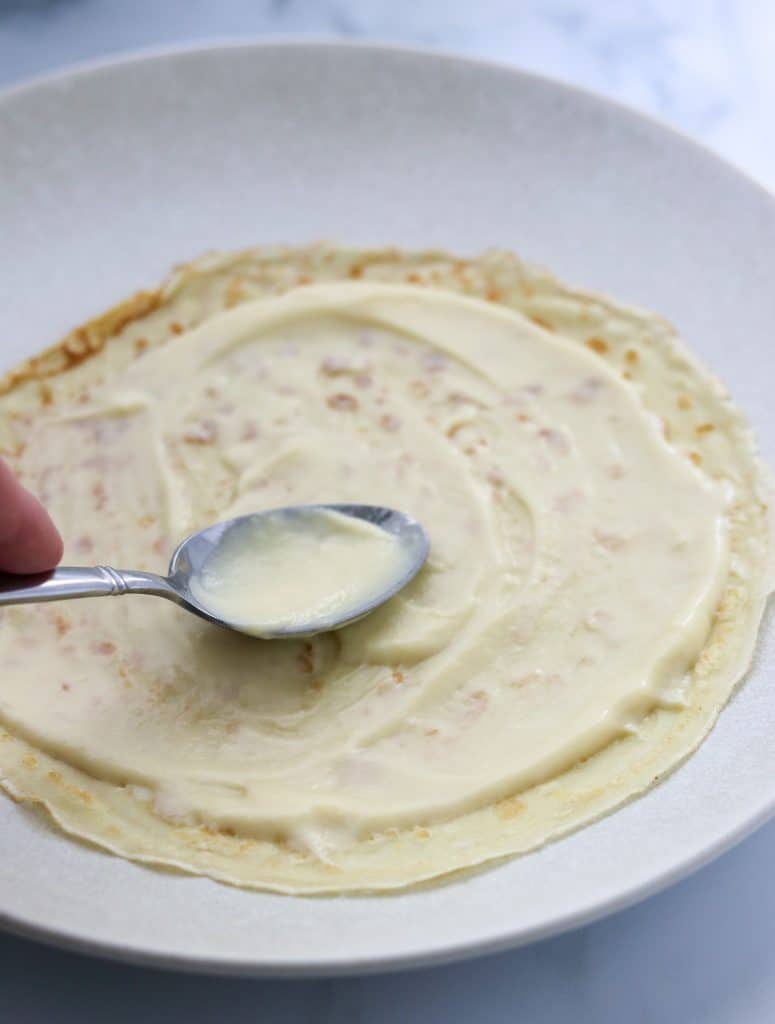 MAKING EASY AND DELICIOUS SWEDISH PANCAKES AT HOME
Use a blender to mix your batter ingredients. This creates an incredibly smooth, lump-free batter every time and couldn't be easier. Just put everything in, let it whirl about and you're done.
Rest the batter for at least two hours or up to two days. This will help ensure that your pancakes are uniform in texture and as tender as they can be. I recommend mixing the batter the night before so that it's ready when you are.
Use a 10 inch nonstick skillet to make your Swedish pancakes. The key word here is nonstick. We don't want these delicate, thin pancakes sticking to the surface of the pan in any way, shape or form.
Brush the skillet with melted butter prior to cooking each pancake. This imparts delicious flavor and just the right amount of browning to the pancakes.
Lift and swirl that skillet! Lift the heated skillet off of the burner before you pour the batter into the skillet. Once you pour the batter in, swirl it around so that it coats the bottom of the pan evenly. Continue swirling until the batter is just set. Then return the skillet to the heat. This technique may take a little practice but it makes for a pancake that is nicely browned and uniform in thickness.
Carefully flip the pancake over with a thin spatula. This might also take some practice and a little careful help from your fingers, but as long as you are using a nonstick skillet, the pancake should release, lift and flip easily.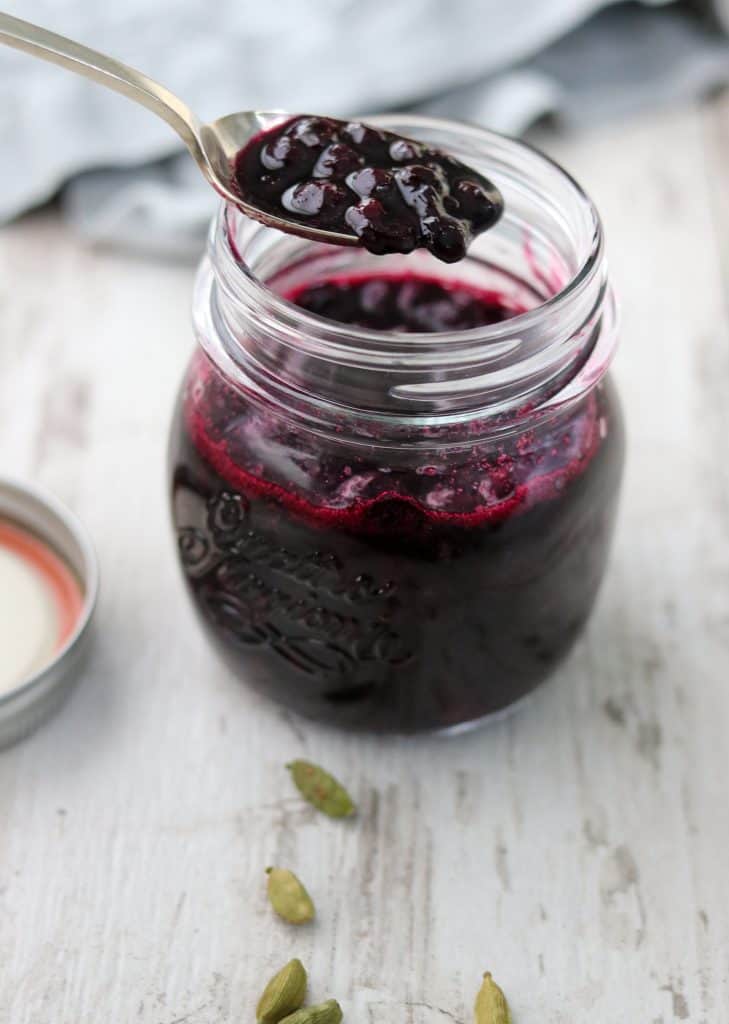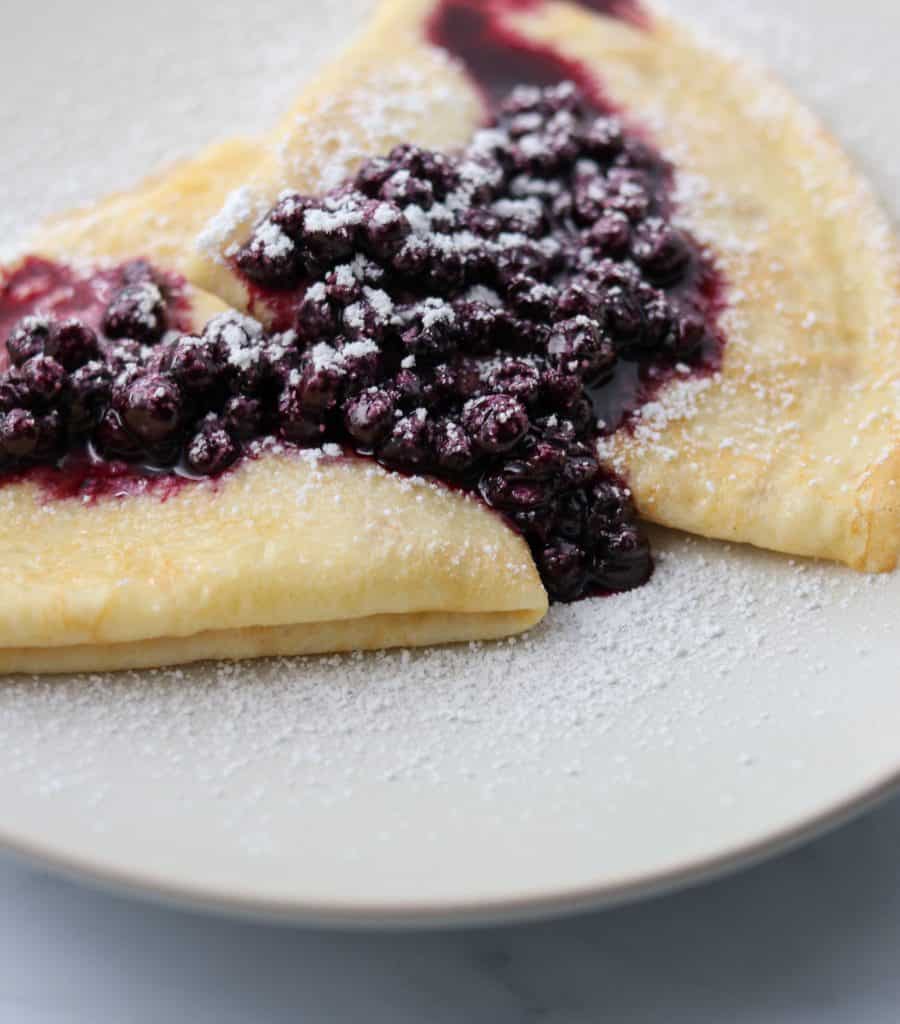 I hope you give these Swedish Pancakes with Vanilla Pastry Cream and Blueberry Cardamom Compote a try sometime soon. They would make a lovely sweet ending to a festive late summer meal.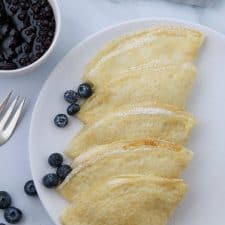 Swedish Pancakes with Vanilla Pastry Cream and Blueberry Cardamom Compote
A delicious dessert version of Swedish pancakes filled with luscious vanilla pastry cream and a drizzle of warm Blueberry Cardamom Compote.
Print
Pin
Rate
Ingredients
For the Pancake Batter:
1

cup

all-purpose flour

1

tablespoon

sugar

¼

teaspoon

salt

2

eggs

1

cup

whole milk

6

tablespoons

water

3

tablespoons

unsalted butter

melted and cooled, plus more for the pan

½

teaspoon

vanilla
For the Vanilla Pastry Cream:
3

egg yolks

1 ½

tablespoons

cornstarch

1 ½

cups

half and half or whole milk

3

tablespoons

sugar

Pinch

of fine salt

2 ½

tablespoons

unsalted butter

1 ½

teaspoons

vanilla extract
To Assemble:
Whipped cream and/or powdered sugar for sprinkling
Instructions
Make the Vanilla Pastry Cream:  Whisk egg yolks, cornstarch, half and half or milk, sugar and salt together in a medium saucepan.  Add butter.  Place pan over medium low heat and whisk constantly until butter melts and mixture becomes smooth and thick, about 3-5 minutes.  Strain mixture through a fine mesh strainer into a clean bowl.  Stir in vanilla. Place a piece of parchment paper directly on top of the pastry cream, followed by a layer of plastic wrap (this prevents the custard from forming a skin).  Refrigerate until you are ready to use.  (Vanilla Pastry Cream can be made 1-2 days in advance.)

Make the Pancakes:  Combine all ingredients in a blender and blend until completely smooth.  Transfer to the refrigerator to rest for at least 2 hours or up to 2 days.

Heat a 10 inch nonstick skillet over medium heat.  Stir the batter briefly to recombine.  Brush skillet with melted butter.  Pick the skillet up off of the burner and quickly add a ¼ cup of batter.  Immediately begin swirling the batter around the skillet so that it coats the bottom of the pan.  Return the skillet to the burner.  Cook until the pancake is golden brown in spots on the bottom, about 1 minute.  Use a spatula to loosen the pancake, flip it over and continue to cook on the other side for about 1 minute.  Remove from the skillet and transfer to a plate to cool.  Continue with the remaining batter.

Assemble the Pancakes:  When you are ready to serve, heat the

Blueberry Cardamom Compote

until warmed through.  Transfer a pancake to a clean work surface.  Spread a layer of vanilla pastry cream on the top and fold into quarters.  Top with Blueberry Cardamom Compote.  Top with whipped cream and/or sprinkle with powdered sugar.  Repeat with remaining pancakes.  Serve.
Nutrition
Calories:
198
kcal
|
Carbohydrates:
20
g
|
Protein:
5
g
|
Fat:
11
g
|
Saturated Fat:
6
g
|
Cholesterol:
114
mg
|
Sodium:
102
mg
|
Potassium:
111
mg
|
Fiber:
1
g
|
Sugar:
9
g
|
Vitamin A:
415
IU
|
Vitamin C:
1
mg
|
Calcium:
83
mg
|
Iron:
1
mg