This simple, no-cook lingonberry sauce (also known as stirred lingonberries) is an essential component of Scandinavian cuisine. This simple mixture of lingonberries and sugar is enjoyed in the Nordic region as a sort of sweet relish. You will find it served alongside Swedish meatballs or potato pancakes or spooned over a warm bowl of porridge or buttery Swedish pancakes.
Ready to give this easy Scandinavian lingonberry sauce a try? Read on to learn how to make it at home!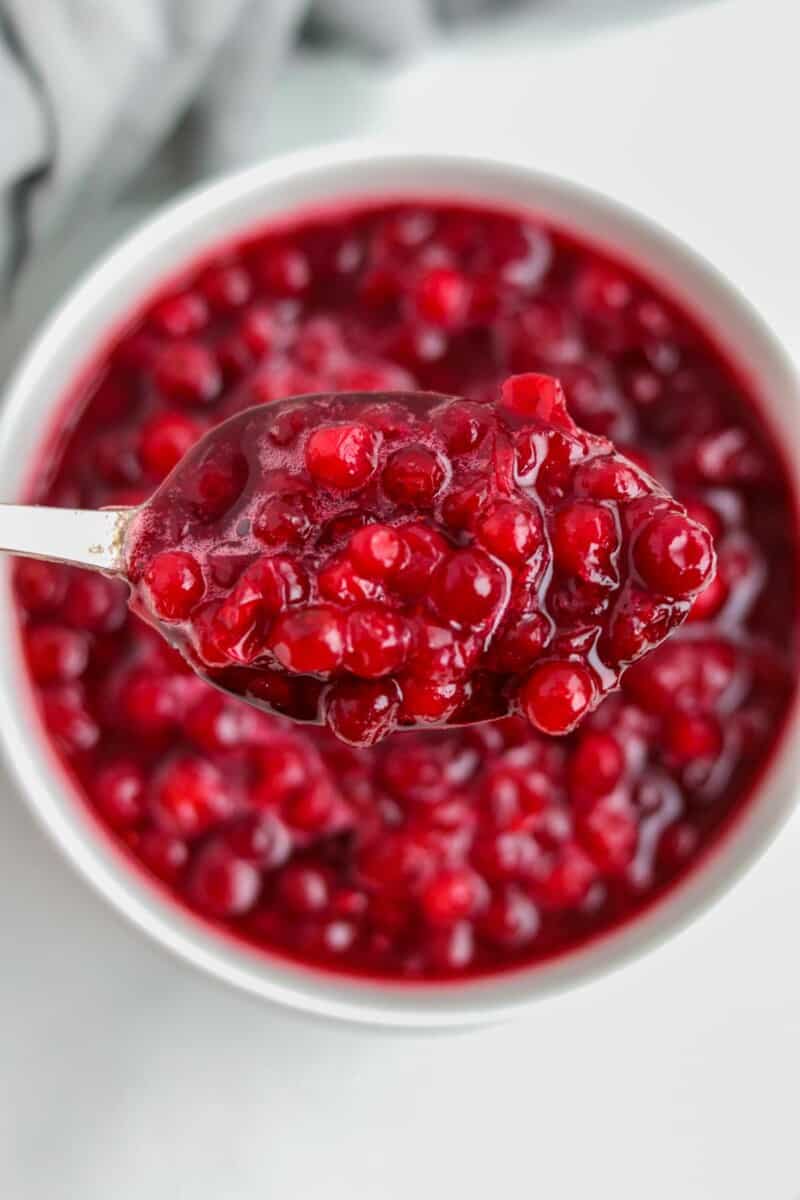 Why This Recipe Works
This two ingredient sauce is simple and brings out the best in the lingonberries by leaving them uncooked.
The sauce contains just the right amount of sugar to mellow out the tartness of the lingonberries.
Ingredients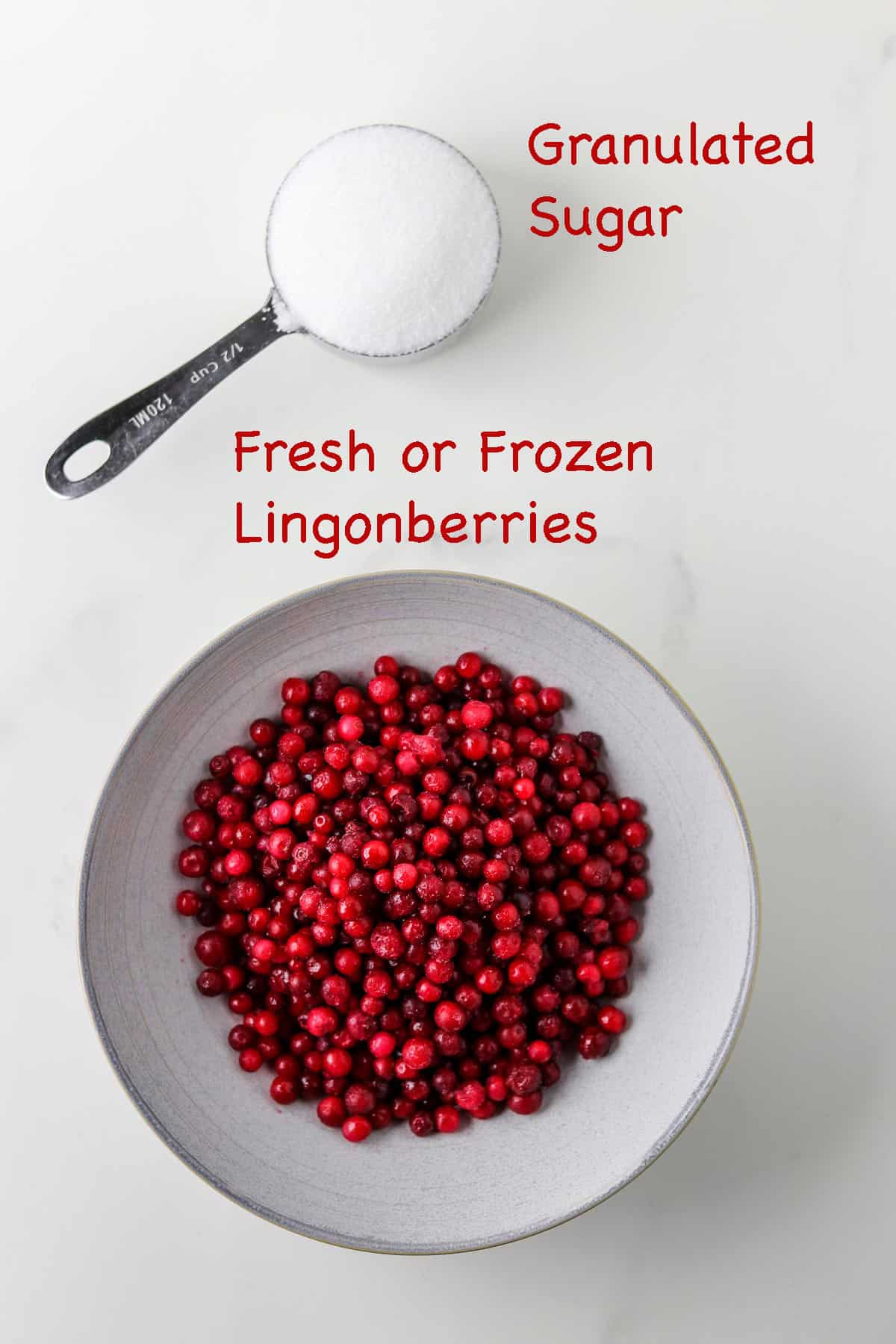 That's all there is to it!
How to Make This Recipe
Combine the lingonberries and sugar together in a bowl (no need to defrost the lingonberries first).
Stir the lingonberries and sugar together and let sit at room temperature until the sugar has completely dissolved, stirring the sauce occasionally to encourage that to happen.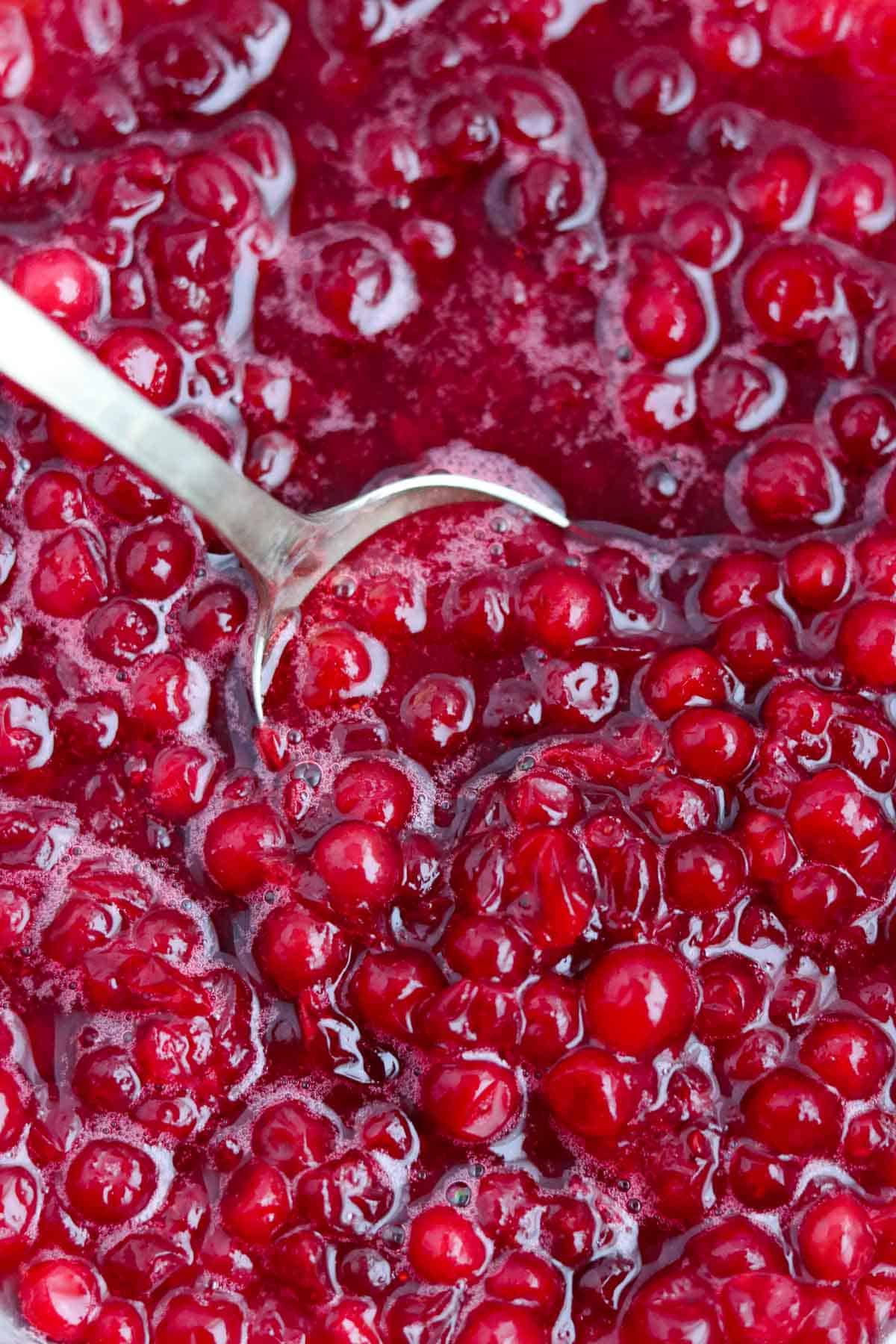 Expert Tips
Be sure to stir the mixture occasionally to help the sugar dissolve. With frozen lingonberries, this might take up to 2 hours.
If you are having trouble getting the sugar to dissolve (or are getting impatient) you can always pop the mixture in the microwave for 20 seconds or so. Stir and then repeat until the sugar has completely dissolved.
FAQs
Are lingonberries good for you?
Lingonberries are considered one of the most nutritious  berries in the world.  Rich in vitamin C and antioxidants, lingonberries are now touted as a superfood. They are believed to reduce inflammation, prevent urinary tract infections and, according to Dr. Oz, may even reduce the appearance of age spots.  Superfood indeed!
What do lingonberries taste like?
Lingonberries are very tart in flavor, much like a cranberry, which is why they are almost always paired with some kind of sweetener before eating. 
Where can I buy lingonberries?
 Here in the United States, fresh lingonberries can be very difficult to find.  Frozen lingonberries are available, especially if you live somewhere with a strong Scandinavian cultural presence (I buy mine at Ingebretsen's Nordic Marketplace in Minneapolis or online from Sturdiwheat).
I can't find fresh or frozen lingonberries and I don't want to order them. What else can I do?
You can almost always find preserved lingonberries or lingonberry jam (which are shelf stable prior to opening and come in a jar) at large grocery stores, Scandinavian specialty stores, IKEA or online at Amazon. They are not the same as this no-cook sauce (these products are cooked and more jam-like in texture), but they are a close second to the real thing.
How do I store this Lingonberry Sauce?
Store the sauce in a tightly sealed container in the refrigerator for up to a few weeks.
Can I freeze this sauce?
Yes, this lingonberry sauce freezes very well.
Related Recipes
Once you make a batch of this delicious sauce, try it with one of the following recipes:
Looking for more classic Scandinavian sauce recipes? Give these a try:
Order some lingonberries and give this sauce a try! I think you are going to love it. They last forever in the freezer so you can look forward to using them in all sorts of different applications! For something a little different, try using them in my Nordic Wild Berry Almond Smoothie or this recipe for Lingonberry Skyr Mousse.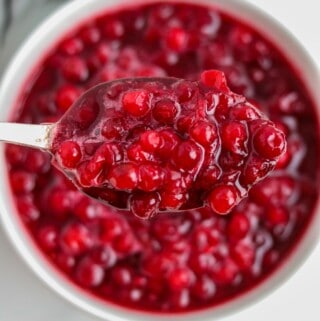 No Cook Lingonberry Sauce (Stirred Lingonberries)
A simple but essential Scandinavian condiment made with lingonberries and sugar.  Delicious on nearly everything!
Print
Pin
Rate
Servings:
6
servings (one cup)
Ingredients
1

cup

frozen lingonberries

(no need to defrost)

½

cup

granulated sugar
Instructions
Stir lingonberries and sugar together.  Let sit at room temperature, stirring occasionally, until sugar dissolves (this might take a couple of hours if your berries are frozen).  Store in the refrigerator for two to three weeks or freeze for longer storage.
Nutrition
Calories:
22
kcal
|
Carbohydrates:
5
g
|
Protein:
1
g
|
Fat:
1
g
|
Sodium:
1
mg
|
Potassium:
1
mg
|
Sugar:
1
g
|
Vitamin A:
35
IU
|
Vitamin C:
8
mg
|
Calcium:
10
mg
|
Iron:
1
mg
If you loved this recipe, give it a star review! Also, snap a picture of your No Cook Lingonberry Sauce and share it with me on Instagram using the hashtag #truenorthkitchen and tagging me @true_north_kitchen