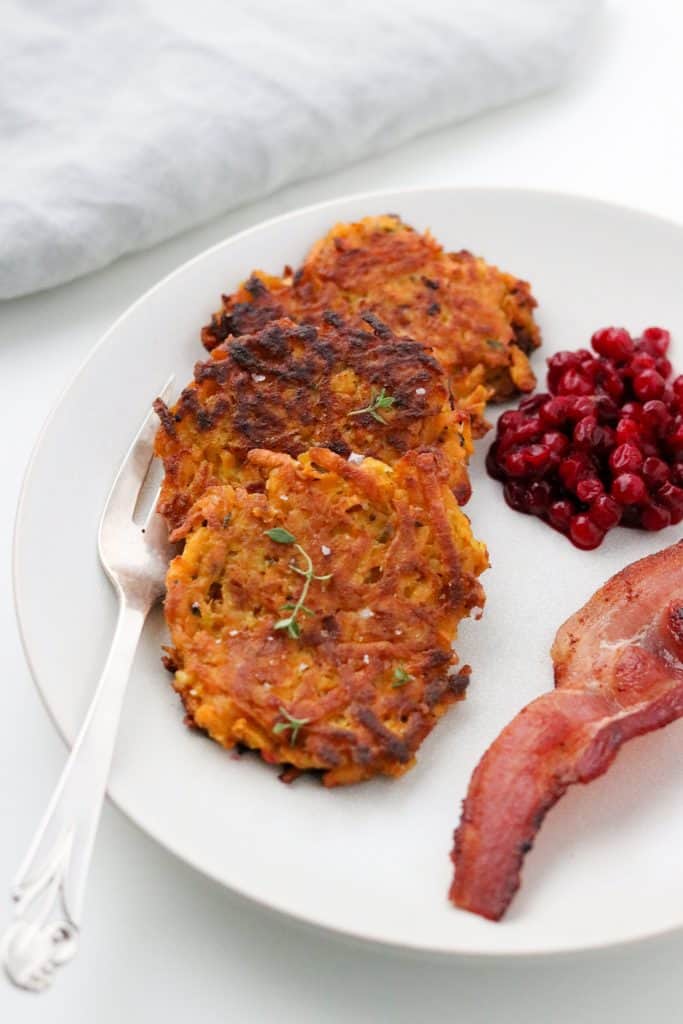 Potato Pancakes are a classic Scandinavian dish. They can be prepared and served many different ways, but quite often they are served for breakfast alongside Stirred Lingonberries or lingonberry preserves or jam and a slice or two of bacon. And that's where the intent of this post began. I had planned on creating a recipe for traditional potato pancakes. But as I began developing a testing the recipe, I realized wanted something a little different. Something with just a bit more Nordic pizazz than plain old potato pancakes.
And then I remembered a recipe I had seen in Steffi Knowles-Dellner's inspiring book, Lagom: The Swedish Art of Eating Harmoniously for sweet potato pancakes. That was just the kind of modern twist on a classic recipe that I was looking for....still familiar, still made with easy-to-find ingredients but different and interesting. And the combination of sweet potatoes and bacon? Pure sweet and salty magic.
I began by adapting my Beet and Celery Root Cake recipe to accommodate sweet potatoes. It turns out they were nearly an even swap. I added a little fresh thyme for an herby, fresh element. The result? Perfectly delicious little cakes that are right at home next to a dollop of lingonberry jam and some meaty bacon.
The Ingredients
These little sweet potato cakes are very simple and straightforward. If you've got a couple of sweet potatoes and little fresh thyme in the garden, you probably have everything on hand that you need:
Sweet Potatoes. I use the jewel variety here (tan skin and orange flesh) which are readily available at most supermarkets and create a bright, sunshine-y cake that is as lovely to look at as it is to eat.
Onion. For a subtle, aromatic flavor.
Eggs. Eggs serve as the liquid binder that keeps these cakes together.
All-Purpose Flour. Flour is an important dry element that helps hold the cakes together by combining with the eggs to form a light pancake batter.
Fresh thyme. I absolutely love the herby thyme flavor here. If you only have dried thyme on hand, only use half the amount called for here (rather than 1 teaspoon fresh, only use ½ teaspoon dried) as dried herbs are more potent than fresh.
Coarse salt and freshly ground pepper.
Sea salt flakes for sprinkling. You could certainly use any coarse salt here, but a flaky sea salt such as Maldon adds a clean, crisp saltiness to the finished product. So good!
Olive oil. I use olive oil as the cooking medium here. You could easily substitute canola or vegetable oil, but I like the subtle flavor that the olive oil brings here.
Bacon. Need I say more?! A little bite of bacon with every little bite of sweet potato pancake is pure heaven.
Stirred Lingonberries or lingonberry preserves or jam. One of the essential Nordic condiments to have on hand at all times, in my opinion. And such a great compliment to the sweet potato pancakes and bacon.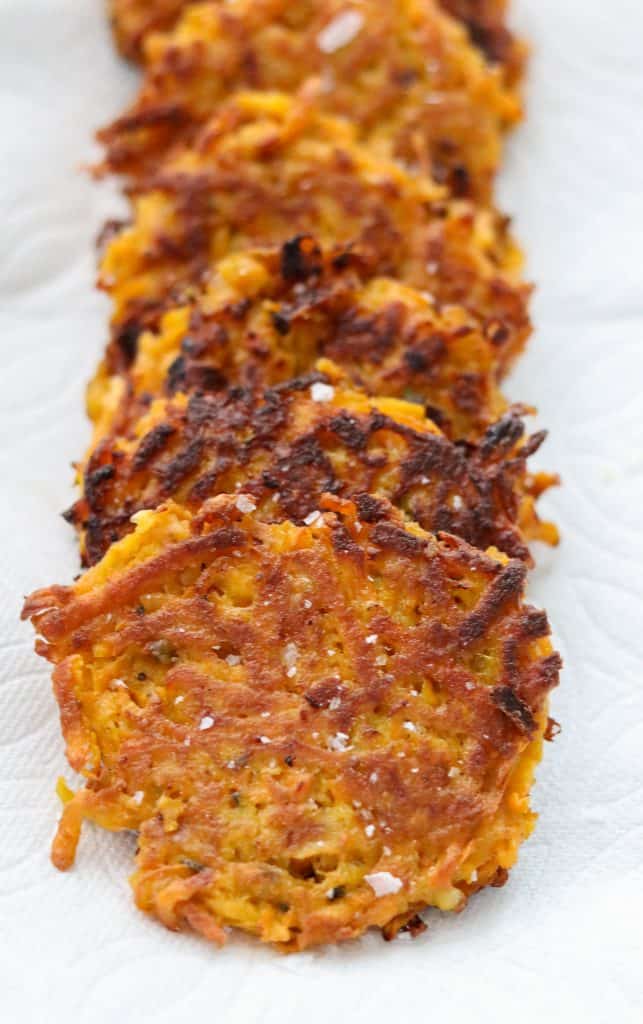 Tips and Tricks for Making Sweet Potato Pancakes
These are very easy to make, but there are a few tips and tricks I might suggest in order to ensure Sweet Potato Pancake success every time:
Use a nonstick skillet. I cannot emphasize this enough. Because of the starch and natural sugars present in the sweet potatoes, these cakes have a tendency to stick to the pan as they begin to caramelize and form a crust. Make your life easy and stick-free by using a nonstick skillet. You will thank me later. If you are looking to keep things Scandi in your kitchen, I highly recommend these nonstick skillets from Scanpan. Made in Denmark with an easy release, high-quality nonstick surface.
Begin with the heat on medium and adjust as necessary. It's important to keep an eye on your cakes as they cook to make sure they aren't browning too quickly. The shredded sweet potatoes will need the full 8 minutes to soften and become tender, so if the outsides are browning faster than you would like them to, simply reduce the heat to medium-low.
Press down on the cakes with a nonstick spatula now and then to help the cake hold together and to encourage a nicely browned, crispy exterior.
Cook for at least 8 minutes. This seems to be the magical amount of time it takes on my stove to create a crispy exterior and a tender, soft interior. As I mentioned above, sometimes these cakes will want to brown too quickly resulting in a browned exterior and underdone interior. Simply keeping an eye on them while they cook and adjusting the heat as needed should do the trick.
Wipe out the skillet between batches. This recipe makes 12 cakes so unless you use two skillets at once, you will need to cook two batches. Carefully wipe out the interior of the skillet with a damp paper towel in between batches. This will help prevent sticking and keep any unwanted brown bits from the first batch from sticking to the second batch.
Keep the first batch warm in a 200 degree oven while you make the second and then enjoy immediately. These sweet potato cakes are at their best (crispiest) immediately after cooking so it's best to enjoy them right away. But you can always crisp up leftover cakes under the broiler or in a toaster oven a day or two later as needed.
Don't forget the bacon and the lingonberry preserves! They aren't absolutely essential but the combination is so outstanding I really don't want you to to miss out. Need a way to make bacon while you are cooking your cakes on the stove? I like to make mine in the oven: simply lay slices out on a heavy, rimmed baking sheet and bake in a 400 degree oven until brown and crispy, about 12-18 minutes, flipping once halfway through. Drain on paper towels before serving.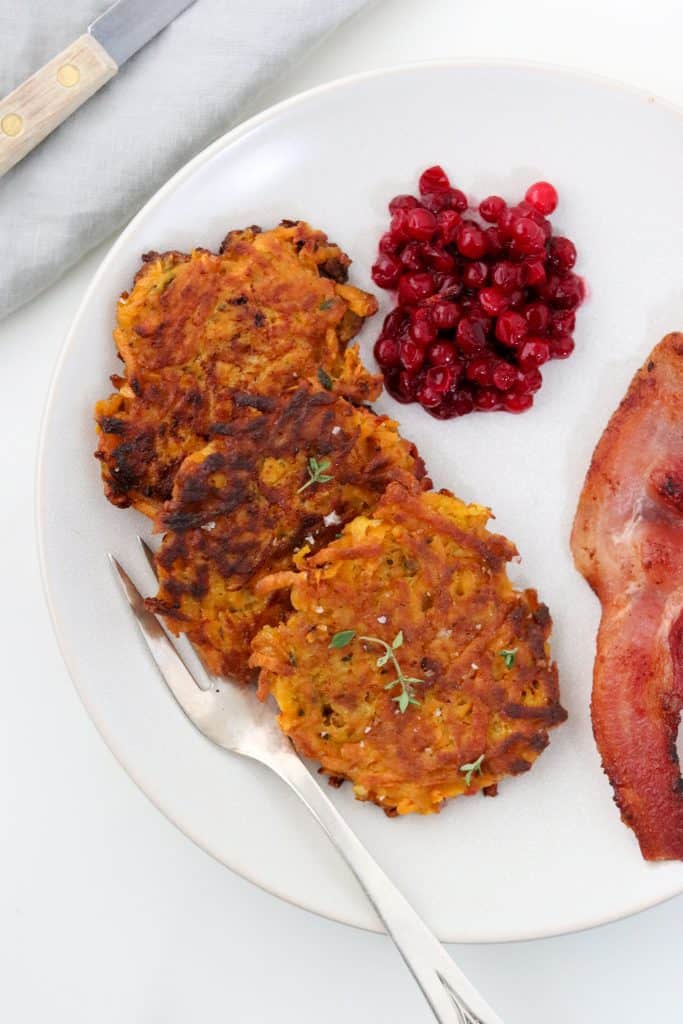 Other Scandinavian Breakfast Ideas
Need some more Scandi-inspired breakfast ideas? Give these a try:
I do hope you will give these Sweet Potato Pancakes with Lingonberries and Bacon a try! They are a delicious modern spin on your standard potato cake and one I think you will really enjoy. If you give these a try, please let me know how they turned out in the comments below.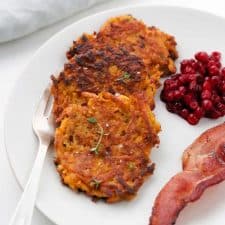 Crispy Sweet Potato Pancakes with Lingonberries and Bacon
A delicious variation of classic Scandinavian potato pancakes featuring sweet potatoes and fresh thyme.  Delicious with lingonberries and bacon!
Print
Pin
Rate
Ingredients
1

pound

sweet potatoes

peeled

½

onion

2

large eggs

¼

cup

all-purpose flour

1

teaspoon

chopped fresh thyme

1

teaspoon

coarse salt

Freshly ground pepper to taste

6

tablespoons

olive oil

divided

Sea salt flakes

such as Maldon, for sprinkling

Cooked bacon slices for serving

1-2 slices per person

Stirred Lingonberries or lingonberry preserves or jam for serving
Instructions
Preheat the oven to 200 degrees.  Using the large holes on a box grater or the grater function of your food processor, grate sweet potatoes and onion.

Crack eggs into a large bowl and beat lightly.  Add grated vegetables, flour, thyme, salt and a few grinds of pepper.  Stir to combine.

Heat 3 tablespoons of olive oil in a large nonstick skillet over medium heat until shimmering.  Add ¼ cup of mixture to the pan at a time, pressing down slightly with the back of the measuring cup to flatten into ½-¾ inch thick cakes. You should be able to fit 6 cakes in the skillet at a time.  Cook until golden brown, crisp and cooked through, about 8 minutes total, flipping cakes occasionally.  Lower the heat as necessary if the cakes are browning too quickly.

Transfer to a rimmed baking sheet lined with paper towels.  Sprinkle with sea salt flakes and transfer to the oven to keep warm.

Wipe out the skillet with a damp paper towel and add the remaining 3 tablespoons of olive oil.  Repeat the process with the remaining mixture.
Nutrition
Calories:
125
kcal
|
Carbohydrates:
11
g
|
Protein:
2
g
|
Fat:
8
g
|
Saturated Fat:
1
g
|
Cholesterol:
28
mg
|
Sodium:
227
mg
|
Potassium:
144
mg
|
Fiber:
1
g
|
Sugar:
3
g
|
Vitamin A:
5422
IU
|
Vitamin C:
2
mg
|
Calcium:
18
mg
|
Iron:
1
mg