Looking for a light and creamy and completely MAKE AHEAD Scandinavian dessert to serve for your next gathering? Look no further! This Lingonberry Mousse is just the thing. Known as Trollkrem (or Troll Cream) in Norway, this delightful dessert is often served during the holiday season, especially on New Year's Eve. But this Lingonberry Mousse would be perfect at any time of year!
Easy to make and a lovely shade of pink, Trollkrem boasts big lingonberry flavor and a light and creamy texture that will keep you and your guests coming back bite after bite.
Ready to make this simple Lingonberry Mousse at home? Keep reading for step by step instructions!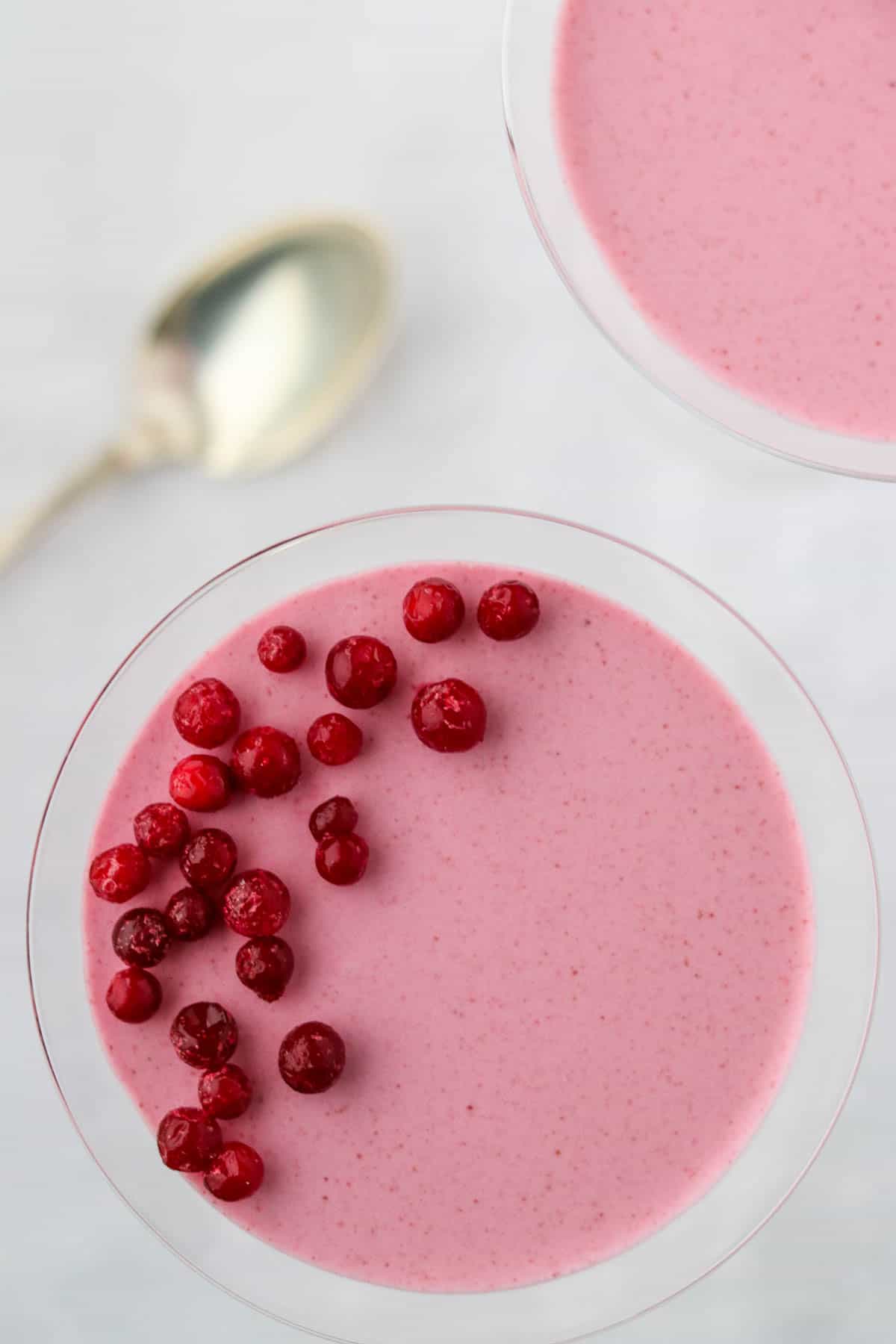 Why This Recipe Works
It is completely make ahead. Who wants to be frantically running around the kitchen preparing dessert while your guests sip cocktails without you? This make ahead mousse helps you enjoy your own gathering by doing the work ahead of time.
This Lingonberry Mousse contains only wholesome ingredients and uses easy to find lingonberry jam for big lingonberry flavor.
While some recipes for Trollkrem contain raw eggs, this one doesn't making it safe for everyone to eat! The fact that it doesn't contain whipped egg whites and is stabilized with gelatin also gives it a longer shelf life after it is prepared. This mousse will keep for up to 4 days in the refrigerator and taste just as good as they day you made it.
The Ingredients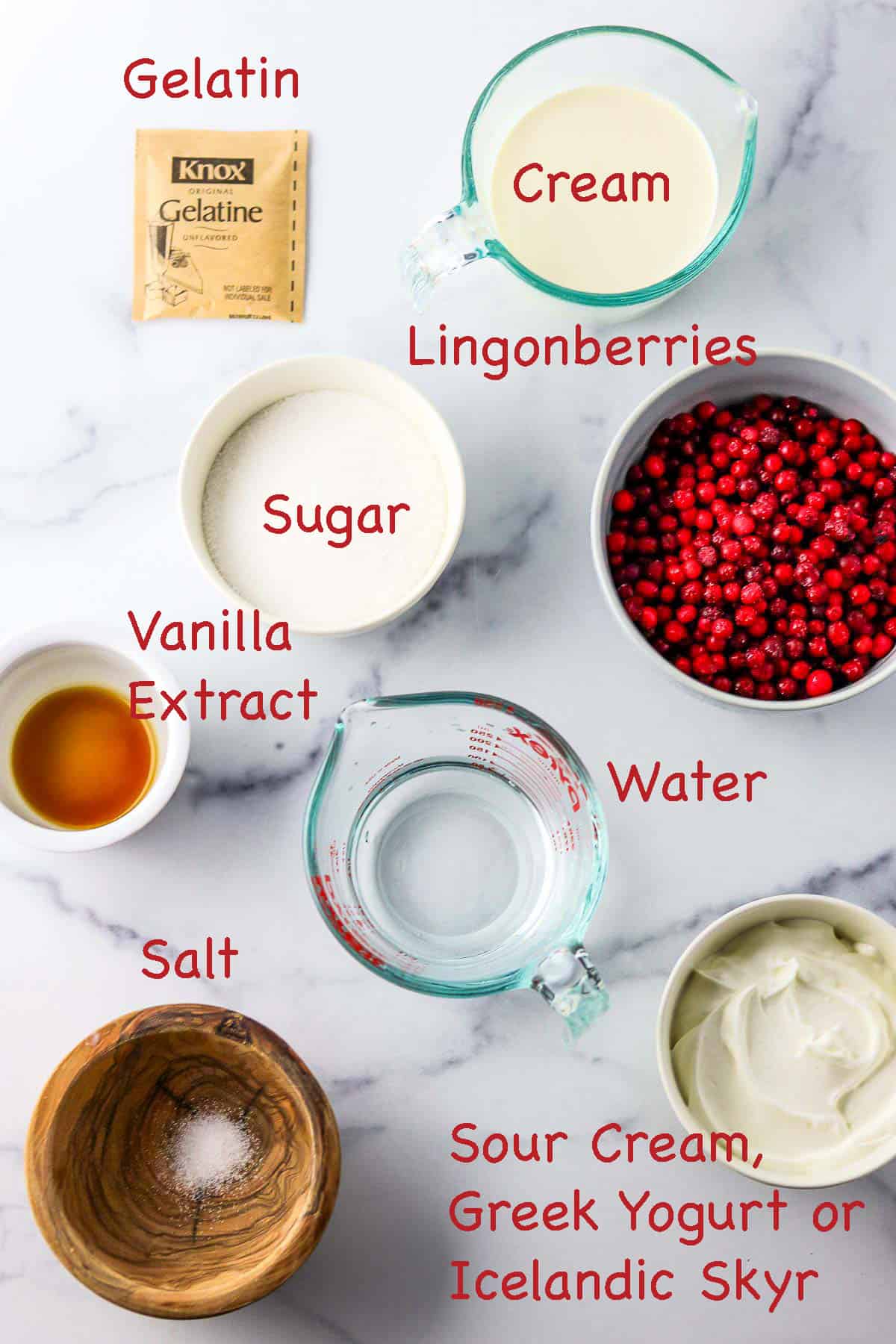 Frozen lingonberries or Lingonberry jam is our main flavor component here. Frozen lingonberries are my preferred choice here as they make a vibrant pink mousse. They can be ordered from sturdiwheat.com or from northwildfoods.com. Lingonberry jam will make a mousse this a lovely dusty rose color, and it can be purchased at well-stocked grocery stores, Scandinavian specialty stores, IKEA and at Amazon.com.
Cream and sour cream (or whole milk yogurt or Icelandic skyr) bring dairy richness with a bit of tang.
A bit of sugar adds the right amount of sweetness, and a pinch of salt balances out the sweet flavors in this dessert.
Finally, powdered gelatin comes in to stabilize everything and give it that delightfully silky texture that you and your guests are going to LOVE!
See the recipe card below for exact amounts and detailed instructions.
Equipment Needed
Mixer to whip the cream (you can also use a hand-held mixer or a whisk to whip the cream)
How to Make This Recipe
Begin by placing the water in a medium saucepan and sprinkling the gelatin over the top. Let it sit for 10 minutes.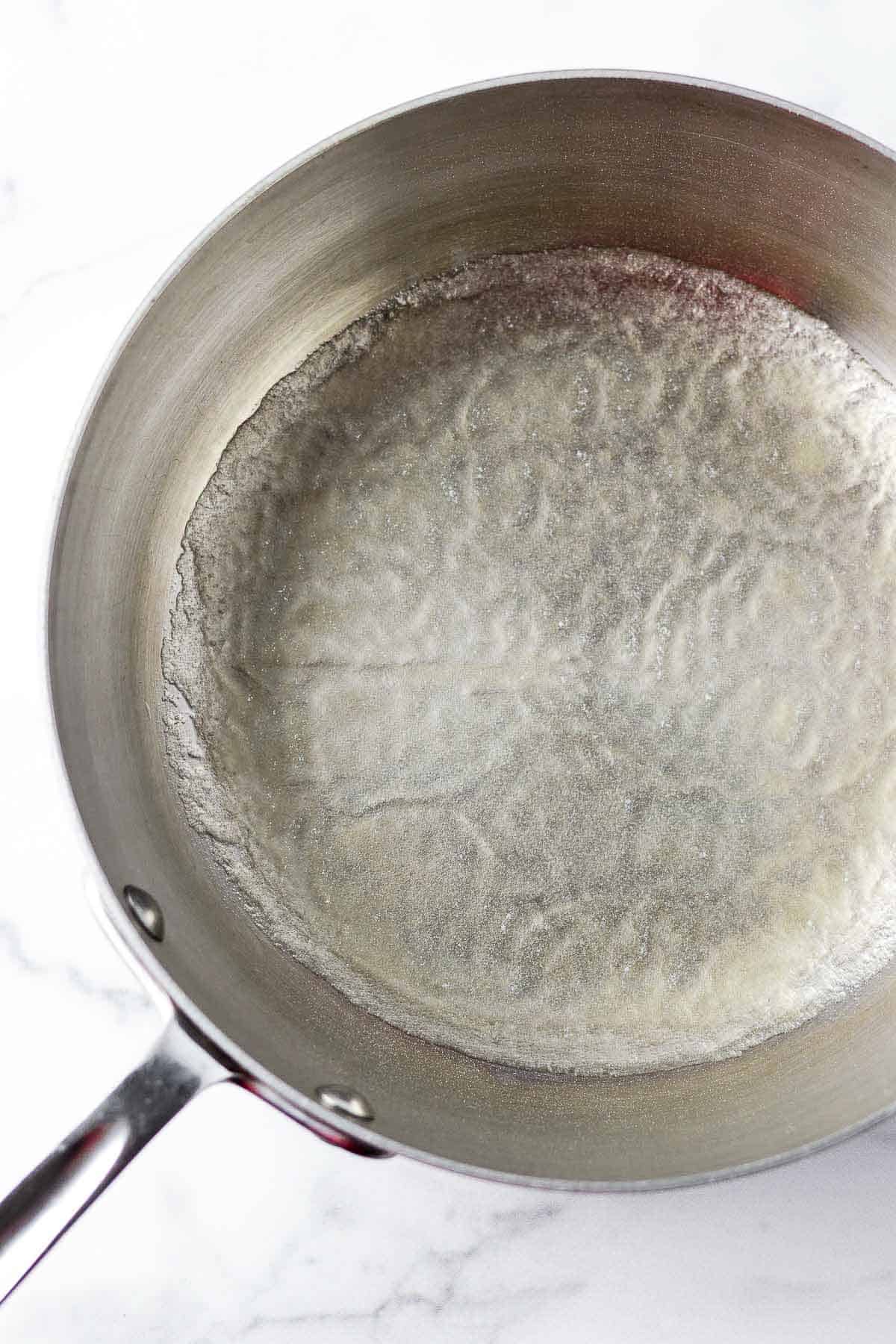 Add the sugar and salt. Heat the mixture over medium and cook until the sugar dissolves, stirring frequently. Add the lingonberries (or lingonberry jam) and remove from the heat. Transfer the mixture to a blender and puree until smooth.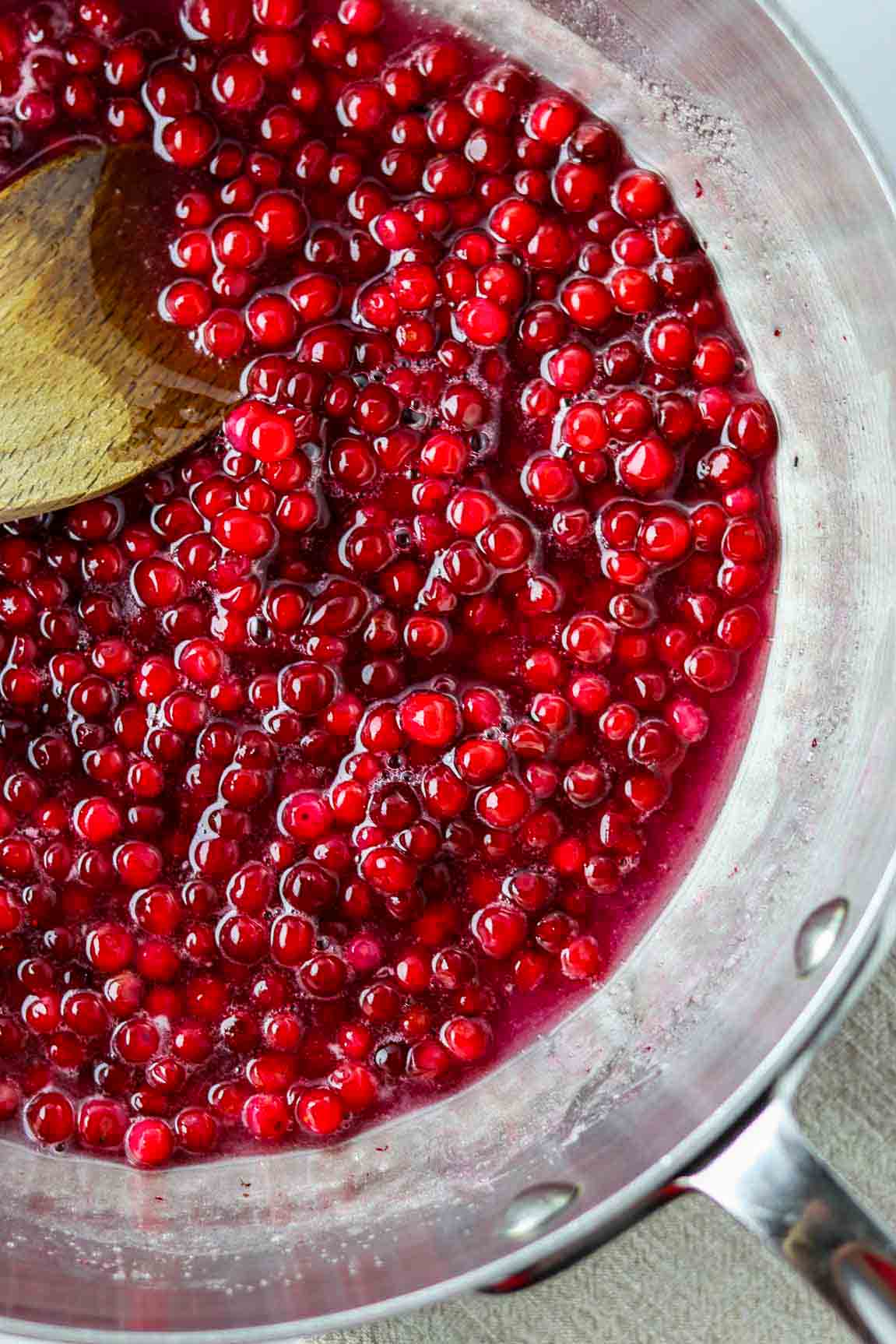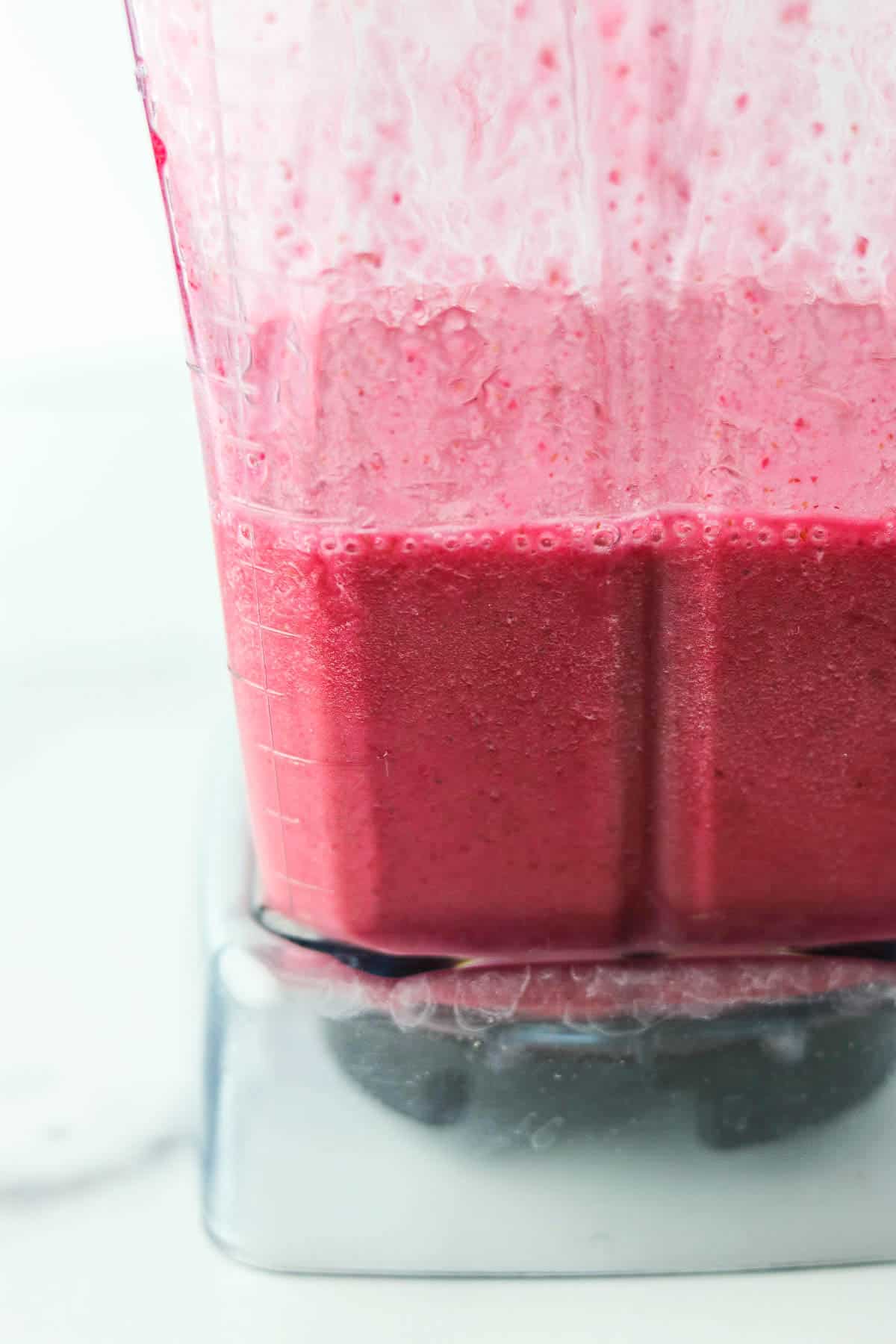 Whisk the lingonberry mixture with the vanilla extract and the sour cream (or Greek yogurt or Icelandic skyr) in a large bowl until fully combined. Set aside.
Whip the cream to medium peaks in a mixer. Gently whisk the whipped cream into the lingonberry mixture until fully combined.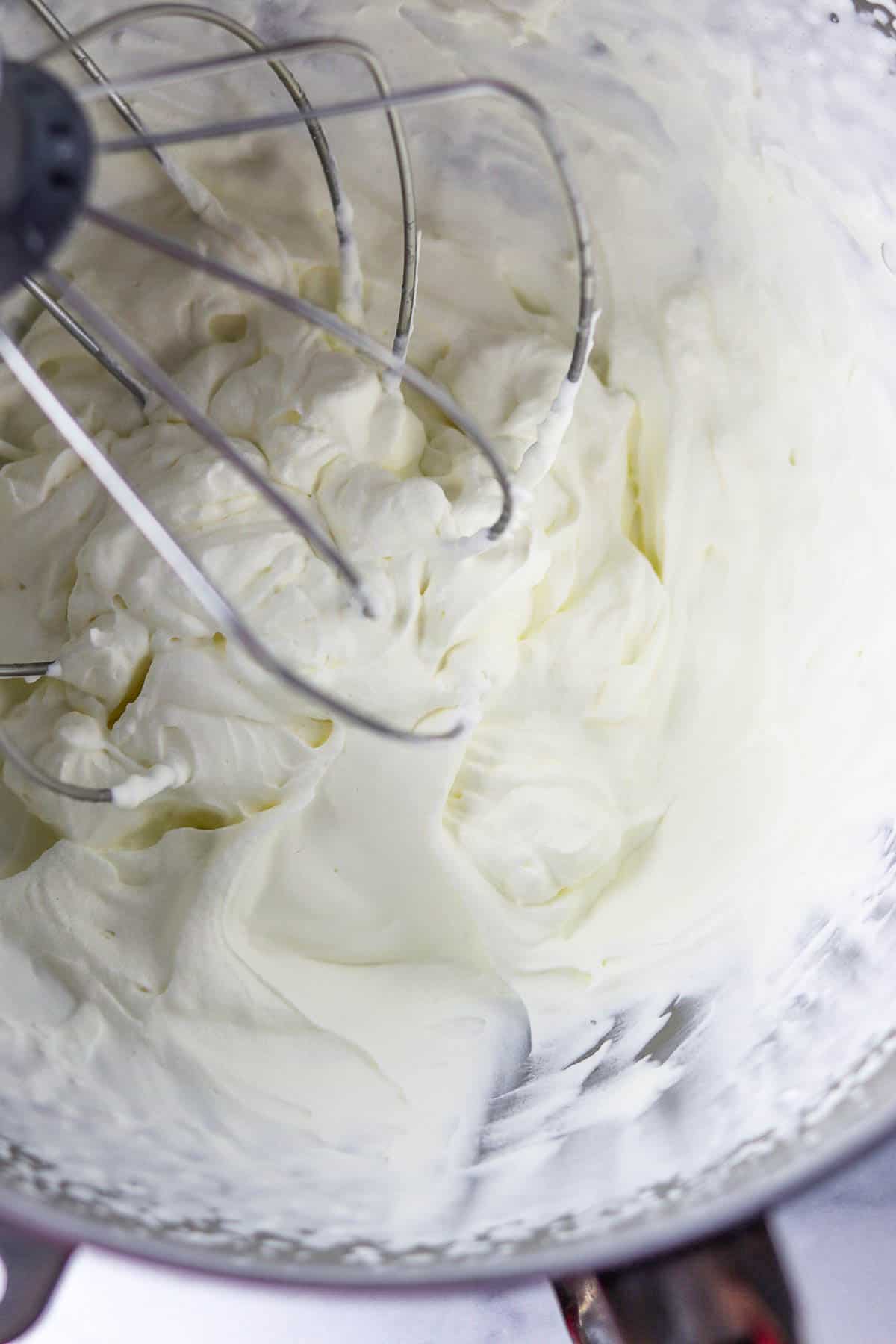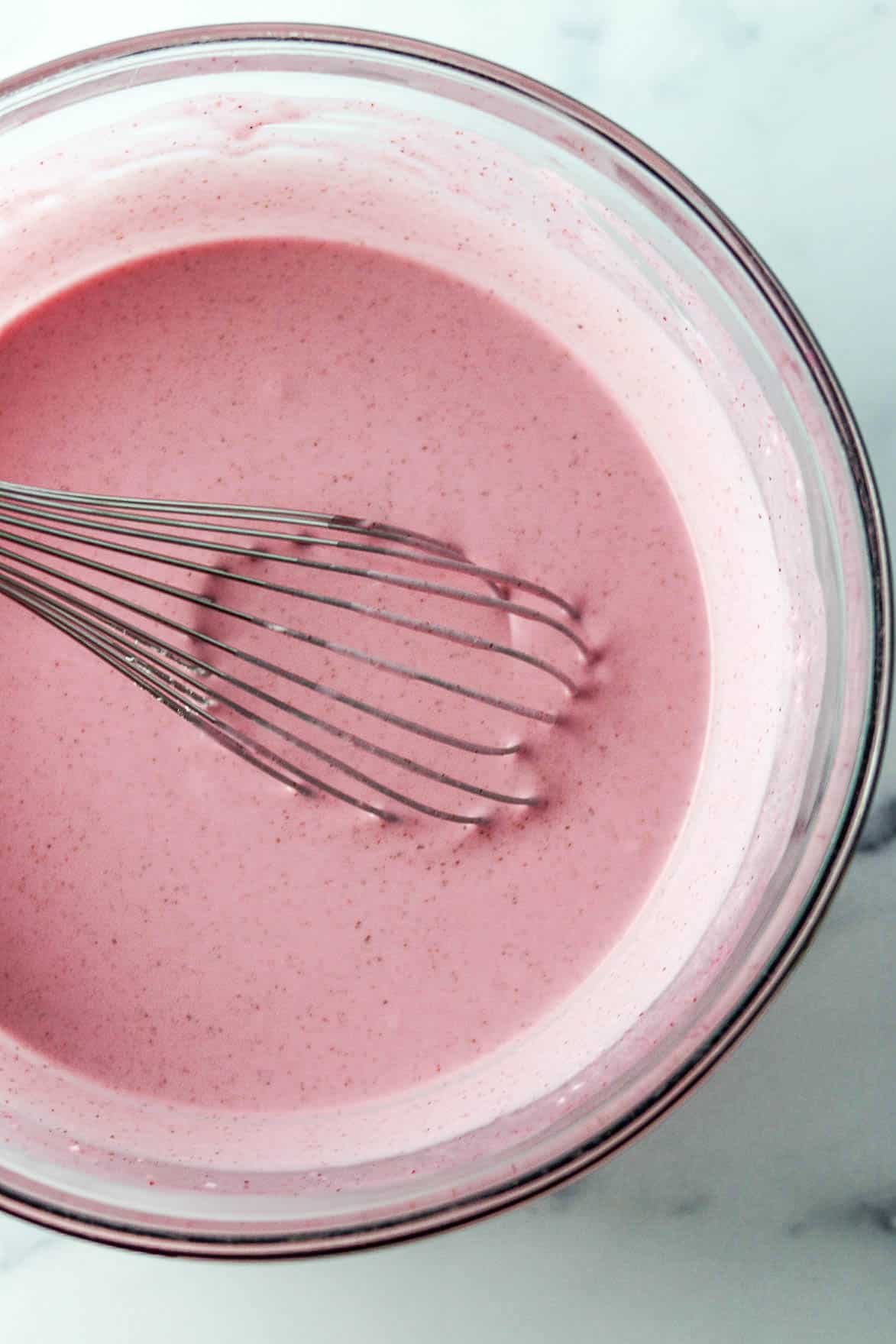 Transfer to individual serving cups. Cover and chill for at least 2 hours and up to 3 days. Serve straight from the refrigerator topped with fresh or frozen lingonberries, an extra dollop of lingonberry jam and/or a bit of whipped cream.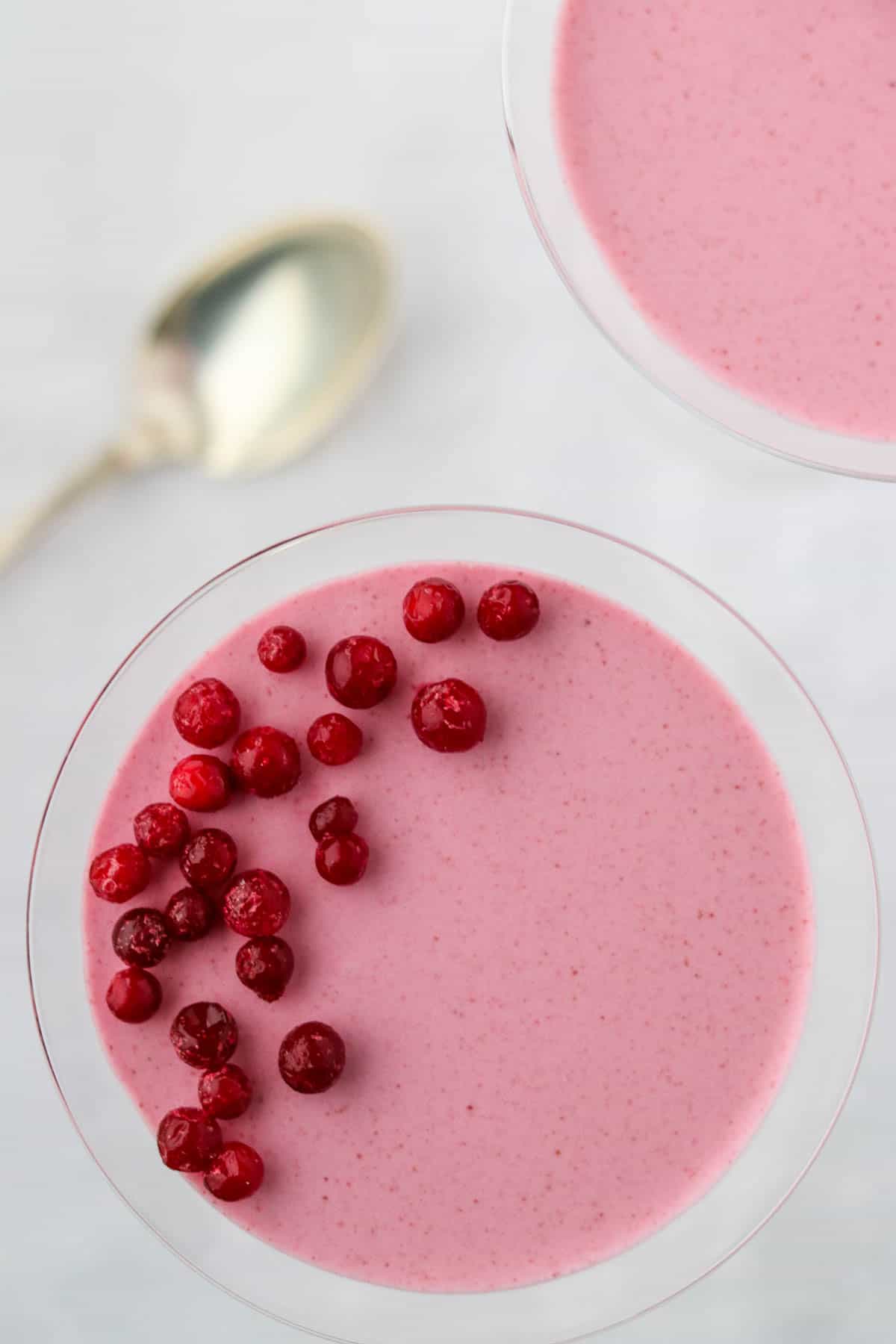 Expert Tips
Be sure to carefully cover the portions of Lingonberry Mousse with plastic wrap, taking care not to mar the surface of the dessert.
FAQs
Where does the term "Trollkrem" or "Troll Cream" come from?
The origin of the term "trollkrem" is uncertain, but it is likely associated with trolls in Norwegian folklore. Trolls are whimsical and magical creatures in Scandinavian folklore that were thought to inhabit the forests. Naming this dessert "troll cream" may have been a nod to these mischeivous creatures and meant to evoke a sense of playfulness.
How do I store this Lingonberry Mousse?
Store the mousse in the refrigerator carefully covered in plastic wrap for up to 3 days.
How can I vary this recipe?
Try a different berry such as raspberries or blueberries in place of the lingonberries.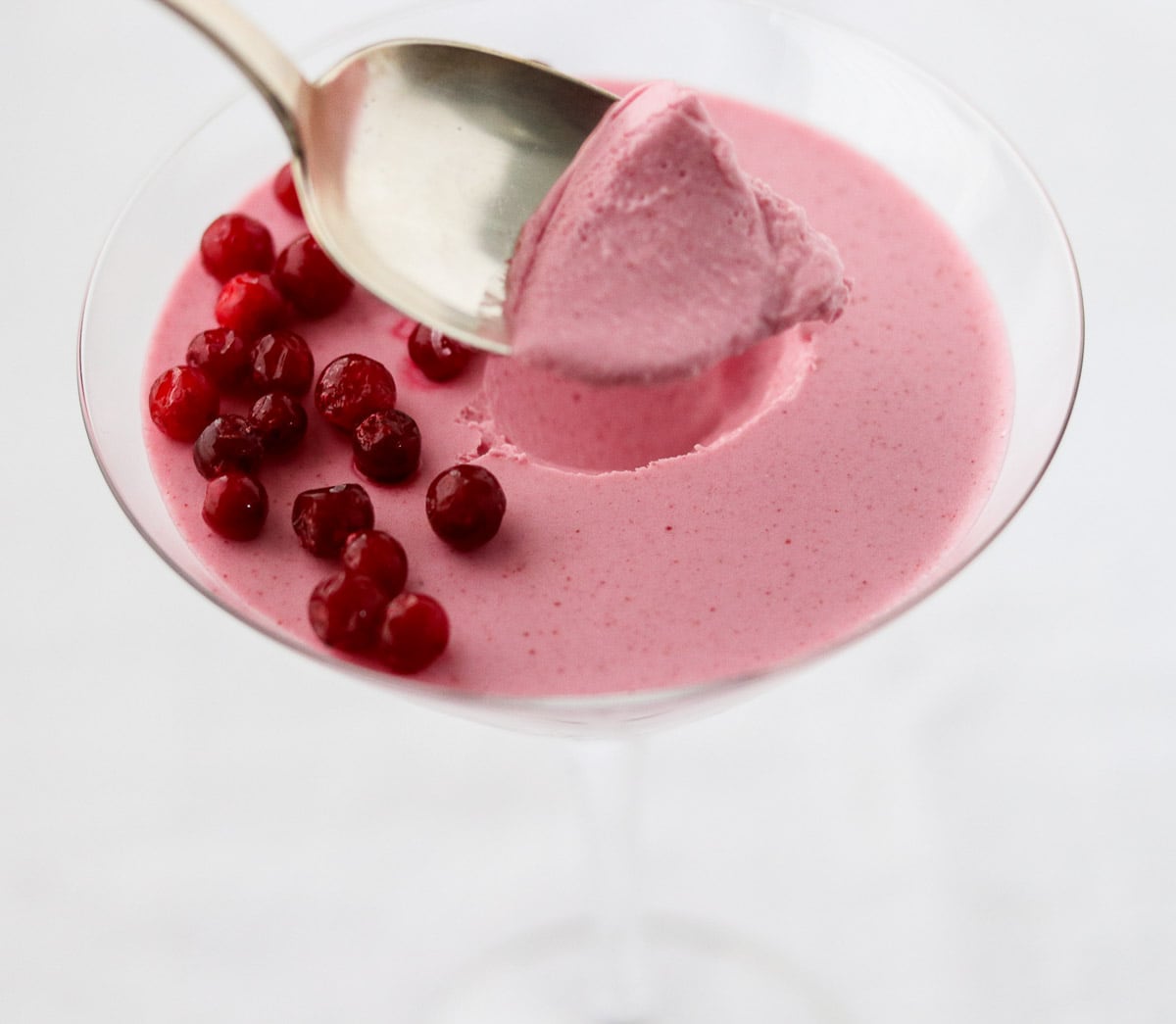 Related Recipes
Looking for more creamy Scandinavian desserts? Give these a try:
You've just got to give this Trollkrem a try. It's really something special. And your guests will think so too!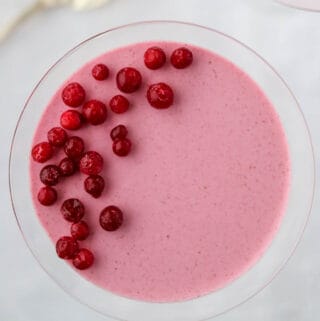 Lingonberry Mousse (Trollkrem)
A light and airy lingonberry mousse made with lingonberries, sour cream (or yogurt or skyr), whipped cream and stabilized with a little gelatin.  A delicious and impressive make-ahead dessert for any occasion!
Print
Pin
Rate
Ingredients
½

cup

cold water

1

packet unflavored gelatin

(2 ½ teaspoons)

¾

cup

granulated sugar

Pinch

of salt

1 ½

cups

frozen lingonberries

plus additional berries for serving (see note below if using lingonberry jam)

½

teaspoon

vanilla

1

cup

sour cream, full-fat skyr or Greek yogurt

1

cup

heavy whipping cream
Instructions
Place water in a medium saucepan and sprinkle gelatin over the top.  Let sit for 10 minutes. Add sugar and salt. Heat mixture over medium, stirring frequently, until the sugar dissolves.  Add lingonberries and remove from heat. Transfer mixture to a blender and puree until smooth. 

Whisk lingonberry mixture with vanilla and sour cream (or greek yogurt or skyr) in a large bowl until fully combined.  Set aside. Whip cream to medium peaks in a mixer. Gently whisk cream into lingonberry mixture until fully combined.

Pour mousse into individual serving cups and chill at least two hours.  Serve, garnished with lingonberries.
Notes
Frozen lingonberries are available at some grocery and Scandinavian specialty stores, particularly if you live in an area with a strong Scandinavian heritage.  They can also be ordered online through www.sturdiwheat.com or www.nwwildfoods.com.  You can substitute a 14.5 ounce jar of lingonberry jam for the frozen lingonberries.  Should you choose to go that route, simply reduce the sugar to ¼ cup and add the full jar of preserves to the saucepan with the water and gelatin in step 1 in place of the lingonberries.
Nutrition
Calories:
291
kcal
|
Carbohydrates:
35
g
|
Protein:
6
g
|
Fat:
15
g
|
Saturated Fat:
9
g
|
Cholesterol:
56
mg
|
Sodium:
31
mg
|
Potassium:
77
mg
|
Sugar:
26
g
|
Vitamin A:
636
IU
|
Vitamin C:
13
mg
|
Calcium:
78
mg
|
Iron:
1
mg