Happy Shrove Tuesday! I can honestly say this is not a holiday we celebrated when I was growing up, and I had no idea that Semlor even existed until a couple of years ago when I began to more seriously research Scandinavian home cooking and baking. Different variations of these celebratory buns are enjoyed all over Scandinavia as a last hurrah treat prior to the beginning of Lent. What follow is a very traditional Swedish preparation for Semlor with a rich almond filling nestled inside buttery cardamom buns with a flourish of whipped cream on top. I have included a small amount of cardamom here (only ½ teaspoon), but if you don't care for cardamom leave it out entirely. And if you absolutely love it feel free to add more. I ran across several recipes that included as much as 2 teaspoons of ground cardamom in each batch of dough.
Print
Shrove Tuesday Buns (Semlor)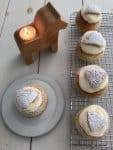 Buttery cardamom buns filled with rich almond filling and topped with whipped cream.
Author:
Prep Time:

2 hours

Cook Time:

15 minutes

Total Time:

2 hours 15 minutes

Yield:

12

buns

1

x
Category:

Special Occasion

Method:

Baking

Cuisine:

Nordic, Scandinavian
Scale
Ingredients
Dough:
8 tablespoons unsalted butter
1 cup milk
2 teaspoons instant yeast*
1 egg
¼ cup sugar
½ teaspoon fine sea salt
1/2 teaspoon cardamom seeds** (optional)
3 ½ cups flour
Filling:
2 cups blanched almonds
¼ cup sugar
½ teaspoon almond extract
Pinch of salt
½-¾  cup milk
Egg wash:
1 egg
1 tablespoon water
Whipped cream:
1 ½ cups cold heavy cream
3 tablespoons sugar
Powdered sugar for serving (optional)
Instructions
1. Place cardamom seeds in a dry medium saucepan over medium heat.  Toast seeds, shaking the pan occasionally, until the seeds are fragrant, about 2-3 minutes.  Remove from the heat and crush the seeds using a mortar and pestle or a spice grinder. (Alternatively, you can use pre-ground cardamom but I don't think the flavor is as a good).
2. Return the empty saucepan to the burner and add the butter and milk.  Heat over medium low stirring frequently until butter is melted and milk is warm.  Set aside to cool until it is just slightly warm to the touch, approximately 15-20 minutes.
3. Whisk flour, yeast, cardamom and salt together in a medium bowl.  Set aside.
4. Add egg and sugar to the bowl of a stand mixer.  Using the paddle attachment, mix on medium speed until just combined.  Add cooled milk mixture and mix on medium speed until fully combined.
5. Add the dry ingredients to the mixing bowl and mix on low speed until just combined.  Switch to the dough hook and knead on medium speed for 3-4 minutes. The dough will be smooth, satiny and clear the sides of the bowl.  If you do not have a stand mixer, you can knead the dough by hand for 8-10 minutes.
6. Cover the dough and let rise in a warm place for an hour.  The dough will rise to 1 ½ to 2 times its original size. The rising time may vary based on the temperature of your kitchen.
7. While the dough is rising, begin making the filling.  Combine almonds, sugar, salt and almond extract in the work bowl of a food processor.  Process until everything is fully combined and almonds are ground finely. Remove the almond mixture from the work bowl and transfer to a medium bowl.  Set aside.
8. Once dough has risen, line a baking sheet with parchment paper and divide the dough into 12 equal pieces.  Working with one piece at a time, gather up the edges of the dough into the a rough ball shape, pinching the dough where the edges come together to create a "bellybutton".  Place the ball, bellybutton side down, on a clean kitchen counter. Cupping the ball with your hand so that your palm is lightly resting on the dough and your fingertips are resting on the counter, make small circles with the dough until a tight ball is formed.  Place ball on baking sheet. Repeat with remaining pieces of dough.
9. Cover and let rise 45 minutes.
10. Meanwhile, preheat oven to 400 degrees. Combine egg and 1 tablespoon water to create an egg wash.  Uncover buns and brush each bun with the egg wash. Bake at 400 degrees for 12-15 minutes or until buns are golden brown.
11. Cover with a clean dish towel and let cool to room temperature (this will keep the buns from forming a hard crust).
12. When you are ready to serve, finish the filling.  Start by mixing ½ cup of milk into the ground almond mixture.  Continue adding milk, 1 tablespoon at a time, until your filling is the consistency of a thick, smooth paste.
13. Prepare the whipped cream.  Place the cream in the bowl of a stand mixer.  Using the whisk attachment, whisk cream on medium-high speed until it begins to thicken.  Add sugar and continue whisking until the whipped cream is fluffy and and can hold medium to stiff peaks.
14. Use a small, sharp knife to cut a triangular "hat" out of the top of the bun and set it aside to use later.  Remove some of the inside of the bun with your fingers creating a nice cavity for the almond filling. Slice off the bottom of the hat so that it is only ¼-½ an inch or so thick.
15. Fill the bun with a good spoonful or two of the almond filling.  Dollop or pipe whipped cream on top. Artfully arrange the hat on top of the cream.  Repeat with remaining buns. Dust tops with powdered sugar, if desired. Serve immediately.***
Notes
*I always use instant yeast as opposed to active dry yeast.  There is no need to bloom it in warm liquid prior to using it.  You can simply mix it in with your dry ingredients. It is also more potent and reliable than active dry yeast.  If you choose to use active dry yeast in this recipe, you will need to bloom the yeast in a small amount (¼ cup is fine) of the warm milk mixture for about 10 minutes, or until the mixture become frothy on the top.  Just be sure the milk mixture is not too warm…anything over 120 degrees will kill the yeast and your buns will not rise.
**To remove the seeds from cardamom pods, simply press on the pods with the side of a chef's knife.  The pods will crack and you will be able to extract the tiny black seeds to use in your recipe.
***These buns and the dry almond filling mixture (prior to adding the milk) freeze very nicely so you may not to make all 12 at once.  If you decide to freeze some for later, simply defrost the buns once you are ready to use them and only use a portion of the dry almond mixture (and less milk) when you prepare the filling.  You can also make a smaller portion of whipped cream.
Keywords: semlor, semla, buns, cardamom, almond, Scandinavian, Swedish, Nordic, Baking