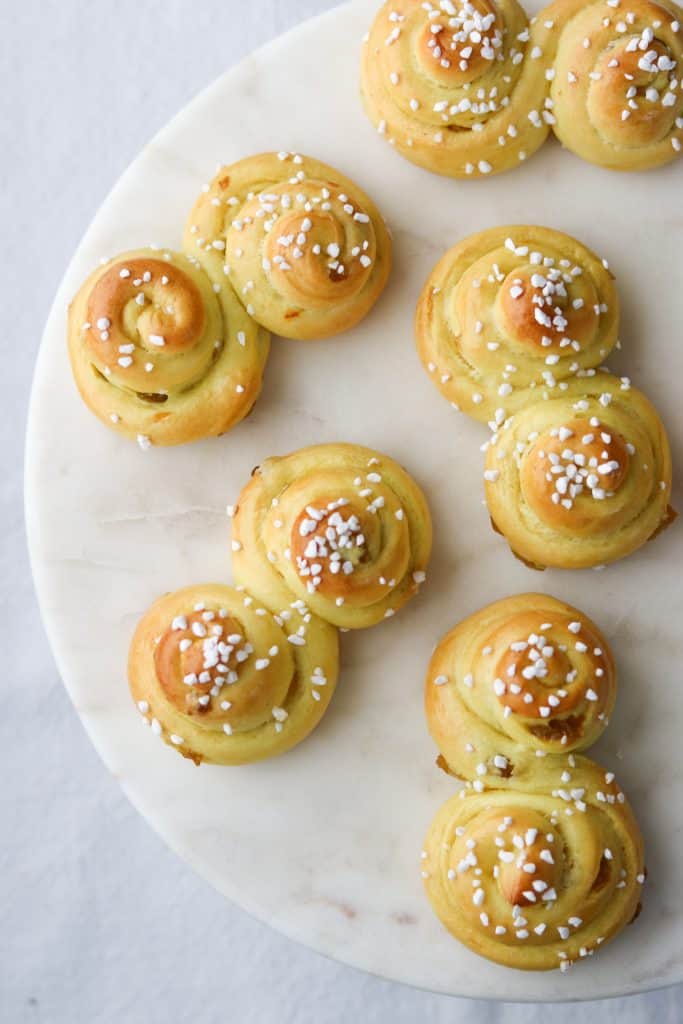 The Story of Saint Lucia
Before the adoption of the Gregorian calendar we use today, Scandinavians recognized December 13th as the longest night of the year. When Christianity found its way to northern shores, monks brought with them the story of Saint Lucia, a young Italian girl who worked to help persecuted Christians who were hiding in the catacombs of Rome under the reign of Diocletian in 285 AD. In order to keep her hands free so that she could carry as many supplies as possible, Saint Lucia attached candles to a wreath on her head to provide her with much-needed light in the dark catacombs.
Celebrating St. Lucia Day
In modern Scandinavia, December 13th or St. Lucia Day is a celebration of light in the midst of the darkest time of the year and serves as a kickoff to the Christmas season in Sweden. Festivals of light are held in towns and schools all over the country on December 13th, with one girl chosen to portray Saint Lucia wearing a white dress, red sash and a crown of candles on her head.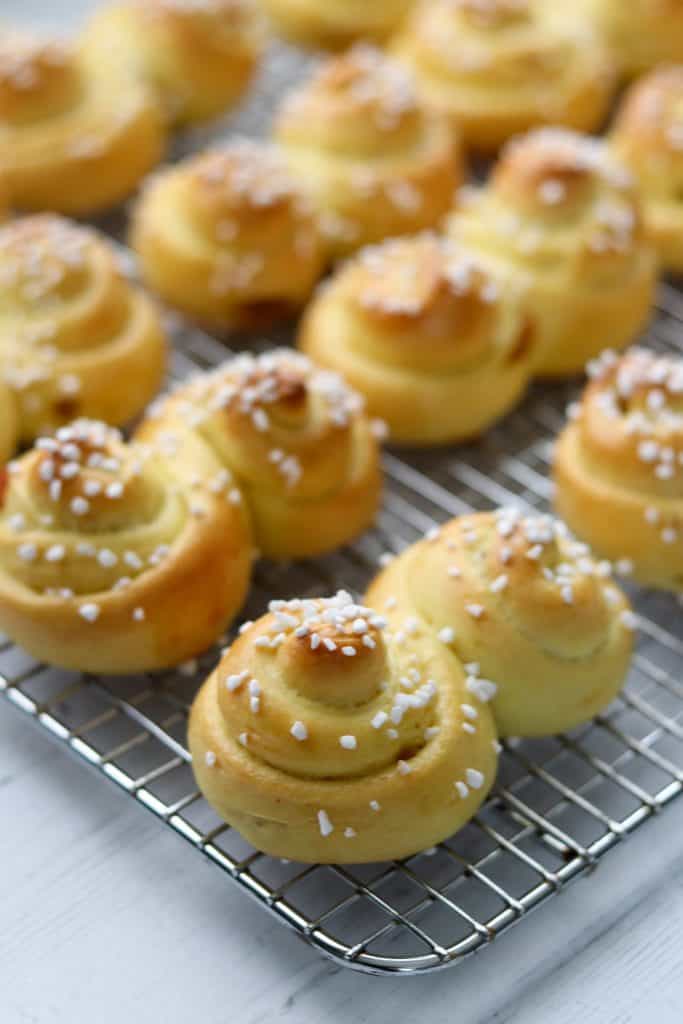 St. Lucia Buns
It is customary to serve these bright, sunny saffron buns on St. Lucia Day in Sweden, either for breakfast with coffee or for an afternoon fika treat paired with a steaming cup of glögg. Soft, slightly sweet and studded with golden raisins, cheerful St. Lucia Buns are a reminder that longer days and sunlight are just around the corner.
Use the Tangzhong Method
For this St. Lucia Bun recipe, I revisited the sweet bun dough I developed for my beloved Swedish Cinnamon Buns. I used the same simple bread-making technique called tangzhong which helps yeasted baked goods stay soft and tender. Basically, a small amount of the flour and liquid (water, milk or a combination of the two) is cooked on the stove for a very short period of time creating a roux-like mixture. This process gelatinizes the starches in the flour allowing them to absorb more liquid and results in a higher rise and a more tender, moist bun that stays that way for a longer period of time. It's a quick and easy step that makes a big difference in texture.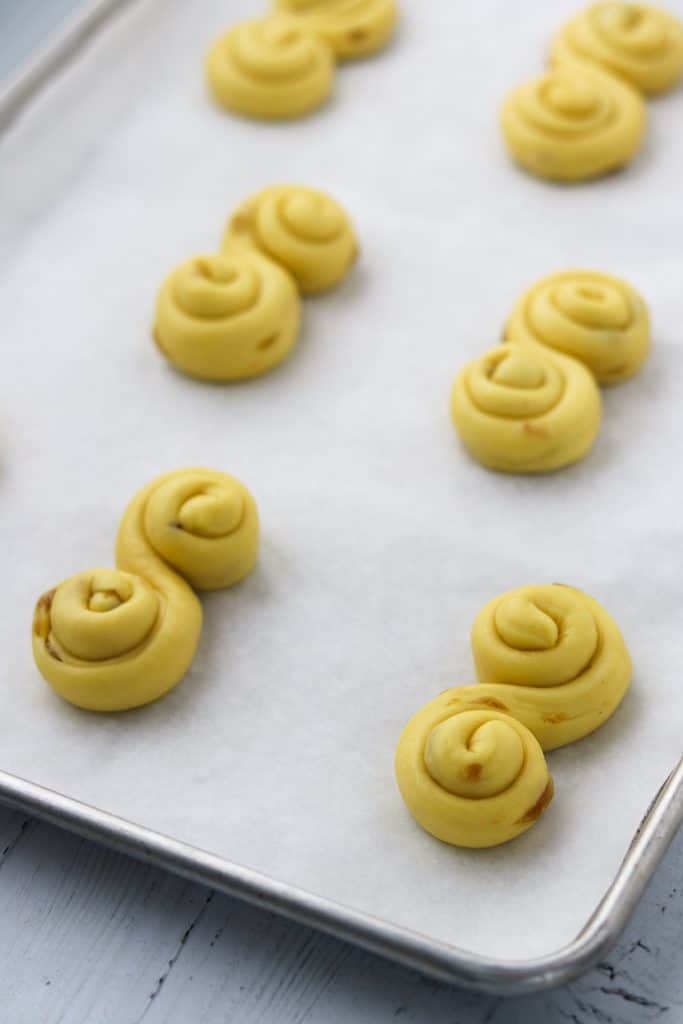 A Little Saffron Goes a Long Way
St. Lucia Buns customarily contain saffron which adds an exotic flavor and a bright yellow hue to the final product. In my testing, however, I discovered that too much saffron could be overpowering to these delicate buns. I found a recipe for St. Lucia Buns in the book Bread Illustrated by America's Test Kitchen that called for a mere 1/4 teaspoon of saffron threads AND a bit of turmeric to bring additional yellow color without more saffron flavor. This was my favorite combination by far….a beautiful yellow dough and just a hint of saffron flavor.
Give these delicious St. Lucia Buns a try, either on December 13th in celebration of St. Lucia Day or anytime during the holiday season. They are a bright and cheerful reminder that these dark days won't last forever.
Print
St. Lucia Buns (Lussekatter)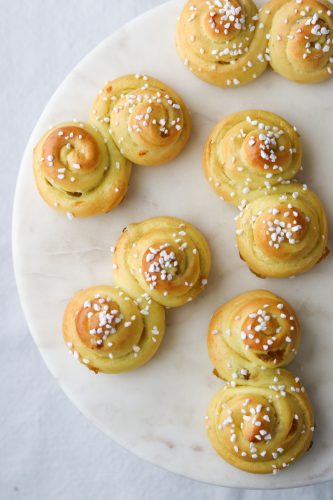 A soft, slightly sweet Scandinavian saffron bun that is traditionally served on St. Lucia Day (December 13th).
Author:
Prep Time:

50 minutes + 1 1/2 hours rising time

Cook Time:

20 minutes

Total Time:

2 hours and 45 mintues

Yield:

16 buns

Category:

baking

Cuisine:

Nordic, Scandinavian, Swedish
Ingredients
For the Tangzhong:
5 tablespoons water
⅛-¼ teaspoon saffron threads, crumbled
⅛ teaspoon ground turmeric
5 tablespoons whole milk
3 tablespoons all-purpose flour
For the dough:
5 tablespoons melted unsalted butter, cooled
½ cup whole milk, slightly warm
2 teaspoons instant yeast
1 teaspoon fine salt
¼ cup granulated sugar
3 cups + 2 tablespoons all-purpose flour
1 large egg
All of the Tangzhong, cooled
⅓ cup golden raisins, chopped
For the Egg Wash and Topping:
1 large egg
1 tablespoon water
Pinch of salt
Pearl sugar for topping 
Instructions
Make the tangzhong: 

Bring water to a boil in a medium saucepan.  Remove from heat and add saffrom and turmeric. Steep for 15 minutes.  Add milk and flour. Whisk until combined and no lumps remain. Place saucepan over medium heat and cook mixture, whisking constantly, until it thickens, about 1-2 minutes.  Set aside to cool.

Make the dough:  While the tangzhong is cooling, begin preparing the rest of the ingredients for the dough.  Combine yeast, salt, sugar and flour in the bowl of a stand mixer. Whisk briefly by hand to combine. 

Attach the dough hook to the mixer.  Add melted and cooled butter, slightly warm milk, egg and the cooled Tangzhong (it can be slightly warm to the touch) to the dry ingredients.  Mix on medium low until fully combined.

Increase mixer speed to medium and knead mixture for 3-4 minutes or until dough is slightly tacky but not sticky and clears the side of the bowl.  Add raisins and continue to knead until they are evenly distributed throughout the dough. You can also mix and knead the dough by hand but it will take longer, more like 8-10 minutes.

Cover bowl with plastic wrap and allow the dough to rise for an hour or until 1 ½ or 2 times its original size.  The time will largely depend on the temperature of your kitchen.

Once the dough has risen, preheat oven to 350 degrees and adjust oven racks so that they are in the upper and lower middle positions.  Line two baking sheets with parchment paper. Remove the dough from the bowl and place it onto a clean countertop. Roll out with a rolling pin until it is in the shape of a rectangle that is about 16 by 6 inches in size.  The dough should be smooth enough that you do not need to add flour during the rolling process. If yours is sticking the rolling pin, however, sprinkle a little flour over the dough as necessary to prevent this from happening.  

Using a pizza wheel, cut the folded dough lengthwise into 16 one inch strips.  Cover with plastic wrap.

Working with one piece of dough at a time and keeping the rest of the dough covered, roll and stretch the strip of dough between the palms of your hands and the countertop into a 16 inch rope.  Coil the ends of the rope in opposite directions creating an "S" shape. Place bun onto prepared baking pan. Repeat with remaining dough, spacing buns about 2 ½ inches apart with 8 buns on each baking pan.  Cover with plastic wrap and let rise for 30-45 minutes.

Meanwhile, make the egg wash.  Whisk egg, water and salt together in a small bowl.  Once the buns have risen and are ready to go into the oven, remove plastic wrap and gently brush the surface of each bun with the egg wash  Sprinkle pearl sugar over the top of each bun.

Bake buns for 15-20 minutes or until golden brown, switching and rotating the pans halfway through the baking time.  Cool slightly on a wire rack and serve warm. Buns are best when eaten the day they are made.
Keywords: saffron, buns, St. Lucia, raisins, Christmas, Advent, holiday, yeast bread