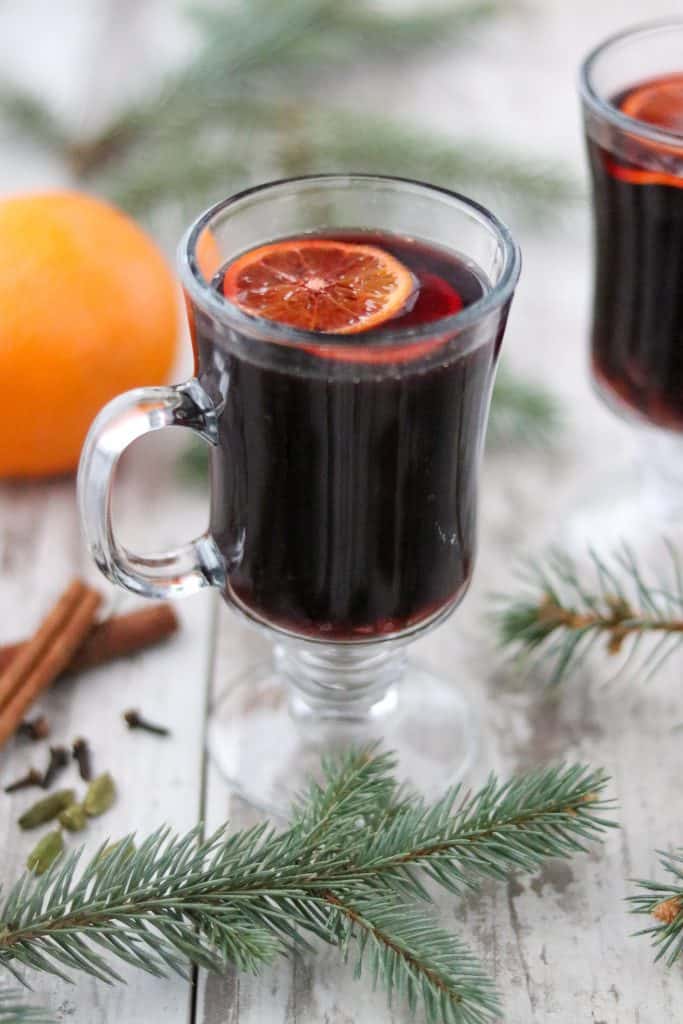 Scandinavians are good at winter. Whether on skates, skis or snowshoes, they know how to get outside and enjoy what the season has to offer. They are also experts at coming in from the cold and getting cozy with candlelight, a roaring fire and perhaps most importantly, a steaming cup of mulled wine or glögg (pronounced "glue-g"). Spicy, sweet and soul-warming, glögg is served throughout the holiday season in Scandinavia. According to The Nordic Cookbook by Magnus Nilsson, the word glögg comes from the Swedish word glödga, meaning "to heat". I have also read that in the Old Norse language it means "glowing ember". Either way, I promise you will be both warm AND glowing after a cup of this delicious spiced wine.
How to Make Delicious Glögg at Home
Glögg is easy to make at home with just a few helpful tips and tricks up your sleeve:
Use a full-bodied, inexpensive red wine. No need to break out the good stuff here, but definitely find something you would enjoy drinking on it's own. I like using Dark Horse Big Red Blend for my glögg. Described as a "shameless people pleaser", this wine is toasty with big berry flavor. Perfect for mulled wine and a good price point, too.
Include the right combination of spices. There are many different recipes for glögg, all of which use a different mix of spices. I like to keep it classic with fresh ginger, cinnamon sticks, cardamom and cloves. And no need to overdo it, a modest amount of spices goes a long way.
Add orange peel and juice. Adding the zest and juice of an orange really brightens your spiced wine without giving it an overly orange-y flavor.
Use brown sugar as your sweetener. This helps bring out a toasty sweetness in the glögg.
Perhaps the most important tip of all....don't let the glögg come to a boil! Boiling or even simmering the glögg will cause the alcohol to evaporate. We don't want that! Bring the glögg up to the point of simmering and then turn off the heat.
Let the wine and the spices steep for several hours. The flavor of your glögg will improve if you give the wine a chance to really take on the flavor of the warm spices.
Add aquavit (or vodka, brandy or rum) just prior to reheating and serving. Again, do not let the glögg come to a boil. We want to preserve the potency of our mulled wine.
Serve with golden raisins and blanched slivered almonds. These will inevitably sink to the bottom of the glögg. Invite your guests to use a spoon to eat up the delicious almonds and raisins at the bottom of the glass once they have finished their beverage.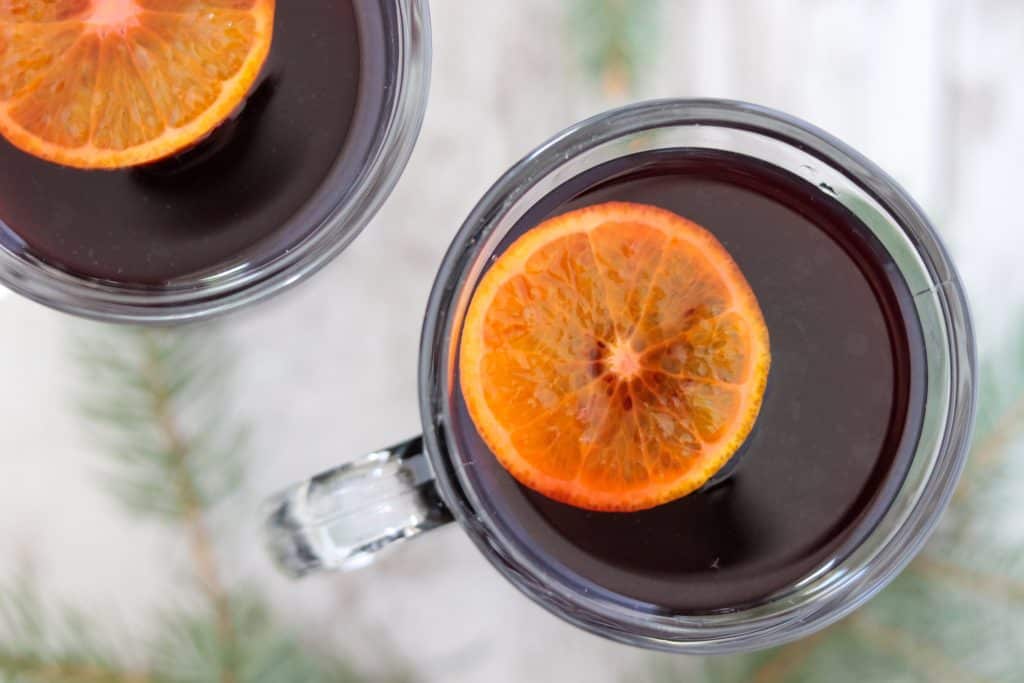 I know a lot of people who spend winter wishing it were spring. Instead, let's follow the lead of our Nordic friends and happily sink into winter this year. Stock wood for the fire. Light some candles. Get out your flannel, your coziest blankets and a good book or two. And make a batch (or several) of Swedish Glögg. Maybe even host a glögg party if you are feeling festive! Forget spring for awhile, it will come in good time.  It's time embrace the inner warmth of winter.
Print
Swedish Glögg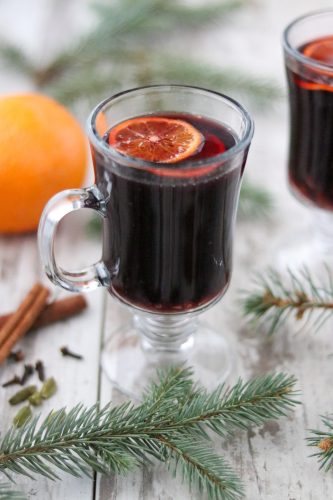 An easy and delicious recipe for classic Swedish mulled wine.  It will keep you warm and cozy all winter long.
Author:
Prep Time:

10 minutes + 2 hours steeping time

Cook Time:

5 minutes

Total Time:

2 hours 15 minutes (largely unattended)

Yield:

4-6 servings

Category:

drinks

Cuisine:

Swedish, Scandinavian, Nordic
Ingredients
1 orange
1 bottle dry red wine (nothing expensive but full-bodied)
⅓ cup firmly packed brown sugar
2 inch piece of ginger, sliced into thin rounds
10 whole cloves
10 cardamom pods, crushed (include both pods and seeds)
3 cinnamon sticks
½ cup aquavit, such as the Linie brand (rum, brandy or vodka will also work)
Golden raisins, blanched almonds and thin orange or clementine slices for serving
Instructions
Remove the peel from the orange using a vegetable peeler and transfer peel strips to a medium saucepan.  Cut orange in half and squeeze juice into the saucepan with the peel.

Add all remaining ingredients to the saucepan and heat until mixture just comes to a simmer.  Cover and remove from heat. Let steep for two to four hours at room temperature. Strain into a clean container.  Mixture can be prepared up until this point up to a week ahead and stored in the refrigerator until ready to use.

When you are ready to serve, return mixture to a saucepan.  Add aquavit and a handful of golden raisins. Heat but do not boil (boiling will remove the alcohol).  Serve immediately garnished with raisins, blanched almonds and orange or clementine slices.
Keywords: glögg, mulled wine, spiced wine, winter, warm beverages, hygge