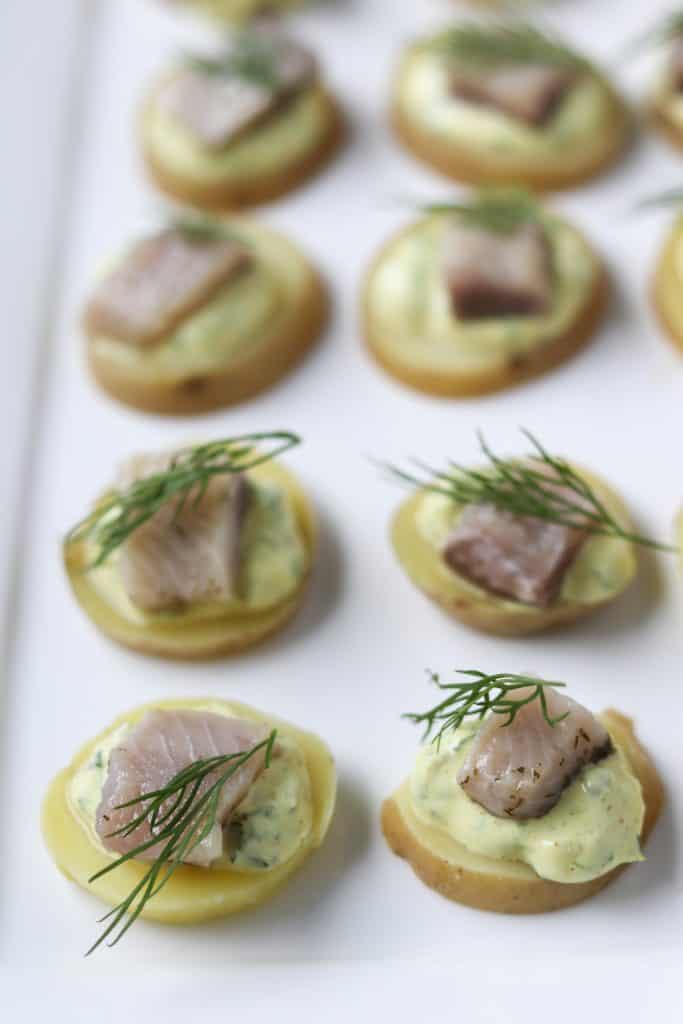 I've made it nine months into blogging about Nordic food without mentioning pickled herring. That's a pretty good run! But we can't avoid it forever. Love it or hate it, herring in its many forms is an essential staple of Nordic cuisine.
What is Pickled Herring?
Herring are a species of fish belonging to the Clupeidae family (the same family as sardines). They are a silvery fish that often travel in large schools. Herring has a long and rich history in Scandinavia (Stone Age Scandinavian burial mounds have been found to contain herring bones), and has had a surprisingly significant impact on the European economy throughout history.
Herring can be eaten fresh, but in Scandinavia it has traditionally been cured or pickled for preservation. The pickling process generally has two steps: first, the fish are salted to remove moisture. The salt is then removed and the fish is added to a pickling brine. Scandinavian brines generally contain water, vinegar, sugar and salt along with flavorings such as onions, peppercorns and dill. It is also quite common to find pickled herring in a curry, mustard or even a creamy brine.
If you have access to fresh herring where you live, you can easily pickle your own. But for those of us who don't, there are many grocery stores, fish mongers and Scandinavian specialty stores that carry jarred pickled herring that is ready to eat.
Is Pickled Herring Good For You?
Absolutely! Herring is very nutritious in the same way that sardines are. It is high in Vitamins A, D, B12 and folate, and rich in minerals such as calcium, phosphorus, potassium and magnesium. Herring is also an excellent source of Omega-3 fatty acids.
Give Pickled Herring a Chance
If you have Scandinavian roots, chances are that someone in your family introduced you to pickled herring somewhere along the way. My parents would buy a large tub of it right after Thanksgiving and enjoy it throughout the holiday season. Pickled herring is generally served as a first course of the traditional Swedish Christmas Eve smörgåsbord.
If you've never tried pickled herring, I've got to be perfectly honest with you....it's an acquired taste for most people. These Potato and Pickled Herring Bites are the perfect place to start. Slices of potato topped with a spoonful of creamy curry remoulade, just a bite of pickled herring and a sprig of dill, these tasty little appetizers are perfect for the pickled herring newbie. If you are someone who loves pickled herring, you've got nothing to worry about. These Potato and Pickled Herring Bites will be right up your alley.
All of the components of these Potato and Pickled Herring Bites can be prepared the day before. Simply assemble them a couple of hours before your guests arrive and store them in the refrigerator. They couldn't be easier. If you are in a pinch for time, save yourself the trouble of cooking the potatoes and swap the potato slices for store bought rye crispbread or crackers instead. Delight your friends and family with a little taste of the Nordic region over the holidays! I think you'll be surprised by how delicious pickled herring can be.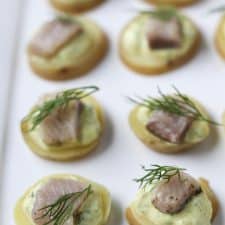 Potato and Pickled Herring Bites with Remoulade
An easy and delicious Scandinavian-inspired appetizer with sliced potatoes, curry remoulade sauce, pickled herring and fresh dill.  A simply elegant beginning to a festive evening!
Print
Pin
Rate
Ingredients
For the Potato Bites:
8-10

small yellow waxy potatoes

1

tsp

Fresh dill

for garnish

8

ounce

pickled herring

1 jar
Danish Remoulade
½

cup

prepared mayonnaise

2

tablespoons

skyr or greek yogurt

1

teaspoon

dijon mustard

1

tablespoon

capers,

coarsely chopped

2

tablespoons

dill pickles

finely chopped

1

tablespoon

finely chopped shallot

2

tablespoons

chopped fresh parsley

¾

teaspoon

curry powder
Instructions
Place potatoes in cold water.  Bring to a boil over medium-high heat and continue to cook for 10-15 minutes, until potatoes are tender but not falling apart.  Smaller potatoes will cook more quickly than larger potatoes. Check doneness by piercing a potato or two with the tip of a sharp knife.  It should slide in and out easily without much resistance. Drain potatoes and rinse with cold water. Set aside to cool.

Potatoes can be prepared up to two days in advance.  Store in the refrigerator.
Make the Danish Remoulade: 
Combine all ingredients in a medium bowl.  Stir to combine. Refrigerate until ready to use.Assemble the bites:  Cut each potato into ¼ inch slices, discarding the ends.  e).

Place a dollop of Danish Remoulade on top of the potato, followed by a small piece of herring and a dill sprig.  Serve. (Can be prepared up to 4 hours in advance. Chill until ready to serve.
Notes
Adapted from Eating Well magazine
Nutrition
Calories:
62
kcal
|
Carbohydrates:
8
g
|
Protein:
2
g
|
Fat:
3
g
|
Saturated Fat:
1
g
|
Cholesterol:
5
mg
|
Sodium:
39
mg
|
Potassium:
200
mg
|
Fiber:
1
g
|
Sugar:
1
g
|
Vitamin A:
25
IU
|
Vitamin C:
9
mg
|
Calcium:
10
mg
|
Iron:
1
mg