This recipe was brought over from Sweden by my great-grandmother, Emma, when she immigrated to the United States in the late 1800s. Emma was known for hosting legendary afternoon fika gatherings, and these ginger snaps were one of the signature cookies she would serve.
I know there are a lot of ginger snap recipes out there but I'm telling you, these cookies are really something special. They are thin, REALLY thin, as many Swedish style ginger snaps are. But instead of being hard and crispy all the way through, these are slightly chewy on the inside with just the right amount of crispness around the edges. These ginger snaps are melt-in-your-mouth buttery and have just the right amount of spice...perfect for an afternoon fika treat.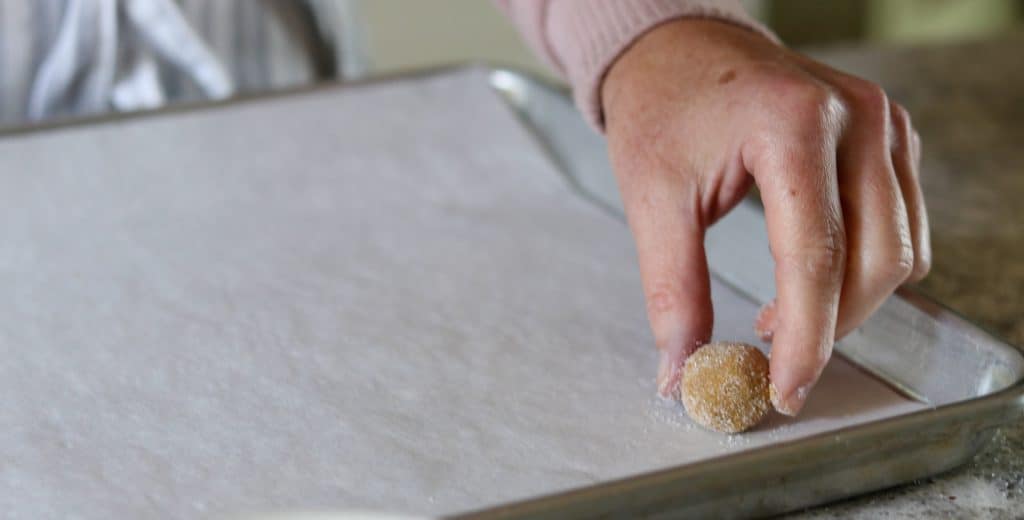 Secret Weapon: Pastry Flour
The unique texture of these gingersnaps is thanks to the inclusion of pastry flour in the dough. Pastry flour is a very soft, low-protein flour that produces exceptionally tender baked goods (pastry flour has approximately 9 percent protein while all-purpose flour has closer to 11 percent). While pastry flour is not something you might normally stock in your pantry, these cookies are reason enough to pick some up. If you can't find it in your local grocery store, you can always purchase it on Amazon. I personally like and use the Bob's Red Mill brand.
In an effort to make your life easier, I tried making these gingersnaps over the weekend with a combination of all-purpose flour and cornstarch, a common substitute for pastry flour. I was really hoping to avoid asking you to buy a specialty flour just for these ginger snaps. While this batch was indeed soft and tender, they did not have that thin, crispy-chewy quality of the original. If you are dying to make these and don't want to pick up a bag of pastry flour, go ahead and use the all-purpose flour/cornstarch combination. They are still delicious, but they will be slightly thicker and have a more chewy texture throughout than the pastry flour version.
Tips for Ginger Snap Success
Use pastry flour. The texture of these cookies when made with pastry flour is sublime. It is well worth the investment.
Chill the dough thoroughly and keep it cold as you roll the cookies. Because pastry flour is so soft, this dough can be sticky and a bit difficult to work with. Make sure your dough is good and cold before you begin rolling it. I like to take just a portion of it from the fridge for rolling, leaving the rest in the refrigerator until I need it. If you find that the dough is becoming too soft to work with, put it back into the fridge or freezer and let if firm up before working with it again.
Roll small balls of dough, no more than ½ to ¾ inch in diameter and leave plenty of room between ginger snaps. These cookies spread as they bake and if you don't start with a small portion of dough, the ginger snaps will run together as they bake. I am usually able to get 5 rows of 4 cookies on each sheet.
Dip the bottom of your glass in sugar before flattening each cookie. As I said, this dough is sticky and if you don't have a protective layer of sugar on the bottom of your glass, it will stick to the ginger snap. Also, that outer layer of sugar helps contribute to the delightful texture of the finished product.
Don't over bake. The cookies will rise slightly in the oven and then fall becoming flat. This is when they are done. In my oven that takes about 8 minutes per batch.
Cool the cookies completely before removing them from the pan. This helps them release cleanly without any sticking. If you try to remove them too soon, the ginger snaps have a tendency to stick to the parchment paper.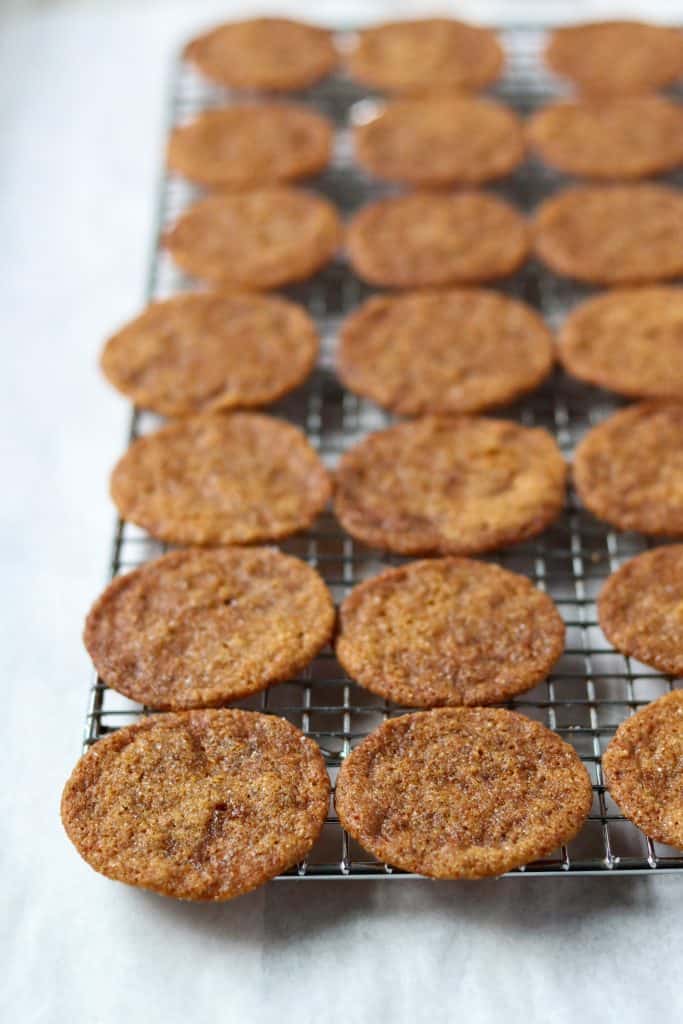 I really hope you try these ginger snaps. They are truly one of a kind. Please let me know if you do in the comments below!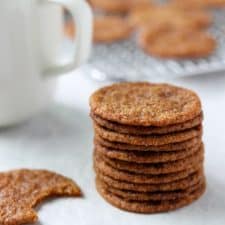 Swedish Ginger Snaps (Pepparkakor)
A truly special Swedish ginger snap with a crispy outer edge and a pleasantly chewy center.  The perfect fika treat!
Print
Pin
Rate
Ingredients
For the Dough:
2

cups

pastry flour OR 1 ¾ cups all-purpose flour and ¼ cup cornstarch

1 ½

teaspoons

baking soda

½

teaspoon

fine sea salt

½

teaspoon

ground ginger

½

teaspoon

ground cinnamon

¼

teaspoon

ground cloves

¾

cup

butter

¾

cup

sugar

¼

cup

molasses

1

egg
To Roll Out the Cookies:
½

cup

granulated sugar

more if needed
Instructions
Whisk pastry flour (or all-purpose flour and cornstarch), baking soda, salt, ginger, cinnamon and cloves together in a medium bowl.  Set aside.

Combine butter, sugar and molasses in the bowl of a stand mixer.  Mix on medium speed until mixture is light and fluffy, about 3 minutes.  This will take longer if you are mixing by hand. Reduce speed to low and add the egg.  Mix until fully combined.

Add flour mixture to butter mixture.  Mix on low speed until just combined. Using a spatula, transfer dough to a large piece of plastic wrap.  Wrap tightly and place in the refrigerator for at least 2 hours or up to one day or, alternatively, place dough in the freezer for 20 to 30 minutes.  The dough will be easier to work with if it is well-chilled.

Preheat oven to 350 degrees and line a baking sheet with parchment paper.  Place ½ cup of sugar in a small bowl and find a drinking glass with a flat bottom.

Remove a portion of the dough from the refrigerator.  Tearing off one small piece at a time, roll dough between your palms into a small ball about ½ -¾ inch in diameter.  Dough will be sticky. Place dough ball in the bowl of sugar and roll it around until it is completely coated. Place ball on prepared baking sheet.

Continue with remaining dough until baking sheet is filled, leaving at least 1 inch of space between each dough ball on the baking sheet.  Dip the bottom of the drinking glass into the bowl of sugar and press down on each ball flattening it into a disc approximately ¼ inch thick.  Be sure to dip the glass in the sugar before flattening each cookie.

Place baking sheet in the oven and bake cookies for 8-10 minutes or until cookies are just set.  Do not over bake if you want the center of the cooke to remain slightly chewy. Let cool completely on the baking sheet before transferring to a wire rack.  Repeat with remaining dough, rechilling the dough as necessary if it becomes difficult to work with.
Nutrition
Calories:
43
kcal
|
Carbohydrates:
6
g
|
Protein:
1
g
|
Fat:
2
g
|
Saturated Fat:
1
g
|
Cholesterol:
7
mg
|
Sodium:
52
mg
|
Potassium:
20
mg
|
Fiber:
1
g
|
Sugar:
4
g
|
Vitamin A:
56
IU
|
Calcium:
3
mg
|
Iron:
1
mg