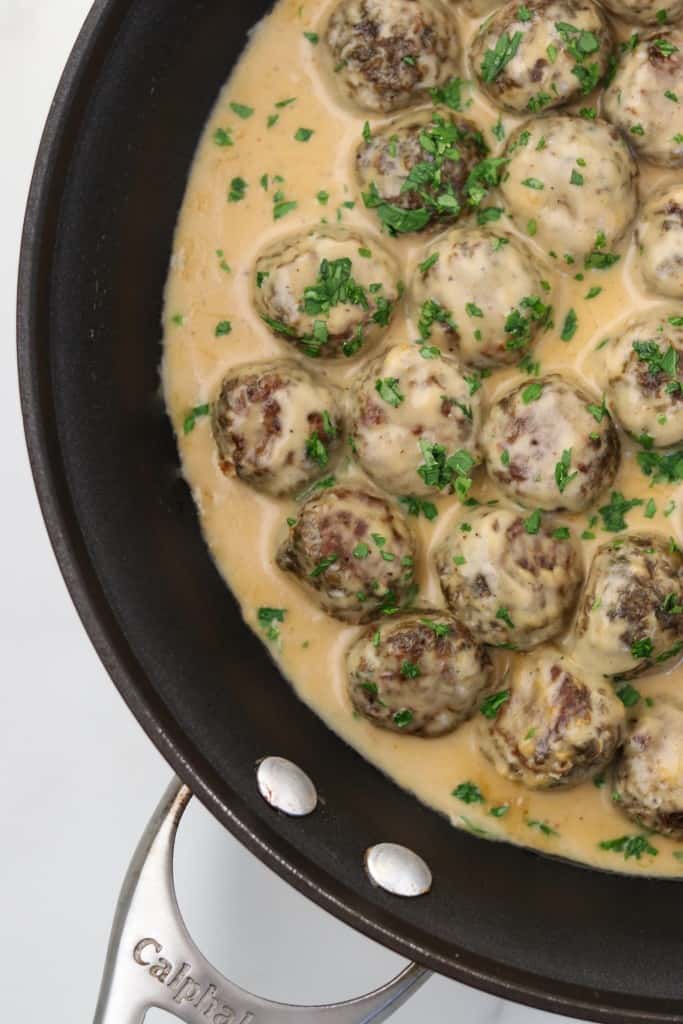 The holidays are just around the corner, and I know many of us are looking forward to tucking into a plate of Swedish Meatballs, complete with mashed potatoes, lingonberries and pickled cucumbers.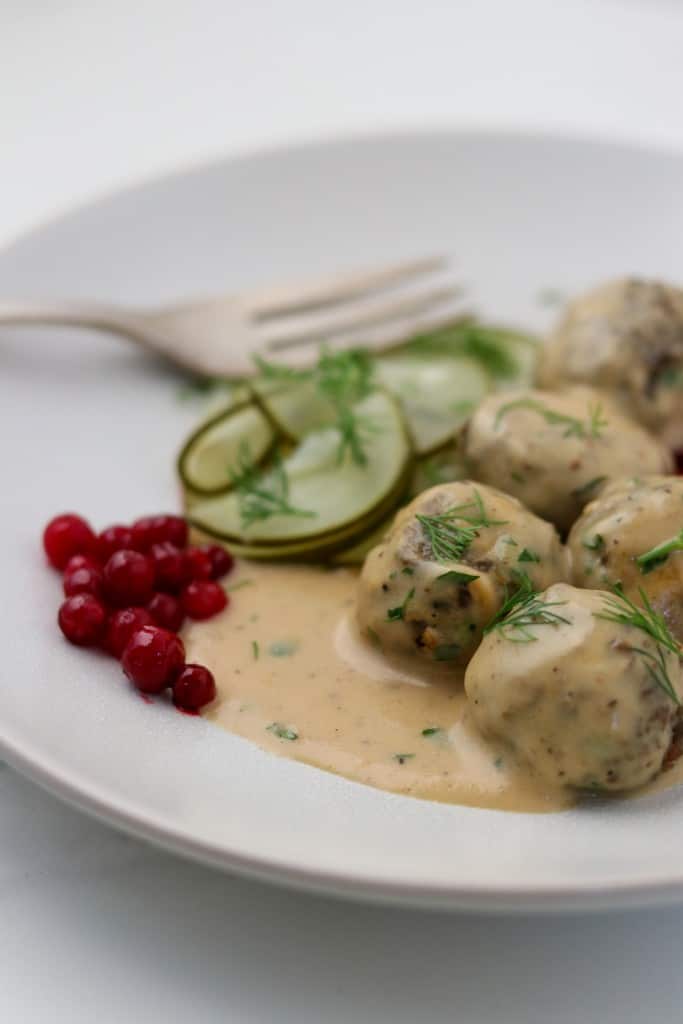 But what what if you or someone in your family doesn't eat meat? Are you simply out of luck? Absolutely not. Let me introduce you to my recipe for Really Good Vegetarian Swedish Meatballs. Made with lentils, mushrooms, oats and the right mix of warm spices, these Vegetarian Swedish Meatballs have that quintessential flavor of traditional Swedish meatballs but in a plant-based form. Even if you are not a vegetarian, I would recommend giving these a try. They are a surprisingly tasty and satisfying alternative to traditional meatballs.
I did my research on this recipe before starting, and even tried a few different methods for creating the meatballs before landing on this one which is adapted from the outstanding vegetarian food blog, Cookie and Kate. Her recipe offers more traditional Italian flavors, but I figured with a little tweaking it wouldn't be too hard to find my way into a Swedish version.
So What Makes Meatballs Swedish?
Swedish meatballs, vegetarian or not, have certain characteristics that set them apart from meatballs from other cultures:
A blend of warm spices, usually allspice and nutmeg (and sometimes ground ginger). This is what gives Swedish meatballs their unmistakeable flavor.
Swedish meatballs are quite small, at most about an inch in diameter.
They are usually served in a creamy gravy with Stirred Lingonberries and Fresh Pickled Cucumbers alongside. This trio of savory, sweet and tangy is an unforgettable combination that hits all the right flavor notes.
Swedish meatballs are often served alongside mashed potatoes or buttered egg noodles. Both are delicious!
The Ingredients
The ingredient list here is a little longer than some of my other recipes, but each one plays an important role in these delicious Vegetarian Swedish Meatballs, Here are a few of the essentials: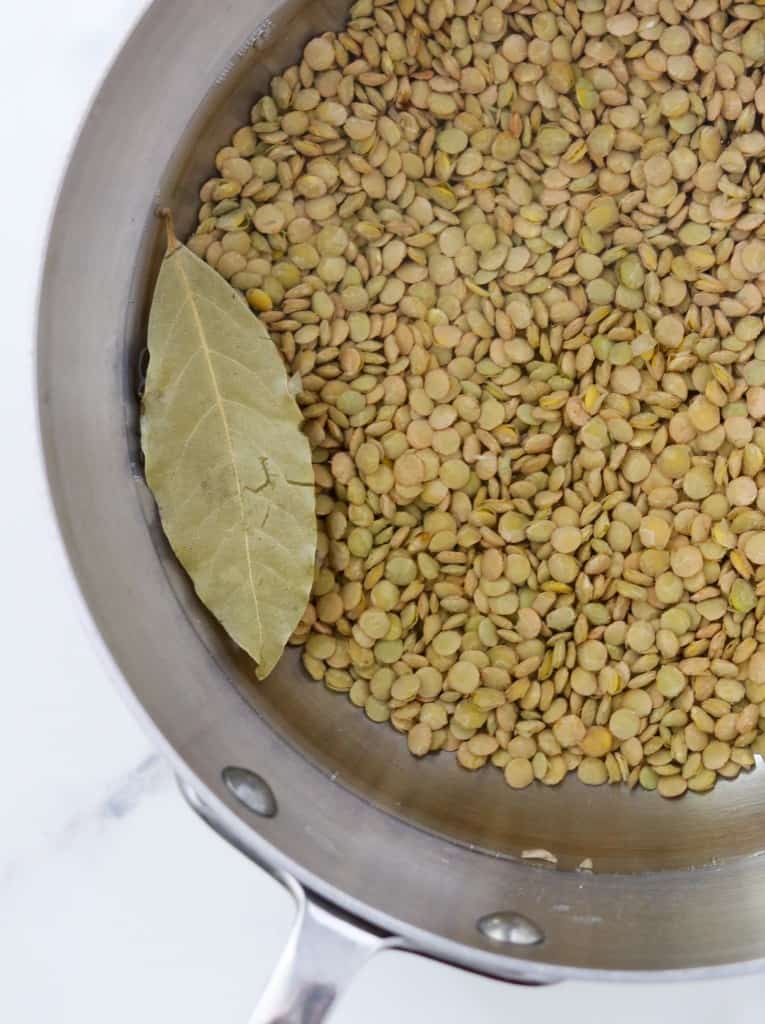 Lentils. Regular brown or green lentils are the meaty plant-based backbone of this recipe.
Mushrooms. Bringing their uncommonly meaty, umami flavor, mushrooms are essential to the dish. Even if you claim not to like mushrooms....they are chopped fine and not at all distinguishable in the final result. My daughter who dislikes mushrooms ate 6 meatballs straight from the pan proclaiming them as good as the real thing.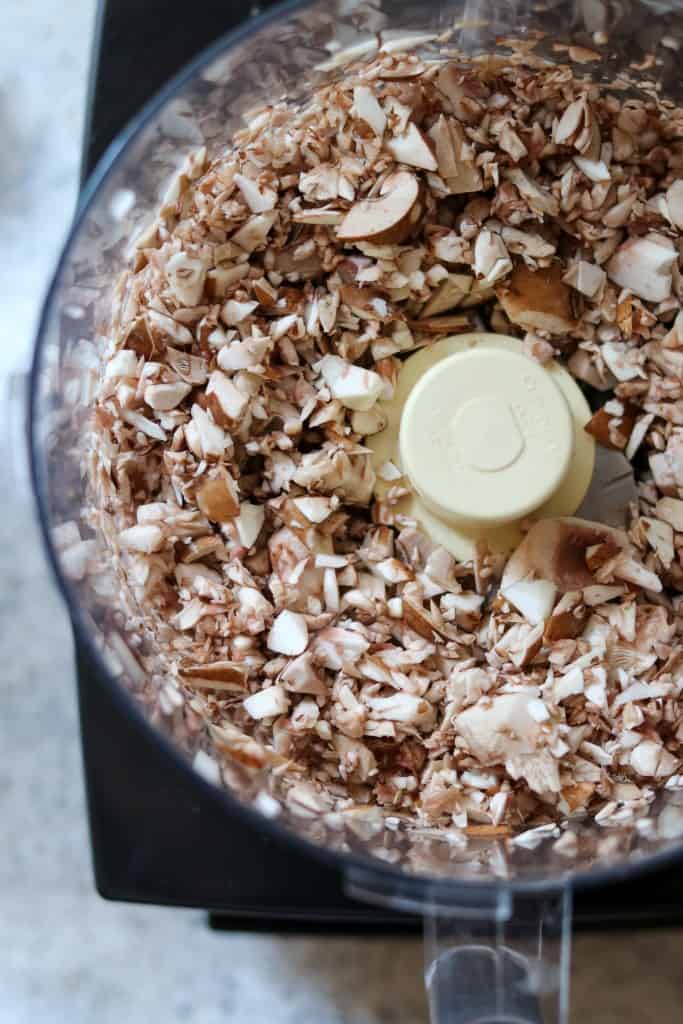 Allspice, nutmeg and brown sugar. You will find this same combination of sugar and spice in my recipe for Easy Swedish Meatballs, and they bring the same quintessential flavor to this vegetarian version.
Oats. Instead of bread crumbs, this recipe uses oats to help bind the mixture together. They also make the meatballs gluten-free if you use gluten-free oats.
Eggs. Eggs also act as an important binder here, helping the meatballs maintain their form once they are baked.
Onion. For aromatic flavor.
Parsley. For a subtle herby, brightness.
White wine. The first time I made these meatballs I didn't include the wine. They were still delicious, but much improved by the inclusion of the wine. It brings just enough acidity to heighten all the flavors in the final dish.
The Method
These Vegetarian Swedish Meatballs involve a two step process, but the result is well worth a little extra effort:
Simmer the lentils until they are about half-way done, about 10 minutes. The lentils have more cooking to do later in the recipe, and this short cooking time keeps them from becoming too mushy.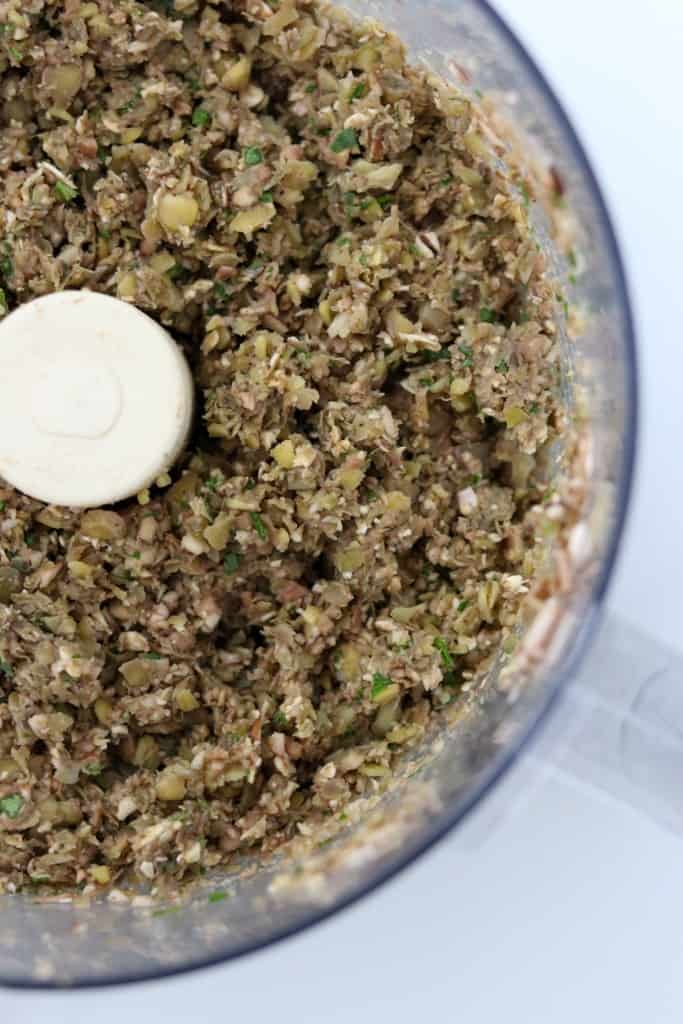 Coarsely chop the mushrooms in a food processor, and then add the cooked lentils, oats, sugar, spices and salt. Pulse until everything is finely chopped but not a paste.
Sauté onions in oil and then add the lentil and mushroom mixture. Cook until the mixture becomes dry and is beginning to brown, about 5 minutes. Transfer to a large bowl and allow it to cool before adding the eggs.
Once the mixture is just warm to the touch, add the eggs and combine.
Use a 1 tablespoon scoop (I like this spring-loaded one. Works like a charm.) and portion the meatballs out onto two baking sheets.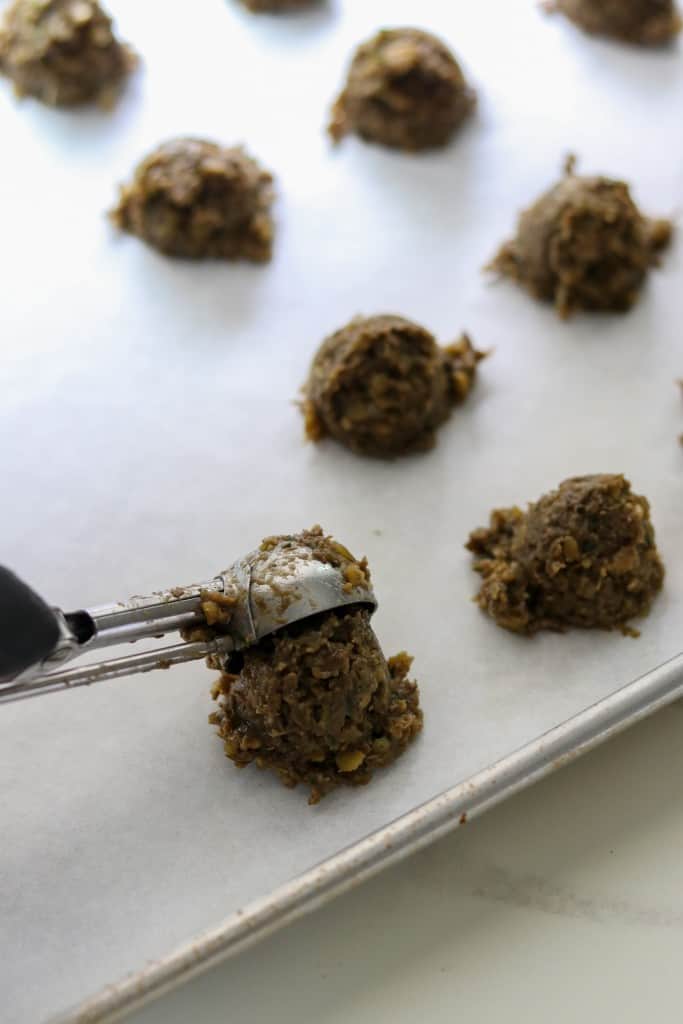 Roll each mound of the mixture between your hands to create a smooth ball. If it's too sticky, dampen your hands slightly to keep the mixture from sticking as you roll.
Bake and add to your creamy gravy to warm through.
Vegan Version
This recipe calls for both eggs and dairy. Should you want to make a vegan version:
Substitute flax eggs for the large eggs (For one flax egg: Combine 1 tablespoon ground flax seed and 2 ½ tablespoons water. Stir to combine. Let sit at room temperature for 5 minutes to thicken).
Substitute vegan butter or olive oil for the unsalted butter.
Substitute an unsweetened vegan half-and-half (Such as the Califia Farms Unsweetened Better Half Coffee Creamer) for the cream.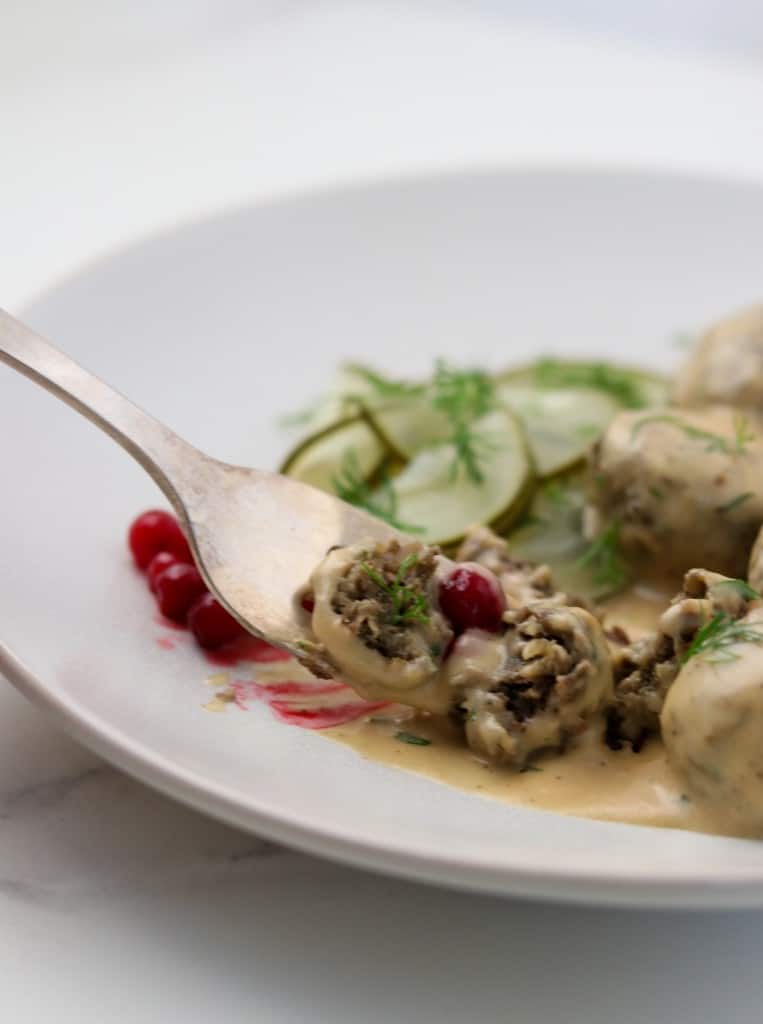 To Make Ahead
You can make these Swedish Meatballs ahead and they freeze beautifully for about a month. Skip the sauce and just pop them in a Ziploc bag and take them out as you need them. The recipe makes about 45 meatballs so I will often serve half right away and stash the rest in the freezer for another time. I like to defrost them in the fridge overnight and then just add them straight to the gravy.
I hope you give these Vegetarian Swedish Meatballs a try, whether you are a vegetarian or not. They are a fun, plant-based twist on the original.And don't forget the stirred lingonberries or store bought lingonberry jam and fresh pickled cucumbers to go with! It's a classic (and delicious) combination. If you do give them a try, let me know what you think in the comments below!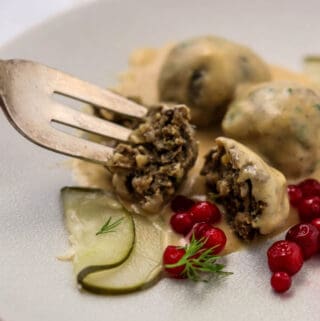 Really Good Vegetarian Swedish Meatballs
A delicious plant-based version of traditional Swedish meatballs featuring lentils, mushrooms, and just the right spices.
Print
Pin
Rate
Ingredients
For the Meatballs:
1

cup

brown or green lentils

picked over and rinsed

2

cups

water

1

bay leaf

8

ounces

cremini or white button mushrooms

cleaned and quartered

½

cup

rolled oats

¼

cup

chopped fresh parsley

1

teaspoon

fine salt

½

teaspoon

packed brown sugar

⅛

teaspoon

ground nutmeg

¼

teaspoon

ground allspice

⅛

teaspoon

ground pepper

2

tablespoons

canola oil

1

onion

chopped fine

½

cup

dry white wine

2

eggs

lightly beaten

1

tablespoon

soy sauce
For the Gravy:
2

tablespoons

unsalted butter

2

tablespoons

flour

1 ½

cups

low-sodium vegetable broth

1

tablespoon

soy sauce

½

cup

heavy whipping cream

1-2

pinches

of ground nutmeg

more to taste

Salt and pepper to taste

Chopped fresh parsley or chives
To Serve:
Instructions
Make the Meatballs:  Preheat the oven to 400 degrees.  Place the lentils, bay leaf and water in a saucepan.  Bring to a boil over medium-high heat.  Reduce to a simmer and cover.  Cook until lentils are starting to become tender, about 10 minutes.  Drain the lentils, remove the bay leaf and set aside.

Transfer mushrooms to the work bowl of a food processor and pulse until coarsely chopped.  Add lentils, oats, parsley, salt, brown sugar, nutmeg, allspice and pepper.  Process until mixture is very finely chopped, about 7 or 8 pulses.

Heat oil in a large skillet over medium heat.  Add onion and saute until soft and translucent, about 3 minutes.  Add lentil and mushroom mixture and cook, stirring frequently, until it starts to dry out and is begins to brown, about 5 minutes.  Add white wine and soy sauce and cook until the liquid is nearly evaporated, about 1 minute more.  Remove from the heat and transfer the mixture to a large bowl. Set aside until it is just warm to the touch. 

Add eggs.  Mix until fully combined.  

Line 2 rimmed baking sheets with parchment paper.  Using a tablespoon measure, transfer spoonfuls of the mixture to the prepared sheet pans.  Roll each spoonful into a smooth ball, dampening your hands if necessary to prevent sticking.

Transfer the sheet pans to the oven and bake until the meatballs are browned and firm to the touch, about 25 minutes, switching and rotating the pans halfway through.  Set meatballs aside.

Make the Gravy:  Melt butter in a 12 inch nonstick skillet over medium heat.  Whisk in flour and cook for one minute.  Add broth and soy sauce, whisking constantly.  Simmer until reduced slightly.  Add cream and nutmeg and return to a simmer.  Season to taste with salt and pepper.  
Notes
Make it vegan:
Substitute flax eggs for the large eggs (For one flax egg:  Combine 1 tablespoon ground flax seed and 2 ½ tablespoons water.  Stir to combine.  Let sit at room temperature for 5 minutes to thicken).
Substitute vegan butter or olive oil for the unsalted butter.
Substitute an unsweetened vegan half-and-half (Such as the Califia Farms Unsweetened Better Half Coffee Creamer) for the cream. 
Make ahead:  
Skip the sauce for now and store the baked meatballs in a tightly sealed container in the refrigerator for up to three days or in the freezer for up to a month.  When you are ready to serve, make the sauce and add the meatballs to heat through (no need to thaw first if frozen).
Adapted from Cookie and Kate
Nutrition
Calories:
354
kcal
|
Carbohydrates:
32
g
|
Protein:
14
g
|
Fat:
18
g
|
Saturated Fat:
8
g
|
Polyunsaturated Fat:
2
g
|
Monounsaturated Fat:
6
g
|
Trans Fat:
0.2
g
|
Cholesterol:
87
mg
|
Sodium:
761
mg
|
Potassium:
564
mg
|
Fiber:
12
g
|
Sugar:
4
g
|
Vitamin A:
720
IU
|
Vitamin C:
7
mg
|
Calcium:
60
mg
|
Iron:
4
mg