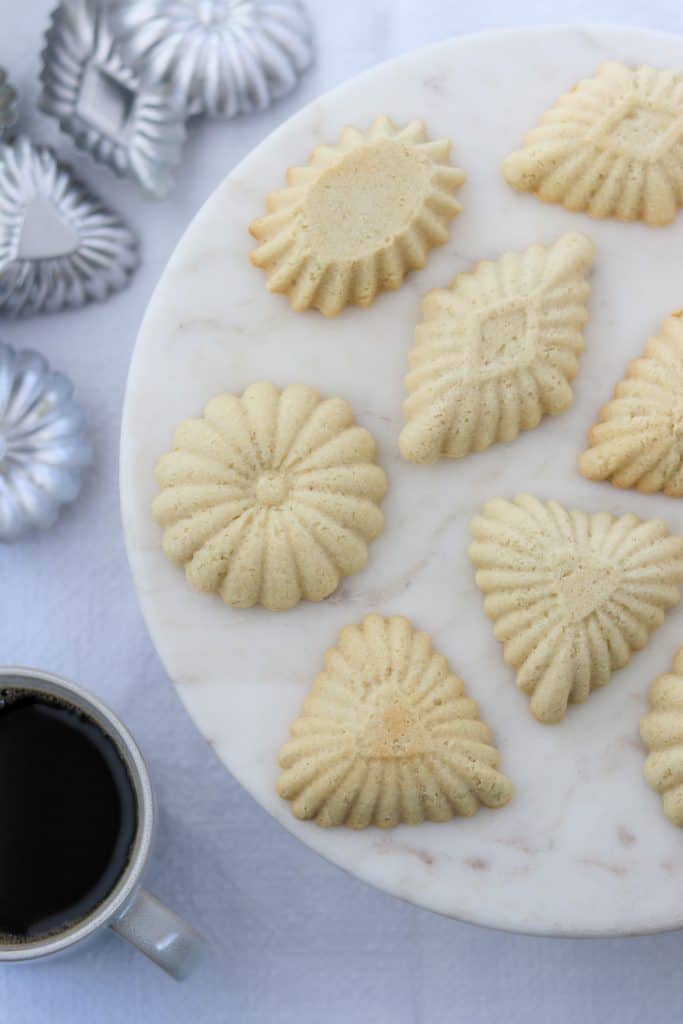 If you are of Scandinavian heritage, perhaps someone in your family owns a box of these cute little tart pans.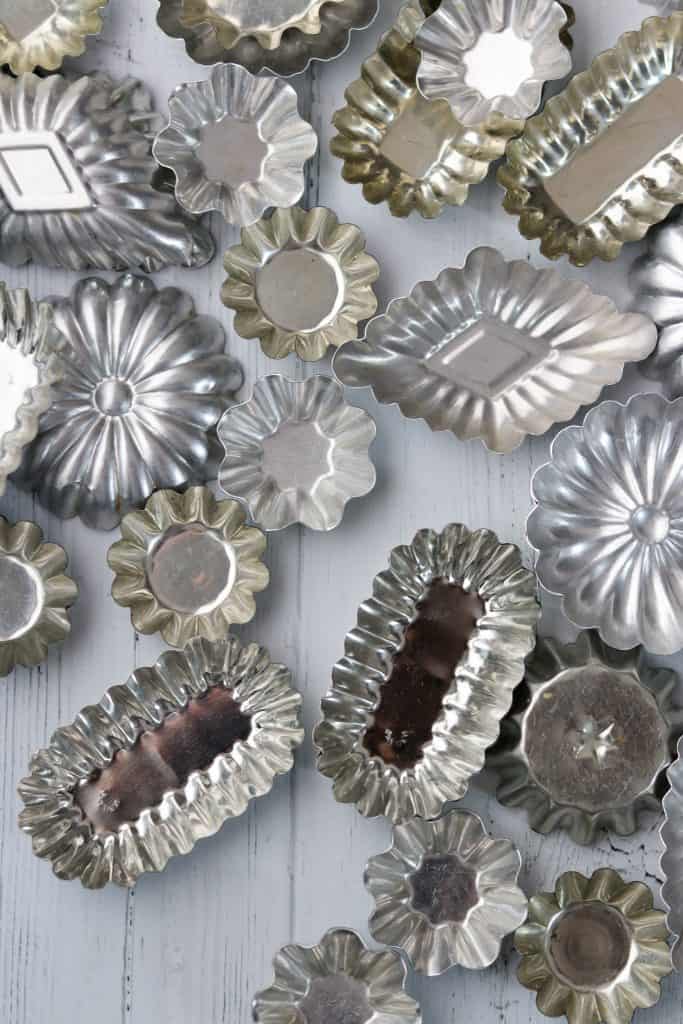 Many Scandinavian Americans use them to make these sweet almond tartlets known as Mandelmusslor in Swedish or Sandbakkels in Norwegian, usually during the Christmas season. I also have a friend who claims that she made these into Christmas ornaments! To each her own.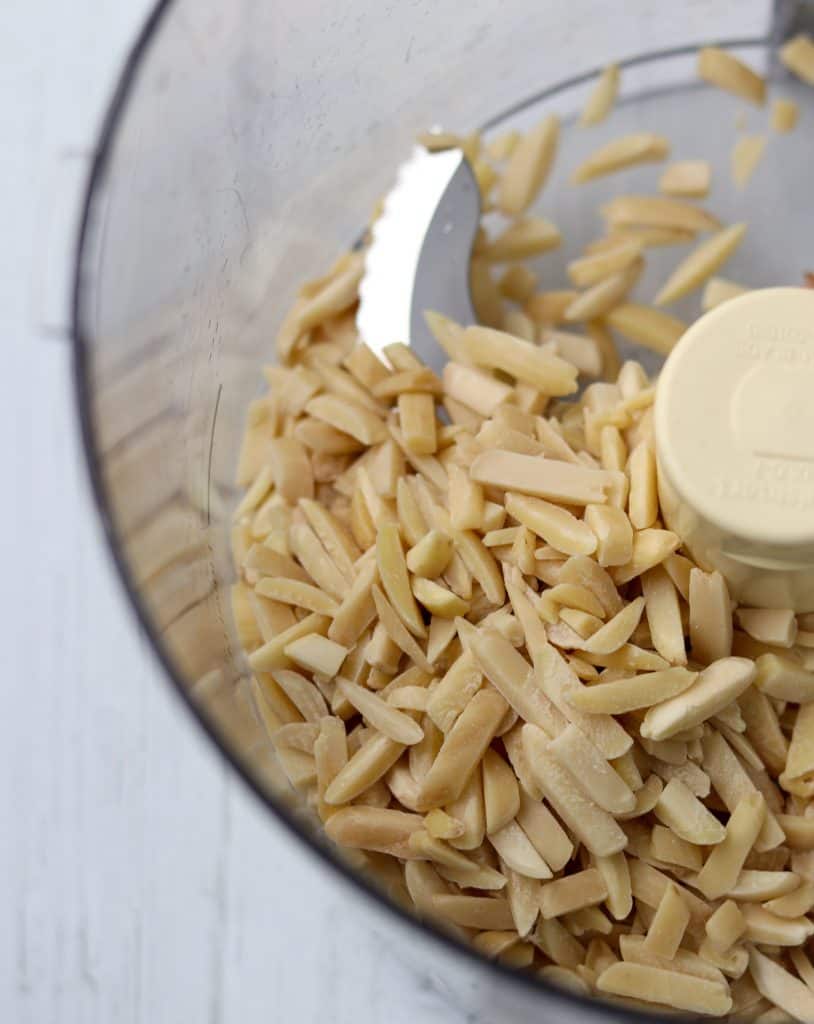 These almond tartlets are one of those cookies that really deserves a more year-round presence. Easy to make with just the right amount of almond flavor, these almond tartlets not only delicious, they are exceptionally versatile. You can serve them plain, perhaps with a cup of coffee. Or fill them with a myriad of sweet things such as jam, fruit compote (strawberry rhubarb is heavenly!), fresh fruit, lemon curd, pastry cream, whipped cream.....you get the idea.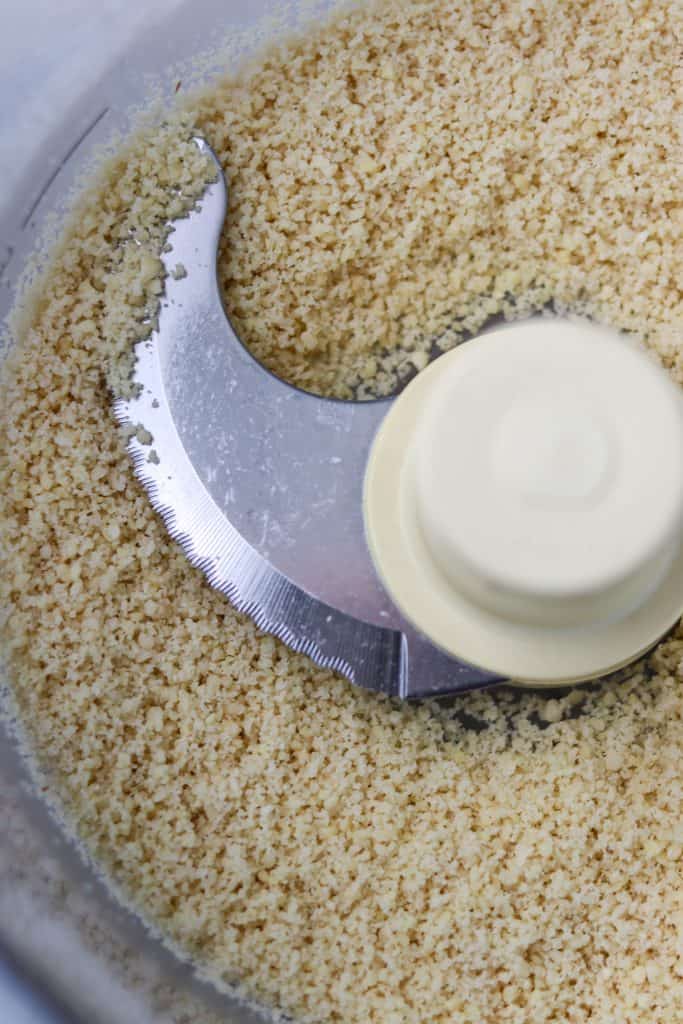 I know they look kind of fussy and complicated, but the process for making these little Scandinavian Almond Tartlets is really simple. Just press the dough evenly into each tart pan and bake. Done! And for your efforts you are rewarded with these intricate, stunning little cookies that double as mini pastry tarts. And did I mention that they freeze nicely? Whether they are served plain on the afternoon fika tray or filled and served for dessert, it's great to have a batch of these tartlets ready and waiting in the freezer.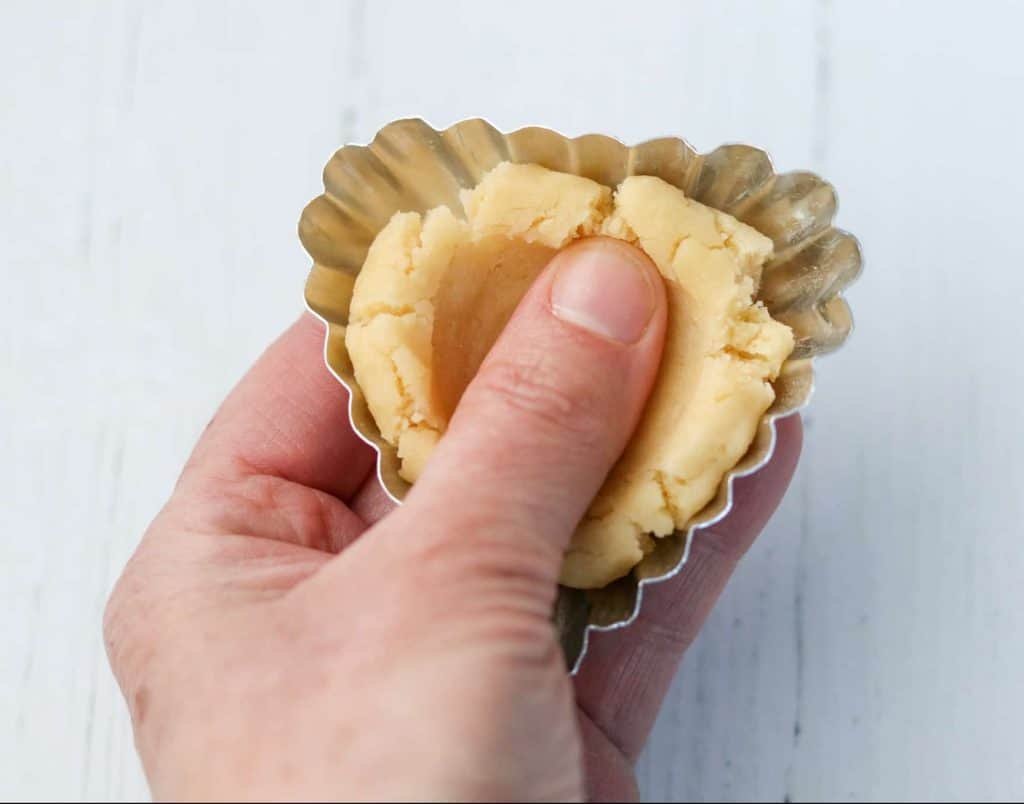 I've got a few thoughts for ensuring Scandinavian Almond Tartlet success each and every time:
Chill the dough for at least 30 minutes or up to 24 hours prior to working with it. Not only does this make the dough easier to press into the tart pans, it also gives the final product a more uniform surface.
Don't bother greasing the tart pans. I used to do this and it was a big extra step that I didn't enjoy. When I was developing this recipe for the blog, I tried buttering the pans, using a baking spray (like Pam for Baking) and leaving them alone. All the tarts came out of the pan with the same relative ease. Don't waste time on this extra step.
Press the dough into the tart pans thinly and evenly. That said, don't drive yourself crazy trying to get them REALLY thin. I promise they will be tasty whether they are thin or a little on the thicker side. My kids, in fact, prefer them a little thicker. And another bonus...they don't break as easily.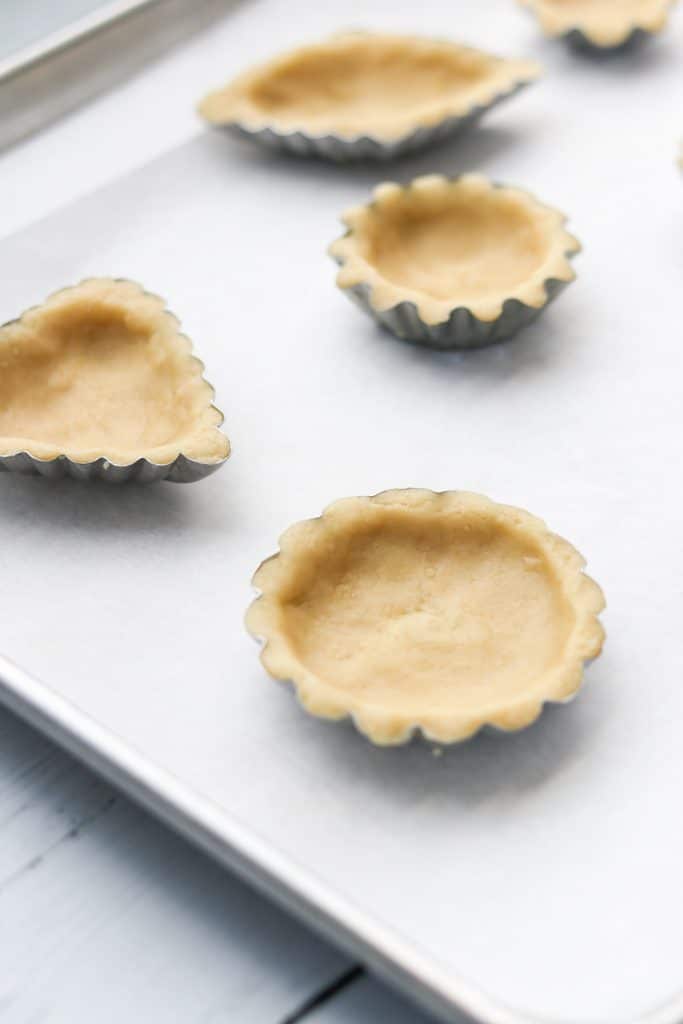 Once you are done pressing, Finish off the top edge of the tart with your fingers. Just make sure the edge is even with the top of the tart pan for an attractive final product.
Once the tarts are baked and have cooled slightly, gently release them from the tart pans. This might take a little practice, but they should release pretty easily with a little wiggling and help from your fingers.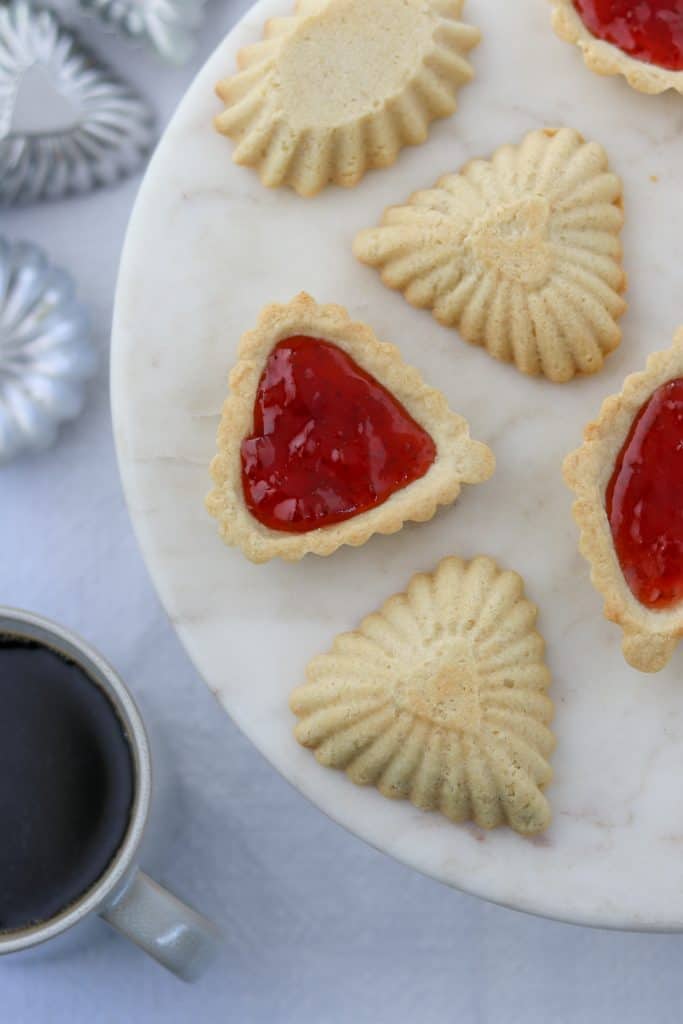 I hope you give these Scandinavian Almond Tartlets a try, and don't wait for Christmas! They are a year-round cookie if there ever was one. Let me know how they turn out in the comments below. I love hearing from you!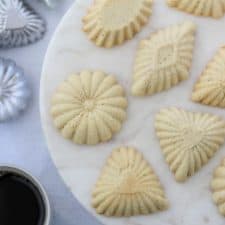 Scandinavian Almond Tartlets (Sandbakkels in Norwegian or Mandelmusslor in Swedish)
A crisp, buttery, almond flavored tartlet that is delicious plain or filled with something sweet!
Print
Pin
Rate
Servings:
25
-30 tartlets
Ingredients
½

cup

unsalted butter

room temperature

½

cup

granulated sugar

1

large egg

1

cup

blanched

slivered almonds, finely ground in a food processor

½

teaspoon

fine sea salt

1

teaspoon

almond extract

2

cups

all-purpose flour
Special Equipment Needed:
Instructions
1. In the bowl of a stand mixer fitted with the paddle attachment, cream butter and sugar together until fluffy, about 3 minutes, scraping down the sides of the bowl as necessary.

2.  Add the egg, followed by the ground almonds, salt and almond extract. Mix until incorporated.

3.  Add the flour and mix on low until just combined.

4.  Remove the bowl from the mixer and knead the dough gently with your hands inside the bowl for a minute or two until it all comes together into a cohesive whole.  Remove the dough from the bowl and place on a large sheet of plastic wrap. Wrap tightly and chill dough for at least 30 minutes.

5.  Preheat oven to 375 degrees.  Line a rimmed baking sheet with a piece of parchment paper and have 25 or so

tart pans

at the ready.  Remove chilled dough from the refrigerator and tear off a piece that is approximately the size of a walnut.  Pat the small piece of dough into the tart pan using your thumbs and fingers. The dough should be uniformly 1/16th inch to an ⅛th inch thick across the surface of the tart pan.  Create a nice even edge at the top of the pan.

6.  Place 8-10 filled tart pans on a rimmed baking sheet lined with a piece of parchment paper and slide them in the oven for 12-15 minutes or until they are light golden brown in color.

7.  Remove the baking sheet from the oven and allow tart shells to cool before handling.  Once they are cool enough to touch, tip them upside down and remove the tart shell from the pan.  This may require a little help from your fingers or by tapping and/or wiggling the pan a little to loosen the tart shell from the sides.  This may take a little practice. Let the tart shells cool upside down on a wire baking rack. Repeat with remaining tart pans, baking 8-10 on a baking sheet at a time.  Fill (or don't fill) as desired.
Notes
These tart shells freeze beautifully.  Put any tart shells that you are not immediately eating or filling in a freezer bag and consume at your leisure.
Nutrition
Calories:
117
kcal
|
Carbohydrates:
13
g
|
Protein:
2
g
|
Fat:
7
g
|
Saturated Fat:
3
g
|
Cholesterol:
16
mg
|
Sodium:
51
mg
|
Potassium:
46
mg
|
Fiber:
1
g
|
Sugar:
4
g
|
Vitamin A:
123
IU
|
Calcium:
15
mg
|
Iron:
1
mg