This Easy Apple Compote is a wonderful recipe to have on hand when apples are in season. Simple, fresh and wholesome, this compote is a lot like a really good chunky apple sauce flavored with cinnamon and vanilla or apple pie filling. And it has so many versatile uses!
Spoon this apple cinnamon compote over pancakes, waffles or oatmeal for breakfast, serve it alongside savory pork chops for dinner or simply pour a little cream over the top or pour over ice cream and enjoy it on its own for dessert. The options are endless, and it's easy to serve to nearly everyone because it is both gluten free and vegan.
Ready to make a batch of Easy Apple Compote? Let's get started!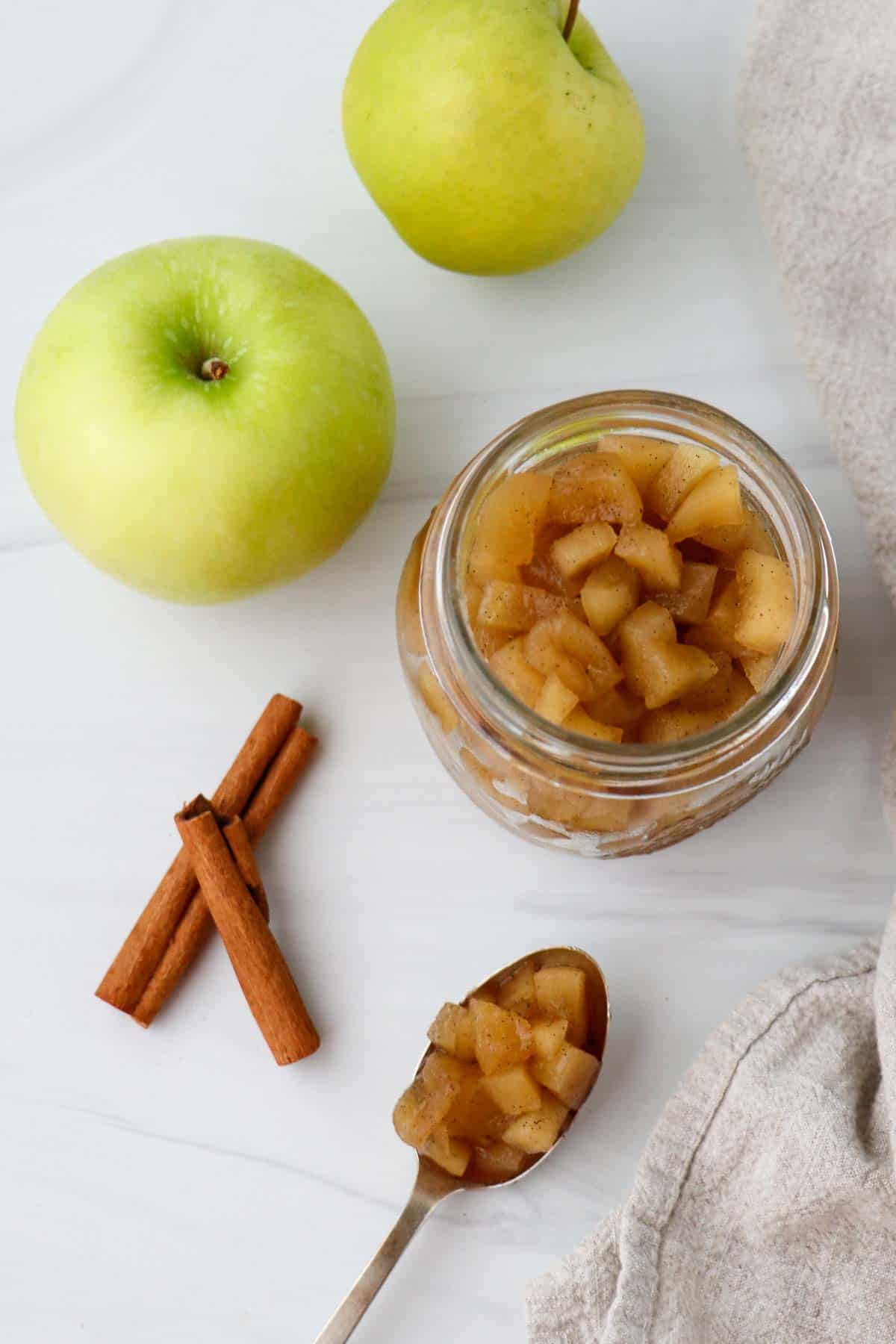 Why This Recipe Works
The apples cook just long enough to soften and become tender without becoming completely mushy.
Ingredients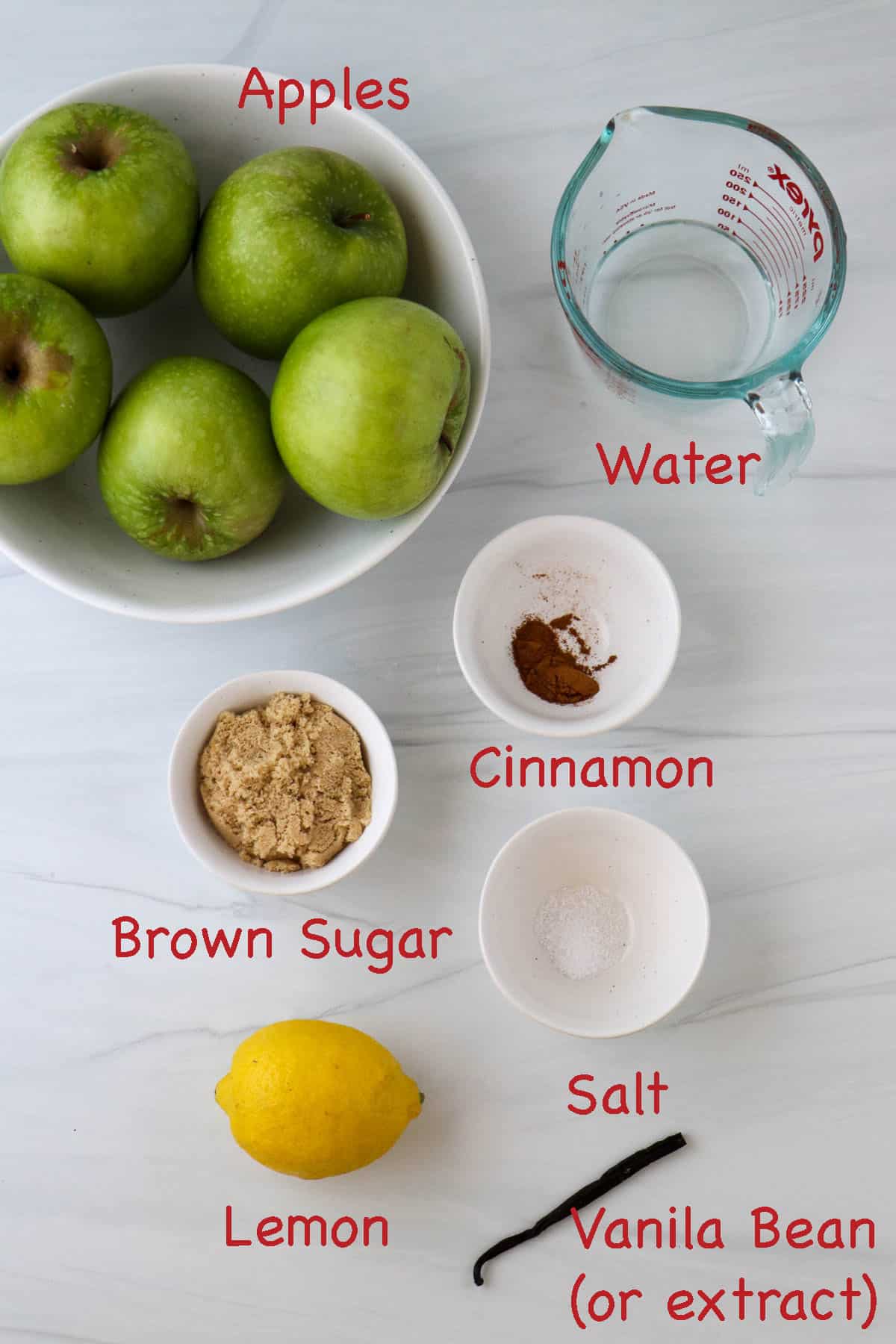 Apples are the star of the show here. I am using Granny Smith apples because I like their sweet-tart flavor and the fact that they hold their shape well when cooked. But really any apple you have on hand will do quite nicely in this recipe.
Some compote recipes call for apple cider as the cooking liquid, but I prefer water. Once the apples cook down, the compote made with water has a more pure apple flavor than one made with cider.
Cinnamon, brown sugar and half of a vanilla bean bring sweetness and flavor to the recipe. If you don't have a vanilla bean on hand, simply use 1 teaspoon of vanilla extract instead.
A pinch of salt helps round out all of the flavors in this recipe and a squeeze of lemon juice adds a little acidity to bring everything together.
How to Make This Recipe
Peel, core and chop the apples into ½ inch size pieces.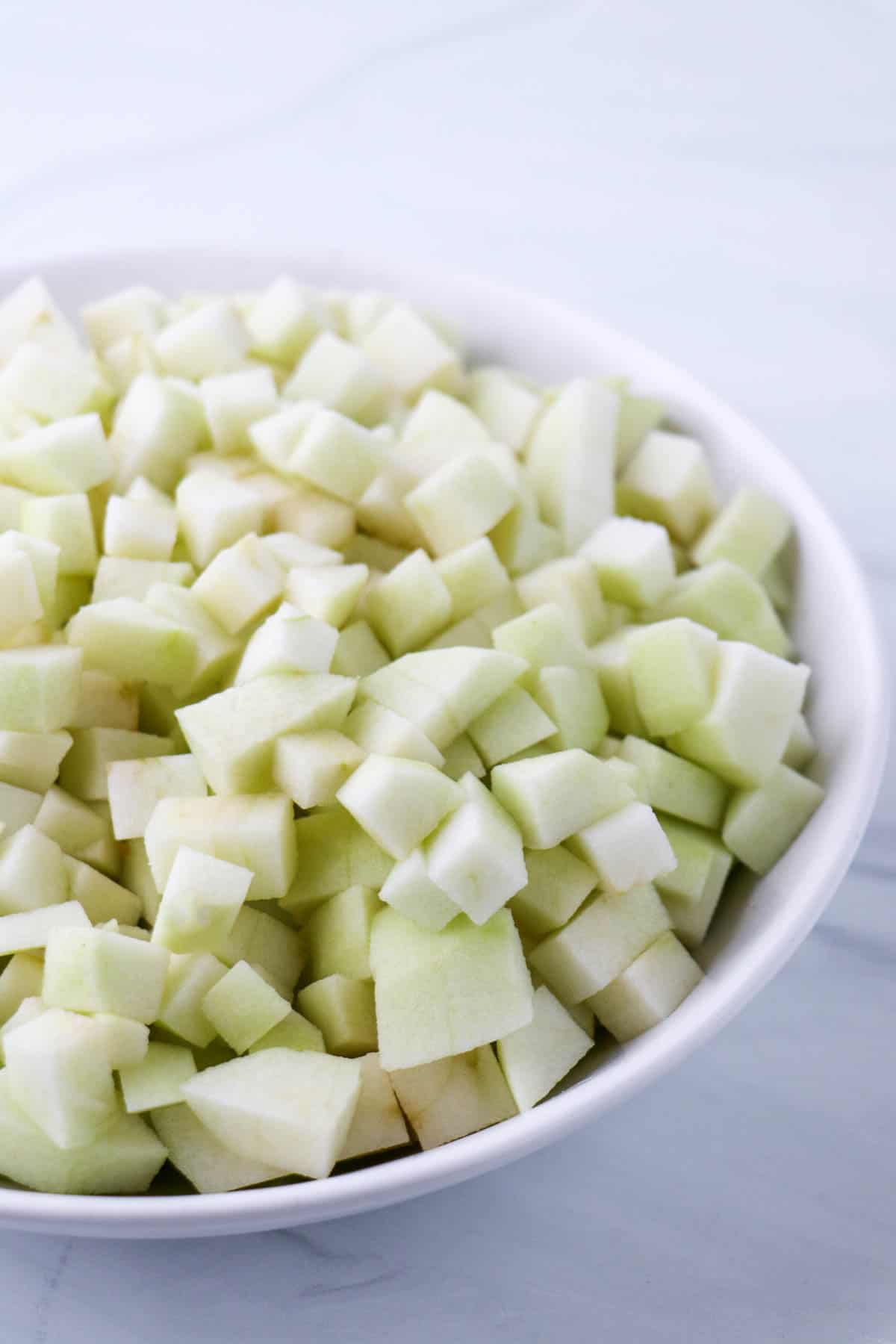 Combine all of the ingredients (except the lemon juice) in a large saucepan and cook over medium heat until the sugar melts and the mixture begins to bubble.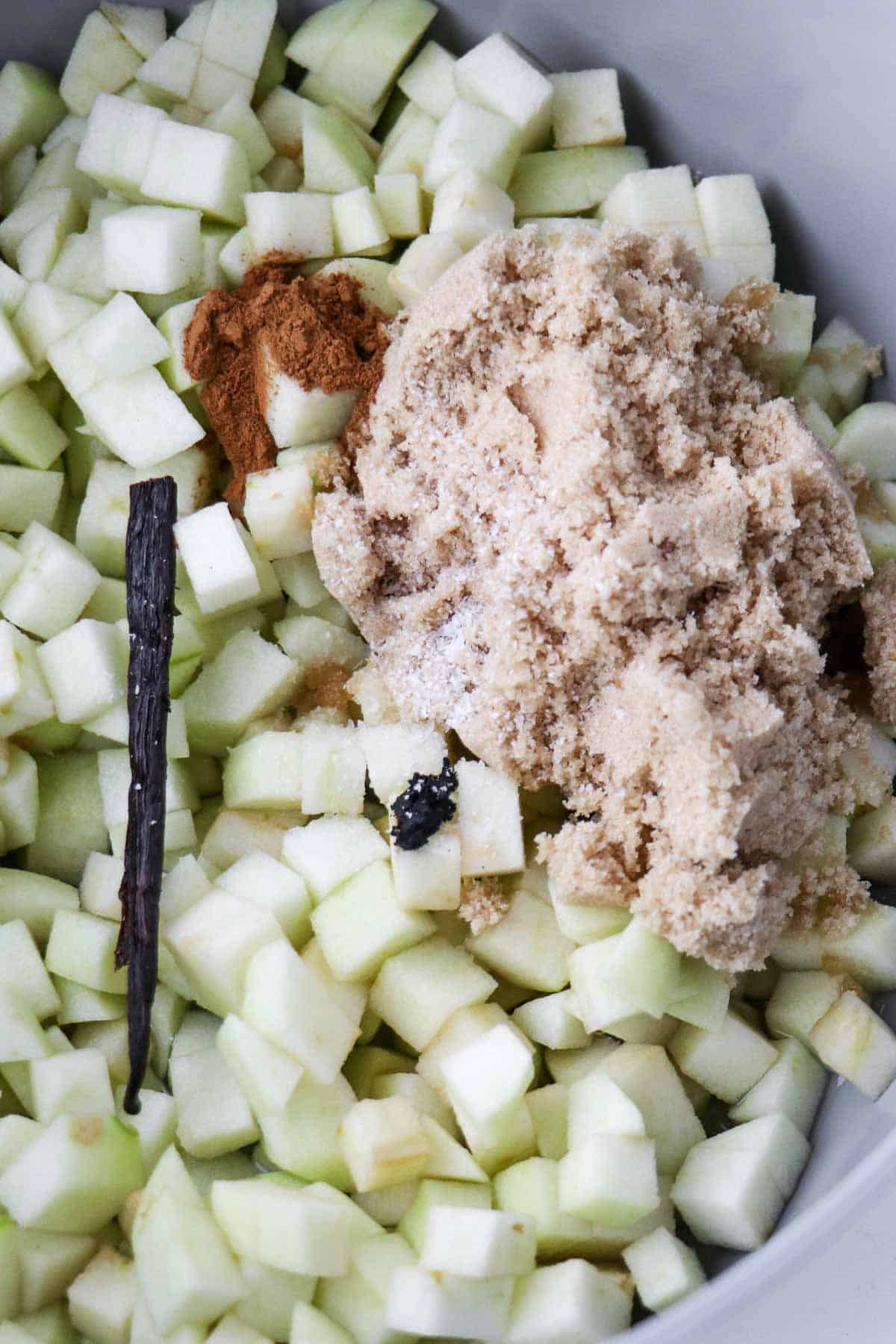 Reduce the heat to low and continue to cook, stirring occasionally, until the apples are tender but not completely falling apart, about 20 minutes. If the mixture becomes too dry, simply add a tablespoon or two of additional water and continue cooking as directed.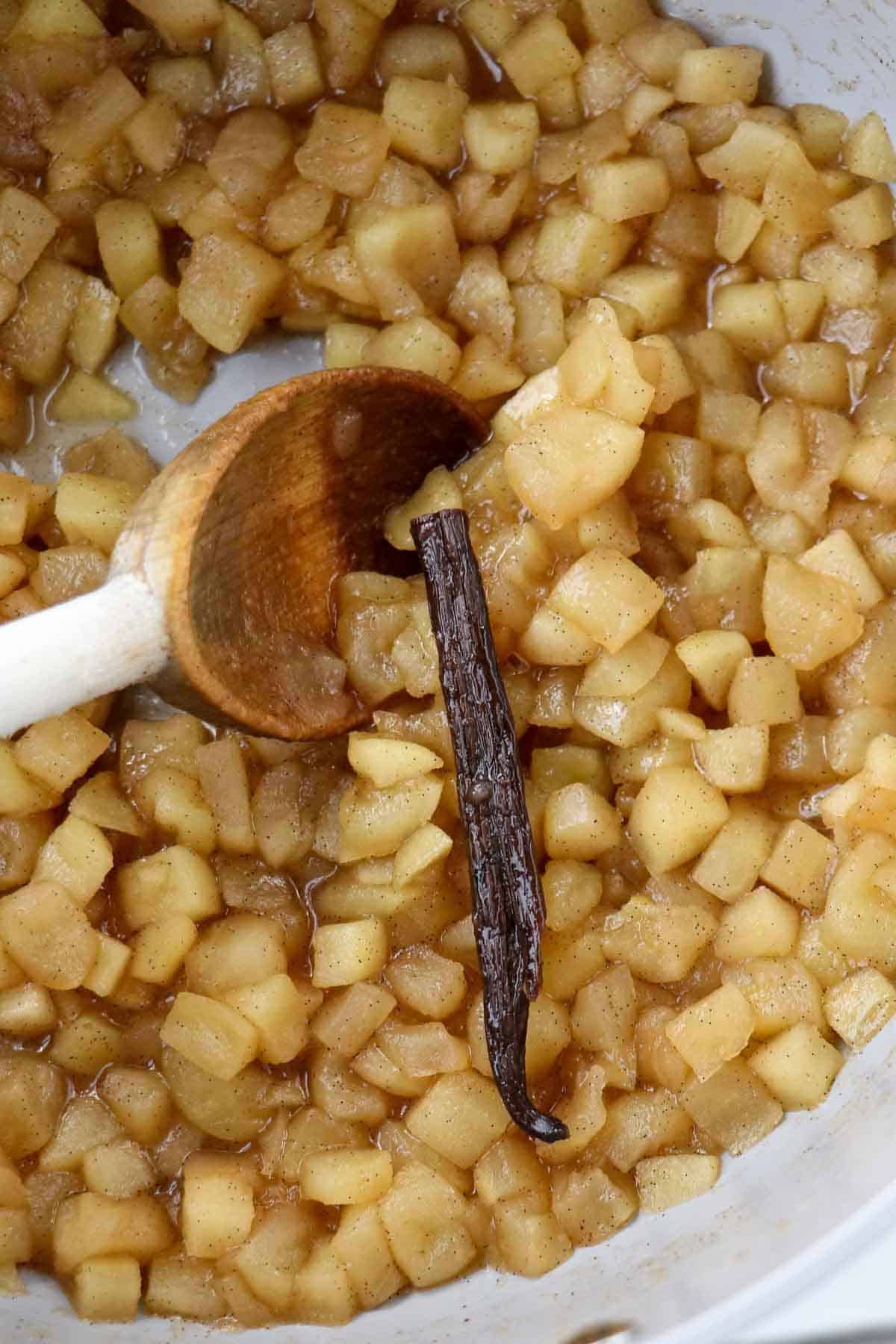 Remove from the heat. Add a splash of lemon juice and cool slightly. Enjoy warm or cool to room temperature and store in a tightly sealed container in the refrigerator until ready to use.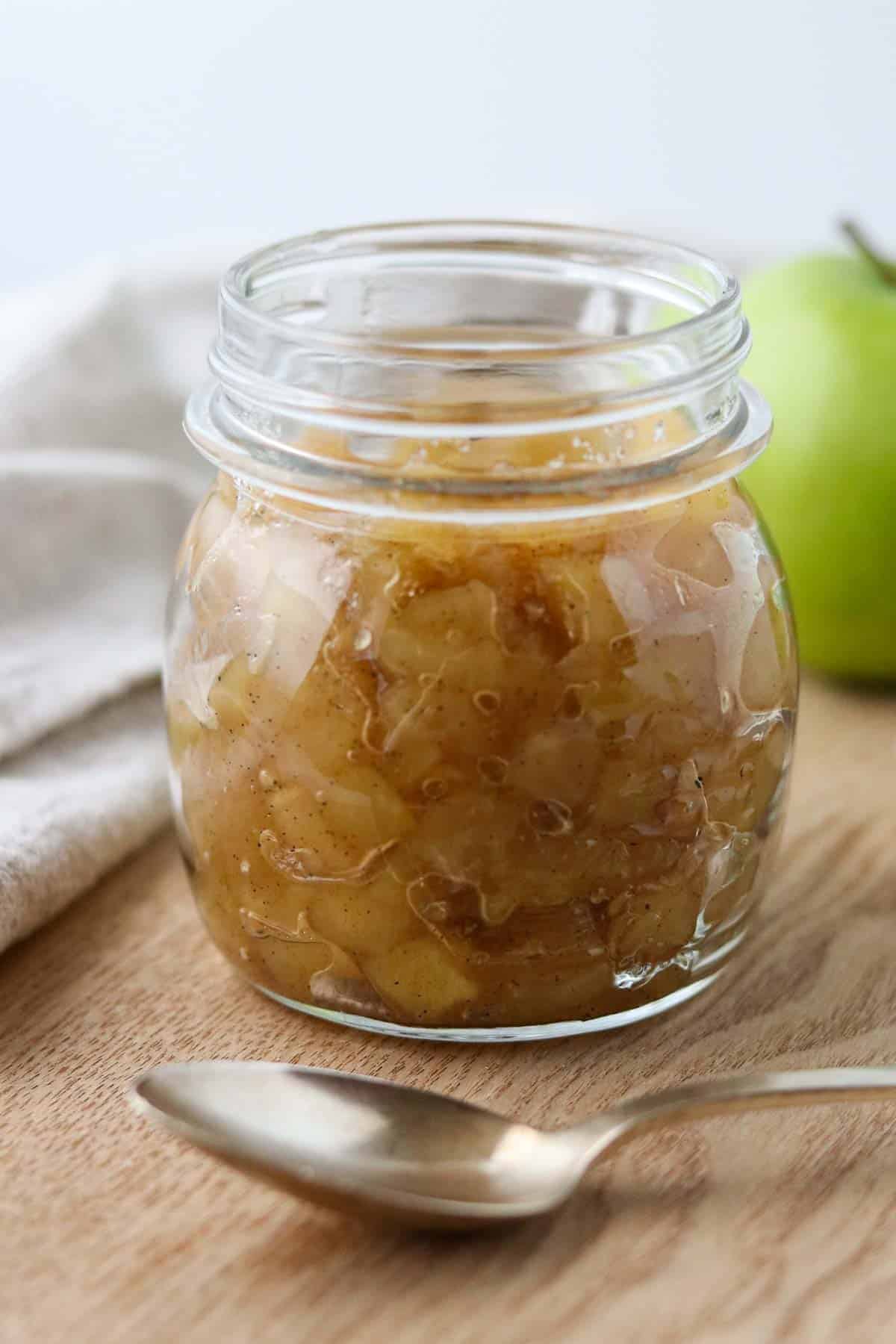 Expert Tips
Be sure to stir the compote occasionally as it cooks to help it cook evenly and to prevent any scorching on the bottom of the pan.
Add a tablespoon or two of additional water if the mixture is becoming too dry as it cooks.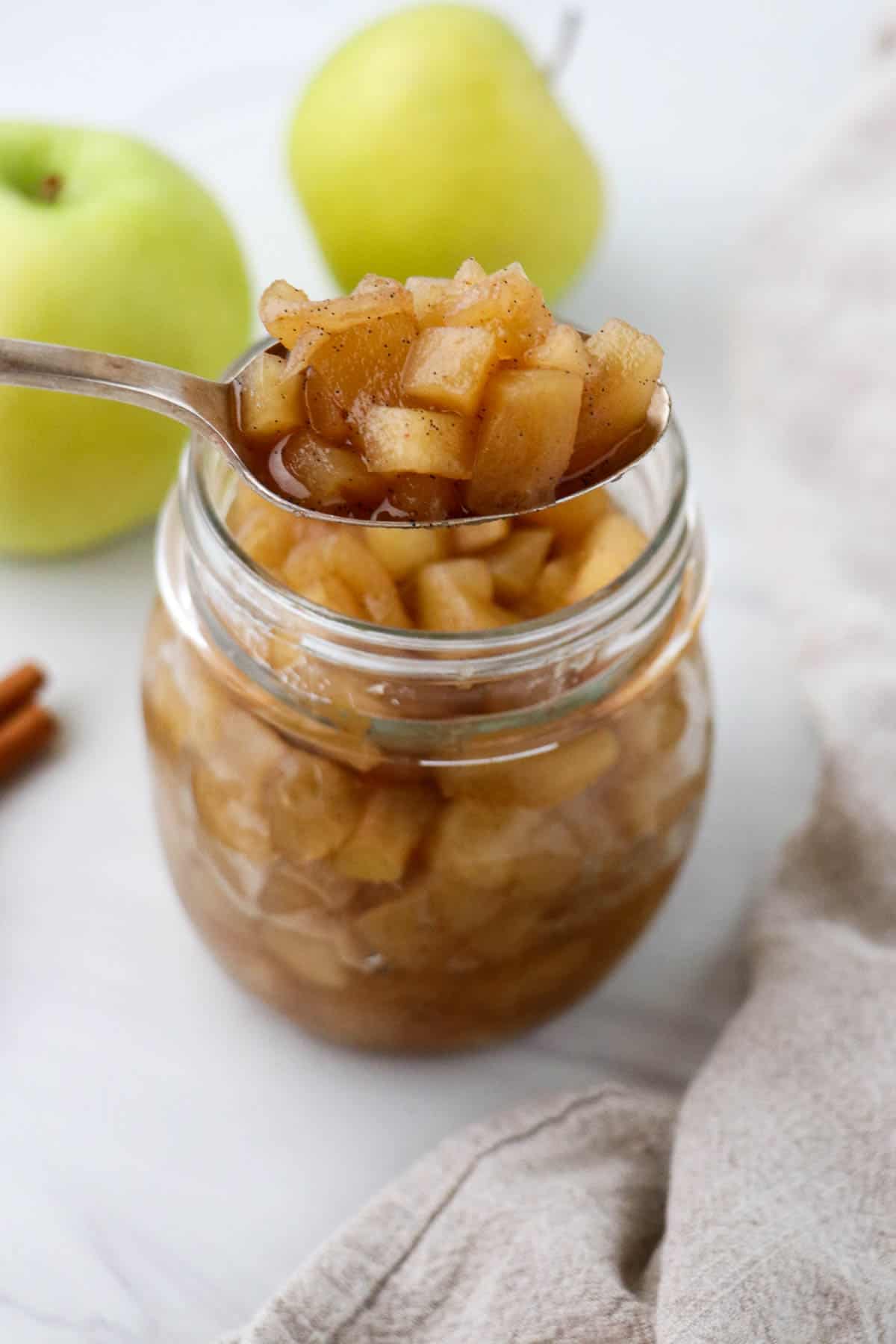 FAQs
How do I store apple compote?
Apple compote is best stored in the refrigerator in a tightly sealed container.
How long does apple compote keep?
This apple compote will keep for about a week tightly sealed in the refrigerator. Freeze according to the directions below for longer storage.
Can I freeze apple compote?
Yes! You can freeze apple compote for up to three months in tightly sealed freezer-safe containers or storage bags. Simply thaw overnight in the refrigerator and it will be ready to use.
Can I use vanilla extract instead of a vanilla bean?
Absolutely! Feel free to substitute 1 teaspoon of vanilla extract for the half of a vanilla bean.
What is a fruit compote?
A compote is a fruit preserve that is cooked slowly over low heat in a sweet syrup. Typically compotes are not as sweet as jams or preserves and are more rustic in appearance, perhaps with some of the chunks of fruit remaining intact.
What apples are best for making apple compote?
A firm baking apple is nice if you want your compote to have some structure to it rather than be like an apple sauce in texture. Granny Smith, Braeburn, Jonathan, Fuji or Gala are all good options for this recipe.
Does apple compote need to be refrigerated?
Yes, fresh compotes such as this one aren't meant for shelf storage like jam or preserves. It will need to be refrigerated or frozen.
How to Serve Apple Compote
Once you have a batch of warm apple compote on the stove or a jar of compote in the fridge, the options are endless. A few suggestions:
Layer it with skyr or Greek yogurt and granola for a morning breakfast parfait (this is SO good….like apple crumble for breakfast)!
Spoon on top of a Norwegian Waffles with some whipped cream.
Use as a filling for Swedish pancakes.
Stir into your morning oatmeal with a drizzle of whole milk or cream.
Use it as a filling for scones or rye crumble bars.
Puree in a food processor and use in place of store bought apple sauce in baking recipes (like these AMAZING baked apple donuts)!
Spoon on top of ice cream (so simple and delicious).
Possibly the easiest idea of all....drizzle warm compote with a little heavy cream and eat it with a spoon (yes, sometimes easiest is best).
Crispbread, crackers or toasted English muffins + cream cheese + compote = tasty and easy breakfast or afternoon snack.
Related Recipes
Looking for other delicious Scandi-inspired apple recipes? Give these a try: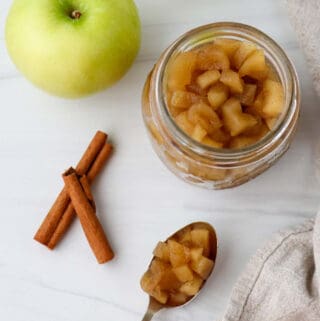 Easy Apple Compote
A simple, soul-warming recipe for apple compote flavored with brown sugar, vanilla and cinnamon. Perfect for fall!
Print
Pin
Rate
Ingredients
2

pounds

Granny Smith apples

peeled, cored and cut into ½ inch pieces

½

cup

packed light brown sugar

½

teaspoon

ground cinnamon

Pinch

of salt

½

vanilla bean

split and scraped (or 1 teaspoon vanilla extract)

1

cup

water

Squeeze of fresh lemon juice
Instructions
Combine the apples, brown sugar, cinnamon, salt, vanilla bean paste (and the pod) and water together in a medium saucepan. Bring to a simmer over medium heat and then reduce the heat to low. Cook until the apples are tender but haven't completely lost their shape, about 20 minutes, stirring occasionally. If the mixture becomes too dry while it is cooking add another couple of tablespoons of water and continue cooking as directed.

Add a squeeze of lemon juice and stir to combine. Serve warm or allow the mixture to cool completely before transferring to an airtight container for longer storage in the refrigerator. The compote will last for about 1 week in the fridge. Freeze for longer storage (up to 3 months).
Notes
Be sure to stir the compote occasionally as it cooks to help it cook evenly and to prevent any scorching on the bottom of the pan.
Add a tablespoon or two of water if the mixture starts to become too dry before the apples are tender.
Nutrition
Calories:
225
kcal
|
Carbohydrates:
59
g
|
Protein:
1
g
|
Fat:
0.5
g
|
Saturated Fat:
0.1
g
|
Polyunsaturated Fat:
0.1
g
|
Monounsaturated Fat:
0.01
g
|
Sodium:
13
mg
|
Potassium:
282
mg
|
Fiber:
6
g
|
Sugar:
50
g
|
Vitamin A:
123
IU
|
Vitamin C:
11
mg
|
Calcium:
41
mg
|
Iron:
0.5
mg
If you loved this recipe, give it a star review! Also, snap a picture of your Easy Apple Compote and share it with me on Instagram using the hashtag #truenorthkitchen and tagging me @true_north_kitchen.