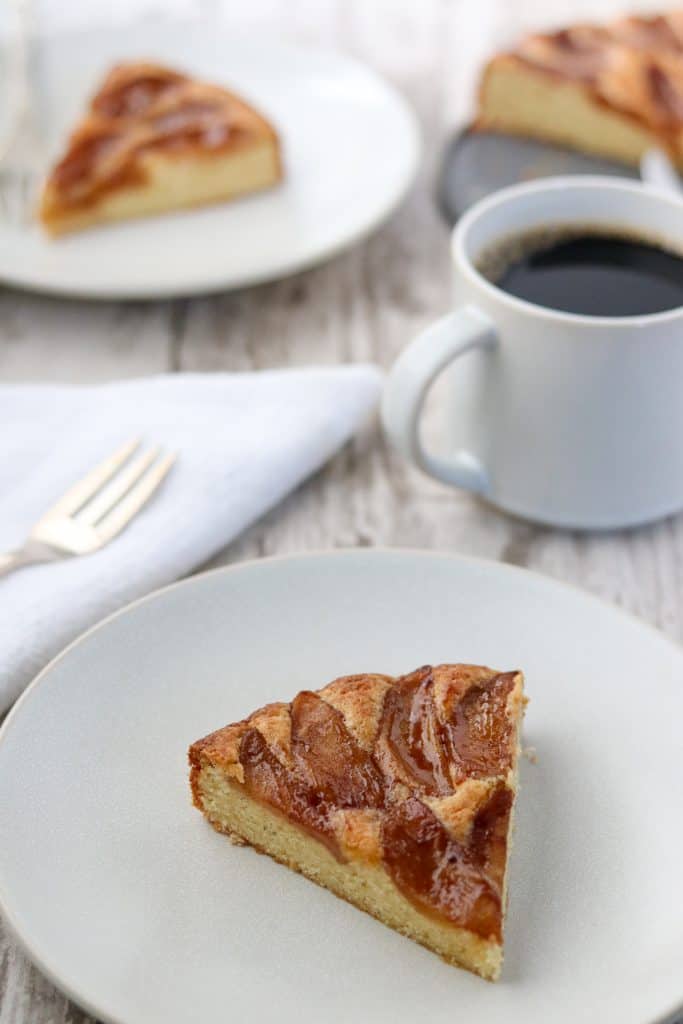 The fact that it is time to bake with apples again brings me great joy. We've made some wonderful treats over the summer with berries, rhubarb and peaches, but there is something so homey and cozy about apple desserts, cake in particular. There are many, MANY delicious recipes for apple cake out there in the world, but today we will be focusing on the Swedish Apple Cake.
Nearly all of the recipes I found for Swedish Apple Cake were comprised of a very basic cake (which may or may not include cardamom) topped with circles of cinnamon and sugar-coated apple wedges. I tried a few of these and they were good, but I wanted to take the apple topping to the next level. I LOVE caramelized apples so I figured why not cook the apples on the stove in butter, brown sugar and cinnamon before they go on top of the cake? That way they would have a chance to get golden and caramel-y, something that wasn't happening when they went into the oven raw.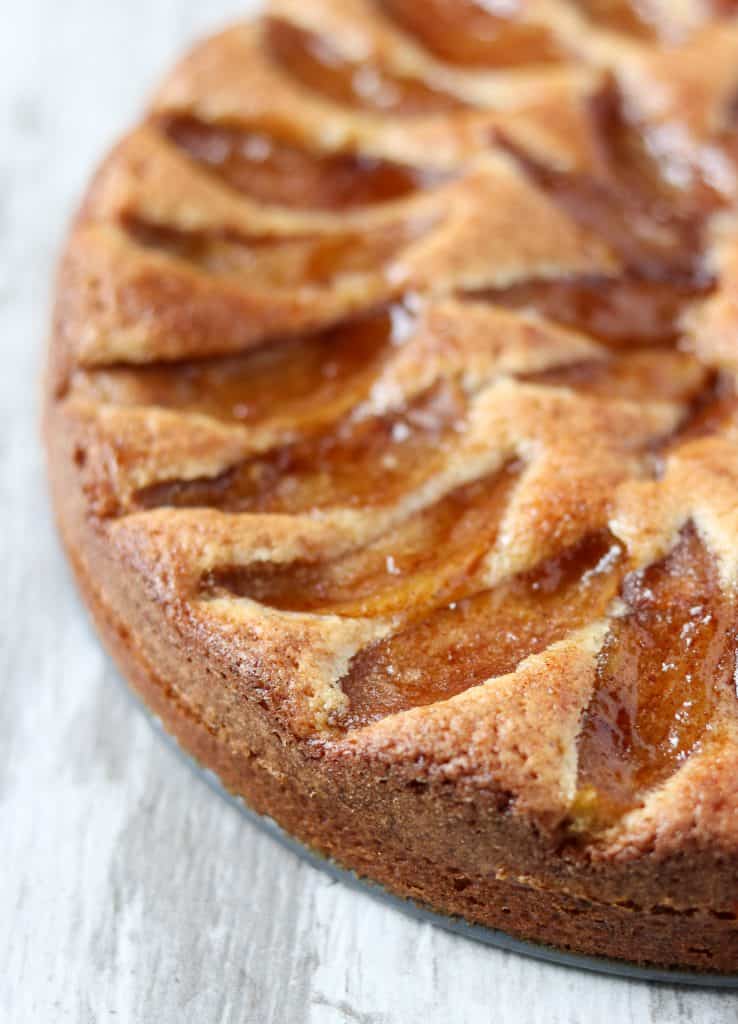 This worked to some extent. I had delicious, caramelized apples to put on top of my cake, BUT the first time I went to bake it, the center of the cake collapsed. Definitely not what I was going for. I retooled the batter slightly and dialed back the amount of apples I was using. Much better! Now I had a sturdy, moist cake that was capable of holding the apples aloft as it baked.
I was almost ready to declare the recipe ready to go when out of the corner of my eye I spotted the leftover apple/butter/brown sugar mixture in the pan. What if I made a quick syrup out of this deliciousness to brush over the cake when it came out of the oven? This was the best version yet, and the syrup gave an attractive sheen to the apples making the cake even more eye-catching than it was before.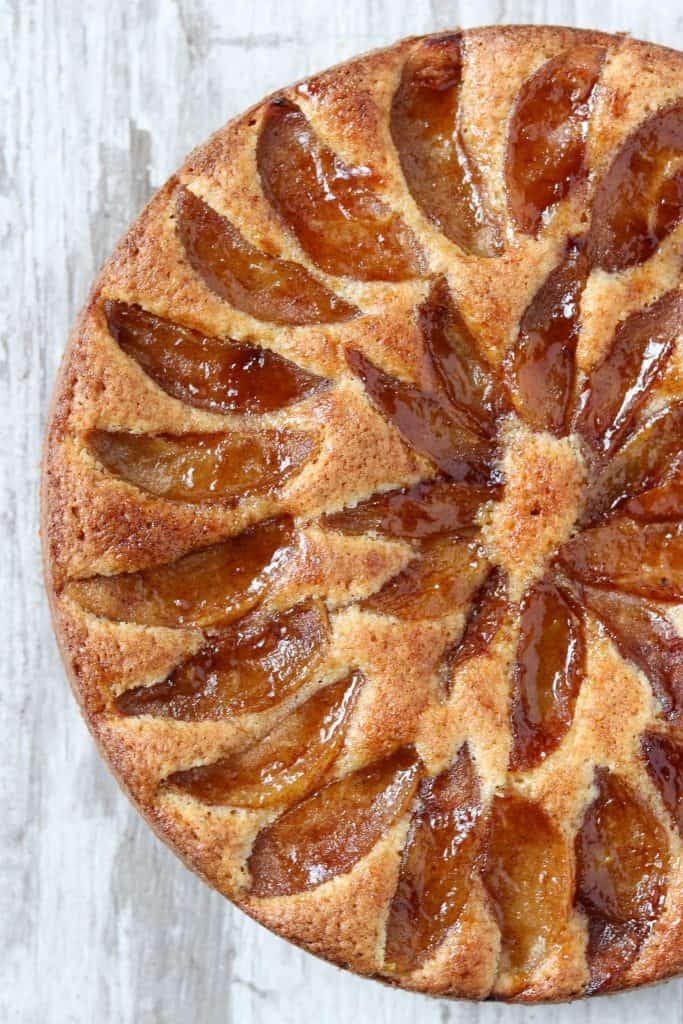 Tips for Apple Cake Success
Use a sturdy apple such as the Granny Smith. Because we are sautéing the apples slices before they go on top of the cake, it's important to choose an apple that can withstand a bit of cooking without falling apart or turning to mush. Granny Smiths will do just that.
Take the time to grind your own cardamom. I know I say this a lot but it really makes a big difference in the flavor of your baked goods. It's worth the extra five minutes that it takes to get the seeds out of the pods and crush them yourself.
Don't overmix the batter once you add the flour. Vigorously mixing a cake batter after the flour is added activates the gluten and can cause your cake to be tough in texture. Mix so that the flour is JUST incorporated, no more.
Create your circles of apples so that the slices just touch one another rather than overlap. This should give you just the right amount of apples to fill the space of the cake with two circles of slices. Save the smaller apple slices for the center circle and leave the center of the cake empty.
Don't skip the step of making the quick syrup and brushing the top of the cake after it has baked. This step really takes this cake from good to great and gives it a gorgeous shine at the end.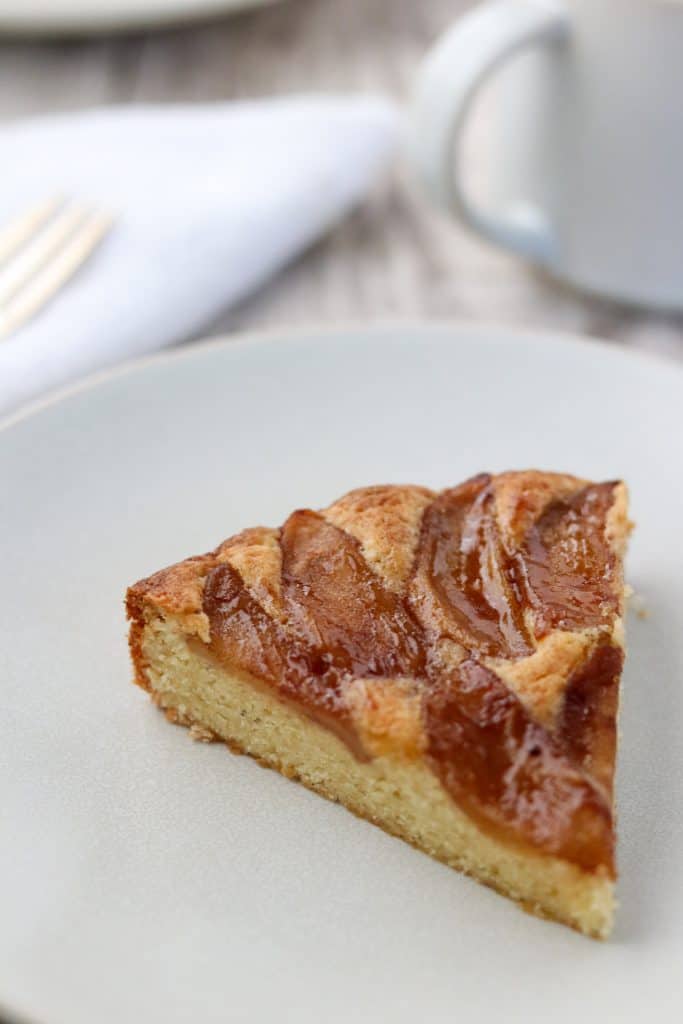 As we begin the transition to fall baking, let this apple cake be one of the treats that makes it into your rotation. It's simple, elegant and delicious…the perfect fall fika treat!
Print
Swedish Apple Cake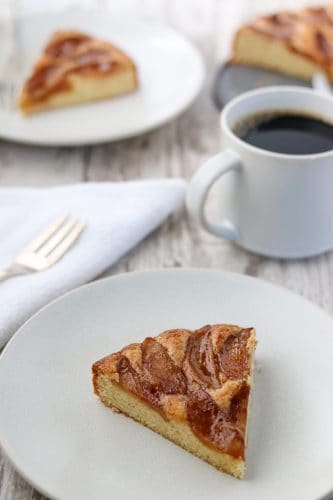 An easy and moist cake baked with a hint of cardamom and topped with caramelized apples.  The perfect fall fika treat!
Author:
Prep Time:

30 minutes

Cook Time:

40 minutes

Total Time:

1 hour 10 minutes

Yield: One

9

inch cake

1

x
Category:

fika

Method:

baking

Cuisine:

Swedish, Scandinavian, Nordic
Scale
Ingredients
For the Apple Topping:
3 medium granny smith apples, peeled, cored and cut into ½ inch thick wedges (about 1 pound)
2 tablespoons unsalted butter
3 tablespoons packed light brown sugar
1 teaspoon cinnamon
For the Cake:
1 cup all-purpose flour
1 teaspoon baking powder
½ teaspoon fine salt
½ teaspoon cardamom seeds, crushed in a mortar and pestle or a spice grinder
¾ cup granulated sugar
¼ cup packed light brown sugar
2 large eggs
6 tablespoons unsalted butter, melted and cooled
¼ cup sour cream
1 teaspoon vanilla
Instructions
Preheat oven to 350 degrees.  Grease and flour a 9 inch springform pan. 

Make the Apple Topping: 

Heat butter in a 12 inch nonstick skillet over medium heat.  Add apples and saute until they are lightly caramelized, about 5-8 minutes.  Add brown sugar and cinnamon and continue to cook, stirring constantly, until sugar dissolves and apples are evenly coated, about 1 more minute.  Remove apples from the heat and set aside.

Make the cake:  Whisk flour, baking powder, salt and cardamom together in a medium bowl and set aside.  Whisk sugars and eggs together in a large bowl until fully combined. Slowly add melted butter to sugar and egg mixture and continue whisking until uniform in texture.  Add sour cream and vanilla and whisk until fully combined. Add flour mixture and whisk until batter just comes together.

Scrape batter into prepared pan and even out the top with a small offset spatula.  Arrange apples over the top of the batter in two concentric circles. The apples should just touch each other but not overlap.  Reserve the butter and sugar mixture that remains in the skillet. Transfer cake to the oven and bake until golden brown and a toothpick inserted into the center of the cake comes out clean or with just a few moist crumbs attached, about 40-50 minutes.  

Add a couple of teaspoons of water to the skillet along with the reserved butter and sugar mixture leftover from making the apple topping.  Cook over medium heat until warm and syrupy in texture, about 1-2 minutes. Brush syrup over the top of the cake, particularly the apples. Cool cake for at least 20 minutes on a wire rack and serve.
Notes
Adapted from The Cook's Illustrated Cookbook and Fika by Anna Brones and Johanna Kindvall
Keywords: Swedish, apple, cake, fall, baking, fika, Nordic, Scandinavian, cardamom