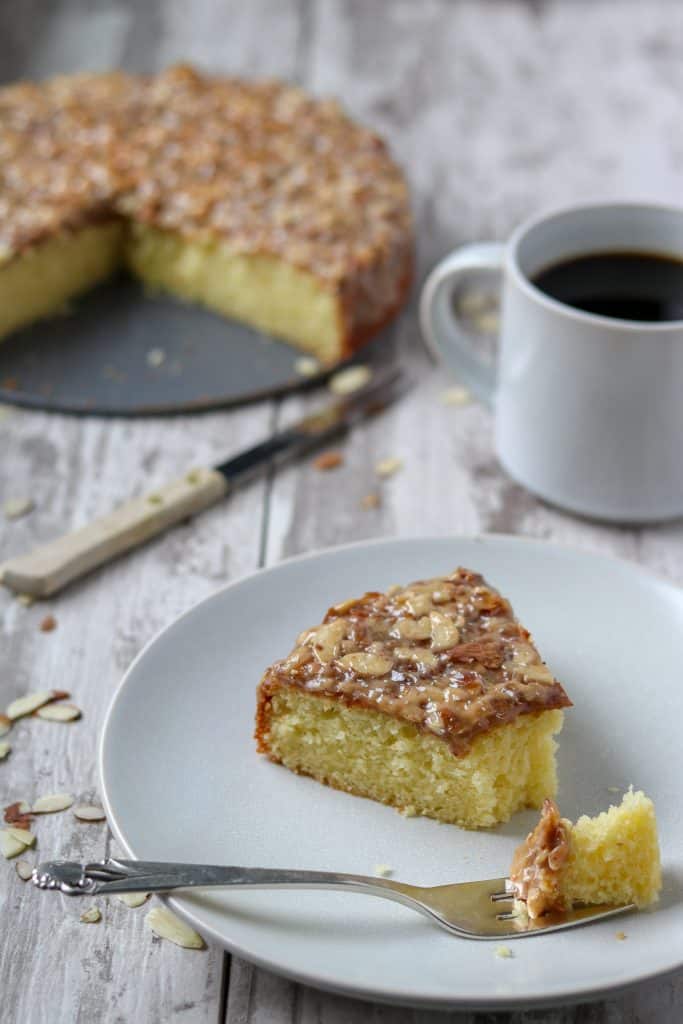 The Tosca cake is one of the most popular cakes in Sweden for good reason. It is the delicious coming together of opposites: A rich, crispy layer of caramel and toasted almonds and a moist, delicate sponge cake underneath. I've made this cake a few times in the past, but as I set out to perfect it for the blog I had a few criteria that I wanted to achieve. First and foremost, I wanted the cake itself to be moist and tender....no one wants a dry, crumbly cake and yet there are plenty of them out there. Second, I wanted the topping to be chock full of toasty almonds to provide that satisfying crunch to contrast the softness of the interior. Finally, I wanted this cake to be unfussy and easy to put together. Not too much to ask, right?
I began researching recipes and found that the cakes themselves were very similar, relying on a combination of eggs, sugar, milk, butter, all-purpose flour, baking powder, salt and vanilla extract. I decided right away that I wanted to substitute almond flour for a portion of the all-purpose flour. Almond flour is known for its ability to create an exceptionally moist and tender cake, but I also didn't want to overdo it. Almond flour is essentially ground almonds and can create a cake that is over-the-top rich, dense and even greasy in texture. The right amount of almond flour would be key. I began by swapping out ⅓ of the all-purpose flour for almond flour. This cake was delicious and extremely moist, but also a little heavy and sunken in the middle. I did a little more research and came across an article at the King Arthur Flour blog that suggested that 25% almond flour /75% all-purpose flour was a nice mix for producing a tender crumb without compromising the light texture of the sponge cake. This ratio produced the moist and tender cake I had imagined without a hint of heaviness or greasiness.
Now that I had the cake down, I turned my attention to the topping. My research revealed two different methods of working with the caramel and almonds: Some recipes called for removing the cake from the oven about 10 minutes before it was done, adding the topping and then letting it continue to bake from there. Others called for fully baking the cake, adding the topping and then slipping it under the broiler for a minute or two to caramelize it. I liked this second option as I really wanted to ensure that my caramel and almonds were nicely browned and crispy. I also didn't like the idea of fussing with a partially baked cake and risk compromising the crumb by taking it out of the oven and adding a topping two-thirds of the way through the baking time. The broiling method worked beautifully (keep a close eye on it!) producing a golden brown, crisp topping, but it still seemed like something was missing...like the sweetness of the cake was one dimensional. On a whim, I sprinkled sea salt flakes over the top of the caramelized cake to see if that would add the little extra something I was looking for. Success! The crunchy salt crystals provided that delightful sweet/salty combination (think salted caramel) that perfected my version of the Tosca cake.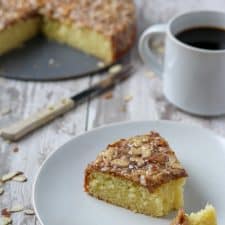 Tosca Cake
A simple, moist yellow cake topped with a layer of crispy caramel and almonds.
Print
Pin
Rate
Ingredients
For the Cake:
¾

cup

unsalted butter

¼

cup

whole milk

1

cup

+ 2 tablespoons all-purpose flour

¼

cup

+ 2 tablespoons almond flour

1 ½

teaspoons

baking powder

½

teaspoon

fine salt

3

large eggs

1

cup

granulated sugar

1

teaspoon

vanilla extract
For the Topping:
¼

cup

unsalted butter

¾

cup

sliced almonds

⅛

teaspoon

fine salt

½

cup

sugar

½

cup

heavy whipping cream

Flaky sea salt

such as Maldon, for sprinkling (optional)

Whipped cream for serving

optional
Instructions
Warm butter in a saucepan over low heat or in the microwave until the butter is melted.  Add milk. Stir and set aside to cool.

Set oven rack in the middle position and preheat oven to 350 degrees.  Butter and flour a 9 inch springform pan and set aside.

Whisk flour, almond flour, baking powder and salt in a medium bowl until fully combined.  Set aside.

In the bowl of a stand mixer fitted with the paddle attachment, beat eggs and sugar together on medium-high speed until light in texture and pale yellow in color, about 2-3 minutes.  Reduce speed to low and add vanilla.

Leave mixer speed on low and add ⅓ of the cooled butter and milk mixture followed by ⅓ of the flour mixture and mix until just combined.  Repeat this process two more times ending with final ⅓ of the flour mixture.

Transfer cake batter to prepared springform pan.  Bake until golden brown and a tester poked into the center of the cake comes out clean, 35-40 minutes.  Set cake aside to cool slightly.

While the cake is cooling, make the topping.  Set the oven to broil and make sure the oven rack is in the middle position.  Melt butter in a medium skillet over medium heat.  Add almonds and fine salt and sauté until the almonds are just beginning to brown.  Add the sugar and cream.  Bring to a boil, stirring constantly. Boil until the mixture is slightly darker tan in color and is starting to thicken, about 2-3 minutes.

Pour the topping over the cake and broil until topping is nicely browned and bubbly.  Keep a very close eye on it! This will happen in only a minute or so. I leave the oven door propped open so I can make sure it doesn't get too dark.  Remove from the oven. Sprinkle with sea salt if desired.  Allow cake to cool in the pan.

Before serving, run a knife in between the cake and the edge of the pan to make sure that it is not sticking before you remove the sides of the springform pan.  Cut into wedges and serve with whipped cream if desired.
Nutrition
Calories:
507
kcal
|
Carbohydrates:
45
g
|
Protein:
8
g
|
Fat:
35
g
|
Saturated Fat:
16
g
|
Cholesterol:
115
mg
|
Sodium:
238
mg
|
Potassium:
178
mg
|
Fiber:
3
g
|
Sugar:
31
g
|
Vitamin A:
823
IU
|
Calcium:
117
mg
|
Iron:
2
mg