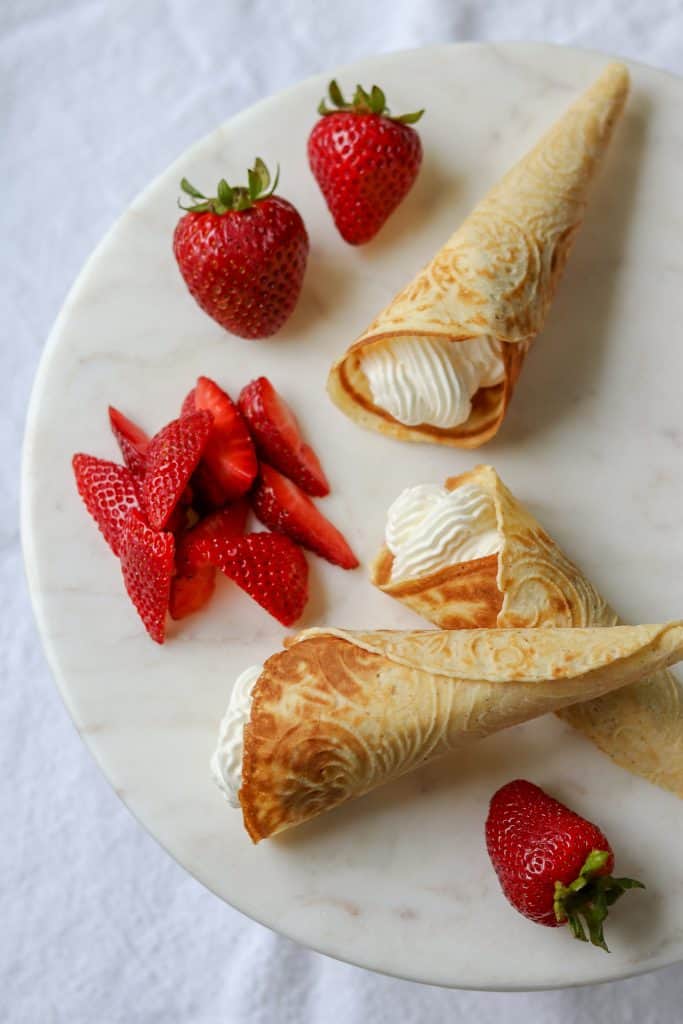 What are Krumkaker?
Krumkake is a Norwegian waffle cookie that is pressed inside a decorative iron and then wrapped around a form while it is still hot creating a cone shape. Krumkake actually means "bent cake" in Norwegian. Krumkaker (the plural form) can be eaten plain, or they can be filled with whipped cream or some other kind of sweet filling. They are often served alongside fresh berries in the spring and summer.
If you are of Scandinavian descent, chances are good that you have encountered krumkaker on a Christmas cookie tray at some point in your life. Here in the United States, they are most often made during the holiday season and are a beautiful addition to the Christmas cookie line-up. Delicate and golden with a decorative imprint on the surface, there is no doubt that these cookies have a lot going for them in the looks department.
But sometimes, krumkaker can be ALL looks and no substance. Many of the recipes out there produce a one-dimensional, overly sweet cookie that is drop dead gorgeous but hardly worth eating. When I decided to include a recipe for krumkaker here on the blog, I set out to change that. There's no reason these cookies can't be beautiful and delicious.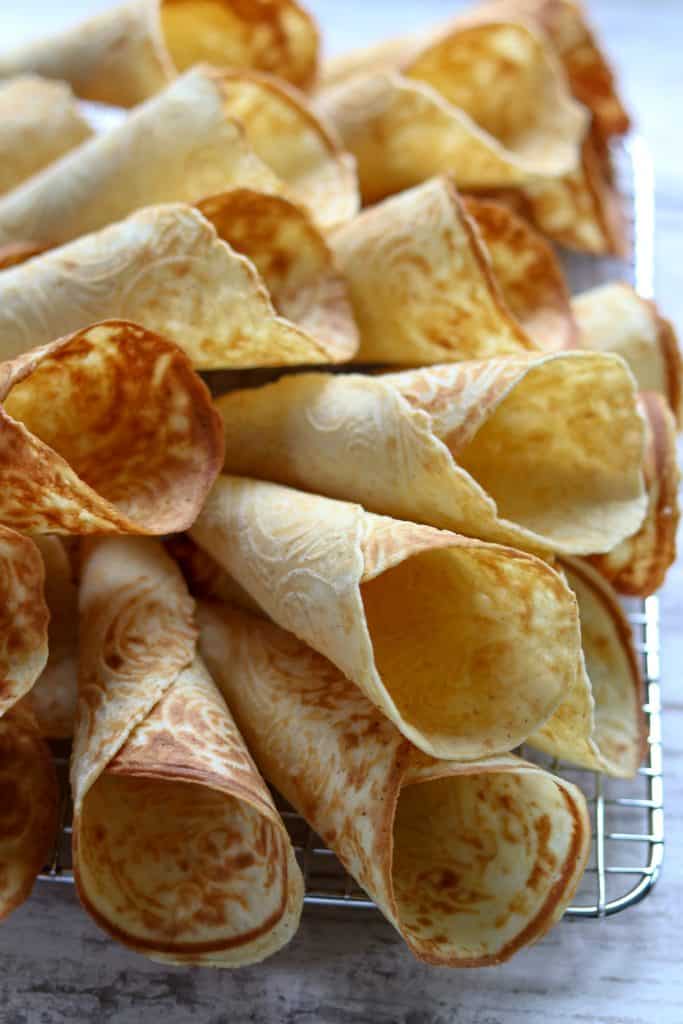 The Importance of Sugar
When I began testing recipes, I immediately began by reducing the amount of sugar. This worked well to a point, but if I reduced the amount of sugar too significantly, the cookies didn't crisp up as well. I did a little research and as it turns out, the sugar in the batter melts as it is heated during the cooking process but then recrystallizes as the cookie cools creating a crispier cookie. So the sugar was playing more of a role than I realized. In the final version, I was able to reduce the sugar by about 1/4 cup from where I started. Any more than that and I was compromising crispiness which I was not willing to do.
Don't Forget the Salt
Many of the recipes I came across in my research did not include salt. That explained the one-dimensional nature of many of the krumkaker I had tried. In order to fully experience the sweetness in baked goods, you need the presence of a little salt to balance everything out.
Brown Butter
Finally, I couldn't resist browning the butter before adding it to the batter. I was going to melt it anyway so why not bring out the butter's toasty, caramel notes and add just a little more depth to this very basic cookie? This version was the clear winner…..delicate and crisp with all of the good looks you might expect but also toasty and buttery with just the right amount of sweetness.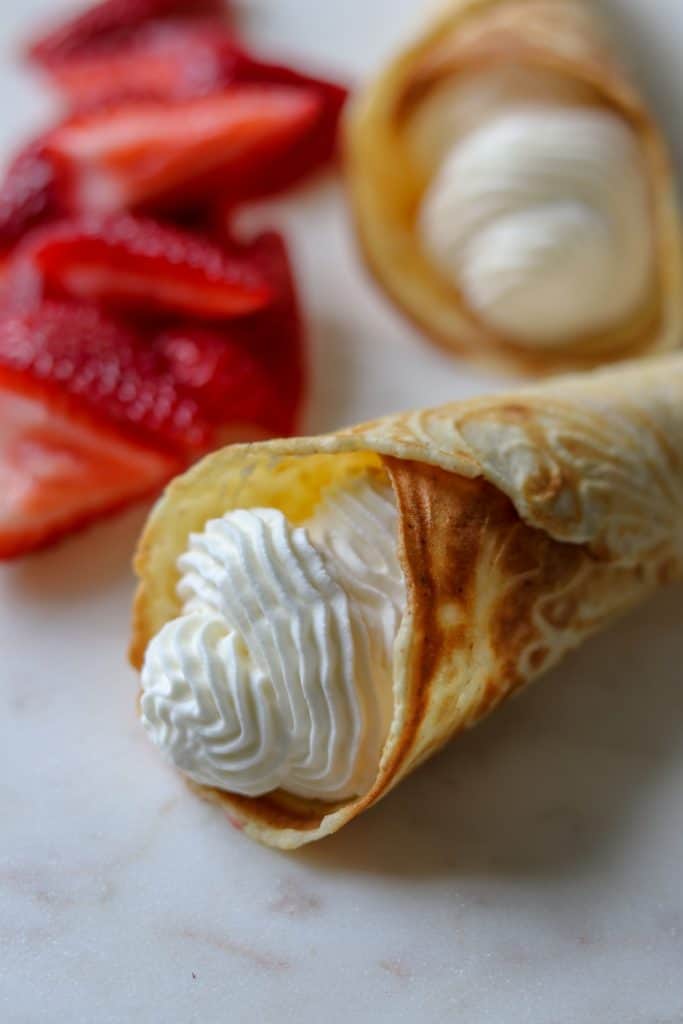 Keeping Krumkaker Crisp
As I mentioned above, having the right amount of sugar in your recipe is crucial to a crisp krumkake. There are a few other details that will also help achieve (and maintain) that delightfully light and crisp texture:
Add a little cornstarch. Several of the recipes I came across included a little cornstarch in the batter. When I added a little (2 tablespoons) to my recipe, the krumkaker were noticeably more tender and crisp.
Give the batter a rest. Some recipes called for resting the batter before baking the krumkaker. The texture of my cookies greatly improved when I included a short (30-45 minute) rest before baking.
Bake the krumkaker until they are nicely browned. If your cookies are pale in color, it's possible that they haven't baked long enough and are still retaining moisture. Brown is better.
Cool completely on a wire rack before storing. Warm cookies haven't completely dried out and may still contain moisture. Wait until they are completely cool to seal them in an airtight container.
Choose the right storage container. Some people say that you should never store krumkaker in a plastic bag or storage container as it will lead to soggy cookies. I have had this experience as well. I use an old-fashioned cookie tin lined on the bottom with paper towels. I have also read that a glass container works well.
Fill them immediately before serving. Filling your krumkaker with whipped cream or some other delightful filling will eventually lead to sogginess over time. It's best to wait until the last minute to fill them if you want them to retain their crispy texture.
No more, "I'm just here to pretty up the Christmas cookie tray." These krumkaker deserve year-round cookie status. Give them a try while it's still strawberry season…filled with whipped cream and served with fresh berries, these cookies make a stunning fika treat or make-ahead spring dessert.
Print
Krumkake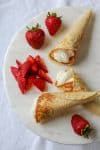 A toasty, buttery and delicately beautiful cone-shaped cookie.
Author:
Prep Time:

15 minutes + 30 minutes resting time

Cook Time:

45-50 minutes

Total Time:

1 and 1/2 hours

Yield:

About 30 cookies

Category:

Cookies

Method:

Baking

Cuisine:

Scandinavian, Nordic, Norwegian
Ingredients
½ cup unsalted butter
¾ cup granulated sugar
2 large eggs
1 teaspoon vanilla extract
1 cup whole milk
3 tablespoons water
¾ teaspoon fine salt
2 tablespoons cornstarch
1 ½ cups all purpose flour
Sweetened whipped cream and fresh strawberries for serving, optional
Special Equipment Needed:
Krumkake iron, either an electric model like this one (what I use), or a stove top model
Cone-shaped form (the electric model mentioned above comes with a plastic one, but I like this wooden one)
Instructions
Place butter in a medium skillet (preferably

not

nonstick or cast iron so that you can more easily see the color change) and heat over medium low heat, swirling the pan frequently.  Once the butter has melted, continue to cook over medium low, swirling the pan frequently, until the butter has a nutty aroma and is golden brown in color.  Don't walk away from the stove! Brown butter can go from perfect to burnt in a matter of seconds. Transfer brown butter to a bowl to cool.

Whisk salt, cornstarch and flour together in a medium bowl.  Set aside.

Combine granulated sugar and eggs in a large bowl and whisk until fully combined and no lumps of sugar remain.  Slowly whisk in cooled brown butter and vanilla extract. Keep whisking until the mixture is emulsified and cohesive.

Add milk and water and whisk until fully combined.  Add flour mixture and whisk until batter is smooth and no lumps remain.  Rest batter for 30-45 minutes at room temperature.

Working with 1 tablespoon of batter at a time, bake cookies on a krumkake iron, either an electric model or one that goes on the stove, according to manufacturer's instructions.  It may take a few tries to get the hang of how your iron works so be patient. I like to err on the side of a cookie that is darker in color. They are more crisp and have better flavor.

Remove the hot cookie from iron and place it on a clean kitchen towel.  Quickly, while the cookie is still hot, carefully roll the krumkake around a cone-shaped form.  Use the towel to help start the rolling process if the cookies are too hot for your fingers. The sooner you begin rolling the better.  The cookies will almost immediately start to harden as they cool and become difficult or impossible to roll into a cone shape. Let the rolled cookie rest with the form inside, seam side down on the clean towel, while the next cookie is baking.  Remove the cone form and transfer krumkake to a wire rack to cool completely. Repeat with remaining batter. Serve.
Notes
Store krumkaker in a cookie tin or glass container at room temperature for 3-5 days.  They also freeze well.
Keywords: Krumkake, cookie, cone