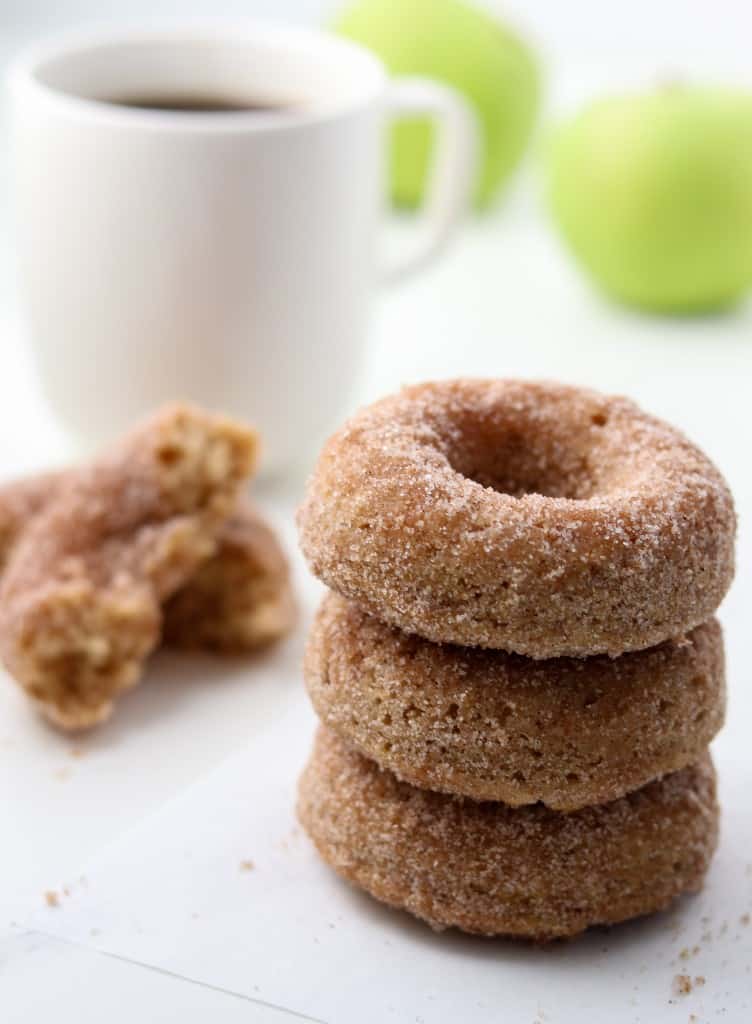 There is nothing quite like an apple donut in the fall. Like a trip to the pumpkin patch or raking leaves, enjoying a good apple donut with a cup of coffee is an autumnal right of passage. The best apple donuts near where I live come from a local orchard that makes cider donuts from scratch, frying them in hot oil and dipping them in cinnamon sugar. They go so quickly, you are almost always assured that your batch will still be warm.
But what if a trip to the apple orchard isn't in the cards for you this year? My suggestion: bake up a batch of these Easy Baked Apple Donuts at home instead. They are moist and cake-y with true apple spice flavor, just as a good apple donut should be. And the best part? No frying. Just a quick bake in the oven and they are ready to brush with a little melted butter and roll in sugar and spices. Have I convinced you that this is an easy baking project worth trying? Read on.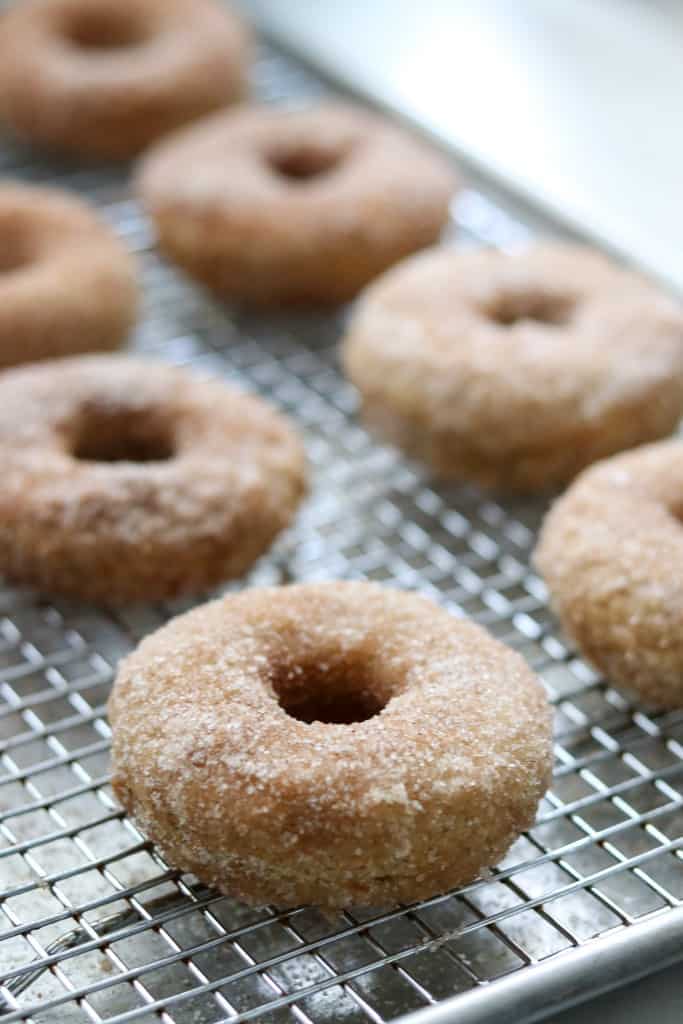 The Ingredients
As I said, these donuts are quite simple. No need for a mixer, they come together quickly and easily by hand. But you will need a couple of nonstick pans for baking donuts. You can find them at many stores nowadays as baked donuts have become a more popular thing, or you can buy them on Amazon here. The ingredients themselves are quite straightforward:
All-purpose flour
Baking soda/baking powder
Salt
Spices and vanilla extract
Homemade Caramelized Apple Compote or store bought unsweetened applesauce
Vegetable or canola oil
Buttermilk
Egg
Granulated sugar and light brown sugar
Butter (for melting and brushing on at the end)
The Caramelized Apple Compote is especially nice in this recipe if you are willing to take the time to make batch. Cooking and caramelizing the apples really brings out a deep apple flavor with toasty notes that makes these donuts a little extra special. Give them a little whirl in the food processor and you have a delicious caramelized apple sauce, just perfect for these donuts. If you want to keep things easy and save yourself a step, store bought unsweetened applesauce will also work just fine.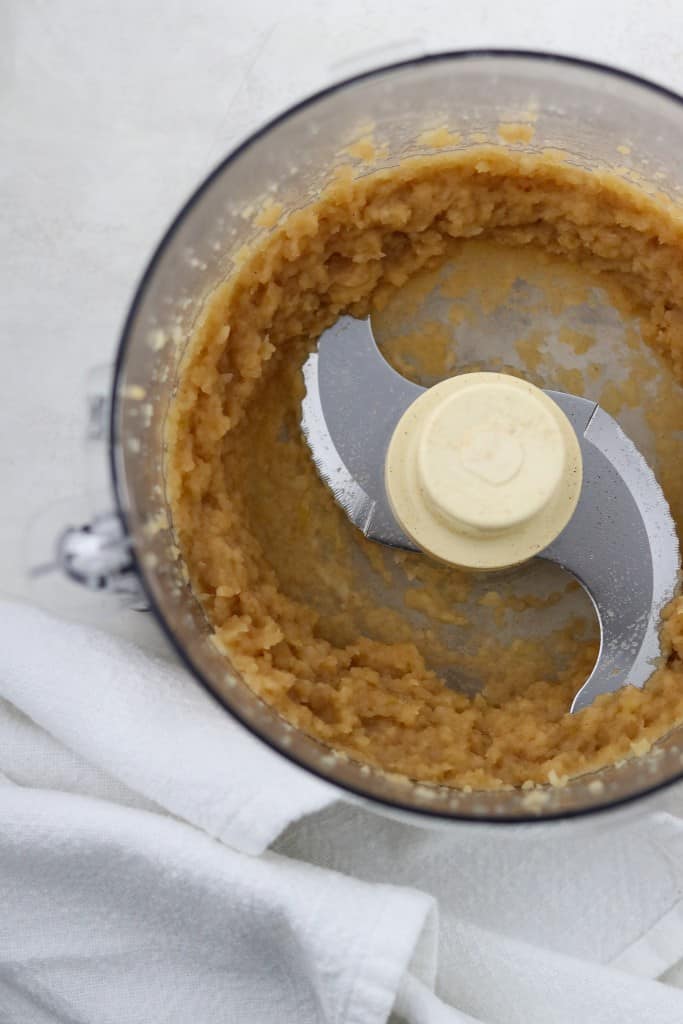 The Method
There aren't many tips and tricks to share as making baked donuts is a very simple process. But I do have a few suggestions for ensuring apple donut success every time:
Use puréed homemade Caramelized Apple Compote if possible. As I said above, you will be rewarded with deep apple flavor in your donuts. But remember that unsweetened applesauce will also work just fine! The donuts just aren't quite as apple-y.
Grease the pans, even though they are nonstick. It helps the donuts release cleanly.
When you mix the wet and dry ingredients, don't overmix. Just stir until everything comes together and no streaks of flour remain. Overmixing things like cake batter or quick breads can lead to tough final product. A gentle hand when mixing is best.
Transfer the batter to a ziploc bag with ¾ inch hole cut out the corner. This is your impromptu piping bag and works just perfectly for squeezing the batter into the pan.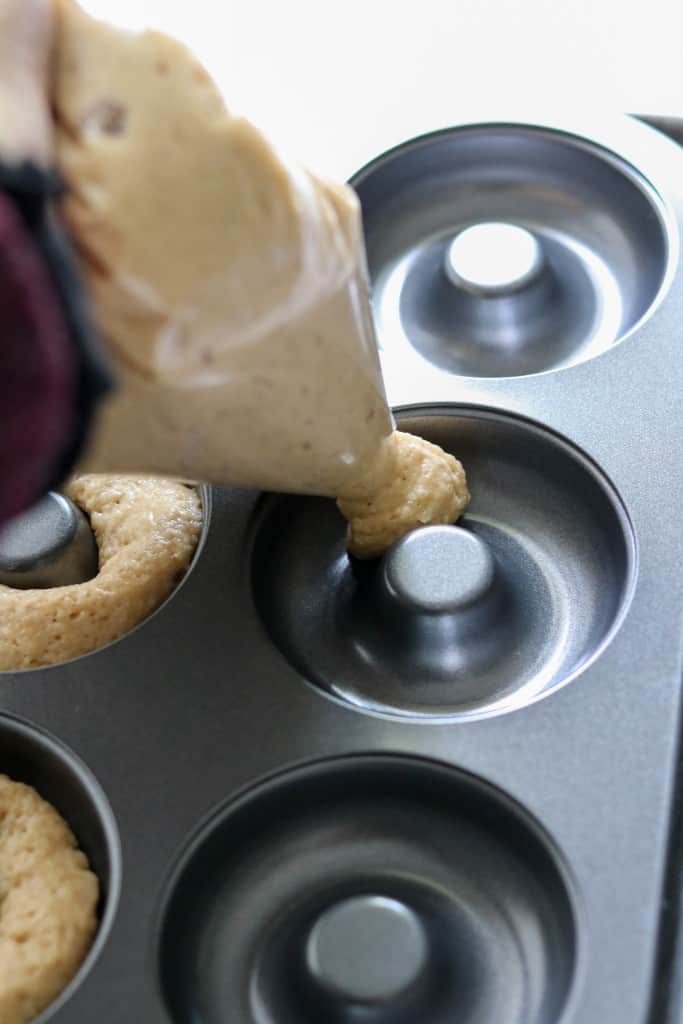 These donuts will not get particularly brown, so it can be difficult to determine doneness. The best way I've found is to touch the donut with your finger. It should feel firm and spring back slightly when it if fully baked. If you are feeling unsure, you can always insert a toothpick into the donut. It should come out clean with no raw batter attached to it.
Do not skip brushing them with butter and rolling them in sugar and spices! Baked donuts on their own straight out of the oven are kind of sad and blond-looking. But once you've brushed them in melted butter and rolled them in a sugar and spice mixture, they will take on a whole new appealing appearance. The butter also brings a welcome richness (these donuts are quite low in fat) and the sugar mixture a delightful crunch and a little extra spicy sweetness.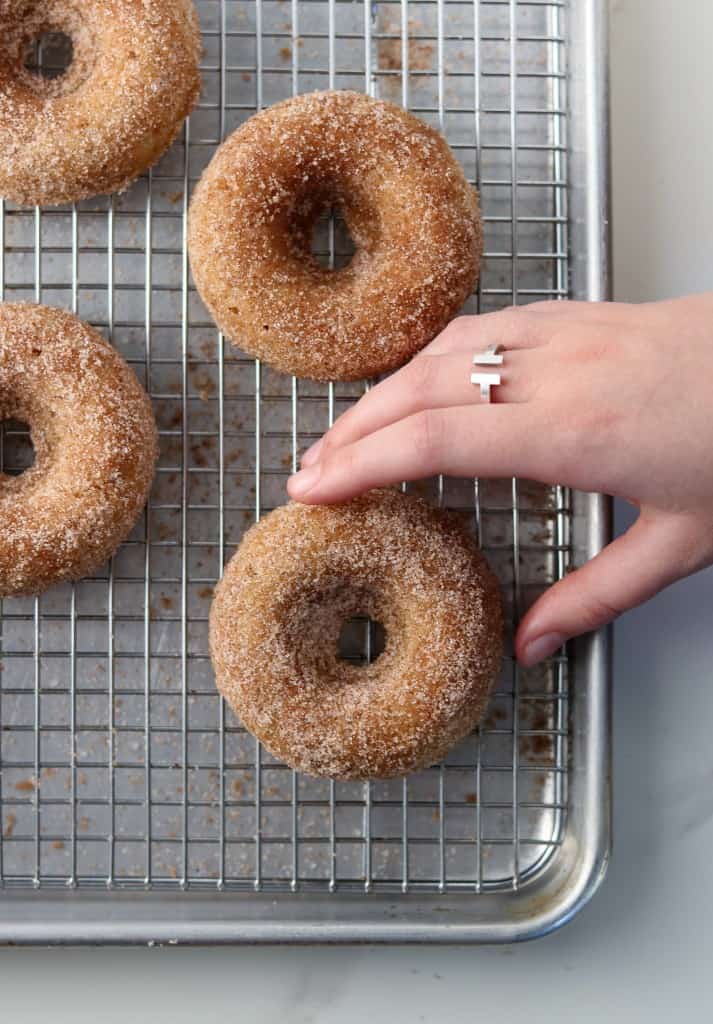 I hope you give these donuts a try! They are the next best thing to a trip to the apple orchard.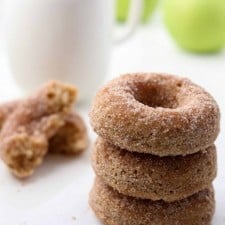 Easy Baked Apple Donuts
A deliciously moist apple donut made with homemade apple compote, brushed with melted butter and rolled in a sugar and spice mixture.  The perfect fall treat!
Print
Pin
Rate
Ingredients
For the Donuts:
2 

cups

all-purpose flour

1 

teaspoon

baking powder

½

teaspoon

baking soda

½

teaspoon

ground cinnamon

¼

teaspoon

ground cardamom

¼

teaspoon

ground nutmeg

⅛

teaspoon

ground cloves

½

teaspoon

fine salt

½

cup

granulated sugar

¼

cup

firmly packed light brown sugar

1

large egg

2

tablespoons

canola or vegetable oil

½

cup

buttermilk

1

cup

puréed Caramelized Apple Compote

about 1 ½ cups of compote processed in a food processor until smooth or 1 cup store bought unsweetened apple sauce

1

teaspoon

vanilla extract
For the Topping:
4

tablespoons

unsalted butter

melted + more butter for the pans

1

cup

granulated sugar

2

teaspoons

ground cinnamon

½

teaspoon

ground cardamom

¼

teaspoon

ground nutmeg

⅛

teaspoon

ground cloves
Special equipment needed:
Instructions
Preheat the oven to 350 degrees. Grease pans with butter or spray with nonstick spray.  Whisk flour, baking powder, baking soda, cinnamon, cardamom, nutmeg, cloves and salt in a medium bowl.  Set aside.

Whisk sugar, brown sugar, egg, oil, buttermilk, apple compote and vanilla extract in a large bowl until completely smooth.  Add dry ingredients and combine with a rubber spatula until the batter just comes together.

Transfer batter to a large Ziploc bag.  Cut a small hole in the corner of the bag and pipe the batter into a nonstick donut pan, filling each donut space about three-quarters of the way up with batter.

Transfer to the oven and bake until donuts spring back when touched, about 15 minutes.  Set aside to cool slightly.

Meanwhile, make the topping.  Combine the sugar, cinnamon, cardamom, nutmeg and cloves in a shallow bowl.  When donuts are cool enough to handle, brush each donut with melted butter and toss in sugar and spice mixture until donuts are fully coated.  Serve warm.
Notes
These are definitely best the day they are made, a bit warm from the oven.  If you would like to save some for the next day, wait until you are just about to serve them to brush with melted butter and roll in the sugar and spice mixture.
Nutrition
Calories:
337
kcal
|
Carbohydrates:
66
g
|
Protein:
3
g
|
Fat:
7
g
|
Saturated Fat:
5
g
|
Cholesterol:
25
mg
|
Sodium:
205
mg
|
Potassium:
69
mg
|
Fiber:
1
g
|
Sugar:
44
g
|
Vitamin A:
153
IU
|
Vitamin C:
2
mg
|
Calcium:
50
mg
|
Iron:
1
mg