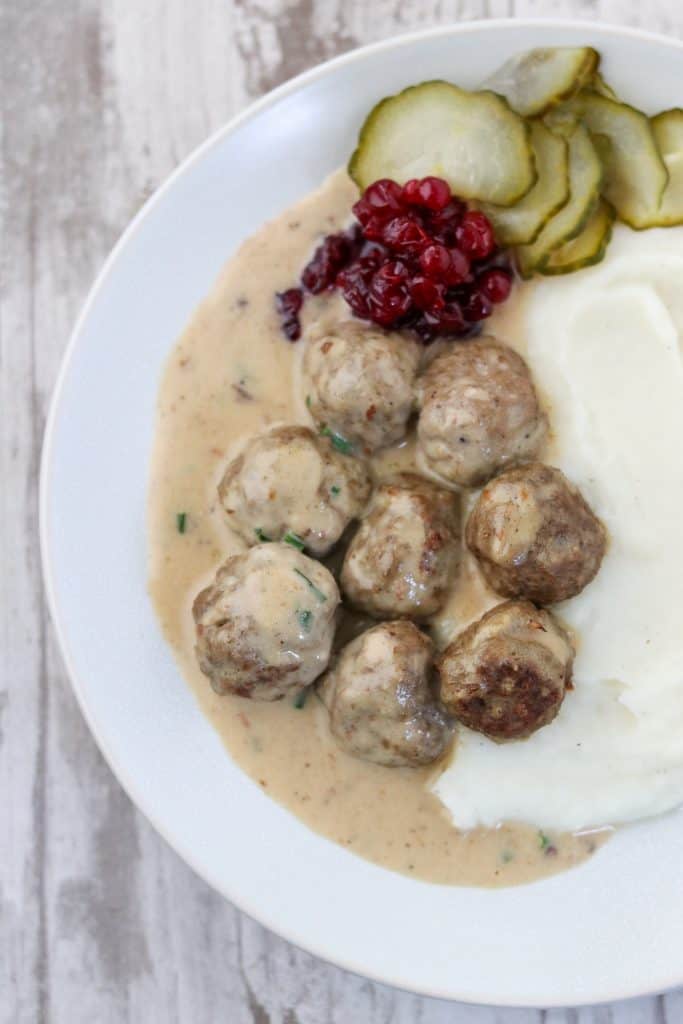 There is perhaps no Swedish dish more well known and beloved worldwide than Swedish meatballs. Tiny spiced meatballs blanketed in a creamy gravy and served with sweetened lingonberries and pickled cucumbers alongside, this unique dish satisfies on so many levels. And the good news is that you don't need to run down to the local IKEA to get your meatball fix. This recipe is easy enough to whip up for a cozy dinner any night of the week.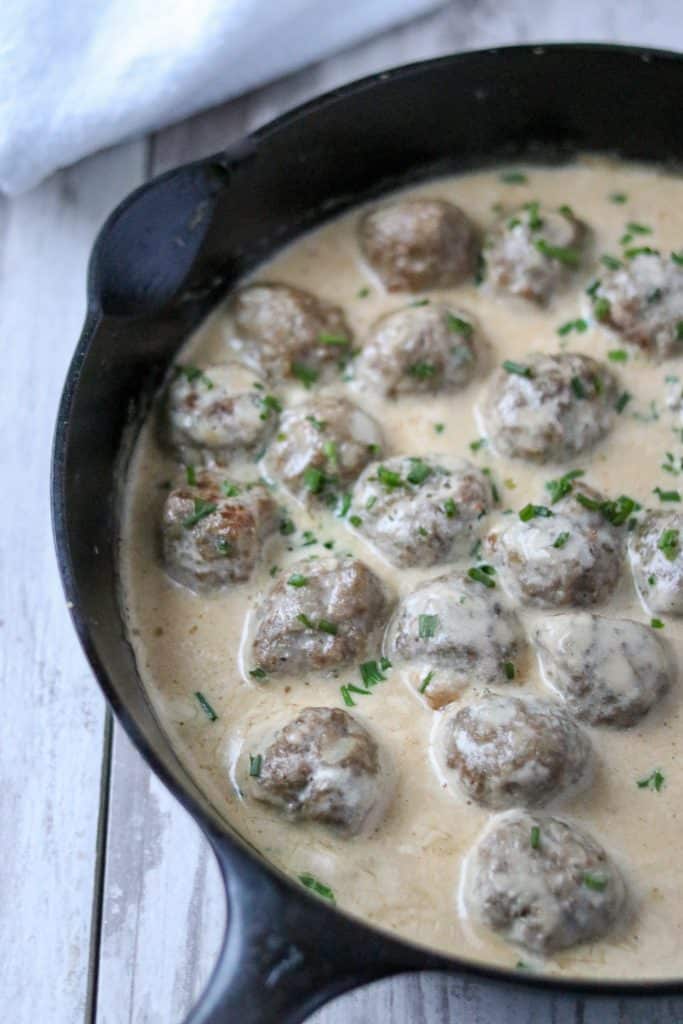 What Makes Swedish Meatballs Unique?
Many different food cultures have their own variation of the meatball. What's so special about Swedish meatballs?
A combination of beef and pork. Most recipes for Swedish meatballs contain equal amounts of both ground pork and ground beef (usually ground chuck, about 85% lean).
A blend of warm spices, usually allspice and nutmeg (and sometimes ground ginger). This is what gives Swedish meatballs their unmistakeable flavor.
The meatball mixture is whipped in a stand mixer. You can certainly mix these meatballs by hand, but whipping the meatball mixture gives the final product a fine texture that is unique to Swedish meatballs.
Swedish meatballs are quite small, at most about an inch in diameter.
They are usually served in a creamy gravy with Stirred Lingonberries and Fresh Pickled Cucumbers alongside. This trio of savory, sweet and tangy is an unforgettable combination that hits all the right flavor notes.
Swedish meatballs are usually served on top of mashed potatoes or buttered egg noodles. Both are delicious!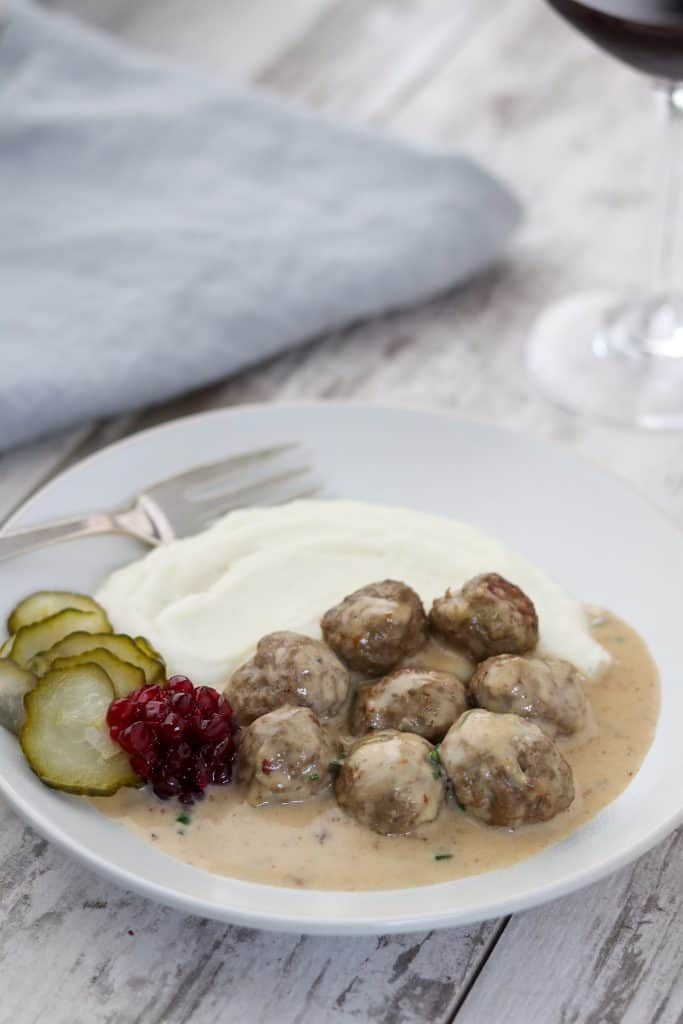 Tips For Perfect Swedish Meatballs
Use a combination of high-quality ground pork and ground chuck, preferably 80-85% lean. You don't want your ground beef to be too lean; that can lead to dry meatballs.
Whip the meatball mixture in a stand mixer if you have one. This step gives the meatballs a fine, refined texture.
Portion out the meatball mixture with the help of a spring-loaded scoop, such as this tablespoon size cookie scoop. It can be difficult to get your meatballs the same size, especially when you're trying to make them on the smaller side. I know that my inclination is to start small, but then my meatballs get gradually larger as I go. Portioning out the mixture keeps me honest and ensures the meatballs that are the same size every time.
Roll the mixture with damp hands. This meatball mixture is sticky, and it can be difficult to achieve round balls when rolling it between your palms. But if you wet your palms just slightly every 4 or 5 meatballs, the mixture won't stick to your hands. I leave the faucet at a trickle next to me while I make the meatballs which is an easy way to do it.
Bake the meatballs rather than fry them. I've tried MANY different ways of making Swedish meatballs, and I believe that the baking method has many things going for it: no frying, less mess, more even cooking, a rounder final product, and it's a hands off process leaving you free to attend to other things while they cook in the oven.
Save the browned bits from the baking sheet for your gravy. Do NOT clean off that baking sheet! We are going to use those beautiful browned bits that are stuck to the pan to make our gravy all the more flavorful.
Do not forget the Stirred Lingonberries and Fresh Pickled Cucumbers! It's the combination of the all three together that make this dish extraordinary. If you don't have access to frozen lingonberries, preserved lingonberries, such as the Felix brand are a good stand-in.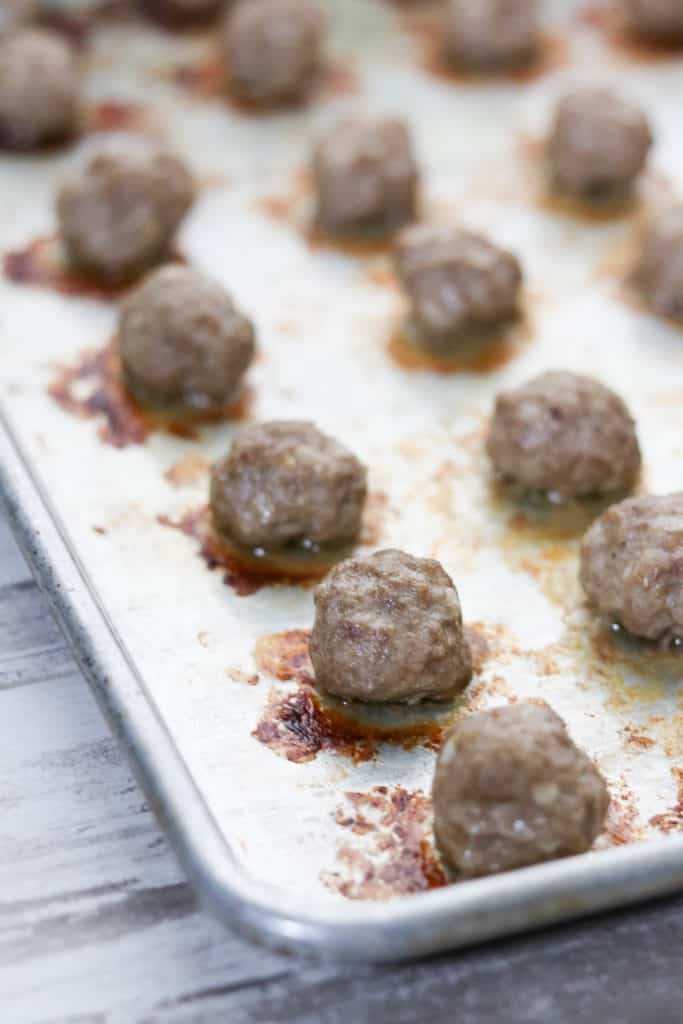 I think you are going to love my easy take on classic Swedish Meatballs. Please let me know if you give them a try in the comments below!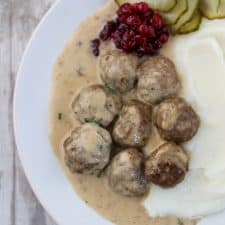 Easy Swedish Meatballs
A simple and streamlined recipe for classic Swedish Meatballs.  Tiny spiced meatballs blanketed in a creamy, savory gravy and served alongside sugared lingonberries and fresh pickled cucumbers.  Easy enough for a cozy Nordic supper any night of the week!
Print
Pin
Rate
Servings:
4
-6 servings (28 meatballs)
Ingredients
For the Meatballs:
1

large egg yolk

¼

cup

heavy cream

¼

cup

panko bread crumbs

fresh white bread crumbs are also fine

½

pound

ground pork

½

pound

ground chuck

80-85% lean

¼

cup

grated onion

1

teaspoon

fine salt

½

teaspoon

packed brown sugar

⅛

teaspoon

ground nutmeg

¼

teaspoon

ground allspice

⅛

teaspoon

ground pepper
For the Gravy:
2

tablespoons

unsalted butter

2

tablespoons

flour

¾

cup

low-sodium chicken broth

¾

cup

beef broth

2

teaspoons

soy sauce

½

cup

cream

Salt and pepper to taste

Chopped parsley or chives for garnish

Stirred Lingonberries and Fresh Pickled Cucumbers for serving
Instructions
Make the Meatballs:  Preheat oven to 475 degrees.  Combine all ingredients in the work bowl of a stand mixer.  Mix on medium low until just combined. Increase speed to medium and whip until mixture is light and fluffy, about 5 minutes, scraping the sides of the bowl from time to time. 

Using a tablespoon measure, transfer tablespoonfuls of the mixture to a sheet pan.  With damp hands, roll into balls. Chill (up to 24 hours) until ready to bake.

Transfer sheet pan to oven and bake until meatballs are browned and cooked through, about 12 minutes.  Remove from oven and transfer meatballs to a plate. Pour ⅓ cup hot water onto the baking sheet and scrape up the brown bits that are stuck to the bottom using a metal spatula.  Poor liquid and any bits into a measuring cup and set aside.

Make the Gravy:  Melt butter in a 12 inch nonstick skillet over medium heat.  Add flour and cook for one minute, whisking constantly.  Slowly add reserved drippings from meatballs, chicken broth, beef broth and soy sauce, whisking constantly.  Bring to a simmer and continue cooking until reduced slightly, about 5 minutes. Add cream and return to a simmer.  Season to taste with salt and pepper.

Add meatballs to gravy and cook briefly to reheat.  Garnish with chopped parsley or chives if desired. Serve with Stirred Lingonberries and Fresh Pickled Cucumbers.
Nutrition
Calories:
564
kcal
|
Carbohydrates:
10
g
|
Protein:
24
g
|
Fat:
47
g
|
Saturated Fat:
23
g
|
Cholesterol:
206
mg
|
Sodium:
1048
mg
|
Potassium:
426
mg
|
Fiber:
1
g
|
Sugar:
1
g
|
Vitamin A:
896
IU
|
Vitamin C:
3
mg
|
Calcium:
63
mg
|
Iron:
2
mg