There is perhaps no Swedish dish more well known and beloved worldwide than Swedish Meatballs with Gravy (Köttbullar). But what goes with them?
Keep reading for 16 delicious ideas for what to serve with Swedish Meatballs, from the essentials to complimentary side dishes!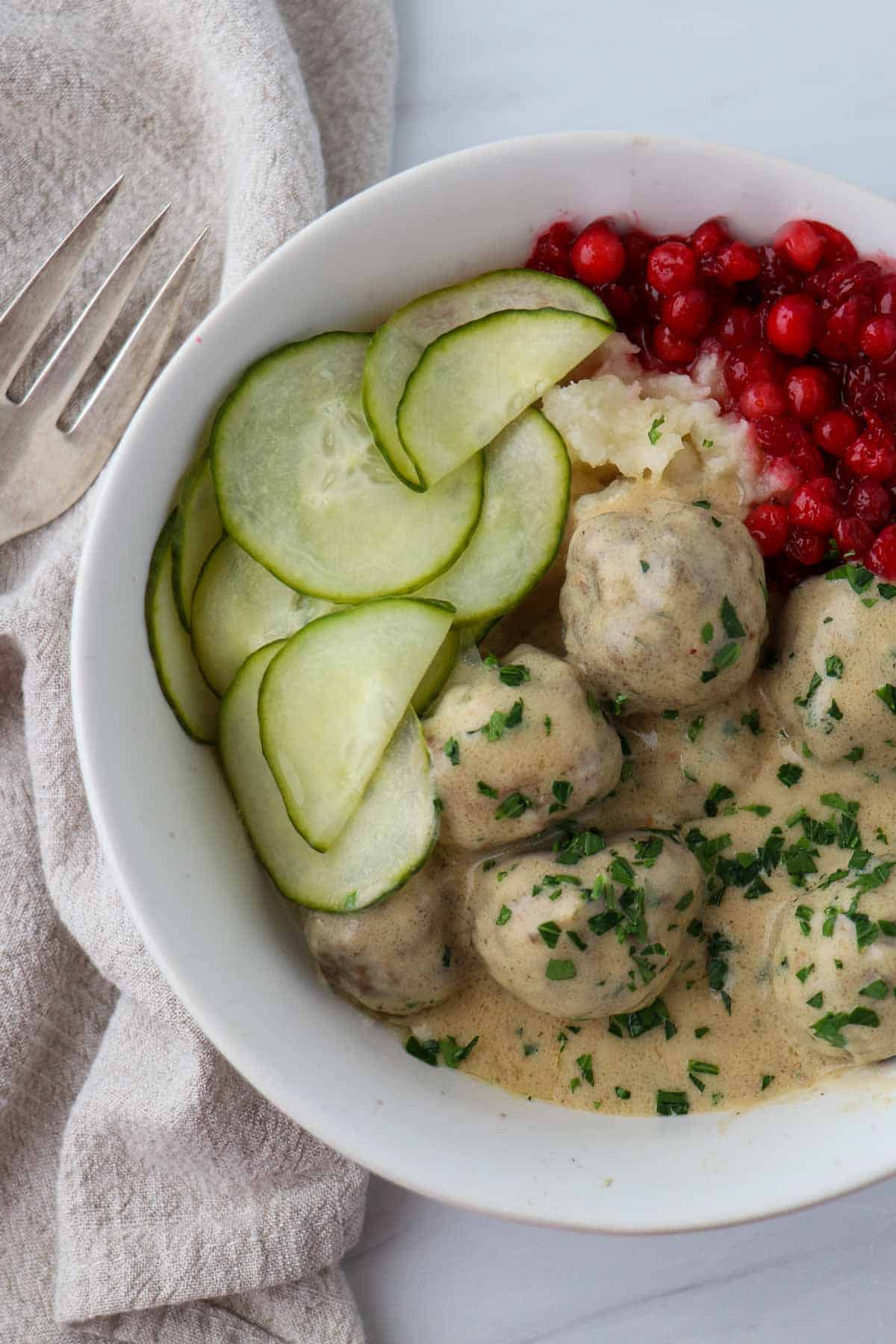 What Are Swedish Meatballs?
Swedish Meatballs are small spiced meatballs blanketed in a creamy, savory gravy. They are typically served with lingonberry jam or homemade lingonberry sauce and pickled cucumbers. This trio of savory, sweet and tangy is an unforgettable combination that hits all the right flavor notes.
What is different about Swedish Meatballs?
Many food cultures have their own variation of the meatball. What's so special about Swedish meatballs?
A combination of beef and pork. Most recipes for Swedish meatballs contain equal amounts of both ground pork and ground beef (usually ground chuck, about 80-85% lean).
A blend of warm spices, usually allspice and nutmeg (and sometimes ground ginger). This is what gives Swedish meatballs their unmistakeable flavor.
The meatball mixture is whipped in a stand mixer. You can certainly mix these meatballs by hand, but whipping the meatball mixture gives the final product a fine texture that is unique to Swedish meatballs.
Swedish meatballs are quite small, at most about an inch in diameter.
As mentioned above, They are usually served in a creamy gravy with lingonberry jam or Lingonberry Sauce and Fresh Pickled Cucumbers.
Swedish meatballs are usually served on top of mashed potatoes or buttered egg noodles. Both are delicious!
Start with This Recipe for Swedish Meatballs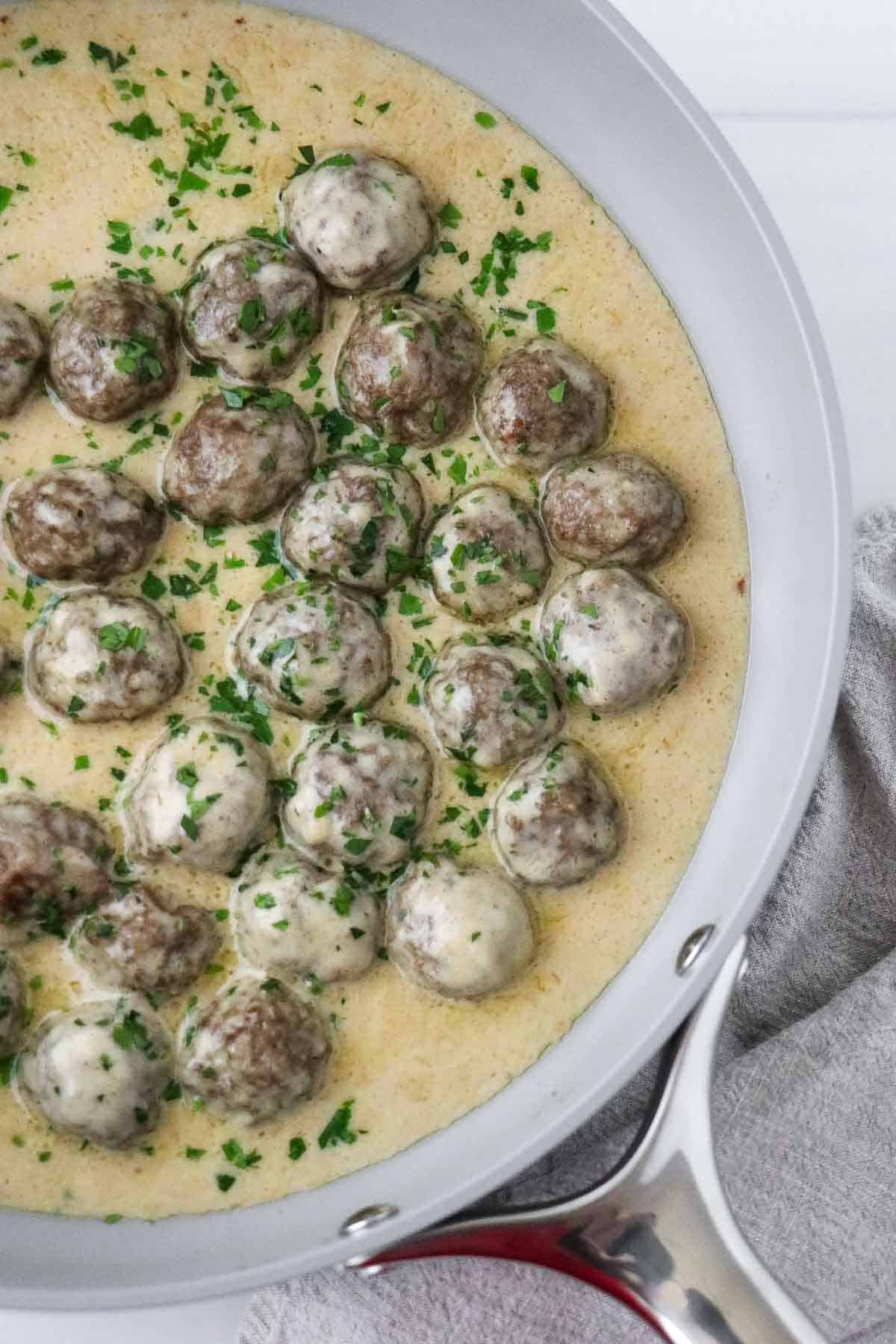 You are going to love my simple and streamlined take on traditional Swedish Meatballs with Gravy. This recipe works because:
The meatball mix is perfectly spiced and easy to mix together.
The meatballs are baked rather than fried which creates a more round, nicely shaped cooked meatball. Baking is also a hands-off cooking process (which leaves you free to do other things) and it is much less messy than frying.
The baked meatballs are blanketed in a delicious, creamy gravy to finish things off perfectly.
Vegetarian or Vegan? Start with this Recipe Instead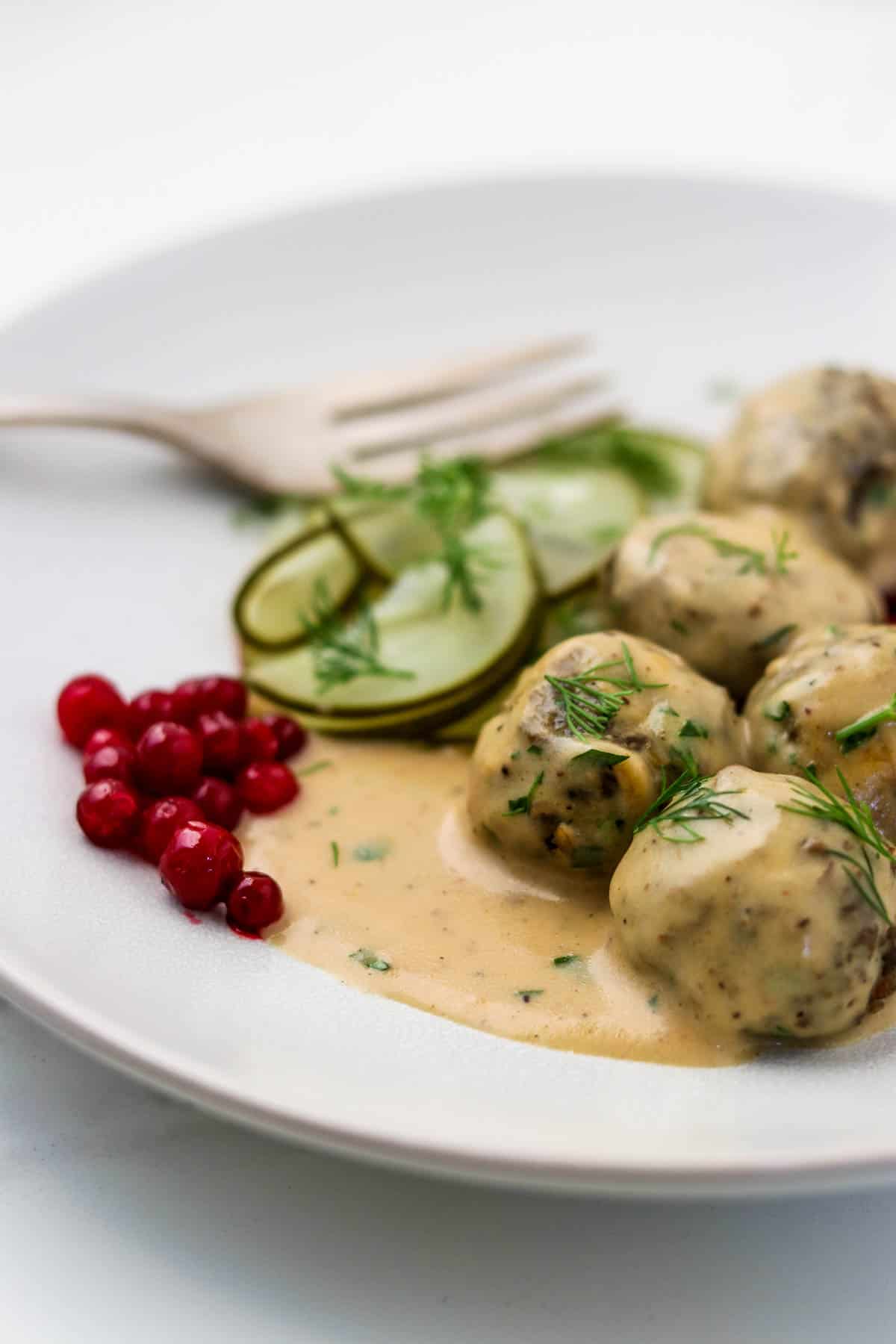 Vegetarian Swedish Meatballs don't get any better than this, I promise you. Made with lentils, mushrooms, oats and the right mix of warm spices, these Vegetarian Swedish Meatballs have that quintessential flavor of traditional Swedish meatballs but in a plant-based form. Even if you are not a vegetarian, I would recommend giving these a try. They are a surprisingly tasty and satisfying alternative to traditional meatballs.
What to Serve with Swedish Meatballs
The Essentials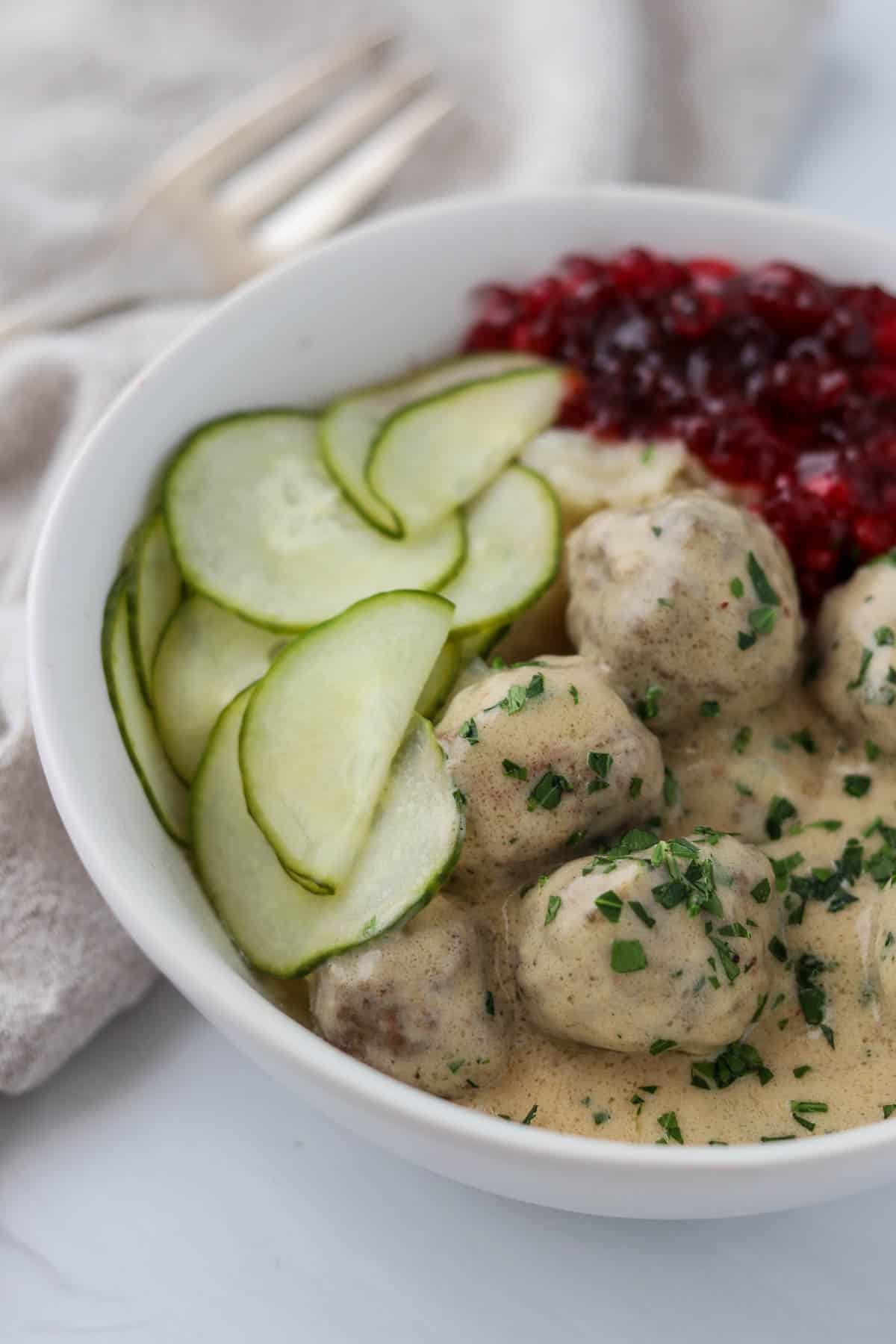 The traditional way to serve Swedish Meatballs is with lingonberry jam or homemade lingonberry sauce and thin slices of pickled cucumbers. See the photo above for inspiration!
My recipe for homemade lingonberry sauce calls for frozen lingonberries which may be hard to find unless you live in an area with strong Scandinavian ties. I buy my lingonberries online through Northwest Wild Foods or Sturdiwheat, but they are not cheap to have shipped.
Luckily, store bought lingonberry jam is just as delicious and relatively easy to come by. You can find it at many large grocery store chains with the other jams and preserves or at a Scandinavian specialty store. If your local store doesn't stock lingonberry jam, you can also order it from Amazon.
While you could buy sliced pickles to serve with you meatballs, I highly recommend making your own quick pickles (see my recipe for Quick Swedish Pickled Cucumbers below). They are super easy, delightfully crisp and refreshing.
Check out the recipes below for your Swedish Meatball essentials!
Substantial Sides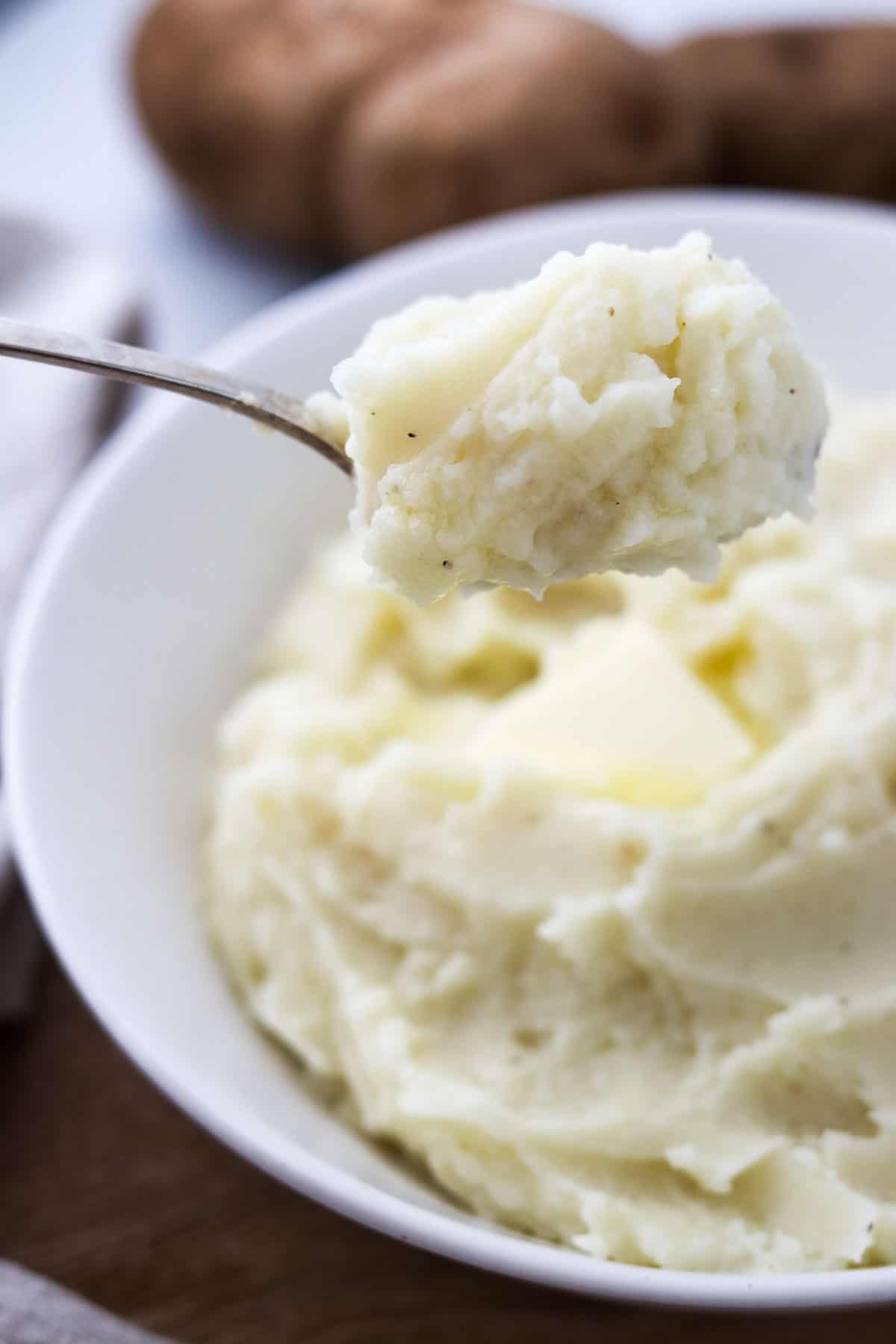 You are going to want a warm and delicious side dish to serve as the "bed" for your Swedish Meatballs and Gravy. Mashed potatoes are a classic choice and are perfect for sopping up every last drop of the delicious sauce. You could also serve the meatballs with simple boiled potatoes tossed with butter and maybe a handful of chopped fresh herbs.
Buttered egg noodles are an easy and effortless alternative as well. Simply cook your noodles in boiling water according to the package directions, toss with butter and season with salt and pepper to taste. Shower with a little chopped fresh parsley if you like and serve! They are SO good with the creamy gravy.
If you are feeling adventurous, consider something like the Celery Root Puree recipe linked below. It's a fun alternative to mashed potatoes and a perfect pairing with the meatballs and gravy.
Check out the recipes below for your substantial side dishes!
Other Complimentary Side Dishes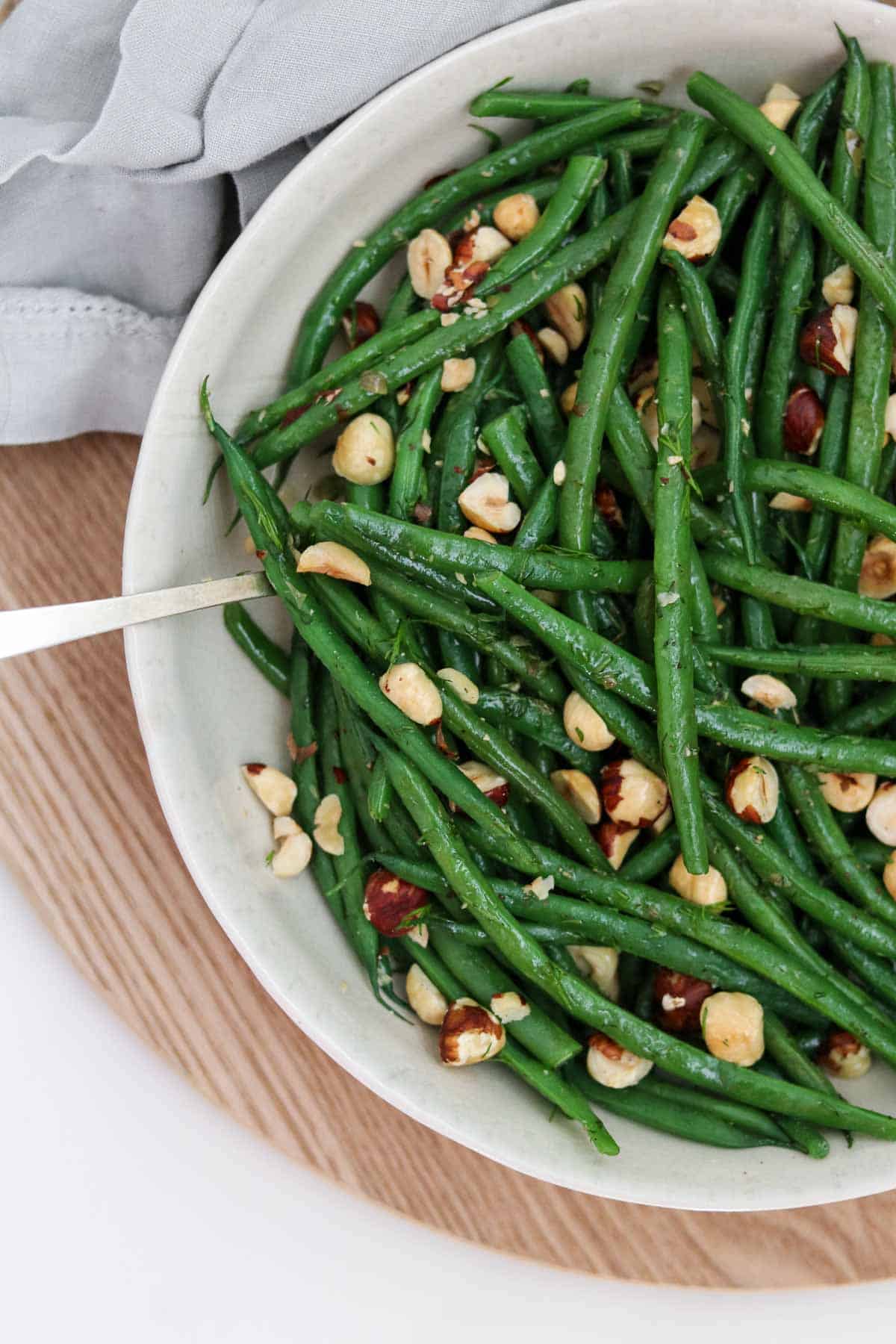 Once you have your meatballs and a starchy side to serve as a bed, why not round out the meal with a complimentary vegetable dish or a slice or two of rye bread to sop up that delicious gravy?
Check out the recipes below for some nice options that go perfectly with Swedish Meatballs!
Variations and Leftovers
We aren't done yet! I've got a variation on the original recipe for you along with a classic idea for using any leftover meatballs.
If you are looking for a change from the original recipe for Swedish Meatballs with Gravy, consider omitting the gravy in the recipe and serving the meatballs with the Creamy Mustard Dill Sauce featured below. SO delicious and a little unexpected!
Should you have any leftover meatballs, consider serving them cold on an open faced sandwich featuring a creamy pickled beet salad. I know if sounds a little unusual, but it is incredibly tasty.
Serving Swedish Meatballs for Christmas
Swedish Meatballs are quite often featured as part of a traditional Christmas Smörgåsbord menu. Looking to include them as a part of your holiday gathering this year? Check out the this post for more Christmas smörgåsbord recipe ideas to go with your Swedish Meatballs!
Well there you have it! Everything you wanted to know about what to serve with Swedish Meatballs (and probably more). So tell me....what's your favorite go to dish to serve with Swedish Meatballs at your house? Please let me know in the comments below!