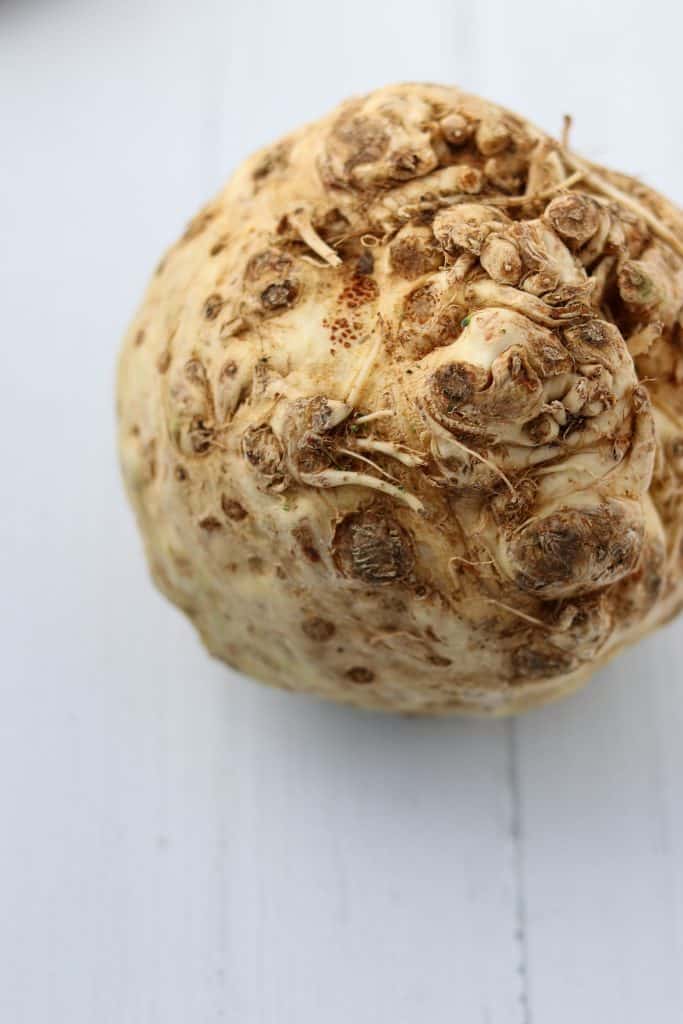 Behold the humble celery root (also known as celeriac). Gnarly and a bit odd-looking, this root vegetable is probably not going to win any prizes based on appearance alone. But once you peel off that knobby exterior, you'll find a creamy and delicious white flesh underneath, perfect for roasting, braising, mashing or even enjoying raw. The flavor is like a velvety and buttery version of traditional celery. It is one of my favorite winter vegetables and definitely worth getting to know better.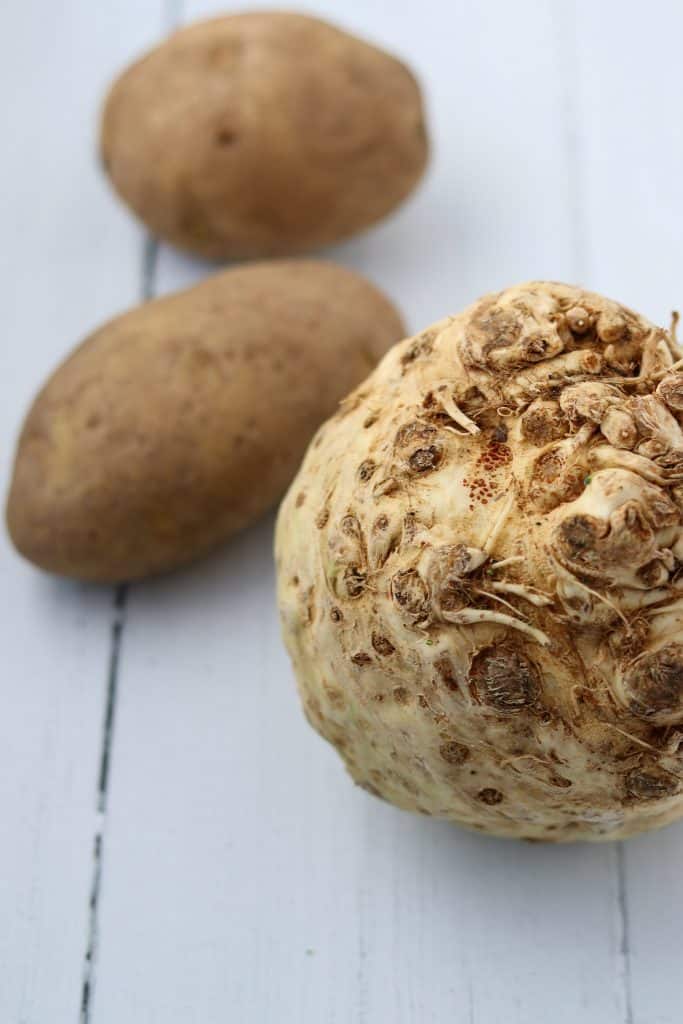 This easy and luxurious Celery Root and Potato Puree is a great place to begin. The recipe was inspired by one that I found in Bon Appetit magazine. Cubes of celery root and potato are cooked in a a mixture of milk and water until soft, and then pureed in food processor with a bit of butter until smooth. That's all there is to it! Incredibly easy, yes, but the complex flavor and creamy texture of this Celery Root and Potato Puree is sure to delight and surprise your dining companions who might otherwise have been expecting plain old mashed potatoes.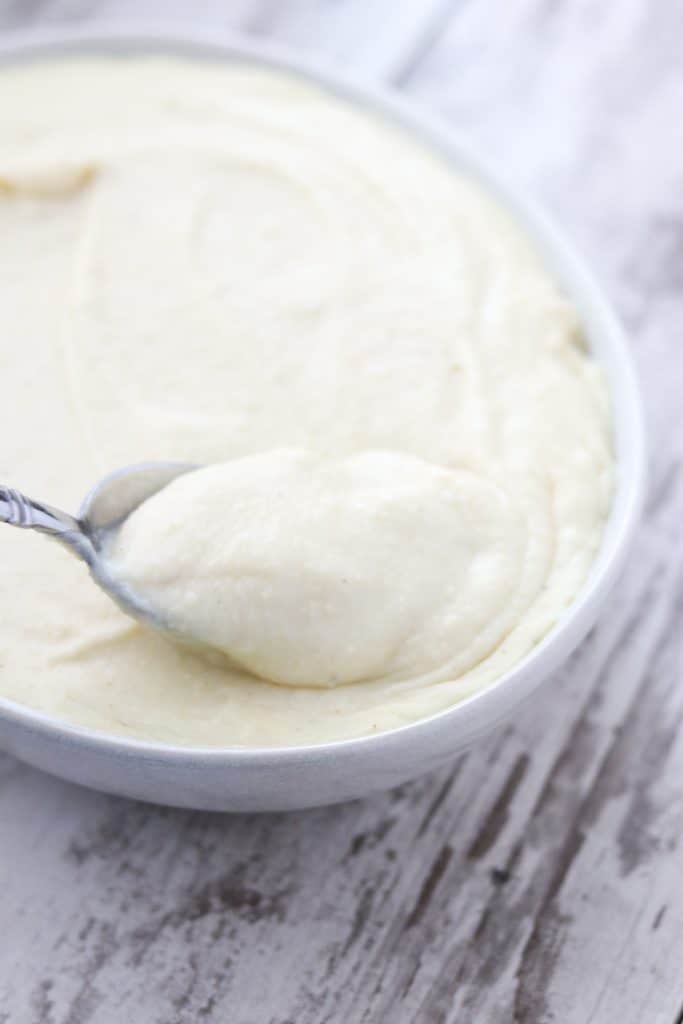 Another wonderful thing about this Celery Root and Potato Puree...it reheats BEAUTIFULLY and makes a great make-ahead side dish for entertaining. You can confidently prepare this dish a day or two beforehand and simply warm it on the stove or even in the microwave when you are ready to serve....no compromise in flavor or texture. That's my kind of side dish!
Tips for Working with Celery Root
If you've never worked with celery root before, I've got a few tips to help make this somewhat intimidating vegetable a little more approachable: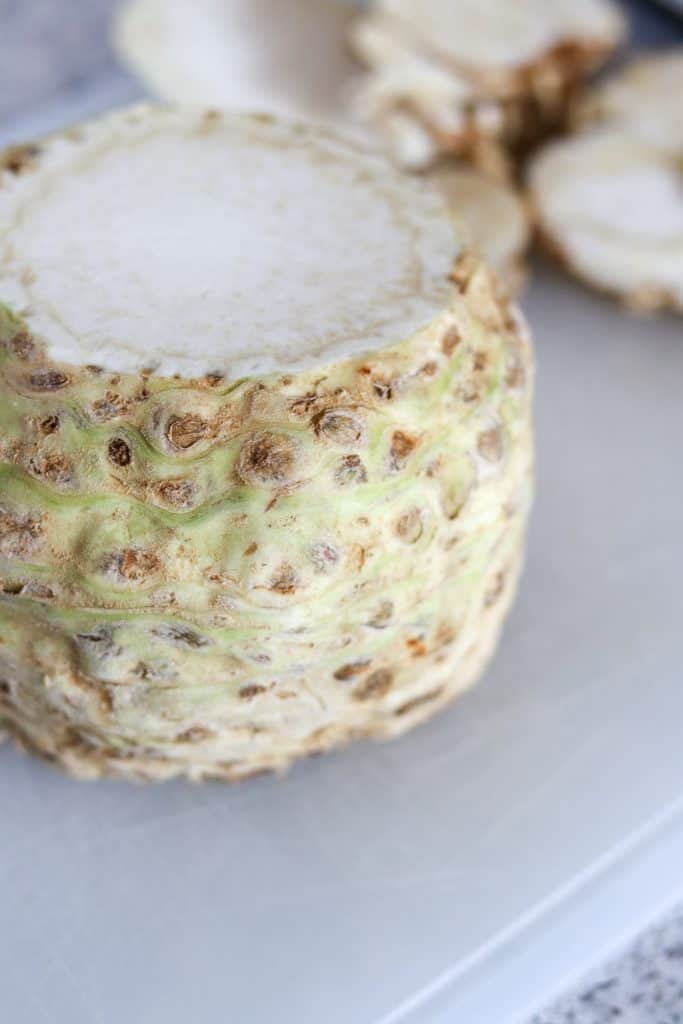 Choose an unblemished, firm, heavy celery root at the grocery store, preferably one with a bit of a greenish hue to it. These are all indicators of freshness.
Rinse the celery root thoroughly and pat it dry before peeling.
Cut both of the ends off of the celery root and place one of the flat ends on your cutting board. This will keep the vegetable from wobbling around as you try to peel and cut it.
Using a paring or chef's knife, remove the outer layer of knobby skin, working from the top of the celery root down to the trimmed end. It is almost impossible to peel a celery root with a vegetable peeler. The skin is much too thick and irregular in shape. A knife is the tool for the job.
Once the peel is removed, slice into planks, and then into strips and finally into cubes.
Work quickly after slicing. Celery root will begin to turn brown once it is exposed to air, much like apples do. For this recipe, simply transfer the cut celery root to a large pot along with the potatoes and cover with the water and milk mixture. If you are going to eat the celery root raw or don't plan to cook it right away, you can always toss it with a little lemon juice to help maintain it's snowy white appearance.
Know that celery root takes awhile to become tender. This recipe calls for a full 30 minutes of cooking once the potatoes and celery root come to a boil. Don't skimp on the cooking time and check to see that the vegetables are tender before proceeding.
Please give this delicious, sophisticated side dish a try and let me know how it turns out in the comments below. It makes a great pair for salmon, roasted mushrooms, seared steaks, roast chicken.....the options are endless. It might just become the new mashed potatoes at your house!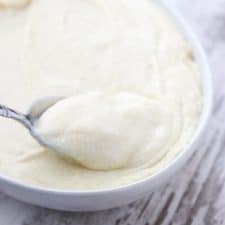 Celery Root and Potato Puree
An easy, sophisticated puree of celery root and potatoes.  Unbelievably creamy and delicious and completely make-ahead.  A great option for elegant and effortless entertaining!
Print
Pin
Rate
Servings:
10
-12 servings
Ingredients
4

large russet potatoes

peeled and cut into 1 ½ inch chunks

2

large celery roots

peeled and cut into 1 inch chunks

½

onion

quartered

4

cups

water

4

cups

whole milk

1

tablespoon

coarse salt

plus more to taste

8

tablespoons

1 stick unsalted butter

Freshly ground pepper
Instructions
Place potatoes, celery root and onion a large pot and cover with water and milk.  Add salt. Bring to a boil over medium-high heat. Reduce heat to medium and continue to cook until potatoes and celery root are very tender, about 30 minutes.  Drain and discard cooking liquid.

Transfer half of the potatoes and celery root to a food processor along with 4 tablespoons of butter.  Process until smooth and transfer to a serving bowl. Repeat with remaining potatoes, celery root and butter.  Season to taste with salt and pepper. Serve. (Puree can be prepared a day ahead and reheated in the microwave or on the stovetop just before serving).
Notes
This recipe can easily be halved for a smaller crowd.
Nutrition
Calories:
260
kcal
|
Carbohydrates:
32
g
|
Protein:
7
g
|
Fat:
13
g
|
Saturated Fat:
8
g
|
Cholesterol:
34
mg
|
Sodium:
880
mg
|
Potassium:
882
mg
|
Fiber:
4
g
|
Sugar:
8
g
|
Vitamin A:
433
IU
|
Vitamin C:
28
mg
|
Calcium:
180
mg
|
Iron:
2
mg