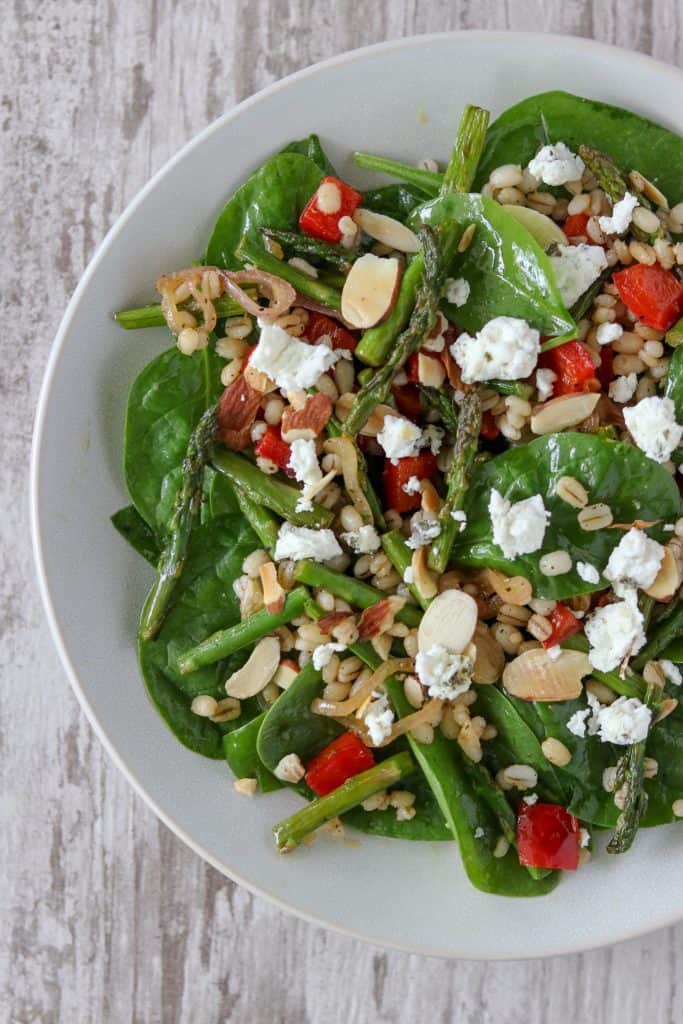 Salad and I....let's just say that our relationship has been strained over the years and largely because of a few early misconceptions on my part. Growing up in the Midwest in the 1980's, salads meant iceberg lettuce, stale croutons from a box and gloppy dressing from a bottle. I'm sure some of you know what I'm talking about. And then there were the salad bars at my high school and the college dorm cafeteria. Both of these experiences make me think of cottage cheese and bacon bits for some reason. Hopefully that's not all I ate, but I can't promise anything. In those days it was easy to fill your plate with a bunch of very non-green foods while still feeling virtuous because you chose the salad bar. When I was out on my own, I gave up on salad for awhile. There were several years in my 20's when I subsisted largely on blueberry bagels and strawberry cream cheese and Golden Grahams....not a green leaf in sight. It's a wonder I'm still here.
Thankfully things change. I've become a curious (and better) cook and eater over the past 20 years. The selection of lettuce options available in the grocery store today is vast, almost overwhelming. Farmer's markets offering freshly picked greens abound. Oh, and as it turns out, you can put all sorts of different things into a salad! Bulk them up with hearty grains, add some roasted or sautéed vegetables, sprinkle nuts, seeds or cheese on top, make a quick and delicious homemade vinaigrette...honestly, we are only limited by our imagination. Salad, I feel that I've misjudged you. I think it's time to breathe new life into this relationship.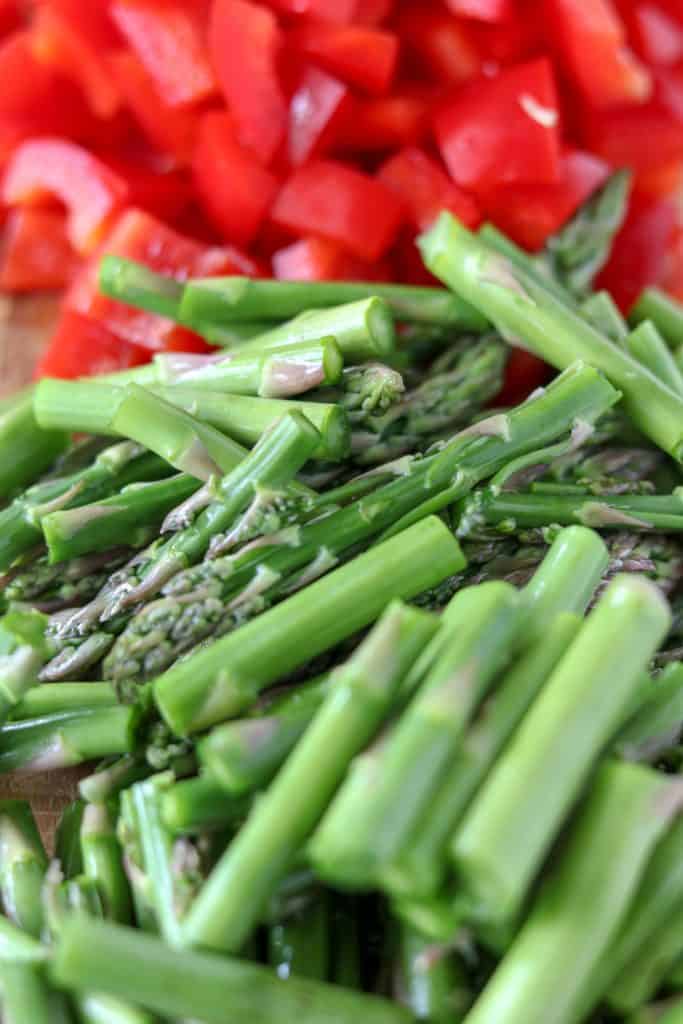 Which brings us to this delicious combination. Hearty pearl barley, bright asparagus, red bell pepper and spinach are a far cry from iceberg lettuce and croutons. I first began making a version of this salad, minus the pearl barley, several years ago when I came across it in an issue of Cook's Illustrated magazine (a.k.a. my cooking bible from 1990-2005). It made a lovely first course then, and it makes an even lovelier main course salad now with the addition of barley and a sprinkling of toasted almonds. There are a few things that really make this salad special: thin, tender spears of seasonal asparagus, creamy goat cheese crumbles and a sherry vinaigrette that is incredibly simple and just what you need to pull everything together. The salad is tossed in two bowls and while it does require the tiniest bit of extra dishwashing, your efforts will be rewarded. Keeping the baby spinach separate from the asparagus and barley mixture really helps maintain the integrity of the ingredients and prevents bruising the delicate greens.
Don't let those early years of not loving salad hold you back. You were just a kid! Now you know better. You can turn things around. This delicious combination is just the thing to remind you of how interesting and satisfying a good salad can be.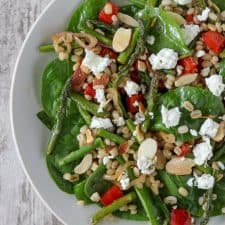 Springtime Barley Salad with Asparagus, Red Pepper and Spinach
A delicious and hearty spring salad with sautéed asparagus, red pepper, spinach and pearl barley
Print
Pin
Rate
Servings:
2
-3 large salads or 4 side salads
Ingredients
1

tablespoon

+ 1 teaspoon sherry vinegar

divided

1

garlic clove

minced

6

tablespoons

extra-virgin olive oil

divided

Coarse salt and freshly ground pepper

1

red bell pepper

cut into a medium dice

8

ounces

thin asparagus spears

trimmed and cut into 1-inch pieces

1

medium shallot

sliced thin

1 ½

cups

cooked pearl barley

cooled (see note below)

4-5

cups

baby spinach

¼

cup

sliced almonds

toasted

Soft goat cheese for crumbling over the top
Instructions
Combine vinegar and garlic together in a medium bowl.  Set aside.

In a large nonstick skillet, heat 2 tablespoons of olive oil over medium high heat.  Add red pepper and cook until lightly browned and beginning to soften, about 2 minutes. Add asparagus and cook until nearly tender, about 2 minutes.  Add shallot and cook until softened, about 1 more minute. Remove from heat and add remaining teaspoon of sherry vinegar. Stir in cooled barley. Set aside to cool while you make the vinaigrette.

Whisk remaining 4 tablespoons of olive oil into garlic and sherry vinegar mixture.  Season to taste with salt and pepper.

Toss spinach with 2 tablespoons of vinaigrette in a large bowl.  Season to taste with salt and pepper.

Add asparagus and barley mixture to the medium bowl with the remaining vinaigrette.  Toss to combine. Season to taste with salt and pepper.

To serve, create a bed of spinach on the bottom of each plate.  Arrange the asparagus and barley mixture over the top. Sprinkle with toasted almonds and crumbled goat cheese.
Notes
To cook pearl barley:
Bring a medium pot of water to a boil over high heat.  Season with salt. Add 1 cup pearl barley. Cook until tender, about 25-30 minutes.  Drain and set aside to cool. If you want to expedite the cooling process, spread the cooked barley out on a sheet pan and place it in the refrigerator.  1 cup of dry pearl barley makes approximately 3 cups cooked so you will have more than you need. (Barley can be made up to 2 days in advance and stored in the refrigerator in an airtight container).
Adapted from the May/June 2003 issue of Cook's Illustrated magazine.
Nutrition
Calories:
791
kcal
|
Carbohydrates:
52
g
|
Protein:
17
g
|
Fat:
61
g
|
Saturated Fat:
9
g
|
Cholesterol:
6
mg
|
Sodium:
111
mg
|
Potassium:
1049
mg
|
Fiber:
13
g
|
Sugar:
7
g
|
Vitamin A:
8491
IU
|
Vitamin C:
101
mg
|
Calcium:
197
mg
|
Iron:
8
mg