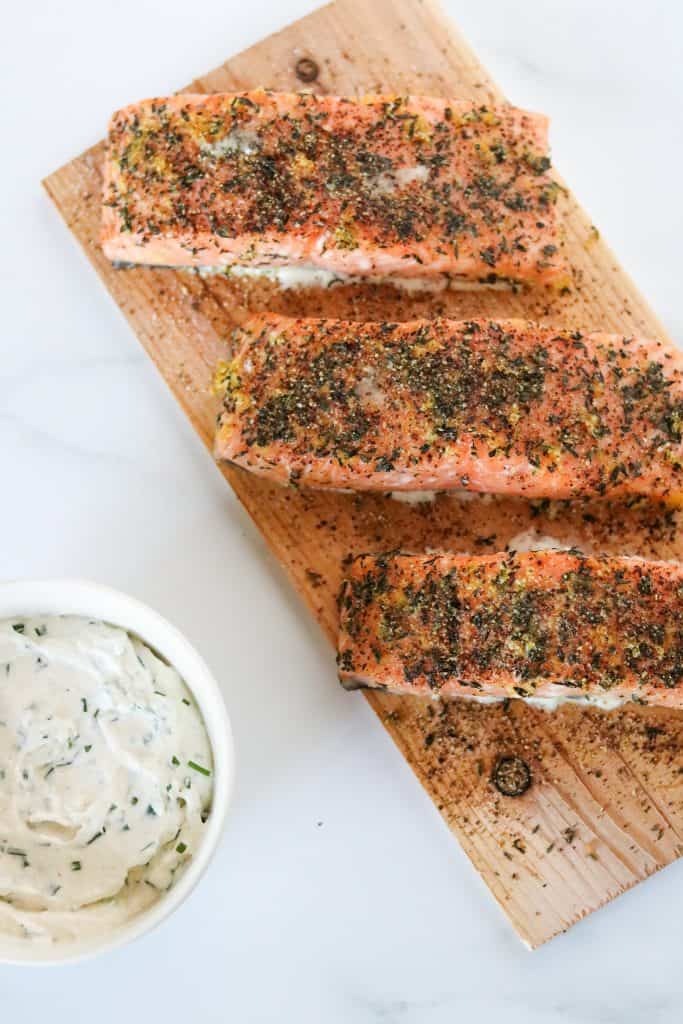 Have you started to think about your Midsummer plans? It's just around the corner! If you are looking for a festive and easy main dish that can just as easily be prepared for an intimate gathering or a crowd, I've got just the thing. This Grilled Cedar Plank Salmon with Creamy Horseradish Sauce is my go-to recipe for effortless and impressive summertime entertaining. It's always a crowd pleaser and is one of those dishes that looks complicated but in reality couldn't be simpler to prepare.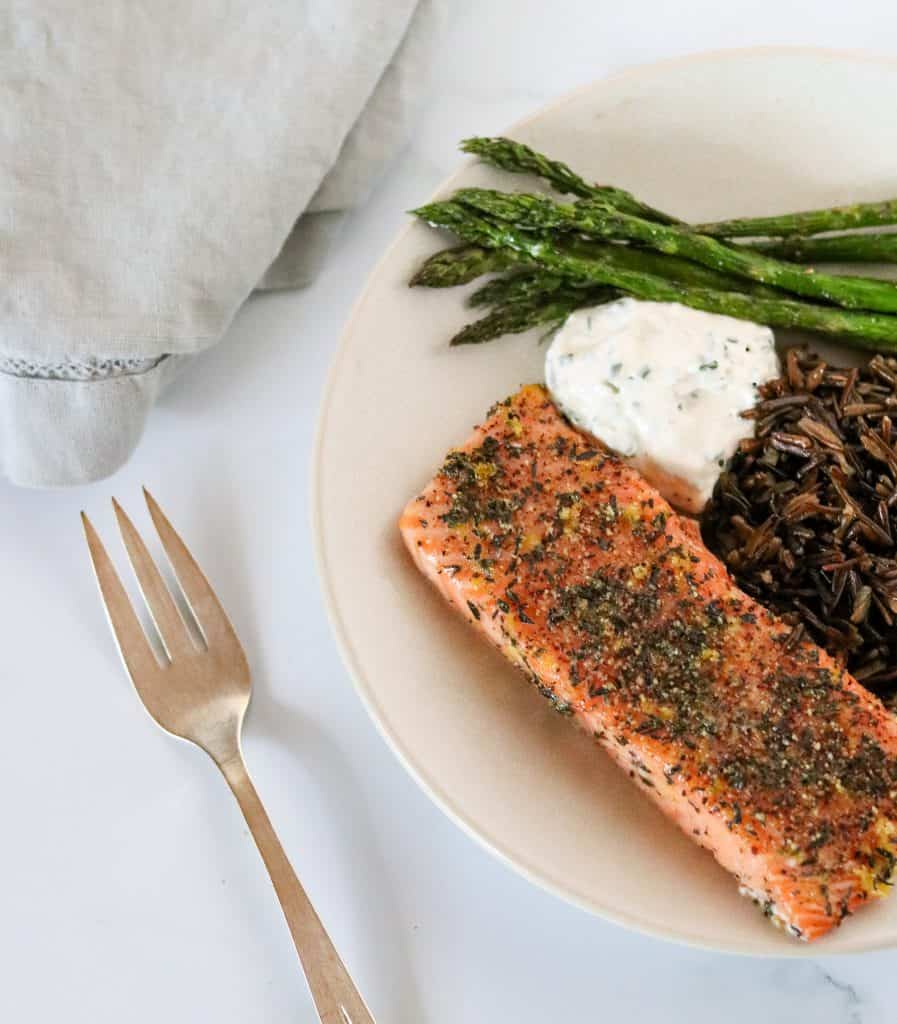 How to Grill Cedar Plank Salmon
The idea of cooking fish on a wooden plank can be intimidating, but the process is actually almost easier than putting your fish directly on the grill. And the rewards are great....the salmon takes on a subtle cedar smoked flavor that is absolutely delicious. There are just a few simple steps to grilling salmon on a cedar plank:
Purchase a package of cedar planks. I like to buy mine in packs of 12 from Amazon because they are a bit cheaper that way, but if you are pressed for time, you can find cedar planks at many grocery, kitchen specialty and hardware stores. Just check the grilling section. I know some people will buy untreated cedar planks from a store that sells lumber, but you need to be careful that what you are buying is indeed untreated cedar. The last thing you want is to have a chemically-treated piece of wood under your salmon! Personally I would rather play it safe and purchase something that is designed for food use.
Decide how much salmon you want to prepare. That's the great thing about this dish. You can serve just one or two people or many....it's up to you. I personally prefer to cut my salmon into portions prior to grilling, but you can also do a whole side of salmon if you would rather. Cooking times will vary, of course, depending on how large your piece of salmon is.
Cut your planks to accommodate the amount of salmon you are cooking (optional). Sometimes I prepare this salmon dish for just two people, in which case it seems wasteful to use a whole cedar plank for two portions of salmon. Lots of unused space! Cutting your planks to fit the size of your meal will help extend your package of planks....you'll be grilling salmon this way all summer long and not have to reorder any!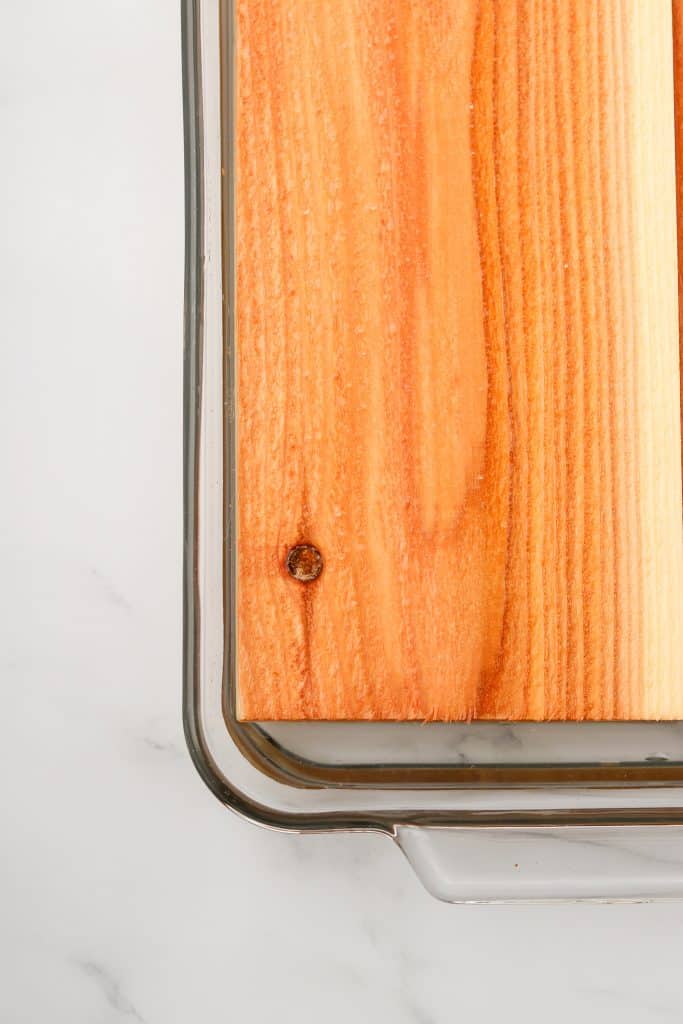 Soak the plank in water for at least an hour beforehand. I generally put mine in a 9x13 pan and flip it over a few times while it's soaking (it will float). Soaking helps the cedar flavor from the plank to release and work it's way into the fish AND provides an added layer or grilling safety as your wet plank will smoke when it comes in to contact with the heat of the grill (which we want) but won't start on fire (which we definitely don't want).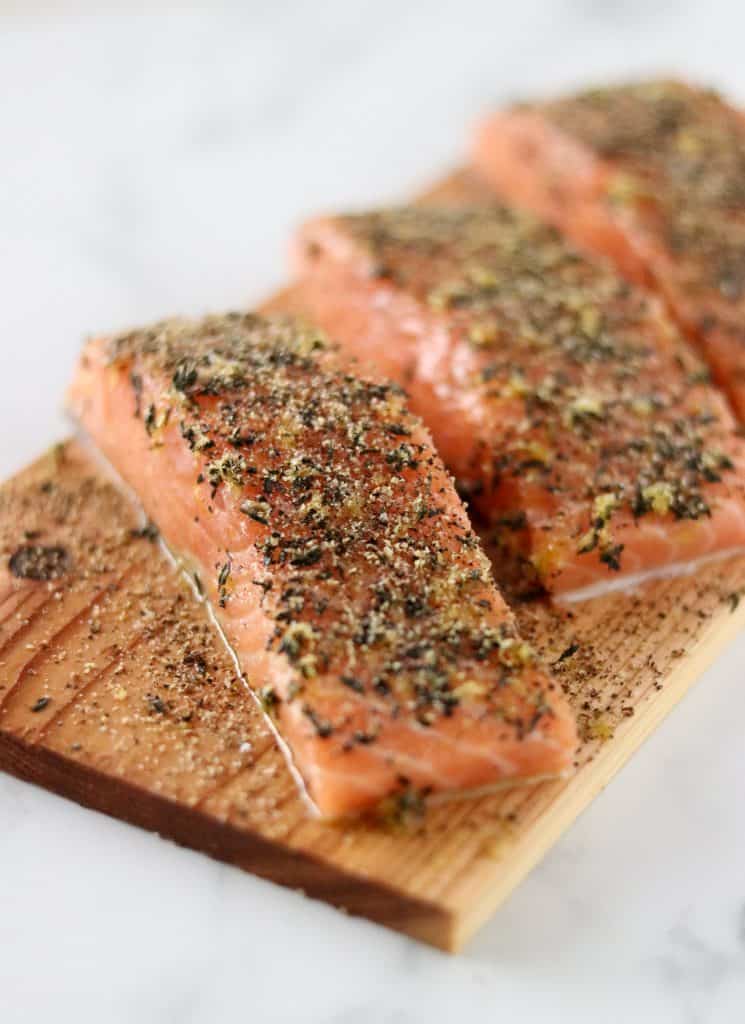 Leave the skin on the salmon and place it directly on to the soaked board. This is what I mean about cedar plank salmon being almost easier than putting it directly onto the grill. There is no sticking and no need to remove the skin!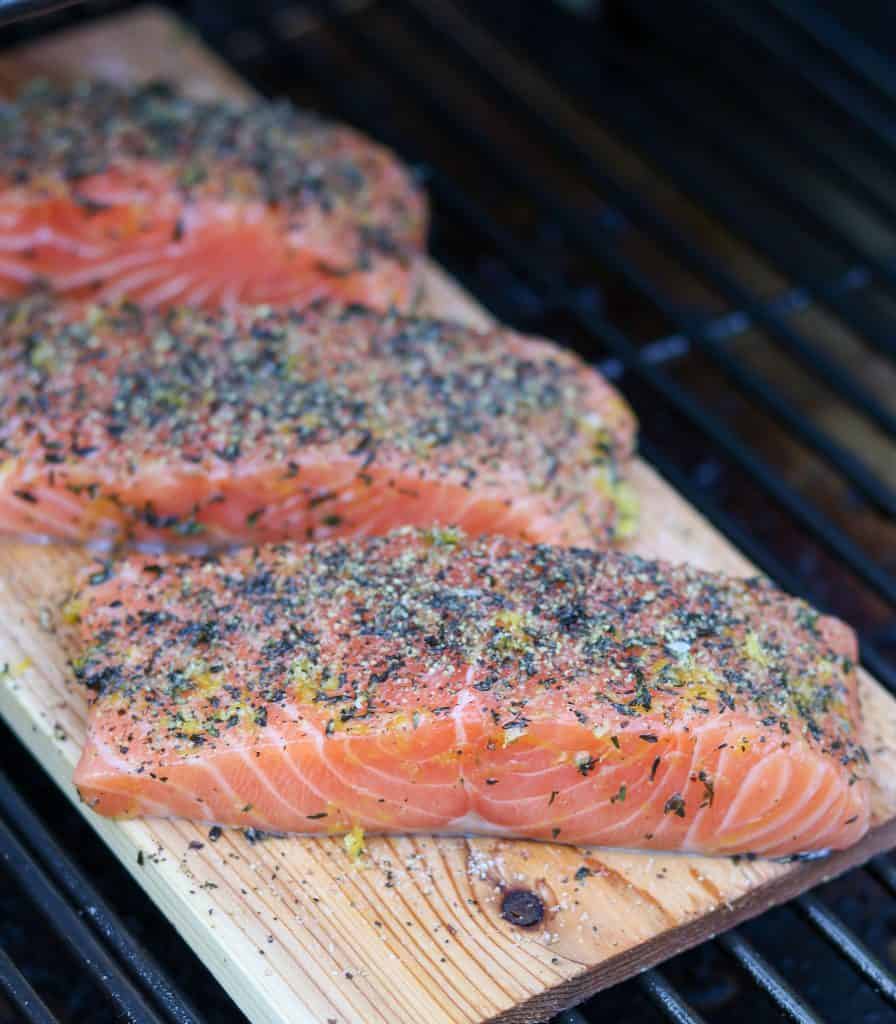 Grill over medium heat until salmon is just opaque all the way through. The time it takes to cook the salmon will depend on the size of your filets and how hot your particular grill is. I start checking mine around 12 minutes, but it might take as long as 20.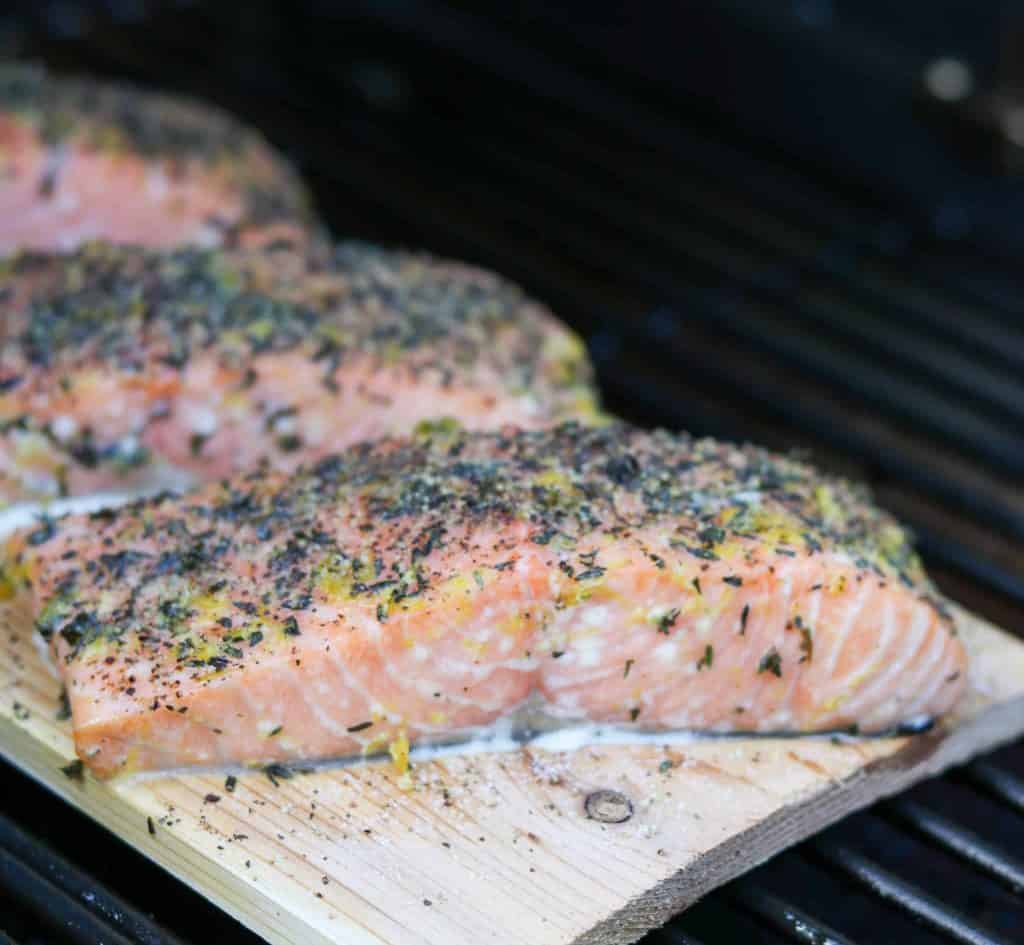 Remove the plank from the grill using mitts or a large spatula or two. It's hot! Be careful.
Slide a thin metal spatula in between the salmon flesh and the skin leaving the skin behind on the plank. The skin will stick to the plank (which is just what we want) so it's easy to just slide the filet right off the top. Time to serve and enjoy!
Toss the used cedar plank. The plank will have salmon skin stuck to it and be pretty well-spent after one use. I recommend starting fresh each time with a new plank. Should you choose to reuse your planks, it is important that you seal them in a plastic bag and freeze them in between uses for food safety concerns.
See how simple that was!? Once you start grilling salmon on a cedar plank, I promise you won't want to go back!
A Delicious and Easy Rub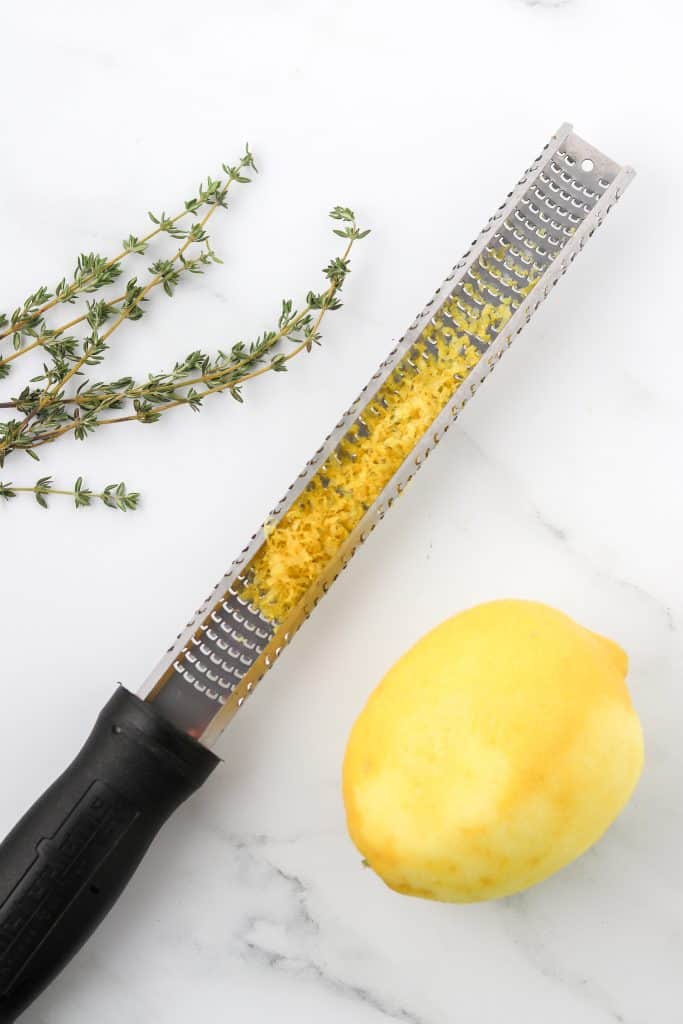 You could easily just season your salmon with salt and pepper and get grilling. BUT a lemony, herby rub really brightens the flavor of this Cedar Plank Salmon, and is well worth a few extra minutes of your time and effort. The idea of for this rub came from a long-ago issue of Fine Cooking magazine, and I have been using it ever since. It contains only three ingredients (lemon zest, fresh thyme and sugar) but the payoff in flavor is huge!
A Cool, Creamy Sauce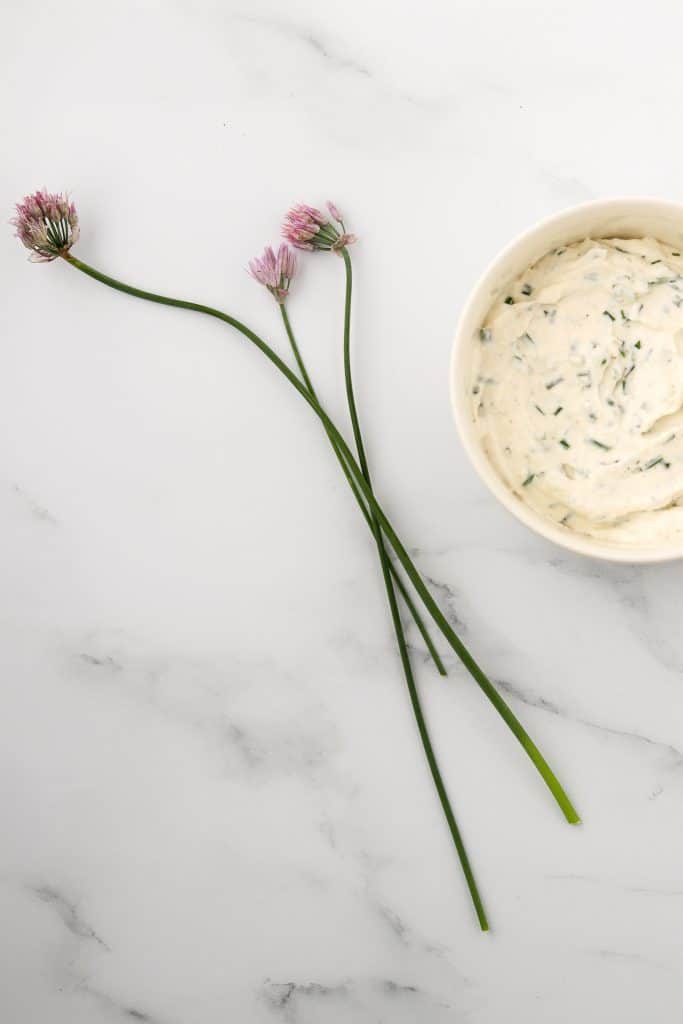 This sauce comes from that same Fine Cooking recipe I mentioned above. I've added a bit more horseradish (because I love it with a little bit of a kick) and doubled the amount of sauce. I like to keep things simple and serve this Grilled Cedar Plank Salmon with a side of grilled asparagus and a big bowl of wild rice tossed with olive oil, salt and pepper. Between the flavorful rub and the creamy horseradish sauce, you really don't need much else.
I hope you give this Easy Grilled Cedar Plank Salmon a try! It's the perfect thing to serve for a laid-back summer gathering of any size.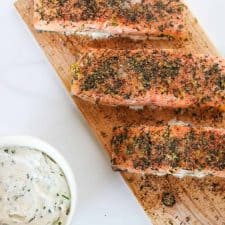 Easy Grilled Cedar Plank Salmon with Creamy Horseradish Sauce
This plank salmon is so delicious and so easy to make!
Print
Pin
Rate
Ingredients
For the Salmon:
1

tablespoon

finely grated lemon zest

2

teaspoons

chopped fresh thyme

½

teaspoon

sugar

Coarse salt and freshly ground pepper

4 6-

ounce

skin-on salmon filets

2

tablespoon

extra-virgin olive oil
For the Creamy Horseradish Sauce:
½

cup

creme fraiche

3

tablespoons

chopped fresh chives

2

tablespoons

prepared horseradish

Coarse salt and freshly ground pepper
Special equipment needed:
Instructions
Place the cedar plank (one large enough to hold all 4 salmon filets) in cold water and soak for at least an hour.

Preheat the grill to medium.  Combine lemon zest, thyme and sugar in a small bowl.  Place the salmon filets on the cedar plank and brush with olive oil.  Rub the lemon-thyme mixture over the surface of salmon filets.  Season the filets with salt and pepper.

Place the cedar plank with the salmon on it on the grill.  Cover and cook over medium heat until salmon is just opaque throughout, about 12-20 minutes. The cooking time will vary based on the thickness of the filets and the heat of the particular grill.

Meanwhile, make the sauce.  Combine all ingredients in a small bowl and season to taste with salt and pepper.  Set aside.

Carefully remove the cedar plank from the grill.  Lift the filets off of the cedar plank using a thin metal spatula, leaving the skin behind on the plank.  Serve immediately with the Creamy Horseradish Sauce.
Notes
Recipe adapted from Fine Cooking Magazine.
Nutrition
Calories:
172
kcal
|
Carbohydrates:
2
g
|
Protein:
14
g
|
Fat:
12
g
|
Saturated Fat:
2
g
|
Cholesterol:
39
mg
|
Sodium:
63
mg
|
Potassium:
381
mg
|
Fiber:
1
g
|
Sugar:
1
g
|
Vitamin A:
243
IU
|
Vitamin C:
9
mg
|
Calcium:
23
mg
|
Iron:
1
mg