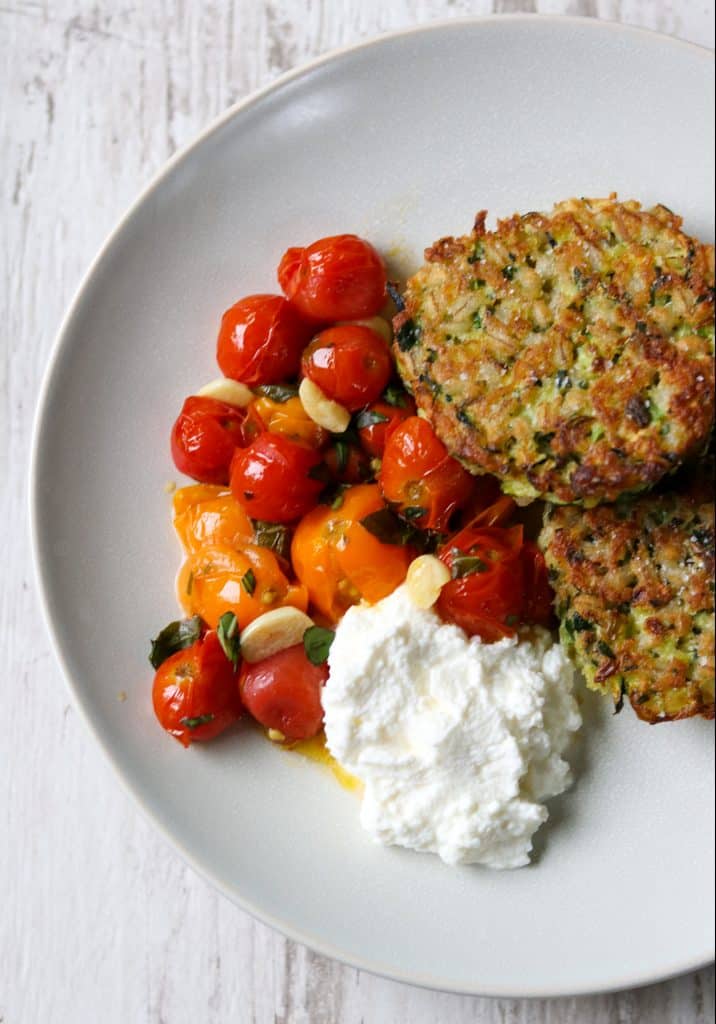 The zucchini gets a bad rap sometimes, largely because of its prolific nature. If you plant zucchini in your vegetable garden, you know what I mean. They tend to come in fast and furious, getting larger by the minute. The next thing you know, they are taking up precious counter space in your kitchen demanding to be cooked or baked into something delicious. Even if you don't personally grow zucchini, chances are you've been "gifted" a bag or two by someone who does. It is nearly impossible (or desirable for that matter) to eat one's entire harvest of zucchini alone. Some of it must be shared. Know that you are doing a great service to your zucchini-growing friends when you graciously accept their home grown offering. You've taken a bit of the burden of preparing and consuming these bountiful summer squash off of their shoulders and they are grateful for it.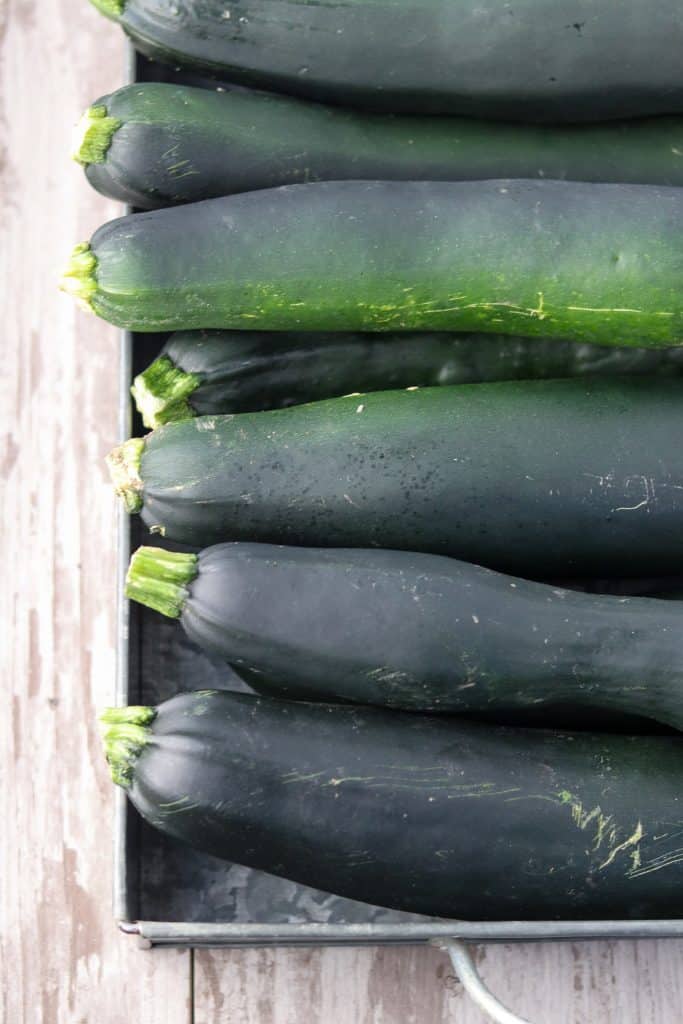 If you are currently experiencing your own glut of zucchini, either as a gardener or as the recipient of a well-meant gift, I encourage you to spare one or two for a batch of these Zucchini Barley Cakes. They make a fantastic vegetarian dinner served alongside a simple sauce of summery Roasted Cherry Tomatoes with olive oil, garlic and basil and a dollop of creamy ricotta cheese.
Salt Your Zucchini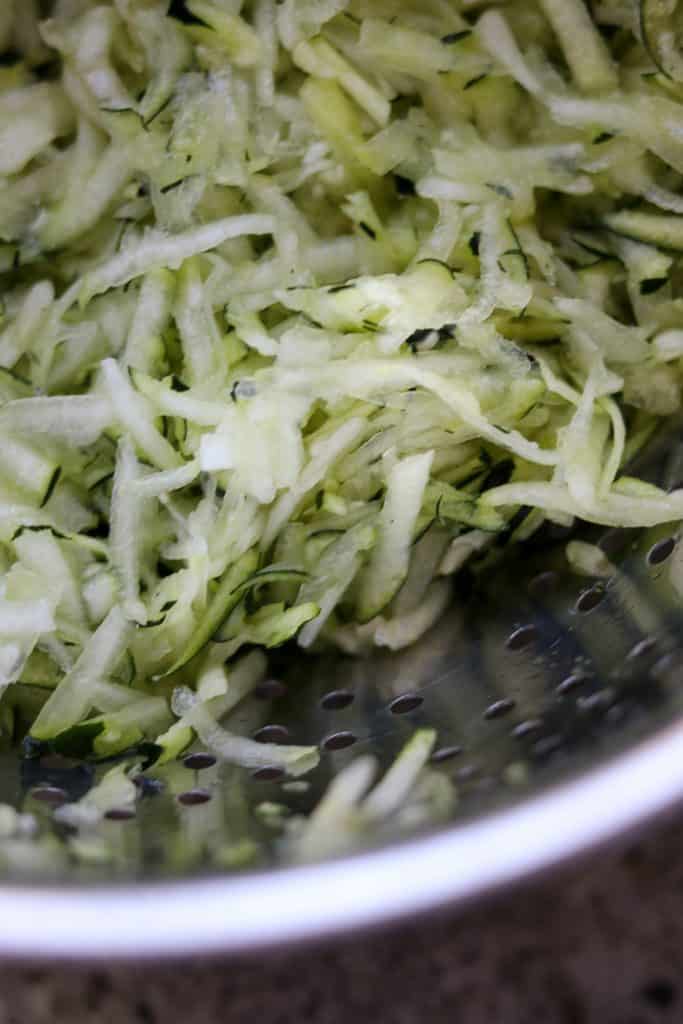 One important thing to know about zucchini...they are about 95% water. So when you want to make something crispy from a zucchini it is wise to salt it beforehand in order to draw some of the moisture out of the vegetable prior to cooking it. This is easily done by tossing the shredded zucchini with coarse salt and letting it drain in a colander for 10 minutes or so. Transfer the salted zucchini to a clean kitchen towel and wring out as much moisture as you can before continuing with the recipe. What looked like 4 cups of zucchini when you started will shrink down to about 1 cup after salting and wringing it out thoroughly. Know that I am, deep down, a lazy cook. I would not ask you to take this step of salting and wringing if it weren't absolutely necessary. Believe me, I've tried. You will end up with soggy cakes that don't hold together well if you skip this step.
Chill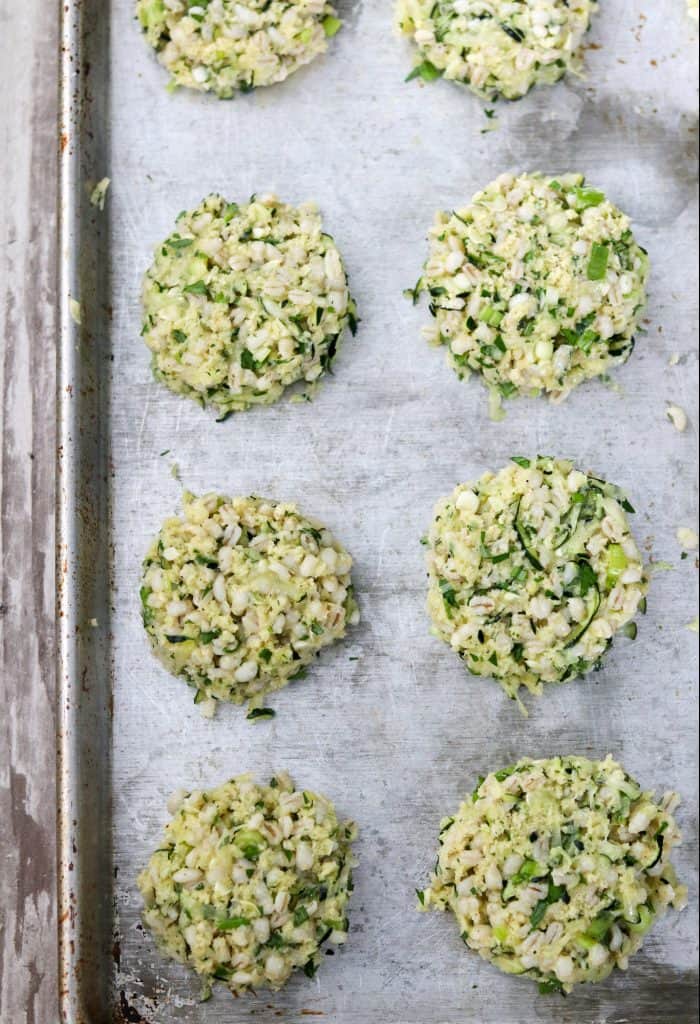 Your Zucchini Barley Cakes will greatly benefit from a quick chill time in the fridge, just 20-30 minutes will do. This helps the mixture hold together as you transfer the cakes into the skillet. Better yet, do your future self a favor and make a batch of these the day before you want to cook them. Cover them with plastic wrap and pop them in the fridge. Won't you feel clever and prepared when dinner is practically done tomorrow night!
When you've had it with zucchini bread and are ready for something new, pull a zucchini or two from that pile on the counter and give these a try. Let me know how they turn out in the comments!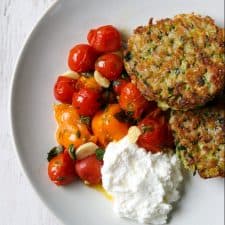 Zucchini Barley Cakes with Roasted Cherry Tomatoes and Ricotta
Delicious and hearty cakes made with pearl barley, zucchini and fresh herbs served alongside roasted cherry tomatoes and fresh ricotta cheese.  A delicious late summer vegetarian dinner!
Print
Pin
Rate
Ingredients
For the Zucchini Barley Cakes:
1

pound

zucchini

1 ½

teaspoons

coarse salt

divided, plus more for sprinkling

2

cups

cooked and cooled pearl barley

see note below

3

large eggs

3

scallions

minced (Both white and green parts)

3

garlic cloves

minced

3

tablespoons

chopped fresh parsley

1

tablespoon

chopped fresh thyme

Freshly ground pepper

1

cup

panko bread crumbs

2

tablespoons

all-purpose flour

6

tablespoons

extra-virgin olive oil

divided
For the Roasted Cherry Tomatoes:
2

pints

cherry or grape tomatoes

3-4

garlic cloves

peeled and sliced thin

3

tablespoons

extra virgin olive oil

1

teaspoon

coarse salt

¼

teaspoon

crushed red pepper flakes

1

teaspoon

white balsamic vinegar

2

tablespoons

chopped fresh basil

Whole milk ricotta cheese for serving
Instructions
Preheat oven to 375 degrees.  Shred zucchini on the large holes of box grater.  Transfer to a colander and toss with 1 teaspoon salt.  Allow zucchini to sit for about ten minutes and then transfer it to a clean cotton kitchen towel and squeeze out as much moisture as possible.  Set aside. 

In a large bowl, lightly beat the eggs.  Add zucchini and remaining ingredients except oil.  Combine thoroughly.

Using

a large ice cream scoop

or a metal measuring cup, transfer a ¼ cup portion of the mixture to a baking sheet.  Press down and shape gently to create a cake that is about ¾ inch thick and 3 inches wide. Repeat with remaining mixture.  Cover with plastic wrap and chill for at least 30 minutes or up to a day. You should have about 12 cakes.

While cakes are chilling, make the Roasted Cherry Tomatoes.  Combine all ingredients except vinegar and basil in a 9 x13 baking dish.  Stir to combine. Transfer to the oven and roast until tomatoes are soft and beginning to burst, about 25 minutes.  Remove from oven and add vinegar and basil. 

Add 3 tablespoons extra-virgin olive oil to a large nonstick skillet.  Heat over medium heat until just shimmering. Using a thin spatula to help you, carefully add 6 cakes to the skillet (they may be a little fragile).  Cook until golden brown on the first side, about 3-4 minutes. Flip each cake over and continue to cook until golden brown on the opposite side and cooked through, about 3 more minutes.  Transfer to a paper towel-lined plate to drain. Sprinkle with additional coarse salt. Carefully wipe out the skillet with a paper towel and add remaining 3 tablespoons of olive oil. Repeat with remaining cakes.  Serve with Roasted Cherry Tomatoes and a generous dollop of ricotta cheese.
Notes
To cook pearl barley:  Bring a large pot of salted water to boil over high heat.  Add 1 cup pearl barley. Cook over medium-high heat until tender, about 30-35 minutes.  Drain and chill. (If you are in a hurry and want the barley to cool quickly, spread it out on a baking sheet and transfer to the refrigerator.)  This makes about 3 cups of cooked pearl barley which is a little more than you will need for this recipe.
Adapted from Megan Gordon's
Whole Grain Mornings
Nutrition
Calories:
276
kcal
|
Carbohydrates:
36
g
|
Protein:
7
g
|
Fat:
13
g
|
Saturated Fat:
2
g
|
Cholesterol:
41
mg
|
Sodium:
549
mg
|
Potassium:
431
mg
|
Fiber:
7
g
|
Sugar:
4
g
|
Vitamin A:
1002
IU
|
Vitamin C:
22
mg
|
Calcium:
50
mg
|
Iron:
2
mg