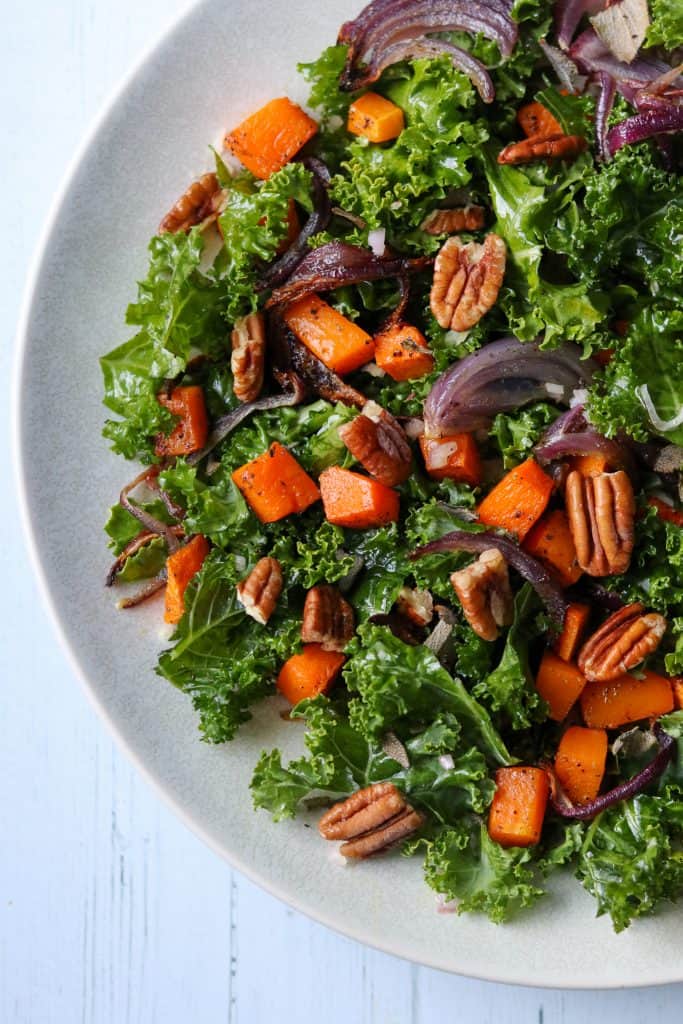 It's nice to have an elegant leafy green salad to include as part of a festive dinner or special occasion. So often these meals are centered around rich, heavy foods. Our family's Christmas Eve Smörgåsbord when I was growing was a very heavy affair in various shades of white: scalloped potatoes, lutefisk, rice pudding, swedish meatballs in a cream gravy, lefse….you see the color pattern emerging here. A green salad can be a welcome, light addition to the traditional holiday table.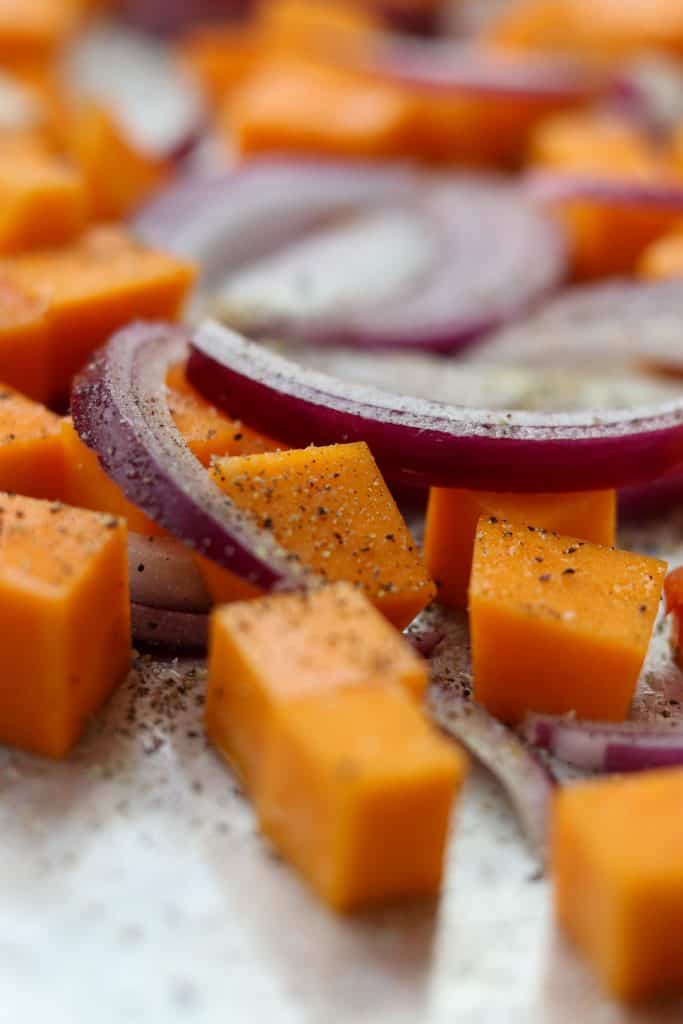 This Kale Salad with Roasted Butternut Squash and Pecans is the perfect way to weave some hearty winter vegetables into your holiday menu. Crispy kale, cubes of sweet roasted butternut squash and sliced red onions and crunchy pecans come together to create a memorable salad that pairs nicely with all manner of holiday dishes.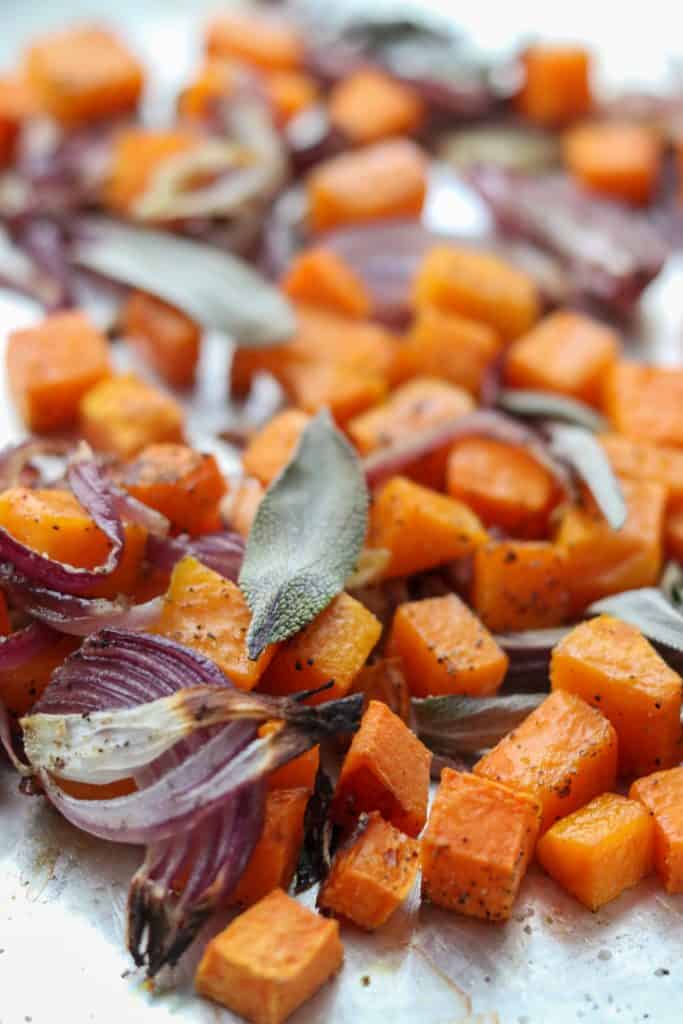 This Kale Salad with Roasted Butternut Squash and Pecans also holds well, and you can make the dressing and roast the vegetables and pecans in advance. Simply toss the salad ingredients together when you are ready to eat and you are good to go.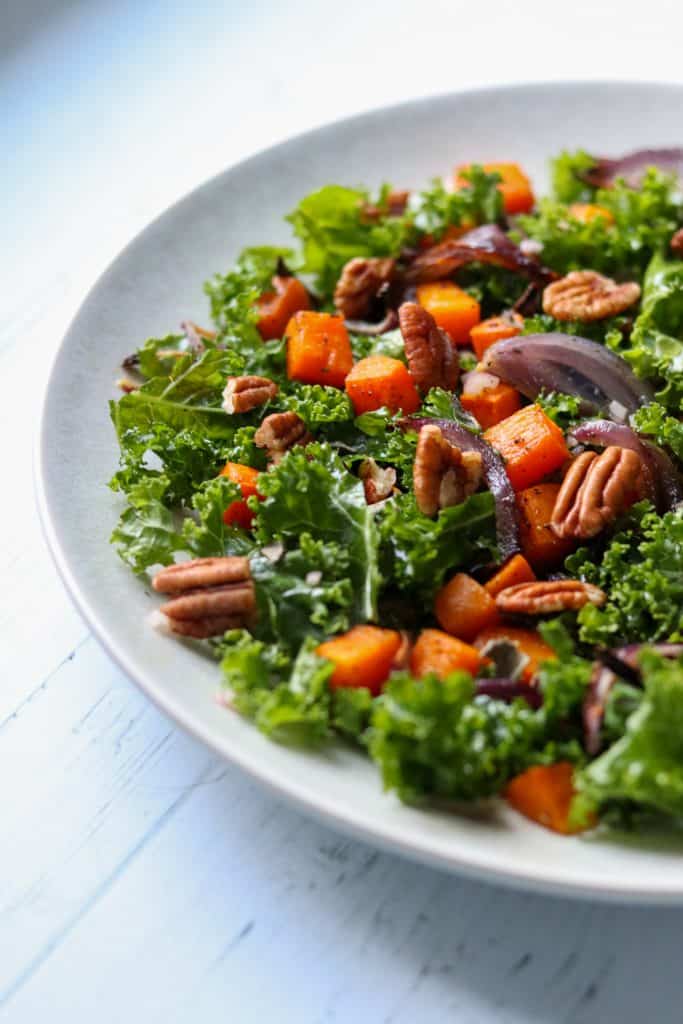 This salad also makes a nice main course, particularly if you scatter some cooked whole grains (rye berries or barley are both delicious) and a handful of crumbled goat cheese into the mixture.
Bring some much needed green to your holiday table this year and give this Kale Salad with Roasted Butternut Squash and Pecans a try! I think you and your guests will be glad you did.
Print
Kale Salad with Roasted Butternut Squash and Pecans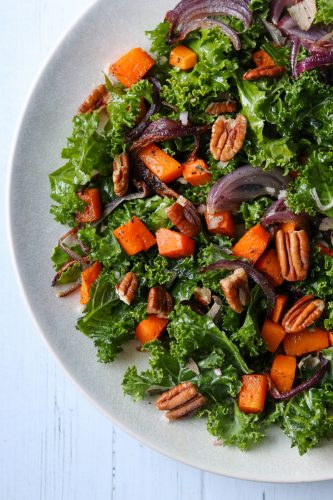 A delicious fresh salad for winter with crispy kale, sweet roasted butternut squash and red onions and toasty pecans.  It makes a tasty leafy green side dish or a hearty main coarse salad.
Author:
Prep Time:

20 minutes

Cook Time:

35 minutes

Total Time:

55 minutes

Yield:

6-8 servings

Category:

salad

Cuisine:

Nordic, Scandinavian
Ingredients
For the Salad:
1 large butternut squash, peeled and cut into ¾ inch cubes
1 red onion, cut into ¼ inch thick slices
2 tablespoons extra-virgin olive oil
10-12 whole sage leaves
1 large bunch kale (Curly or Tuscan is fine), stems removed and chopped into bite-sized pieces
½ cup pecans, toasted and coarsely chopped
Vinaigrette, recipe follows
For the Vinaigrette:
1 small shallot, minced
2 tablespoons white balsamic vinegar
1 teaspoon dijon mustard
1 teaspoon honey
⅓ cup extra virgin olive oil
Coarse salt and pepper
Instructions
Preheat oven to 425 degrees.  Place squash and red onion on baking sheet and toss with olive oil.  Season with salt and pepper. Roast for 20 minutes, stir and add sage leaves.  Continue to roast until vegetables are tender and golden brown, about 10-15 minutes more.  Set aside to cool.

Meanwhile, whisk together ingredients for the vinaigrette in a small bowl, seasoning to taste with salt and pepper.  Transfer kale to a serving platter. Drizzle half the vinaigrette over the kale and massage it into the kale with your hands.  Add roasted vegetables and pecans. Drizzle with remaining vinaigrette and gently toss to combine. Crumble the crispy sage leaves over the top.  Season to taste with salt and pepper. Serve.
Keywords: kale, butternut squash, red onion, pecans, holiday, Christmas, winter, salad