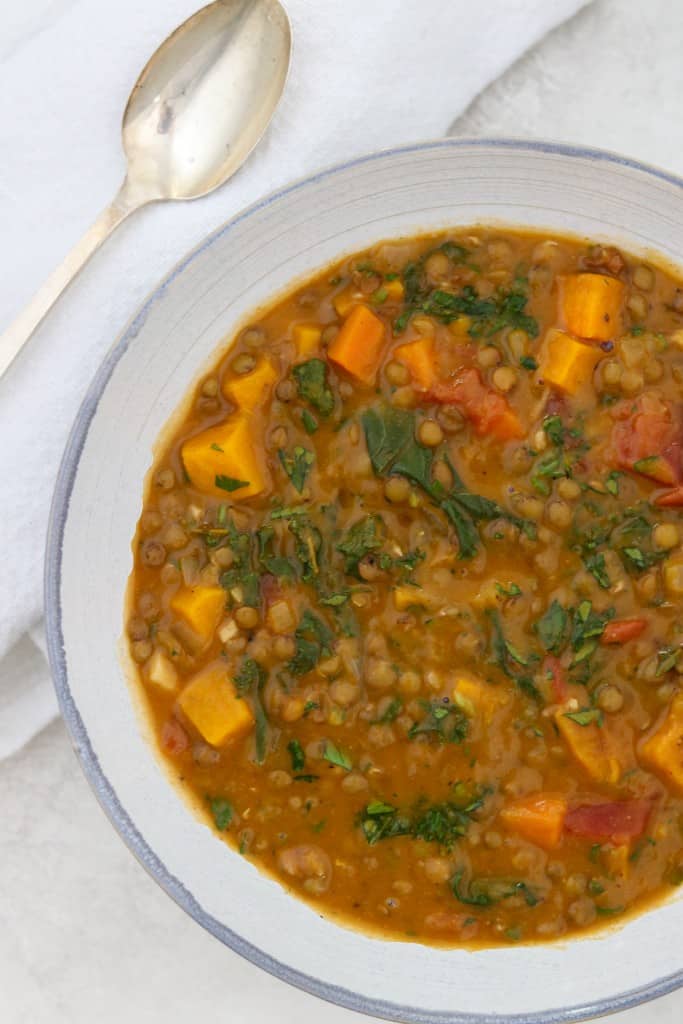 THIS is the soup that chilly autumn evenings were made for. Warm, comforting and oh so satisfying, a good lentil soup is a true restorative for the weary body and soul. After a long day when you need something soothing, nourishing and delicious to replenish you, this Hearty Lentil Soup with Roasted Butternut Squash, Kale and Bacon is the answer to what's for dinner.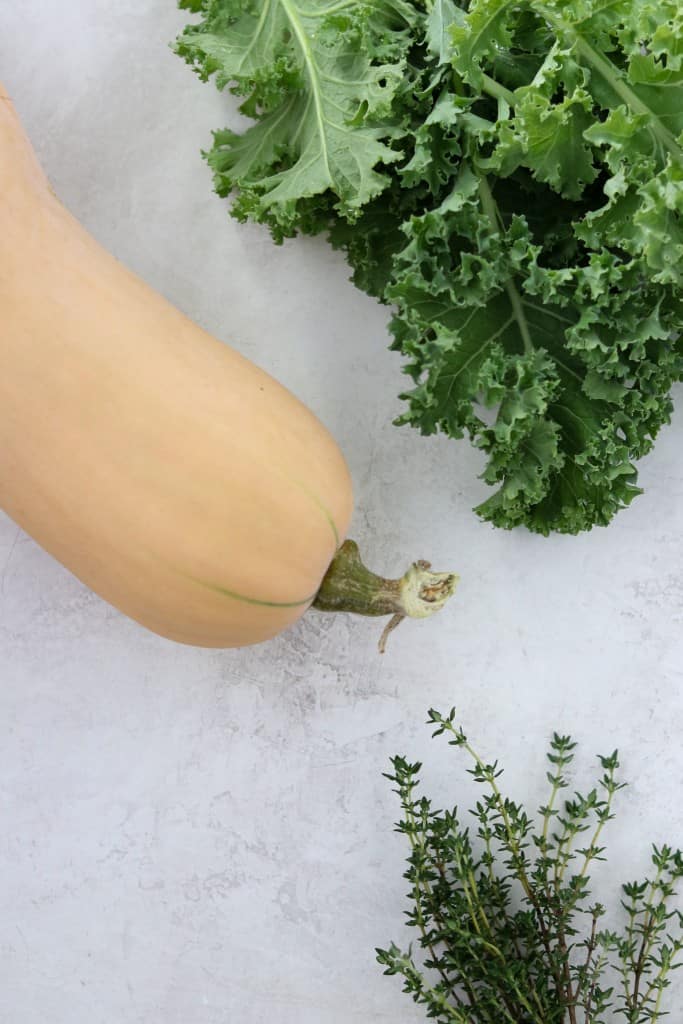 The Basics of Lentils
First, let's talk a little bit about lentils. A member of the legume family, lentils are tiny nutritional powerhouses. High in fiber and protein and an excellent source of B vitamins, iron, potassium, magnesium and zinc, lentils are an excellent (and very affordable) addition to your diet.
Lentils generally come dried, but occasionally you can find them vacuum-packed or canned. I prefer to buy them dried as they don't take long to cook (20-40 minutes depending on the variety), and the texture of lentils you cook yourself is much better than anything precooked.
There are several different varieties of lentils, typically distinguished by color: brown, green, red, yellow and black. This recipe calls for a particular type of green lentil known as lentils du Puy or French green lentils. This variety is petite in size, deliciously earthy in flavor and has a mottled black and green appearance. They also hold their shape well when cooked compared to other types of lentils. Brown or regular green lentils could certainly be substituted for the French green lentils here if you are unable to find them.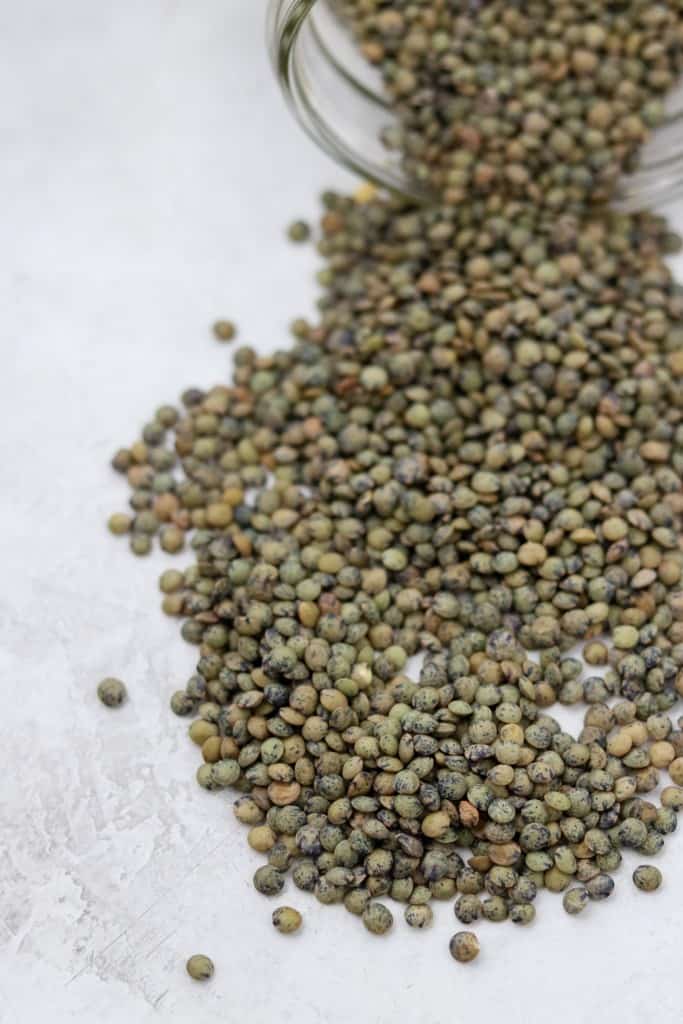 Pick Over and Rinse Lentils Prior to Cooking
It's important to pick over and rinse your lentils prior to cooking. Sometimes a bit of debris like a small rock or seed will find it's way into your dried lentils, and you definitely don't want that in your soup! I like to spread the lentils out on a white plate and sort through them with my fingertips. This is a quick and easy way to make sure that all that is going into your soup are the lentils themselves. And then simply give them a quick rinse in a fine mesh strainer. You're ready to cook!
The Ingredients
This soup is filled with ALL manner of good, wholesome things:
Onions
Garlic
Carrots
French green lentils
Bacon
Broth
Fresh thyme
White wine
Bay leaf
Kale
Butternut squash
Chopped fresh parsley
The Method
Soup is obviously very easy to make, but there are a few helpful techniques in this recipe that are worth highlighting as they contribute to an excellent final result.
Start with a little bit of bacon. It's amazing how a mere three slices of bacon can bring so much flavor to a whole pot of soup.
Cook the lentils until they are fully tender. French green lentils should cook in about 30 to 40 minutes, but the only way to know for sure that your lentils are fully cooked is to taste them.
Purée a portion of the soup and then add it back to the pot. This step of the recipe is a real game changer. By puréeing just 2 cups of soup, the texture because creamy and luxurious rather than just a brothy soup with lentils.
Roast the butternut squash separately and gently fold it in at the end. Sometimes squash has a tendency to break down when cooked directly in a soup. This recipe has you roast cubes of butternut squash in a hot oven while the lentils are cooking. Not only will your chunks of squash stay more intact in the final soup, the roasting process brings a delicious caramelized flavor to the squash which is really delicious here.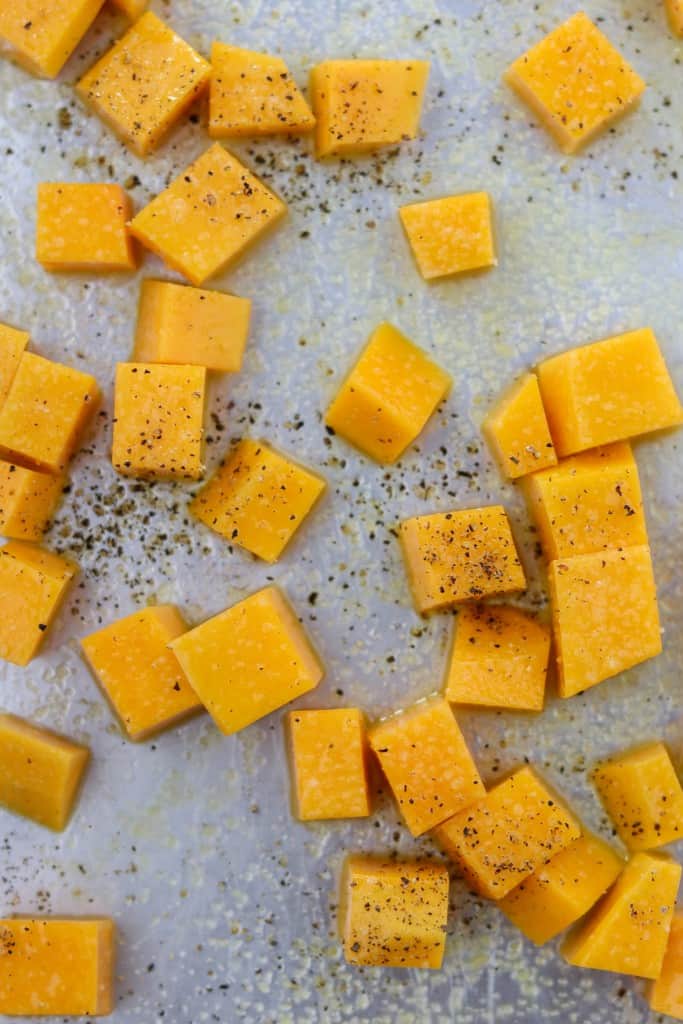 If you are in need of a little self care, a little kind nurturing right now, I highly recommend finding your way into the kitchen and preparing a pot of this Hearty Lentil Soup with Roasted Butternut Squash and Bacon. Add some fresh bread and butter and maybe a salad and you have the perfect autumn meal. And this soup reheats beautifully! Simply store in the refrigerator for a few days and warm some on the stove for lunches throughout the week. It even freezes well for longer storage.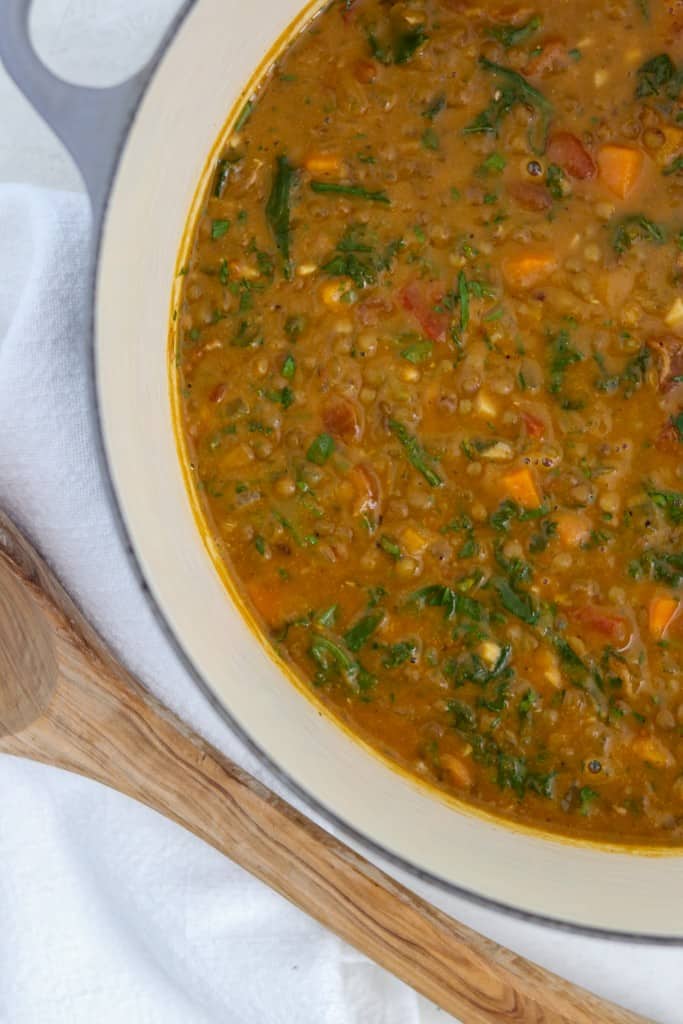 If you make this soup, please let me know in the comments below! I'd love to hear what you think. Looking for other delicious, warming soups to try? I've got a few really great recipes here on the blog: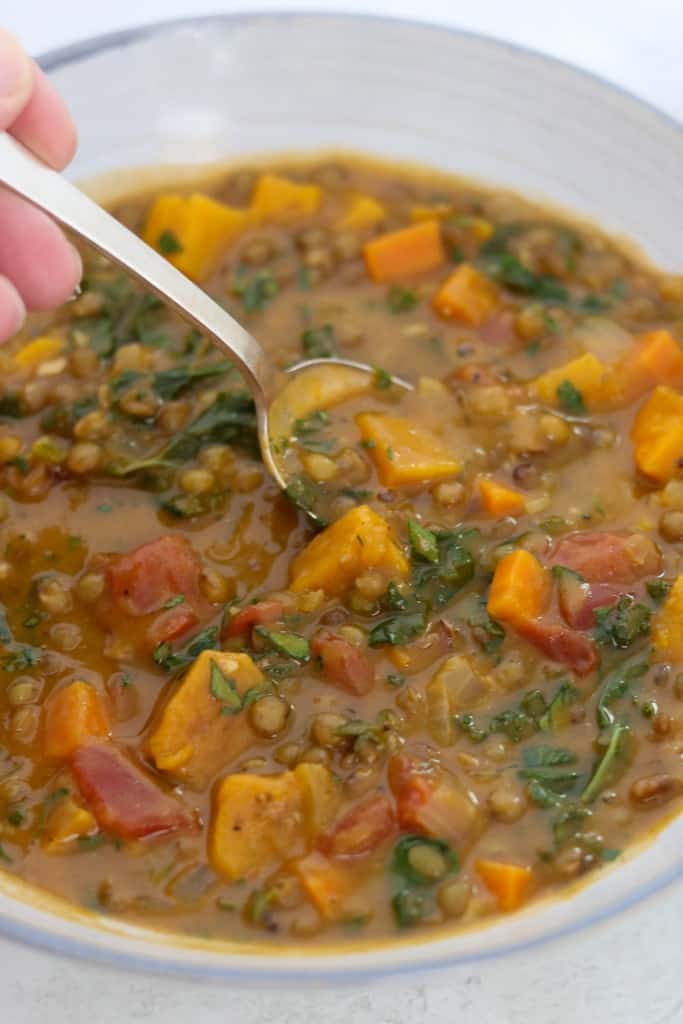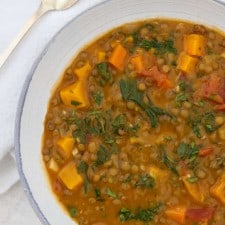 Hearty Lentil Soup with Roasted Butternut Squash, Kale and Bacon
A nourishing and soul warming lentil soup with roasted butternut squash, kale and bacon.  Perfect for chilly fall evenings!
Print
Pin
Rate
Ingredients
1

medium butternut squash

peeled and cut into ¾ inch cubes

2

tablespoons

olive oil

Coarse salt and freshly ground pepper

3

slices

bacon

cut into ¼ inch pieces

1

large onion

chopped fine

2

carrots

peeled and chopped medium

3

cloves

of garlic

minced

1 14.5

ounce

can of diced tomatoes

drained

2

teaspoons

chopped fresh thyme

1

cup

French green lentils

picked over and rinsed

1

bay leaf

½

cup

dry white wine

4

cups

low-sodium chicken broth

2

cups

water

3 ½

cups

kale leaves

chopped

2

teaspoons

sherry vinegar

3

tablespoons

chopped fresh parsley
Instructions
Preheat the oven to 400 degrees.  Place cubed squash on a rimmed baking sheet and toss with olive oil.  Season with salt and pepper.  Transfer to the oven and roast until squash is tender and beginning to brown, about 35-40 minutes.  Set aside.

Meanwhile, heat the bacon in a large saucepan or dutch oven over medium heat.  Cook until brown and crisp, about 5 minutes.  Add onion, carrots, garlic and thyme.  Saute until the onion is translucent and the carrots are beginning to soften, about 3 minutes.  Add the lentils and the wine and cook until the wine is almost completely reduced, about 1 minute.  Add tomatoes, bay leaf, chicken broth and water.  Bring to a boil and then reduce to simmer.  Cook until lentils are tender, about 35-40 minutes.

Remove 2 cups of the soup from the pot and transfer it to a blender or food processor.  Blend until smooth and return to the pot.

Add kale and continue to cook until the kale is tender, about 5-10 minutes more.  Gently stir in roasted squash, vinegar and chopped parsley.  Season to taste with salt and pepper.  Serve.
Nutrition
Calories:
463
kcal
|
Carbohydrates:
71
g
|
Protein:
23
g
|
Fat:
11
g
|
Saturated Fat:
2
g
|
Cholesterol:
1
mg
|
Sodium:
148
mg
|
Potassium:
2015
mg
|
Fiber:
21
g
|
Sugar:
11
g
|
Vitamin A:
31400
IU
|
Vitamin C:
135
mg
|
Calcium:
289
mg
|
Iron:
8
mg