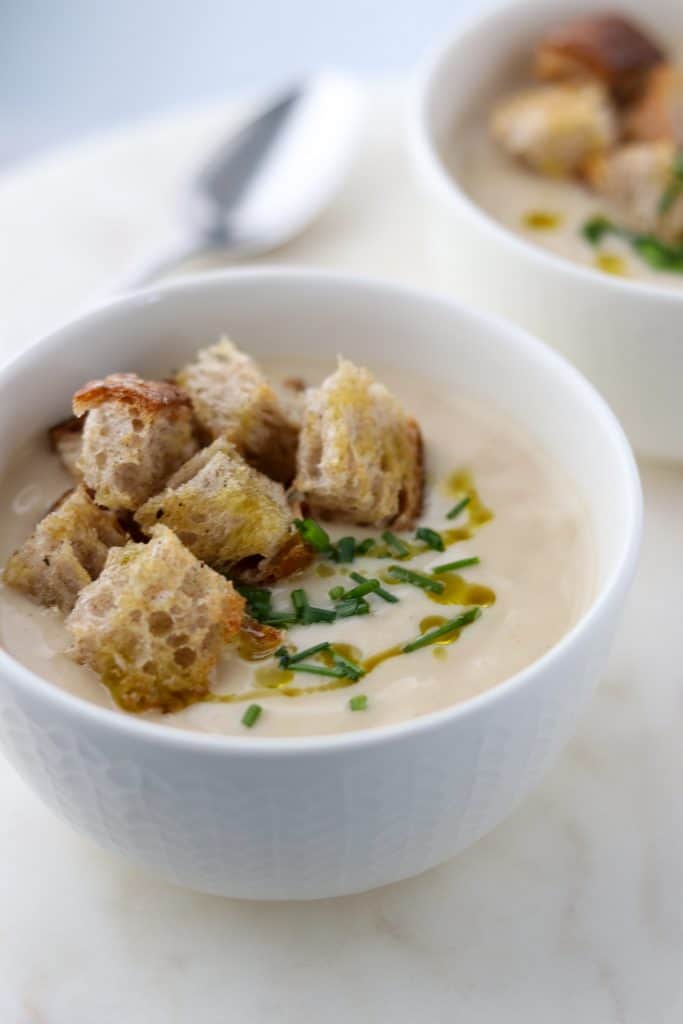 I love creamy vegetable soups, and I have a few favorites that I rotate throughout the year depending on what is in season. This Roasted Cauliflower Soup is one that I make throughout fall and winter, and it's definitely something I look forward to when the weather begins to turn chilly.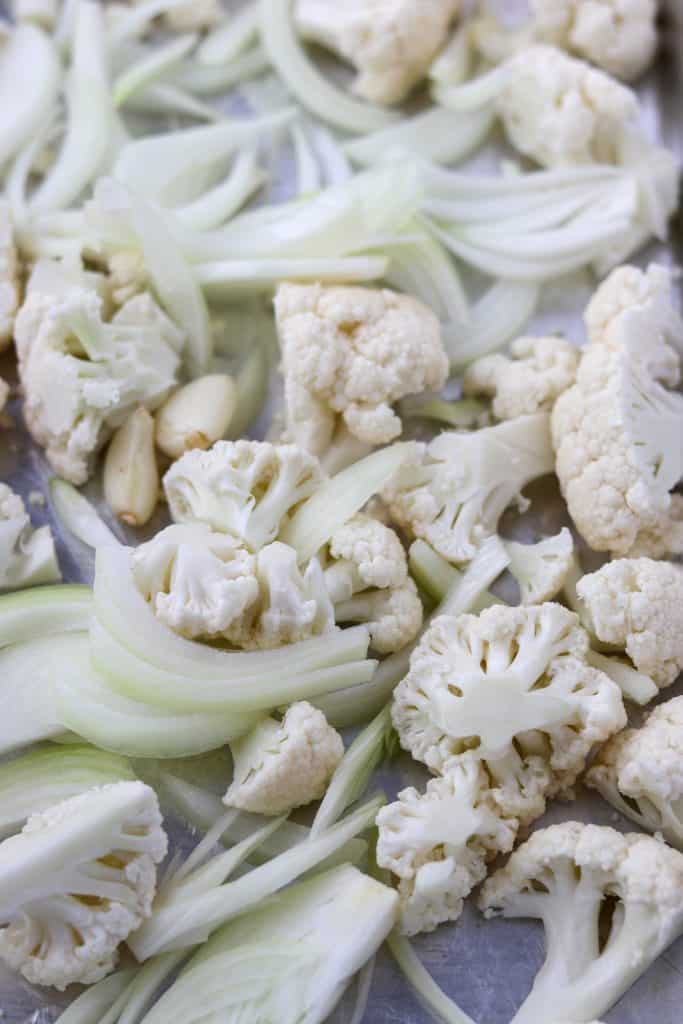 Cauliflower is definitely having a moment. What was once a boring, bland vegetable for the crudité tray is now the darling of the culinary world. People make it into rice and use it to make pizza crust. Who knew that was even possible? And possibly the most important advancement in cauliflower cookery.....ROASTING. Yes, the high heat of the oven works its transformative magic on cauliflower, coaxing out a toasty sweetness from this otherwise mild-flavored vegetable.
Roasting = Flavor
As I began developing the recipe for this Roasted Cauliflower Soup, I began to wonder if the roasting step was actually necessary. There are plenty of recipes for cauliflower soup that simply call for sautéing aromatics in olive oil or butter and then simmering the cauliflower florets in broth prior to pureeing the soup. This seemed appealing and straightforward so I decided to give it a try.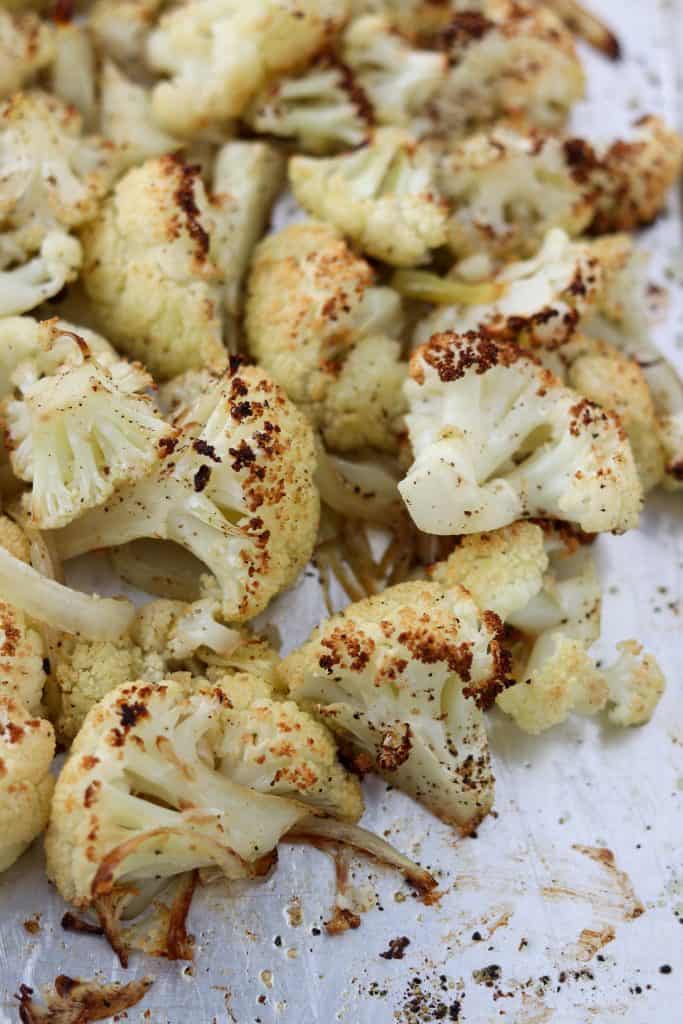 You've probably already guessed the results of my experiment...the toasty depth of the roasted cauliflower was sorely missed and the soups was, well, kind of bland and boring. The takeaway: Roast your cauliflower. And while you're at it you might was well add the onion and garlic to the sheet pan as well! This eliminates the extra step of sautéing the aromatics prior to adding the broth and roasted cauliflower to the pot. And as we already know, roasting = flavor.
Add Rice for a Creamy Texture
Finally, I wanted my Roasted Cauliflower Soup to be creamy. I tried a few different versions that called for cream or butter to finish the soup, but I just didn't love the way the dairy muted the flavor of the roasted cauliflower. And then I remembered a little trick I picked up in culinary school for thickening vegetable soups: add a couple of tablespoons of rice to the broth and vegetables as they simmer. After a trip through the blender, this modest amount of rice provided luxurious, creamy body to the soup without any dairy at all. I most definitely had a a winner of a soup at this point, and it was surprisingly dairy-free and vegan!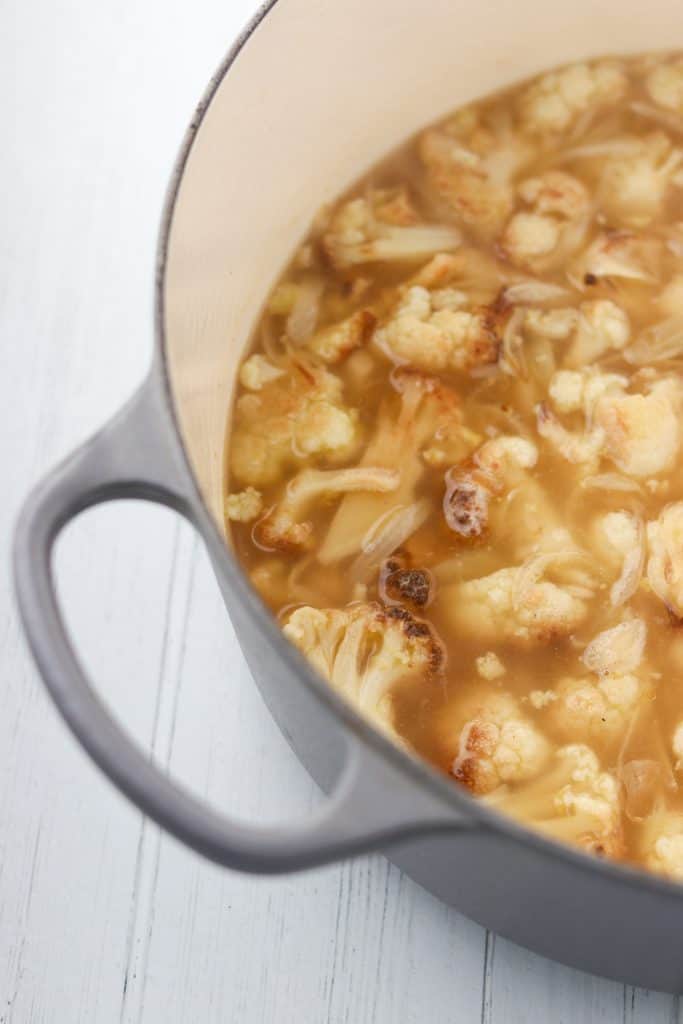 Keep the Garnishes Simple
But how to garnish it? I tried several options, including a parsley-caper relish (overpowering) and toasted rye breadcrumbs (couldn't get them quite crisp enough). I finally decided to keep it simple and toss some cubes of sourdough bread in olive oil, salt and pepper and toast them in the oven (it was already on, after all). This, along with a drizzle of olive oil and a sprinkle of chopped chives, was just what the soup needed to finish it off with a little something crispy, colorful and satisfying. If you happen to have a loaf of Danish Oat Bread or Chive Ricotta bread, either one would make fabulous croutons!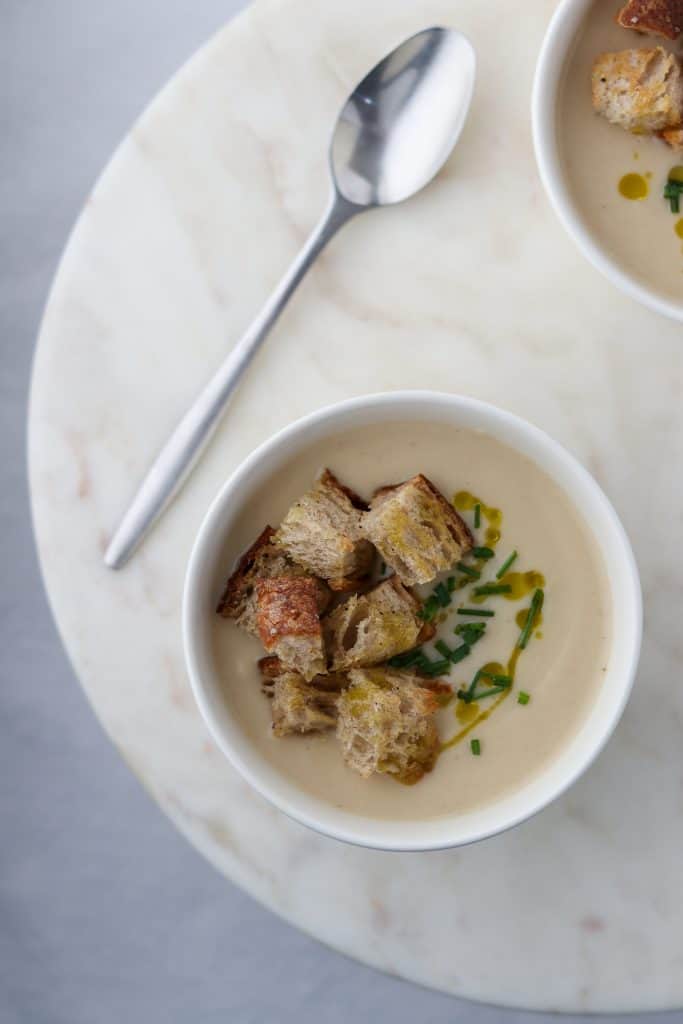 I hope you give this soup a try! You can probably just squeeze it in before spring arrives in earnest. It makes an excellent light supper any night of the week.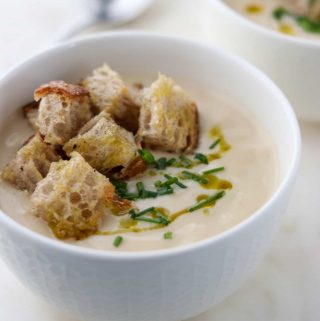 Creamy Roasted Cauliflower Soup
An easy and delicious roasted cauliflower soup.  Creamy, full of flavor and dairy-free!
Print
Pin
Rate
Ingredients
For the Soup:
3

tablespoons

extra-virgin olive oil

plus more for drizzling

1

onion

sliced

1

large head cauliflower

cored and cut into 1 inch pieces

3

garlic cloves

smashed

4

cups

vegetable or low-sodium chicken broth

2

cup

water

2

tablespoons

white rice

1

bay leaf

Coarse salt and freshly ground pepper

1

tablespoon

freshly squeezed lemon juice

Croutons and chopped fresh chives for serving
For the Croutons:
2

cups

of bite-size bread cubes

I like sourdough or a rustic country loaf

1

tablespoon

extra-virgin olive oil

Coarse salt and freshly ground pepper
Instructions
Preheat oven to 425 degrees.  Toss onion, cauliflower and garlic with olive oil and a sheet pan.  Season with salt and pepper. Roast vegetables until tender and caramelized, stirring occasionally, about 30-35 minutes.

Transfer roasted vegetables to a dutch oven or large saucepan.  Add broth, water, rice and bay leaf. Bring to a boil and reduce to a simmer.  Continue to cook until rice is tender, about 20 minutes.

While the soup simmers, make the Croutons. Toss bread cubes with olive oil on a rimmed baking sheet. Season with salt and pepper. Bake until toasty golden brown, about 7-9 minutes. Remove from the oven and set aside.

Remove bayleaf from the soup.  Puree soup in two batches in a blender until smooth (or use an immersion blender if you have one).  Return soup to pot.

Bring soup back to a simmer over low heat.  Add lemon juice and season to taste with salt and pepper.  Serve with Croutons, a drizzle of olive oil and a shower of chopped fresh chives.
Nutrition
Calories:
315
kcal
|
Carbohydrates:
33
g
|
Protein:
11
g
|
Fat:
17
g
|
Saturated Fat:
3
g
|
Sodium:
267
mg
|
Potassium:
733
mg
|
Fiber:
5
g
|
Sugar:
6
g
|
Vitamin C:
73
mg
|
Calcium:
94
mg
|
Iron:
2
mg