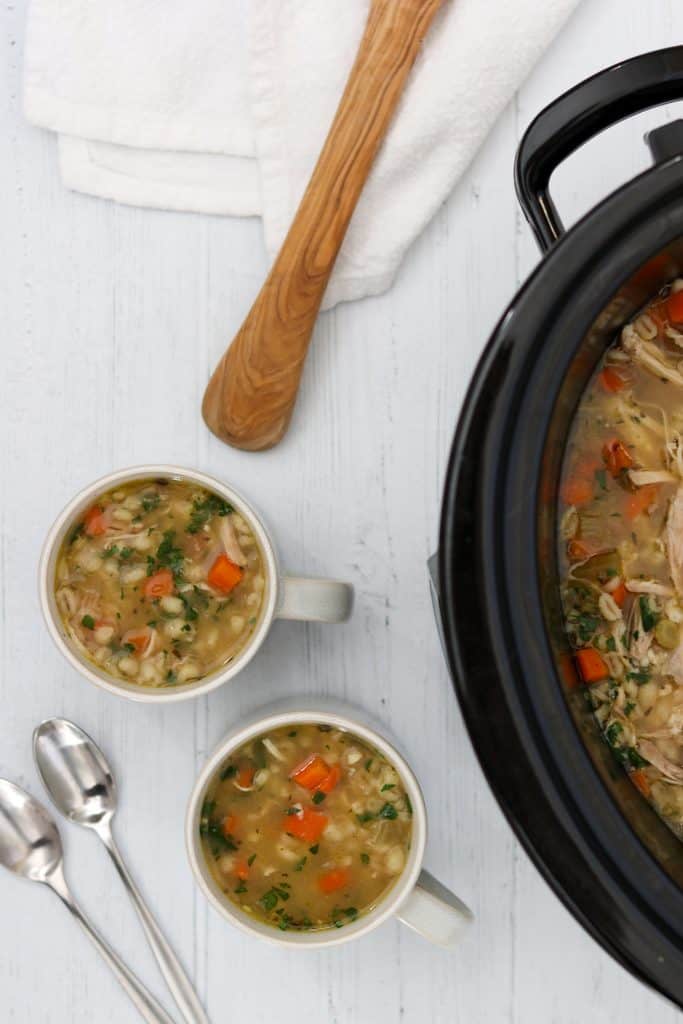 I've tried many recipes for homemade chicken soup over the years, some streamlined and simple, others more complicated and time consuming. This Cozy Slow Cooker Chicken and Barley Soup is most definitely in the easy category and yet it is consistently my hands down favorite; the one I return to again and again each fall and winter when the temperature drops and we are all in need of a little warming up, inside and out.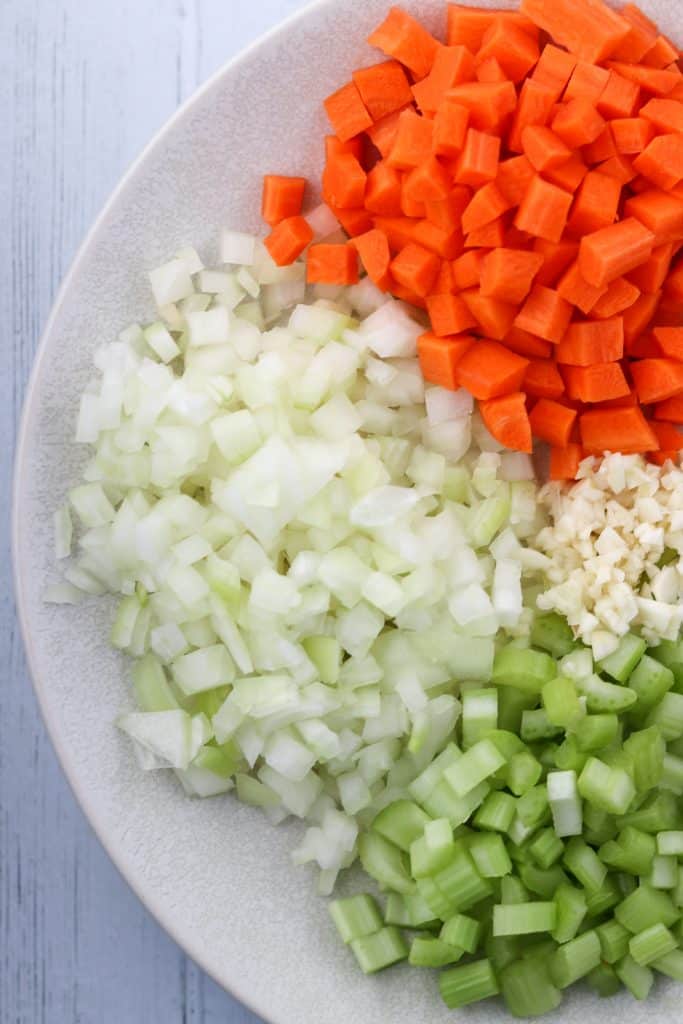 I call this Cozy Slow Cooker Chicken and Barley Soup for a reason. It's honestly one of the coziest meals I know. Hygge in a bowl. When we need something soul-warming and comforting for dinner (and BONUS...something I can make ahead), I turn to this easy, delicious and satisfying soup. Add a crusty loaf of bread and dinner is done. What more can you ask for?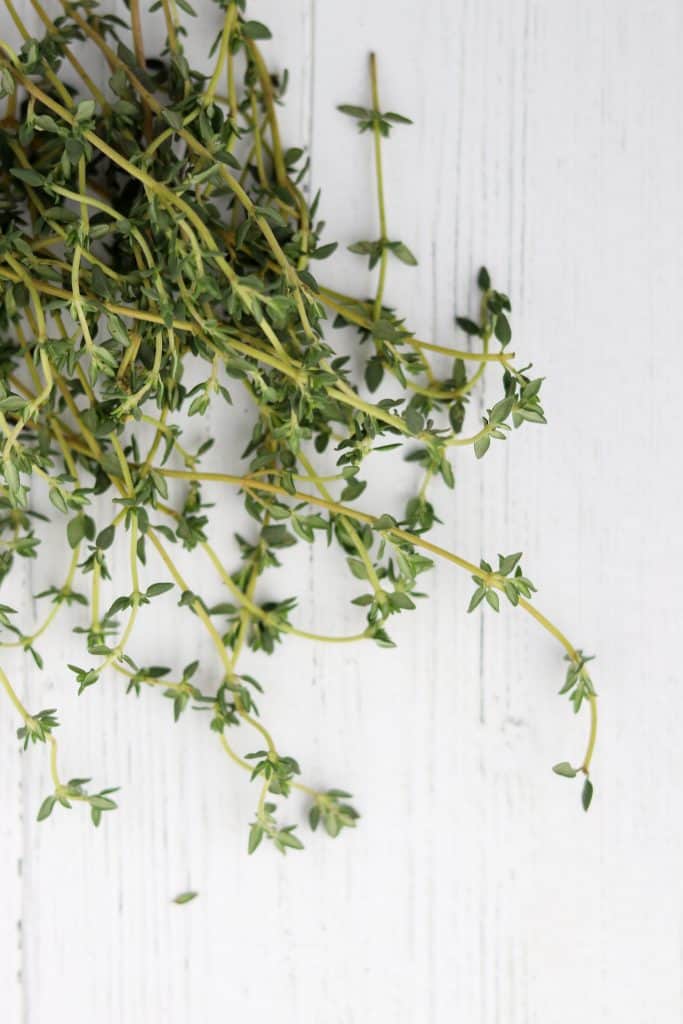 One of the things I love about this Cozy Slow Cooker Chicken and Barley Soup is how straightforward the recipe and the flavors are. It is simply a good, old-fashioned chicken soup seasoned with thyme and bay leaf and the aromatics you might expect: onion, garlic, carrot and celery. But far from being boring, this nourishing and comforting soup is a delicious example of why simple is sometimes best.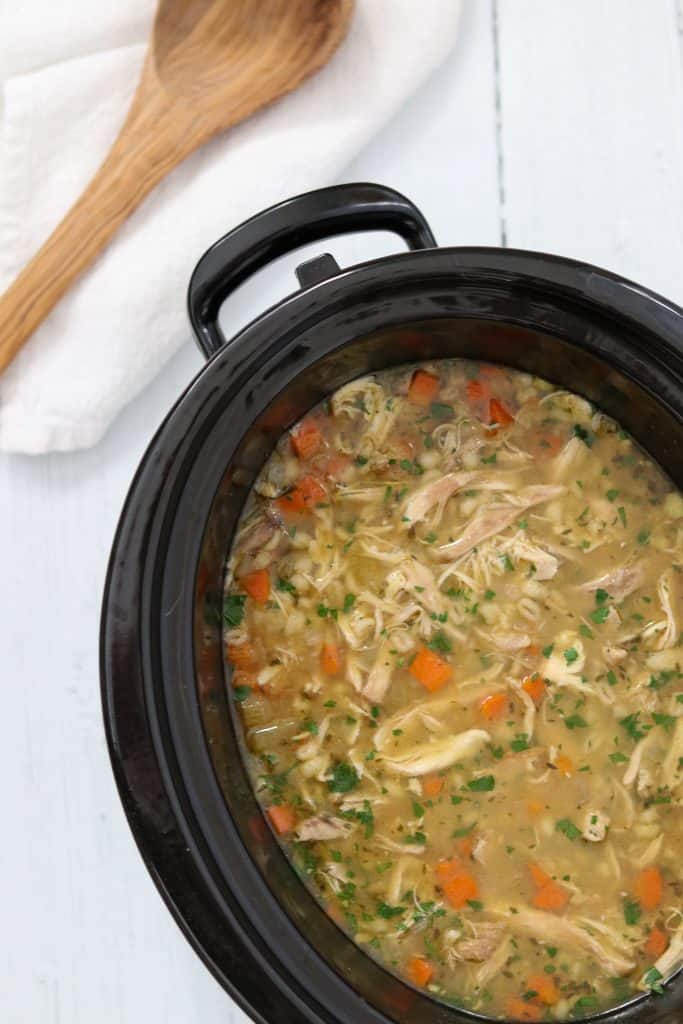 Tips for Excellent Slow Cooker Chicken Soup
I've got just a few tips and tricks fro ensuring that your chicken soup is the very best it can be:
Choose bone-in chicken thighs. This recipe uses bone-in chicken thighs which are an excellent choice for a slow-cooker soup. Thighs can withstand a relatively long cooking time and still remain moist and tender. The meat shreds beautifully and easily. The bones also bring flavor to the broth as it simmers giving the soup a rich, homemade flavor.
Trim any excess skin and fat from the thighs. One of the reasons chicken thighs make an excellent and tender choice for this soup is that they naturally contain a higher fat content than chicken breasts. This is a wonderful thing for both texture and flavor, but to prevent the soup from becoming excessively greasy, trim any excess skin or fat from your chicken thighs prior to cooking.
Sear the chicken thighs prior to adding them to the slow cooker. This not only adds flavor, it also renders some of the fat from the skin prior to adding the chicken to the soup.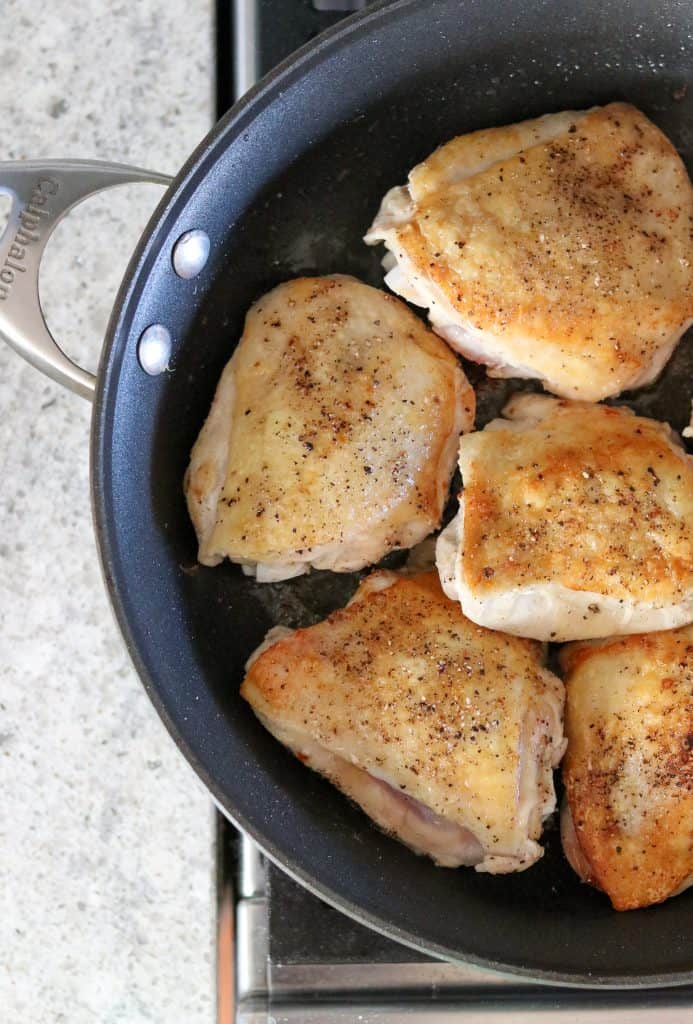 Sauté the aromatics prior to adding them to the slow cooker. Cooing the onion, carrot, celery and garlic in a little of the leftover chicken fat before adding them to the soup adds tremendous flavor and is a step worth taking.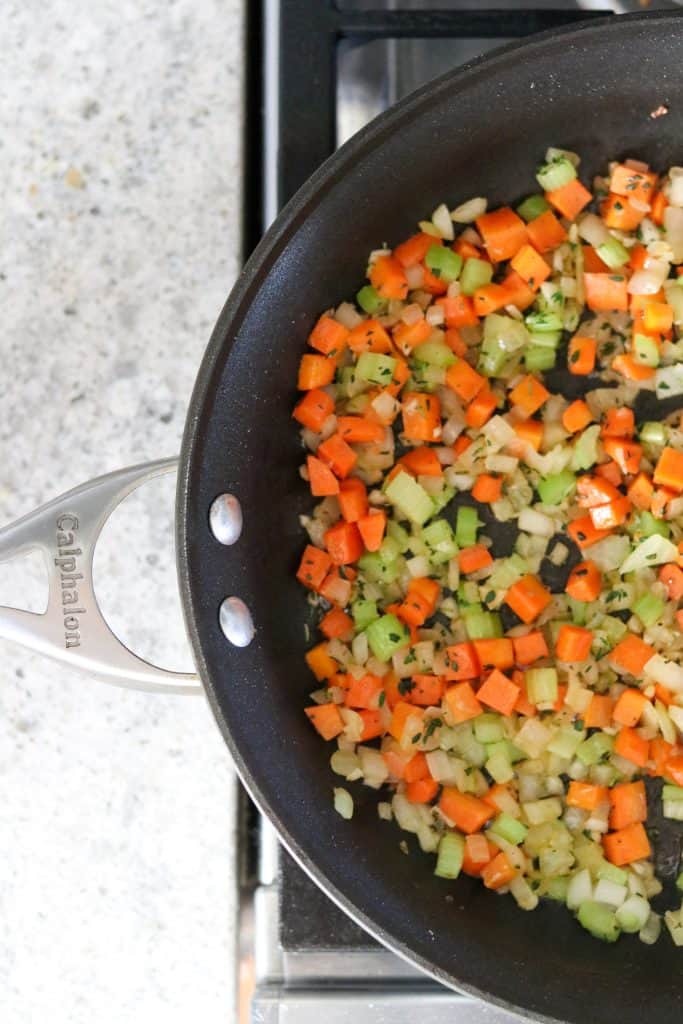 Skim any excess fat off of the top of the soup with a spoon. Before you add the shredded chicken back to the pot, take a moment to skim any excess fat off the surface of the soup. Again, this helps prevent the soup from being greasy.
SEASON TO TASTE. I can't stress this one enough. One of the biggest mistakes home cooks make is failing to season their food properly. TASTE THE SOUP WHEN IT IS DONE. Does it have enough salt? Probably not. Add some and taste again. Continue this process until you are genuinely pleased with the final result. We all have a different idea of how much salt is enough, so it's important to let your own tastebuds guide you to that perfect amount.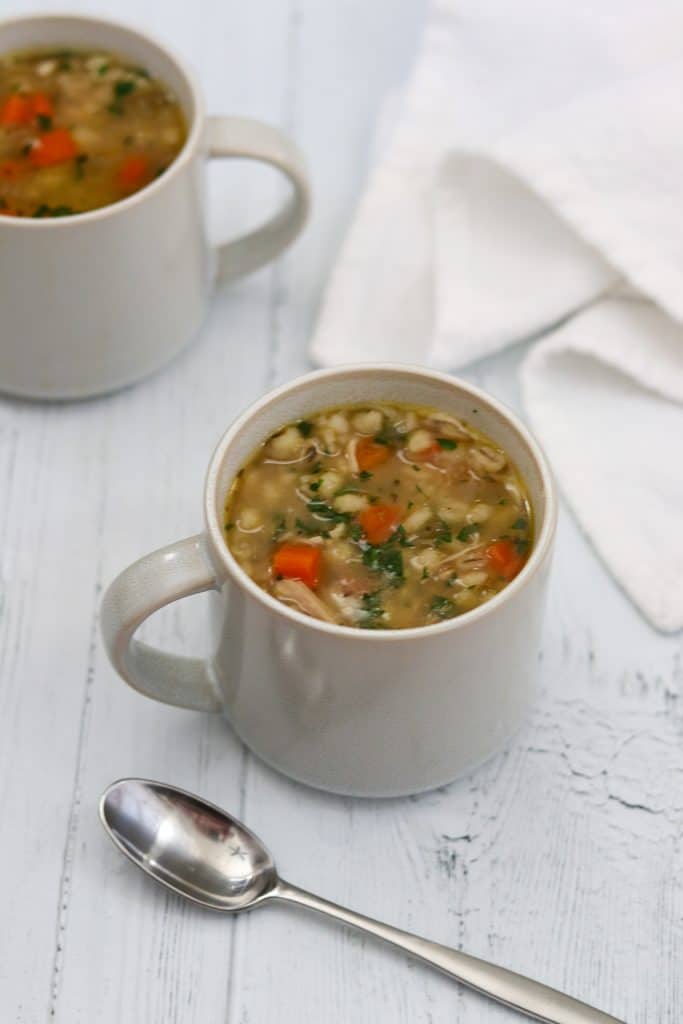 The only special equipment you'll need to make this recipe is a slow cooker. Mine is the Crock-Pot brand which I've found to be relatively inexpensive and reliable. Just make sure yours as at least 6 quarts in size as this makes a large batch of soup. And go ahead and freeze the leftovers if you like! The flavors just get better with time (the barley will expand as the soup cools causing it to thicken up a bit).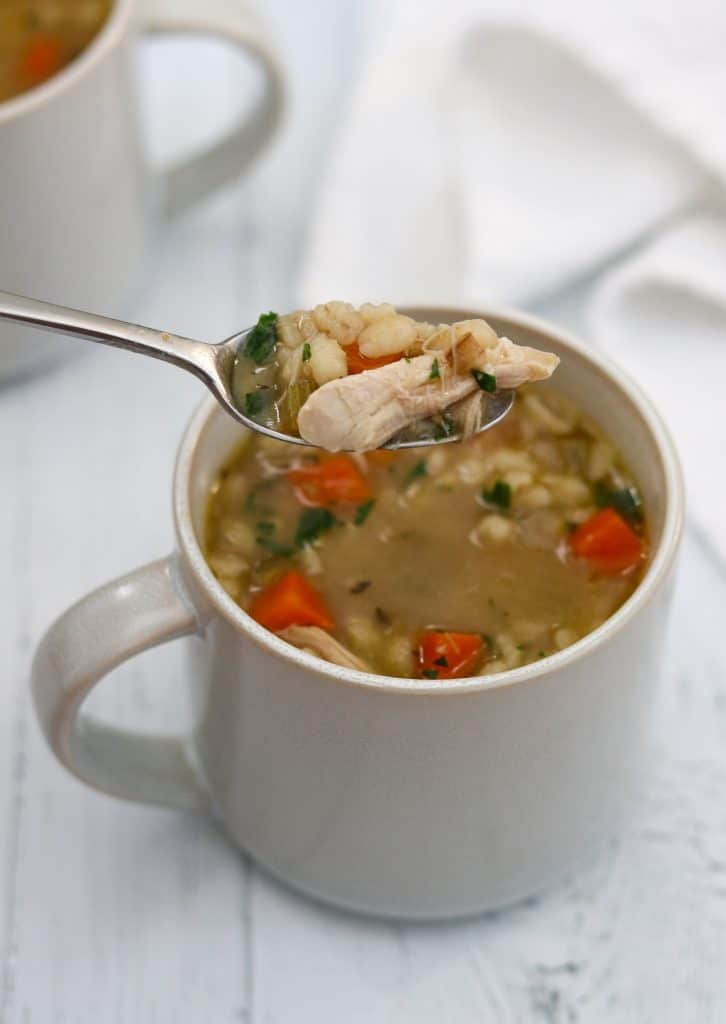 I encourage you to give this Cozy Slow Cooker Chicken and Barley Soup a try before spring arrives! I know the groundhog didn't see his shadow, but I'm betting we still have a few more weeks of soup and stew weather ahead. And remember to leave me a comment if you do! I always love hearing from you.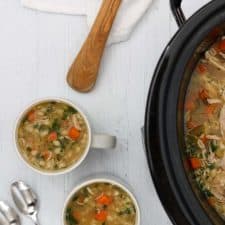 Cozy Slow Cooker Chicken and Barley Soup
A delicious and easy chicken and barley soup recipe designed for the slow cooker. Nourishing and comforting, this chicken soup is the perfect cozy meal for a cold winter's night.
Print
Pin
Rate
Ingredients
1

teaspoon

canola oil

6-8

bone-in chicken thighs

about 2 ½-3 pounds, trimmed of excess skin and fat

Coarse salt and freshly ground pepper

1

onion

diced small

2

carrots

diced medium

2

stalks of celery

diced medium

3

garlic cloves

minced

2

teaspoons

chopped fresh thyme

¼

cup

dry white wine

7

cups

low-sodium chicken broth

¾

cup

pearl barley

1

bay leaf

1

tablespoon

soy sauce

1

tablespoon

fresh lemon juice

3

tablespoons

chopped Italian parsley
Instructions
Heat oil in a large skillet over medium-high heat.  Season chicken thighs on both sides with salt and pepper and place skin side down in the skillet.  Cook until skin is golden brown, about 5 minutes. Flip the thighs over and continue to cook until golden brown on the other side, about 2-3 minutes.  Transfer thighs to the slow cooker.

Pour off all but 1 tablespoon of fat from the skillet.  Add onion, carrots, celery and garlic and cook over medium heat until vegetables have softened slightly, about 2-3 minutes.  Add thyme and wine and continue cooking, scraping up any browned bits on the bottom of the skillet, until wine has almost completely evaporated, about 1-2 minutes.  Add 3 cups of broth and bring to a boil. Transfer vegetables and broth to the slow cooker.

Add remaining 4 cups broth, pearl barley, bay leaf and soy sauce to the slow cooker.  Cook on high for 3 hours.

Remove chicken thighs from the slow cooker and, using tongs and a fork, shred chicken into bite-sized pieces discarding the skin and the bones.  Skim any excess fat from the surface of the soup. Return shredded chicken to the slow cooker. Add lemon juice and parsley and season to taste with salt and pepper.  Serve.
Notes
Adapted from Cook's Country magazine
Nutrition
Calories:
486
kcal
|
Carbohydrates:
28
g
|
Protein:
32
g
|
Fat:
27
g
|
Saturated Fat:
7
g
|
Cholesterol:
142
mg
|
Sodium:
382
mg
|
Potassium:
735
mg
|
Fiber:
5
g
|
Sugar:
3
g
|
Vitamin A:
3756
IU
|
Vitamin C:
9
mg
|
Calcium:
53
mg
|
Iron:
3
mg