These aren't your grandmother's pickled beets! Roasted rather than boiled and QUICK PICKLED in a spicy brine, these Spicy Quick Pickled Beets are a deliciously modern take on a very old-fashioned recipe.
The best part? This recipe is incredibly easy.....roasted beets (a completely hands off cooking process) are immersed in a simple brine that comes together effortlessly. Let them sit for 30 minutes and they are ready to go!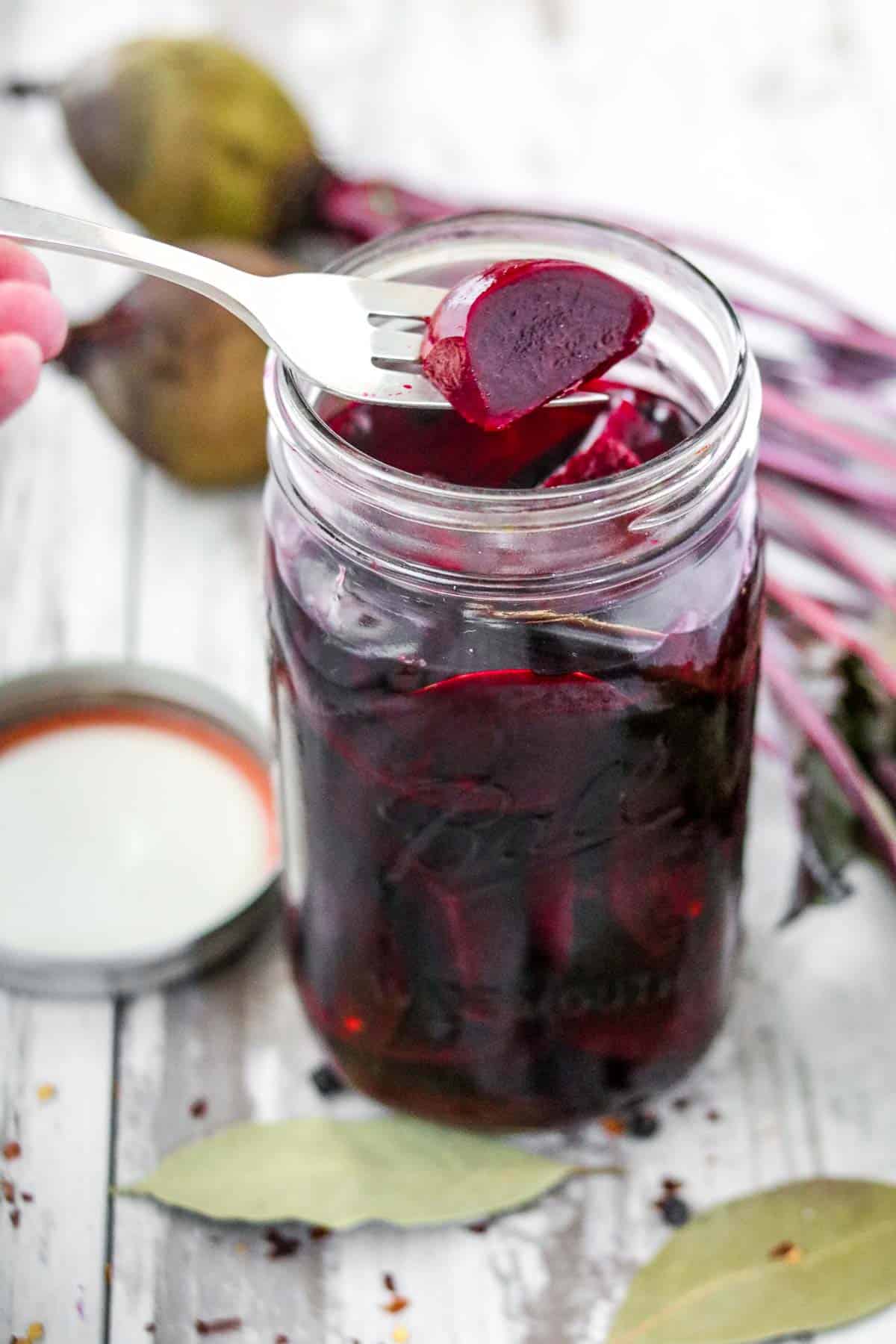 The Story Behind This Recipe
Pickled beets have long been a Scandinavian food staple. My Norwegian grandmother canned many batches of them each fall so that they might be enjoyed on their southwestern Minnesota farm through the cold winter months. These pickled beets were the only form of beets we ate growing up and to be honest, I was not a fan.
My love for beets came later in life when I went to culinary school. I learned how to roast them in a hot oven, caramelizing their exterior and accentuating their earthy sweetness. I learned how to shred and sauté them in olive oil and fresh herbs, finishing them with a little tarragon vinegar. And since that first cooking class, over 20 years ago, I have also learned to eat them shredded and raw in salads and on sandwiches, juice them, puree them in smoothies and roast them whole. And I have loved beets in all of these forms. So why not pickled beets? I decided it was time to revisit them and create my own recipe.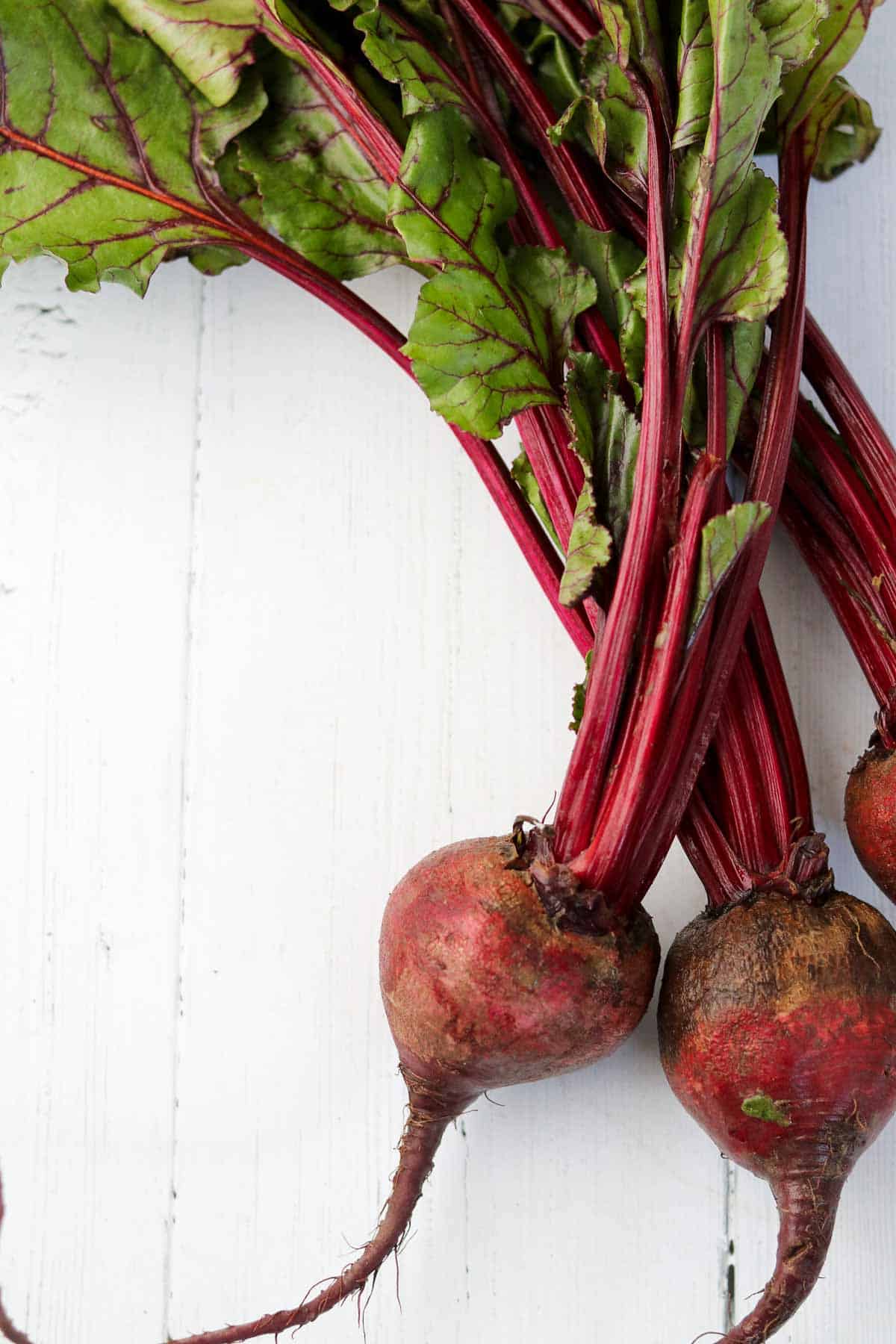 Why This Recipe Works
The beets are roasted rather than boiled prior to pickling. This method greatly improved the texture of the pickled beets: pleasantly firm and not at all mushy. And roasting is such an easy, hands-off method. Just drizzle the beets with olive oil and wrap them in foil. They practically cook themselves.
The brine contains a modest amount of sugar. Some recipes for pickled beets contain a lot of sugar. But because beets are so naturally sweet on their own, they really don't need much to enhance their subtle sweetness.
The recipe includes the right combination of spices. The spices I've chosen for my Spicy Quick Pickled Beets are some of the Scandinavian classics....bay leaf, peppercorns, all spice berries and juniper berries. The final and surprising addition of red pepper flakes is just the thing to make these pickled beets a real stand-out: traditionally spiced with just a hint of heat.
Quick pickling for the win! For my Spicy Quick Pickled Beets, I wanted an easy recipe I could throw together without it becoming a day-long production. Quick pickling provides that kind of ease and immediacy. No giant vats of boiling water, sterilizing of jars or worrying about whether you've managed to achieve a proper seal. The only drawback is that quick pickled beets are not designed for long-term storage. They are intended to be stored in the refrigerator and polished off within a couple of weeks. But trust me, that won't be a problem.
The Ingredients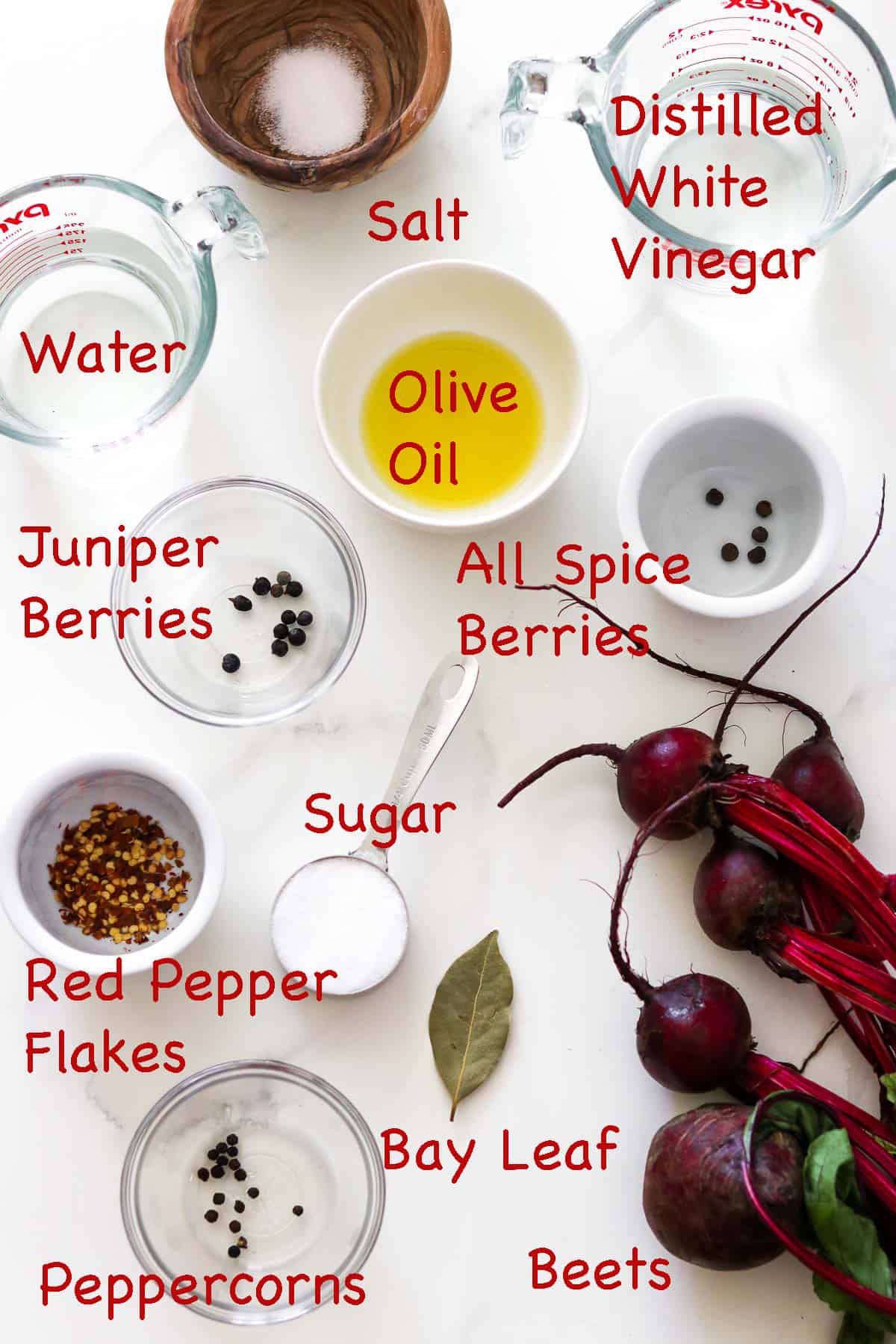 Red or golden beets. Either variety is delicious in this recipe!
Distilled white vinegar and water provide the tangy base of the brine.
Sugar (but not too much!) offers just the right amount of sweetness to the vinegar-y brine.
Peppercorns, juniper berries, allspice berries and a bay leaf are a delicious mix of Nordic-inspired spices that serve as a flavorful backdrop to these pickled beets.
Red pepper flakes are that secret ingredient that gives this recipe big, SPICY personality.
How to Make this Recipe
Preheat the oven to 400 degrees. Trim and scrub the beets and place them on a large piece of aluminum foil. Drizzle them with olive oil and season with salt and pepper. Wrap them tightly in the foil and roast until tender, about 45 minutes to an hour. Larger beets will take longer to roast than smaller ones.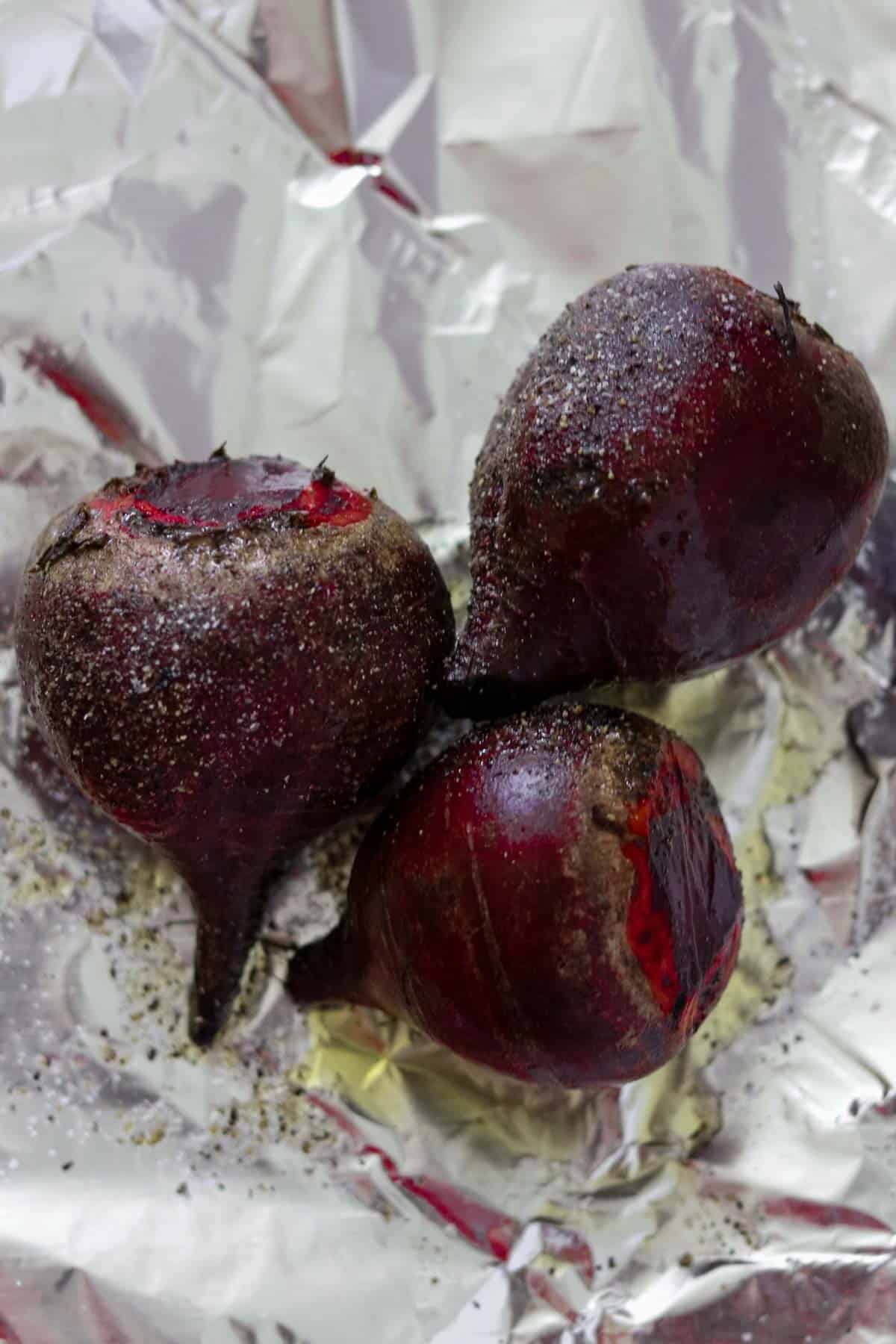 Remove the roasted beets from the oven, open the package and let them cool slightly. Once the are cool enough so that you can touch them with your hands, Remove the skin (this is easily done by rubbing the beets with a dry paper towel) and cut the beets into wedges (or rounds or cubes or whatever shape you prefer). Transfer the cut beets to a quart-sized Mason jar.
Add the water, vinegar, spices, sugar and salt to a medium sauce pan. Bring the mixture to a simmer over medium heat and then carefully pour it into the jar with the roasted beets.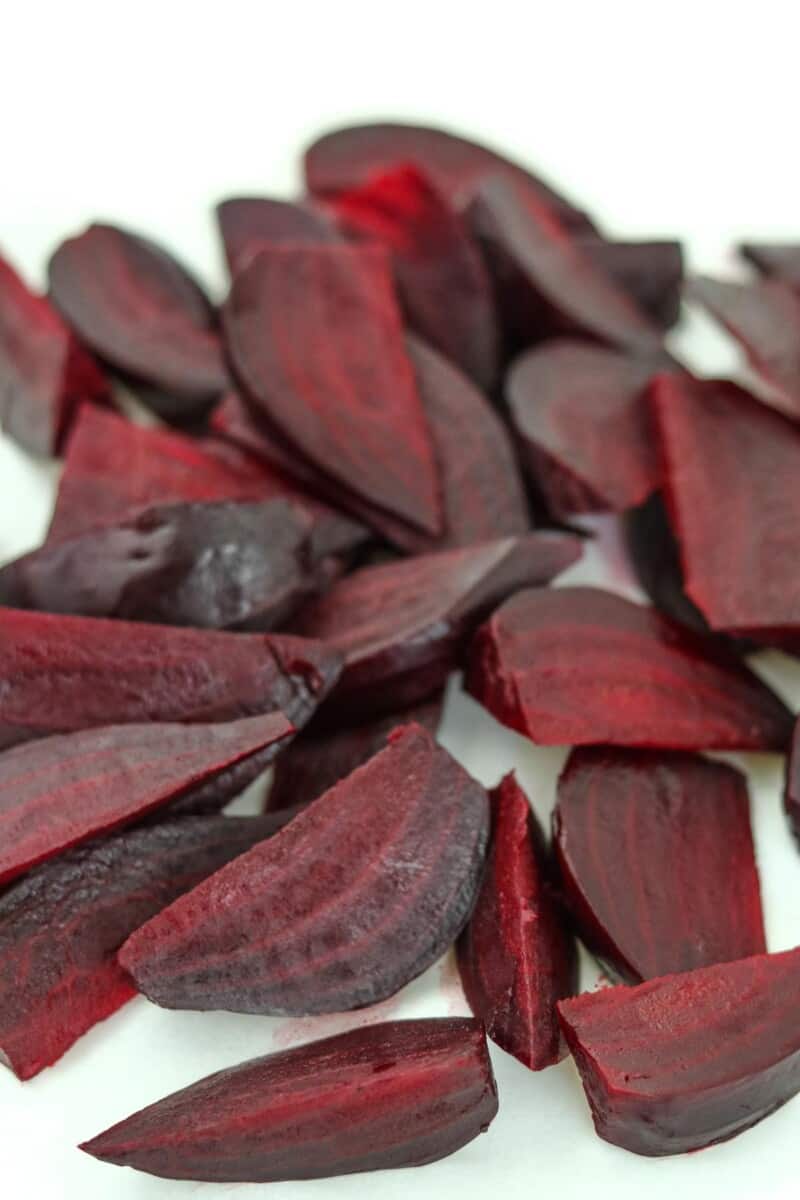 Let the beets sit for at least 30 minutes before serving. If you are not eating them immediately, cover the jar tightly with a lid and place them in the refrigerator until you are ready to enjoy them. They will last for a couple of weeks as long as you keep them refrigerated.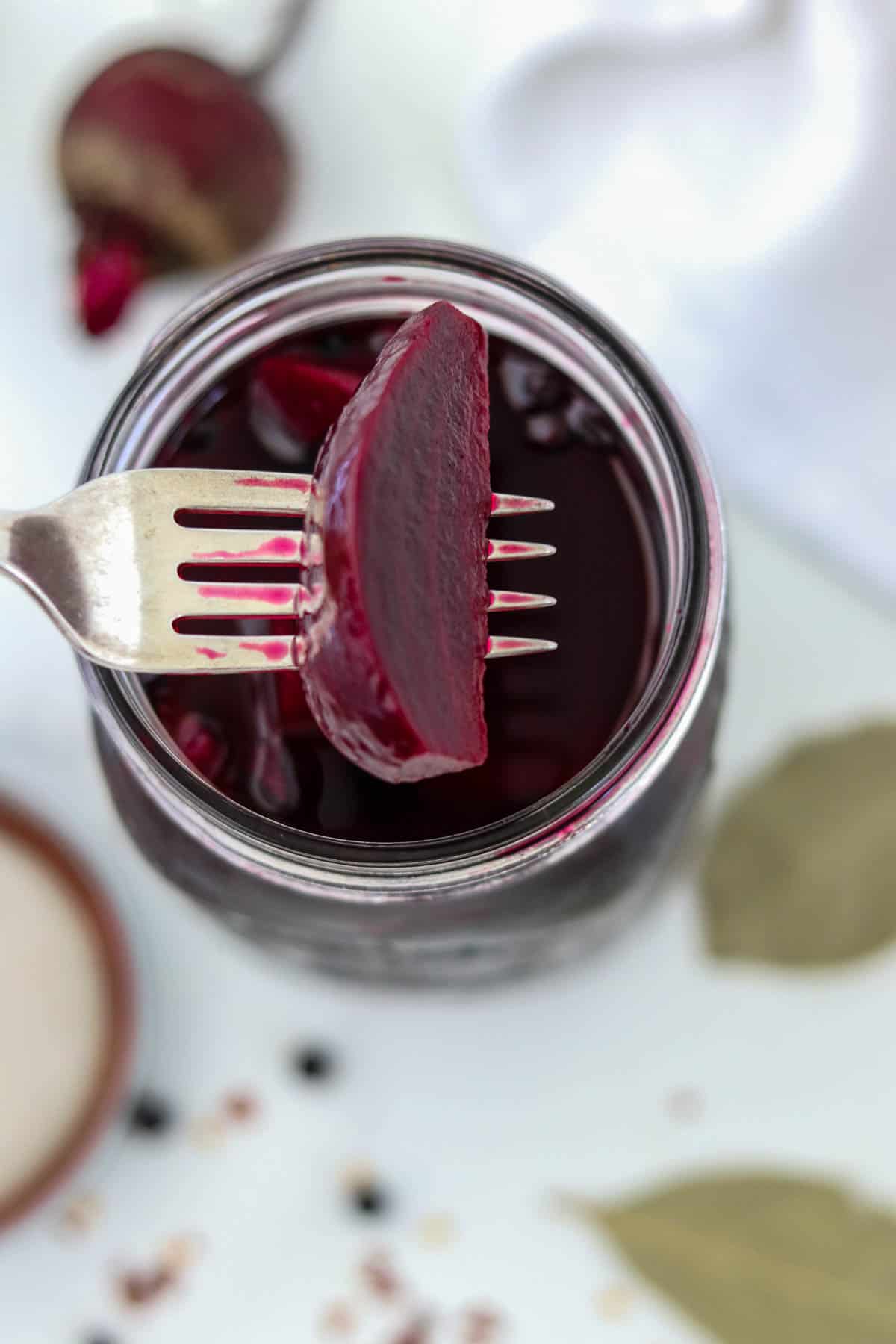 Expert Tips
To check if your beets are tender, slide a small, sharp knife into the center of the beet. It should go and in and out easily with little resistance.
If you are having trouble getting the skin off of the roasted beets using a paper towel, simply switch to a vegetable peeler. That works, too.
Be sure to let the beets sit in the brine for at least 30 minutes before enjoying. They need time to pick up all of the flavors of the spices, vinegar and sugar. Covering the beets and moving them to the refrigerator for a few hours or overnight is even better!
Eat within a couple of weeks! These are not traditionally canned pickled beets so they don't have a shelf life like those do. They are meant to be enjoyed in the next 10-14 days.
FAQs
How do I store these Spicy Quick Pickled Beets?
Store these pickled beets in a tightly sealed jar in the refrigerator for up to two weeks.
I don't like spicy foods! Can I leave the red pepper flakes out?
Absolutely! You will have a much more traditionally-flavored pickled beet instead which is also delicious and not at all spicy.
How do I eat pickled beets?
Keep reading below for some ideas for putting these Spicy Quick Pickled Beets to work in your own kitchen!
How to Enjoy Pickled Beets
Pickled beets make a nice accompaniment to just about anything.....roasted meats, salmon, legumes (especially lentils), salads, on avocado toast (yes! Try it.).....I could go on. Check out these recipes from the blog that put these Spicy Quick Pickled Beets to good use:
Please give these Spicy Quick Pickled Beets a try, even if you don't think you like pickled beets. These just might change your mind!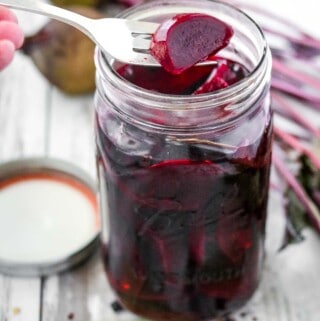 Spicy Quick Pickled Beets
Scandinavian style quick pickled roasted beets with a spicy kick! The perfect compliment for all manner of Nordic inspired dishes.
Print
Pin
Rate
Ingredients
12-16

ounces

small to medium-sized beets

Extra virgin olive oil for drizzling

1

cup

distilled white vinegar

1

cup

water

¼

cup

sugar

1

teaspoon

fine salt

5

allspice berries

10

juniper berries

10

peppercorns

1

bay leaf

½

teaspoon

dried chile flakes
Instructions
Preheat oven to 400 degrees.  Scrub and trim beets. Place beets on a large piece of foil and drizzle them with olive oil. Using your hands, rub oil onto the surface of the beets.  Fold foil over and seal the edges making a pouch. Place pouch on a baking sheet and transfer to oven. Roast beets for 45-60 minutes, or until tender when pierced with a knife.  Smaller beets will take less time than larger ones.

Remove beets from oven and open pouch.  Let cool before handling. Once the beets are cool enough to work with, rub the skin off with a paper towel and slice into ½ inch thick wedges.  Transfer to a quart sized mason jar.

Meanwhile, heat remaining ingredients over medium-low heat until simmering and sugar has dissolved.  Pour mixture into the jar with the beets. Allow to cool at room temperature. Cover and place in the fridge.  Consume beets within two weeks.
Nutrition
Calories:
36
kcal
|
Carbohydrates:
7
g
|
Protein:
1
g
|
Fat:
1
g
|
Saturated Fat:
1
g
|
Sodium:
219
mg
|
Potassium:
92
mg
|
Fiber:
1
g
|
Sugar:
6
g
|
Vitamin A:
34
IU
|
Vitamin C:
1
mg
|
Calcium:
6
mg
|
Iron:
1
mg
If you loved this recipe, give it a star review! Also, snap a picture of your Spicy Quick Pickled Beets and share it with me on Instagram using the hashtag #truenorthkitchen and tagging me @true_north_kitchen. I can't wait to see how you put them to use in your own kitchen!