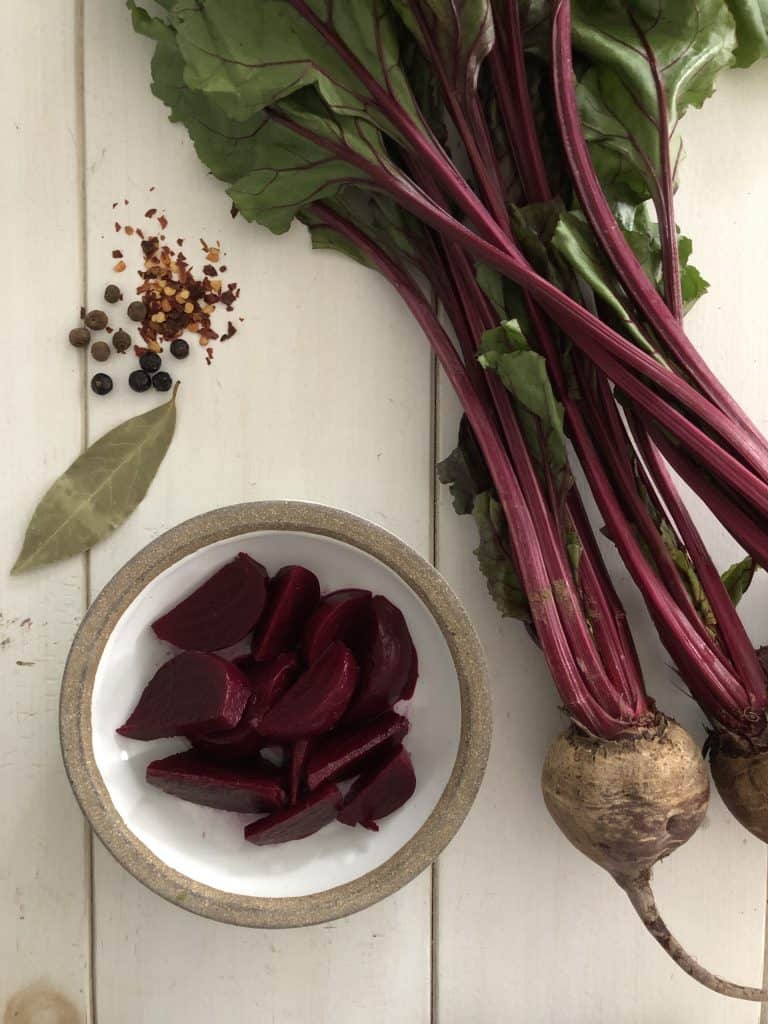 Pickled beets have long been a Scandinavian food staple. My Norwegian grandmother canned many batches of them each fall so that they might be enjoyed on their southwestern Minnesota farm through the cold winter months.
My mother would bring jars of pickled beets back with her when we visited the farm, and she would eat them as a little relish with all manner of dinners. I was not an early fan. When I went to my very first cooking school class, the instructor asked us to introduce ourselves and name our least favorite food. When it was my turn to share, I very quickly said beets, probably making a little disgusted face to go with it. The chef looked at me for a moment and then said, "I promise…you will like beets by the end of this class." And so it was. I learned how to roast them in a hot oven, caramelizing their exterior and accentuating their earthy sweetness. I learned how to shred and sauté them in olive oil and fresh herbs, finishing them with a little tarragon vinegar. And since that first cooking class, almost 20 years ago, I have also learned to eat them shredded and raw in salads and on sandwiches, juice them and roast them whole. And I have loved beets in all of these forms. So why not pickled beets? I decided it was time to revisit them.
First, I decided I wanted to do a quick pickle variation rather than traditional canning process. The whole sterilizing of jars business is a production and, quite frankly, intimidates me a little bit. So these pickled beets are not designed for long-term storage. They are intended to be stored in the refrigerator and polished off within a couple of weeks. Second, I wanted a firmer texture than what I was accustomed to growing up. After doing a fair amount of research, I found that most pickled beets are boiled prior to pickling. One recipe I found, Alton Brown's, called for roasting the beets instead. I thought that might improve the texture and decided to incorporate it into my own recipe. Finally, I began investigating the differences in the pickling brine itself. There were vastly different types and amounts of vinegar, spices and sugar in all of the recipes I researched. Because I feel that Nordic cuisine is meant to be simple in nature, I settled on a brine that called for good old-fashioned distilled white vinegar and a mere 1/4 cup of sugar. The spices I've chosen are some of the classics….bay leaf, peppercorns, all spice berries and juniper berries. One recipe that I found inLagom: The Swedish Art of Eating Harmoniouslyby Steffi Knowles-Dellner called for red chile pepper flakes. I couldn't get the idea of a spicy pickled beet out of my mind. The pepper flakes were in. The final result is a spicy, briny, not too sweet, firmly textured pickled beet, ready to be used in or alongside all manner of Scandinavian dishes.
Print
Spicy Pickled Beets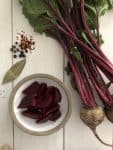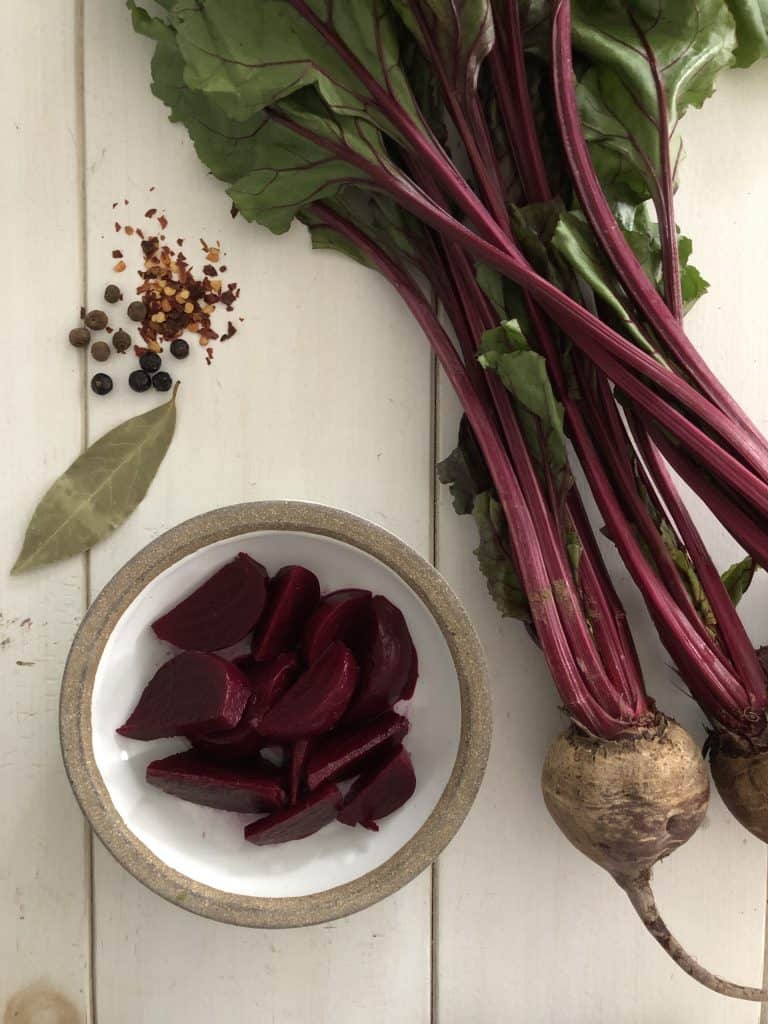 Pickled roasted beets with a kick!
Author:
Prep Time:

20 minutes

Cook Time:

45-60 minutes

Total Time:

1 hour 15 minutes

Yield:

12 ounce

s

1

x
Category:

Beets

Method:

Pickles

Cuisine:

Scandinavian, Nordic
Scale
Ingredients
12 ounces small to medium-sized beets
extra virgin olive oil for drizzling
1 cup distilled white vinegar
1 cup water
1/4 cup sugar
1 teaspoon coarse (kosher) salt
5 all spice berries
10 juniper berries
10 peppercorns
1 bay leaf
1/2 teaspoon dried chile flakes
Instructions
1.  Preheat oven to 400 degrees.  Scrub and trim beets.  Place beets on a large piece of foil and drizzle them with olive oil. Using your hands, rub oil onto the surface of the beets.  Fold foil over and seal the edges making a pouch.  Place pouch on a baking sheet and transfer to oven.  Roast beets for 45-60 minutes, or until tender when pierced with a knife.  Smaller beets will take less time than larger ones.
2.  Remove beets from oven and open pouch.  Let cool before handling.  Once the beets are cool enough to work with, rub the skin off with a paper towel and slice into 1/2 inch thick wedges.  Transfer to a quart sized mason jar.
3.  Meanwhile, heat remaining ingredients over medium-low heat until sugar dissolves.  Pour mixture into the jar with the beets.  Allow to cool at room temperature.  Cover and place in the fridge.  Consume beets within two weeks.
Keywords: beets, pickled beets, roasted beets, Scandinavian, Nordic, Swedish