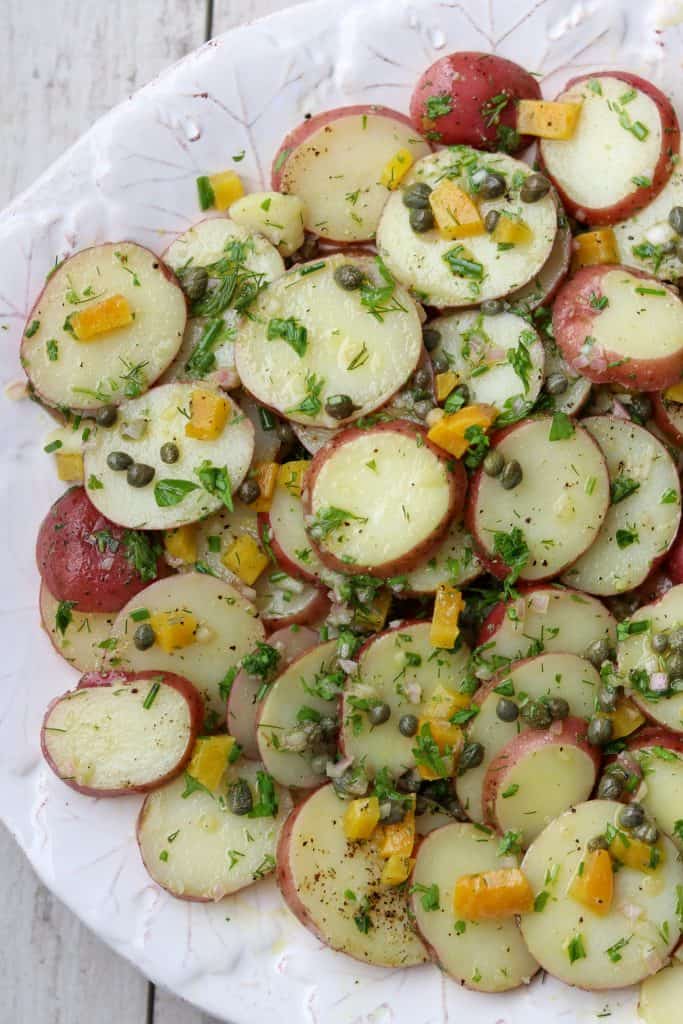 It is June and most definitely potato salad season! Whether you are looking for something to pair with what's coming off the grill or are in need of something to bring to the neighborhood potluck, potato salad is often the side dish we turn to at this time of year. Traditional American potato salad is delicious with its creamy mayonnaise and mustard base, but I was looking for something a little different when I set out to create a Scandi-inspired potato salad for the blog. I began where I always do...researching what is already out there.
Lightening Up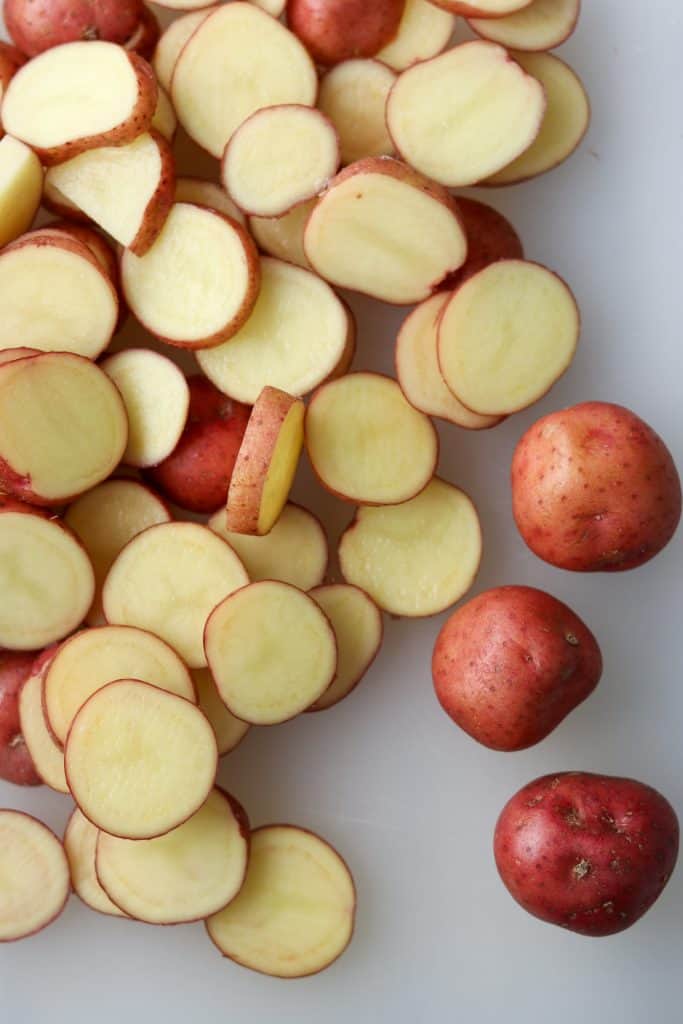 I was pleasantly surprised to find that many of the recipes for Nordic style potato salad were tossed with a vinaigrette rather than a creamy dressing. I liked that idea...something lighter than the potato salads I have had in the past. Many also contained chopped fresh herbs which I definitely wanted in my version as well as capers for their briny punch of flavor. Things were off to a fresh and flavorful start.
Pickled Beets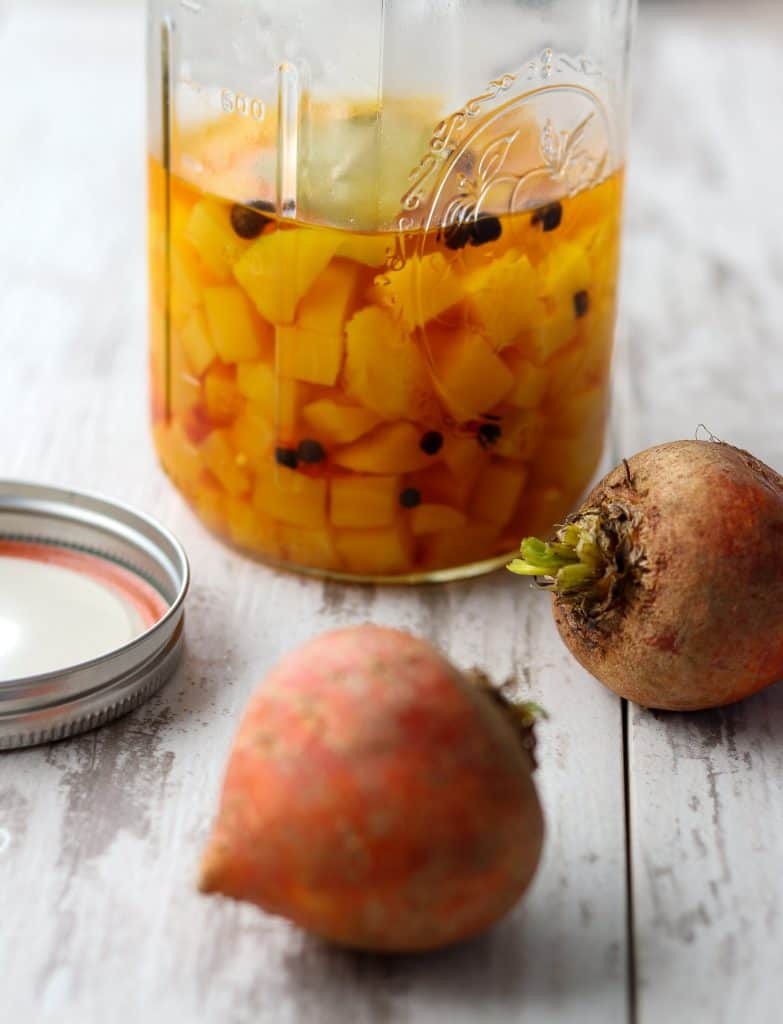 Some of the older recipes I found called for pickled beets, one recipe an entire 12 ounce jar of them! While I loved the idea of pickled beets in my salad, I wanted to retain the creamy color of the potatoes themselves. That's the trouble with beets...their brilliant color cannot be contained. They stain everything they come into contact with a lovely shade of pink. Sometimes this is a good thing, and I welcome both the flavor and the rosy hue. But since I didn't want a pink potato salad, I figured the beets were out. But then I remembered golden beets! Why not pickle those instead of the traditional red variety and toss them with the salad? I whipped up a quick batch of my Spicy Pickled Beets using golden beets in place of the red beets. This worked perfectly. I had earthy and tangy pickled beets that didn't turn my salad pink and brought their own gorgeous golden hue to the dish.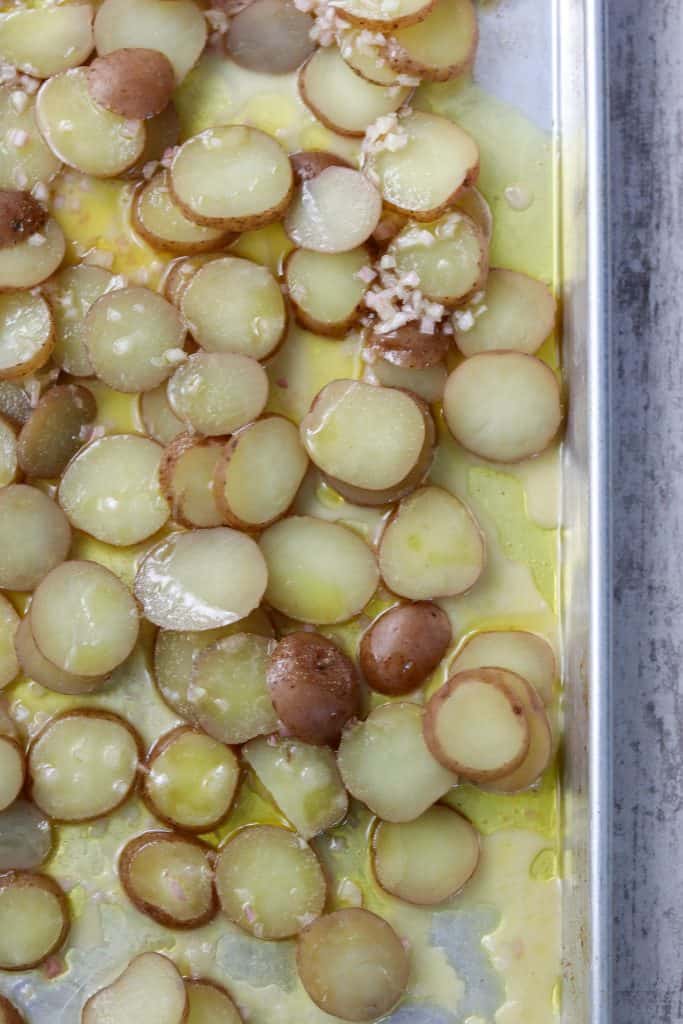 Tips and Tricks for Perfect Potato Salad
This potato salad is incredibly simple to put together, but I do have a few thoughts for ensuring salad perfection every time:
Slice the potatoes about ¼ inch thick prior to cooking them. This keeps the slices clean and distinct in the final salad.
Frequently check the potatoes for doneness. This is probably the most critical piece of making this potato salad. The potatoes should be JUST tender, not falling apart. But you don't want them crunch either. I start checking them after they've been simmering for about 5 minutes, and I will actually take a potato slice out, cut into it and taste it to make sure it's just the right consistency. If they are still too crunchy, I check them again every minute or so until they are perfectly tender.
Don't forget to save some some potato water! Using a little of the potato cooking water in the vinaigrette for this salad is a great way to bring in more potato flavor and a nice viscosity to the final product.
Dress the salad while the potatoes are warm. They will take on more flavor from the vinaigrette that way.
Toss the salad gently with a rubber spatula. These cooked potato slices are delicate and need a little extra care when tossing them to prevent them from breaking.
Season with salt and pepper to taste. Make sure you taste the salad, salt and pepper it if necessary and then taste it again. Keep doing this until you love the way it tastes. Because this potato salad contains quite a few capers which are quite salty on their own, you might need a little less salt than you normally would use.
Serve the salad warm or at room temperature. This salad is just fine straight from the fridge, but I prefer it warm just after I've tossed it together or I will take it out of the fridge an hour before I want to serve it so that it can come to room temperature.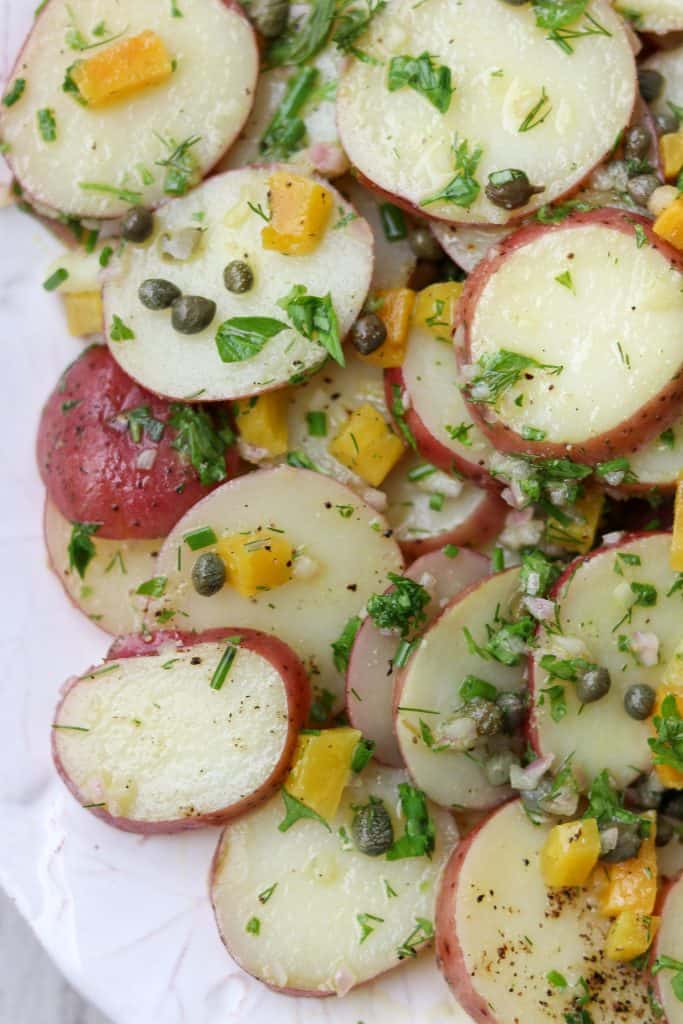 The final version of this Nordic new potato salad is a real keeper. Tender slices of new potato tossed in a mustardy vinaigrette with loads of fresh herbs, shallot, capers and golden pickled beets. Pair it with grilled sausages for an easy and stunning weeknight meal or bring it to the neighbor's backyard barbecue and listen to people ooh and ahh over your unexpected and delicious Nordic-inspired side dish. And please let me know if you give it a try in the comments below! I would love to hear what you think.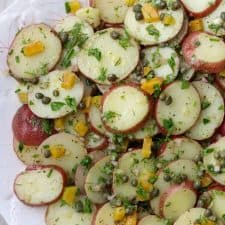 Herbed New Potato Salad with Pickled Golden Beets and Capers
Tender new potato slices tossed in a mustardy vinaigrette with loads of fresh herbs, capers, shallots and pickled golden beets.
Print
Pin
Rate
Ingredients
2

pounds

small red new potatoes

unpeeled and cut into ¼ inch thick slices

Coarse salt and freshly ground pepper

¼

cup

extra virgin olive oil

1 ½

tablespoons

white wine vinegar

2

teaspoons

dijon mustard

1

small shallot

minced

½

cup

diced Spicy Pickled Beets

made with golden beets

3

tablespoons

capers

drained and rinsed

1

tablespoon

chopped fresh chives

1

tablespoon

chopped fresh dill

2

tablespoons

chopped fresh parsley
Instructions
Place sliced potatoes in a large pot.  Cover with cold water by 1 inch. Add two teaspoons of salt and bring to a boil over medium-high heat.  Continue to cook for 5-9 minutes or until the potato slices are just tender. Keep a close eye on the potatoes as they cook and check them frequently for doneness.  You want them to be just tender. If you overcook them they will start to fall apart and not be as beautiful in your salad.

Carefully remove the potatoes from the boiling water with a slotted spoon and transfer them to a strainer to drain.  Save ¼ cup of the cooking water. Lay the potato slices in an even layer on a rimmed baking sheet.

Whisk olive oil, vinegar, mustard, shallot and reserved potato water together in a medium bowl.  Drizzle mixture over the warm potatoes and let sit for 10 minutes.

Add pickled beets, capers and herbs.  Stir gently with a rubber spatula, taking care not to break the potato slices.  Season to taste with salt and pepper. Transfer to a platter and serve.
Notes
To make in advance, finish the recipe through step 3.  Transfer the potatoes to a bowl and cover before refrigerating for up to 8 hours.  Bring the mixture to room temperature before continuing with step 4 of the recipe.
Adapted from
The America's Test Kitchen Complete Vegetarian Cookbook
Nutrition
Calories:
155
kcal
|
Carbohydrates:
21
g
|
Protein:
3
g
|
Fat:
7
g
|
Saturated Fat:
1
g
|
Sodium:
124
mg
|
Potassium:
508
mg
|
Fiber:
3
g
|
Sugar:
2
g
|
Vitamin A:
101
IU
|
Vitamin C:
25
mg
|
Calcium:
16
mg
|
Iron:
1
mg