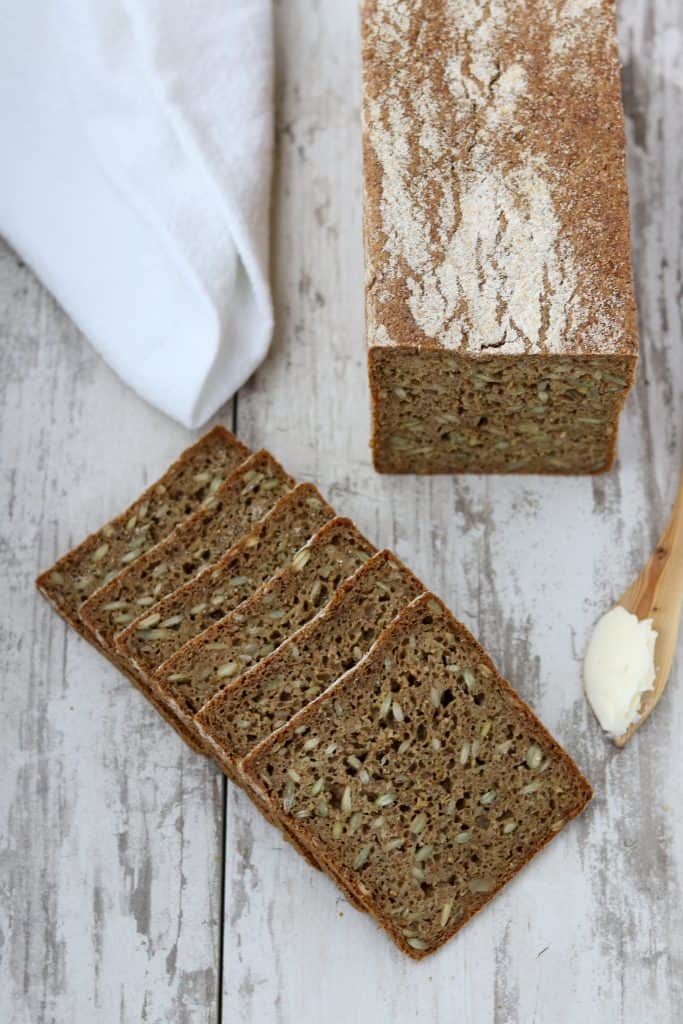 *Edited on February 3, 2020 to include affiliate links and to add 10 minutes to the baking time once the loaf is removed from the pan.
In the world of Nordic cuisine, this dense rye bread is an absolute essential. It serves as the base for most open sandwiches, and is an integral part of the Scandinavian diet, not just in Denmark but throughout the region. Rugbrød can be difficult to find here in the United States. Unless you live near a good Scandinavian bakery, it's likely that the only rye you are able to find is something more like pumpernickel or a deli rye which are definitely not the same thing as rugbrød. If you want an authentic Danish rye, you are probably going to have to make it yourself.
What is Rugbrød?
Rugbrød simply means "rye bread" in Danish. It is a sturdy, dense loaf that is comprised of rye flour, chopped rye grains and is often studded with sunflower, pumpkin and/or flax seeds. It is almost always baked in a 13 x 4 inch pullman pan with a lid. This helps the rye bread bake properly and gives it its characteristic square shape.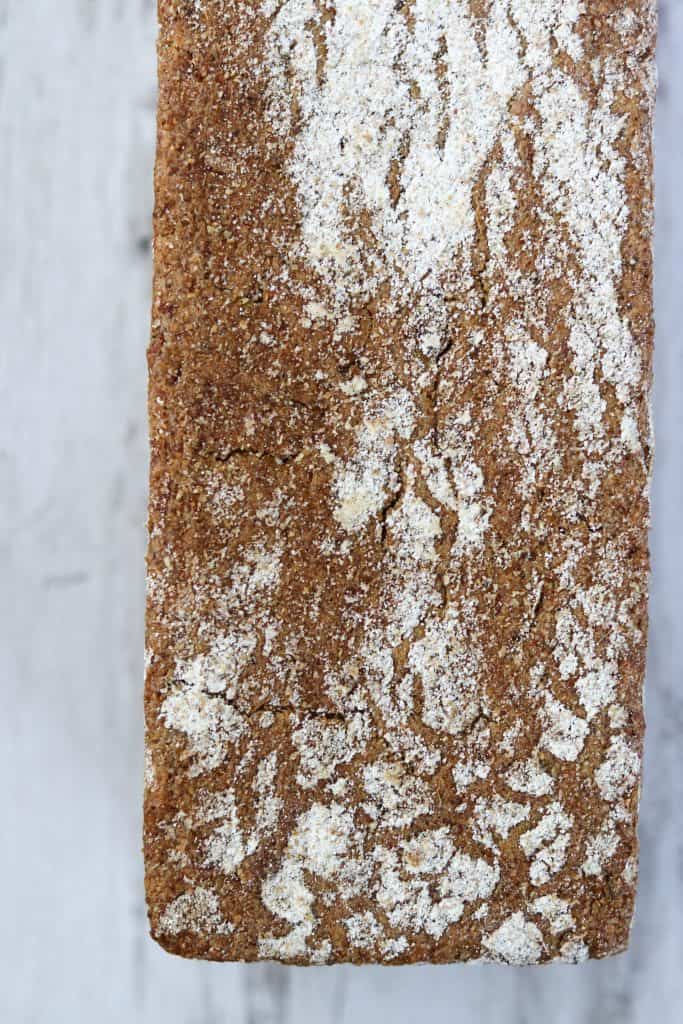 Rye breads, particularly those baked here in America, often have a variety of ingredients added to them to enhance their color (making them darker in appearance) and flavor. Common additions include caramel coloring (no thank you), stout beer, cocoa powder, espresso powder and molasses. Rugbrød, in contrast, has very little additional flavoring, perhaps just a little molasses for sweetening. It is meant to be a very straightforward bread so that it can serve as a neutral base for a variety of different sandwich toppings. Sometimes I will come across a rugbrød recipe that calls for flavor enhancers such as caraway, fennel or anise seed in the dough, but this seems to be more of an exception than the rule. Again, simple is the name of the game here.
When it is served, Rugbrød is typically sliced thin (a little less than a quarter of an inch) and buttered liberally with salted butter. There is actually a word in Danish, tandsmør, which means "tooth butter". It refers to buttering your bread generously enough so that when you bite into it you can see your teeth marks in it. You butter lovers know what I'm talking about. It may be enjoyed as is, simply slathered with butter, or it can be piled with additional ingredients to form the base of smørrebrød, the famous Danish open sandwich.
What Makes Rye So Special?
Rye has many unique qualities that make it quite different from wheat, both as a whole grain and in flour form:
Rye has historically been important for the Nordic region as it is a hearty plant that can tolerate poor soil and weathers cold and wet conditions better than most grains. It was the primary grain relied upon for bread-baking in the north for centuries and is still popular today.
Rye flour has less gluten than wheat flour. Gluten strands form the structure of bread and trap gases produced by the yeast so that your bread leavens properly. Because gluten doesn't form well when rye flour is mixed with water, rye breads are always more dense in structure and have a closer crumb that wheat breads.
Rye flour holds more water than wheat flour and contains certain enzymes that convert starch to sugar. This can cause rye breads to be overly moist and have a gummy texture if not handled and baked properly.
Rye breads get better with a little age. Unlike wheat breads which are best eaten shortly after cooling, both the texture and flavor of rye bread improves after a rest of 24-36 hours.
An interesting fact: There is a fungus called ergot that can attack rye plants causing the grains to become highly toxic to humans and trigger hallucinations if ingested. Some historians believe that ergot-infested rye was the cause of the hallucinations that led to the Salem witch trials in Massachusetts in 1692. Fortunately, modern industrialization has all but eliminated any risk of ergot-infected rye as any diseased grains are removed prior to processing.
Rye's unique qualities can make it challenging to use in a bread recipe. When I make Danish rye at home, I use a sourdough starter which is the traditional way to make it. The starter contributes certain acids to the dough which help neutralize some of the negative effects of the enzymes that can cause the bread to have a gummy texture. But I know a lot of people don't keep starters and may not be up to the commitment that it involves. So I really wanted to find an easy rugbrød recipe, one that relied solely on commercial yeast rather than a sourdough starter for leavening.
I tried several. Some were total disasters and inedible. I'm talking sunken, raw in the center, straight into the trash bad. A few came out okay, but they were not even close to the quality of my sourdough loaf which I consider to be the gold standard. I knew I could come up with something better. I worked my way through several pounds of rye flour, testing and tweaking, until finally finding a consistently successful loaf that had the look and texture of authentic rugbrød. The keys turned out to be a mixture of wheat and rye flour in the dough (in order to help create a gluten structure to hold the bread aloft and keep it from sinking in the center) AND a method of baking that relies on using a few different oven temperatures during the course of the baking time. This helps prevent the enzymes that produce a gummy texture from developing by keeping the bread from spending too much time in the temperature zone where their formation is the most favorable.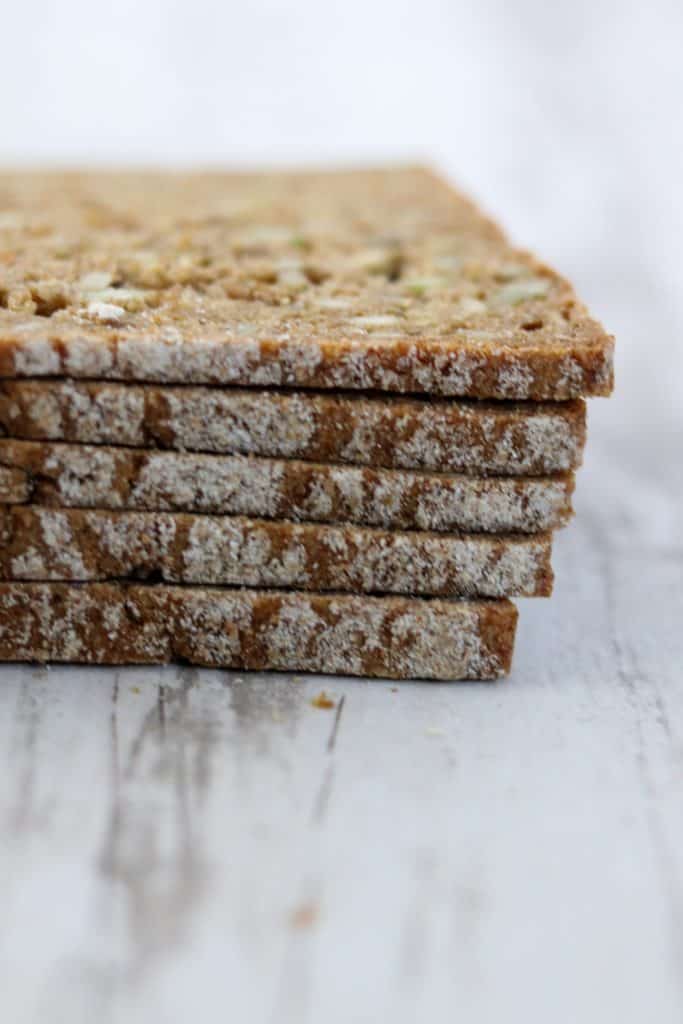 If you make your own smørrebrød at home or would like to, please give this bread a try. Bursting with rye, whole grains and a variety of tasty seeds, it is one of the most delicious and nutritious breads out there. And using it as a base for a Nordic open sandwich will give you a true taste of authenticity. If you are new to smørrebrød, there are several open sandwich recipes on the blog to get you started: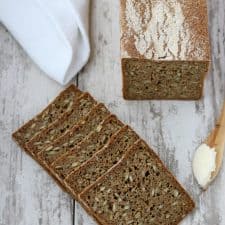 Easy Overnight Danish Rye (Rugbrød)
An easy overnight version of classic Danish rye bread with no sourdough.  
Print
Pin
Rate
Servings:
16
slices (One 13 inch loaf)
Ingredients
For the Dough:
2

cups

dark rye flour

I use the Bob's Red Mill brand, plus more for dusting the pan and loaf

2

cups

bread flour

1

teaspoon

instant dried yeast

1 ½

cups

cold water

4

teaspoons

salt

¼

cup

molasses

Butter for greasing the pan
Special Equipment Needed:
Instructions
For the Soaker:  Combine all the ingredients for the soaker in a medium bowl.  Cover with plastic wrap and let sit at room temperature overnight, approximately 8-12 hours.

For the Dough:  Combine both flours, yeast and water in a separate bowl.  Stir to combine as best you can (mixture will be thick), and then knead briefly with your hands until you have a cohesive mixture.  Dough will be very thick and clay-like in texture. Cover with plastic wrap and let sit at room temperature overnight, about 8-12 hours.

Grease a

13 x 4 inch pullman loaf pan

with butter and dust with rye flour, including the lid.  Set aside. Combine the soaker, flour mixture, salt and molasses in the bowl of a stand mixer. Fit mixer with paddle attachment and mix on low speed for 2-3 minutes until everything is thoroughly combined, scraping down the sides of the bowl from time to time.  Increase speed to medium and mix for an additional 2-3 minutes, stopping to occasionally scrape down the sides of the bowl. Mixture will be quite sticky.

Transfer the dough to the prepared pan.  Smooth out the top and sift a thin layer of rye flour over the surface of the dough.  Place lid on pan and let the dough rise for 1½ -3 hours at room temperature or until it is about ½ inch from the top of the pan.  The time that it takes for your dough to rise will largely depend on the temperature of the dough and your kitchen.

Meanwhile, preheat oven to 500 degrees.  Bake loaf with the lid on for 15 minutes.  Reduce temperature to 400 degrees and continue to bake, covered, for an additional 15 minutes.  Remove pan from oven and carefully slide the lid off. Reduce temperature to 325 degrees and bake, uncovered, for an additional 45 minutes.  Remove from the oven and immediately turn loaf out onto a metal cooling rack set inside a rimmed baking sheet.  Return bread to the oven for an additional 10 minutes.  Remove from the oven and allow the bread to cool completely before slicing, at least 3 hours. Rye bread is even better a day after baking.  If you can wait until the following day, let the bread sit uncovered at room temperature overnight before slicing.  The bread will keep at room temperature for 3 days loosely wrapped in foil. Freeze for longer storage.
Notes
Rugbrød is traditionally made with rye chops, uniformly cut pieces of rye grain.  They are available through King Arthur Flour's online store at
www.kingarthurflour.com
.  Because rye chops are difficult to find, I call for using a whole grain hot cereal mix such as Bob's Red Mill's 7 grain cereal mix or this one from www.nuts.com.  These mixes contained a variety of coarsely milled whole grains, including rye, and make a fine stand in for rye chops.
Adapted from
The New Nordic
by Simon Bajada
Nutrition
Calories:
238
kcal
|
Carbohydrates:
34
g
|
Protein:
8
g
|
Fat:
9
g
|
Saturated Fat:
1
g
|
Sodium:
627
mg
|
Potassium:
312
mg
|
Fiber:
6
g
|
Sugar:
6
g
|
Vitamin A:
160
IU
|
Vitamin C:
1
mg
|
Calcium:
43
mg
|
Iron:
4
mg