Smørrebrød (Danish Open Faced Sandwiches) are delicious, beautiful and easy to make at home. Thinly sliced rye bread serves a base for a generous slather of butter or other creamy spread. The sandwich is then topped with an eye-catching arrangement of greens, vegetables, meat, hard-boiled eggs, fish or cheese and thoughtful selection of garnishes. Well made smørrebrød is truly a work of art.
Ready to make these gorgeous open faced sandwiches in your own kitchen? Keep reading for a step-by-step guide for making smørrebrød at home!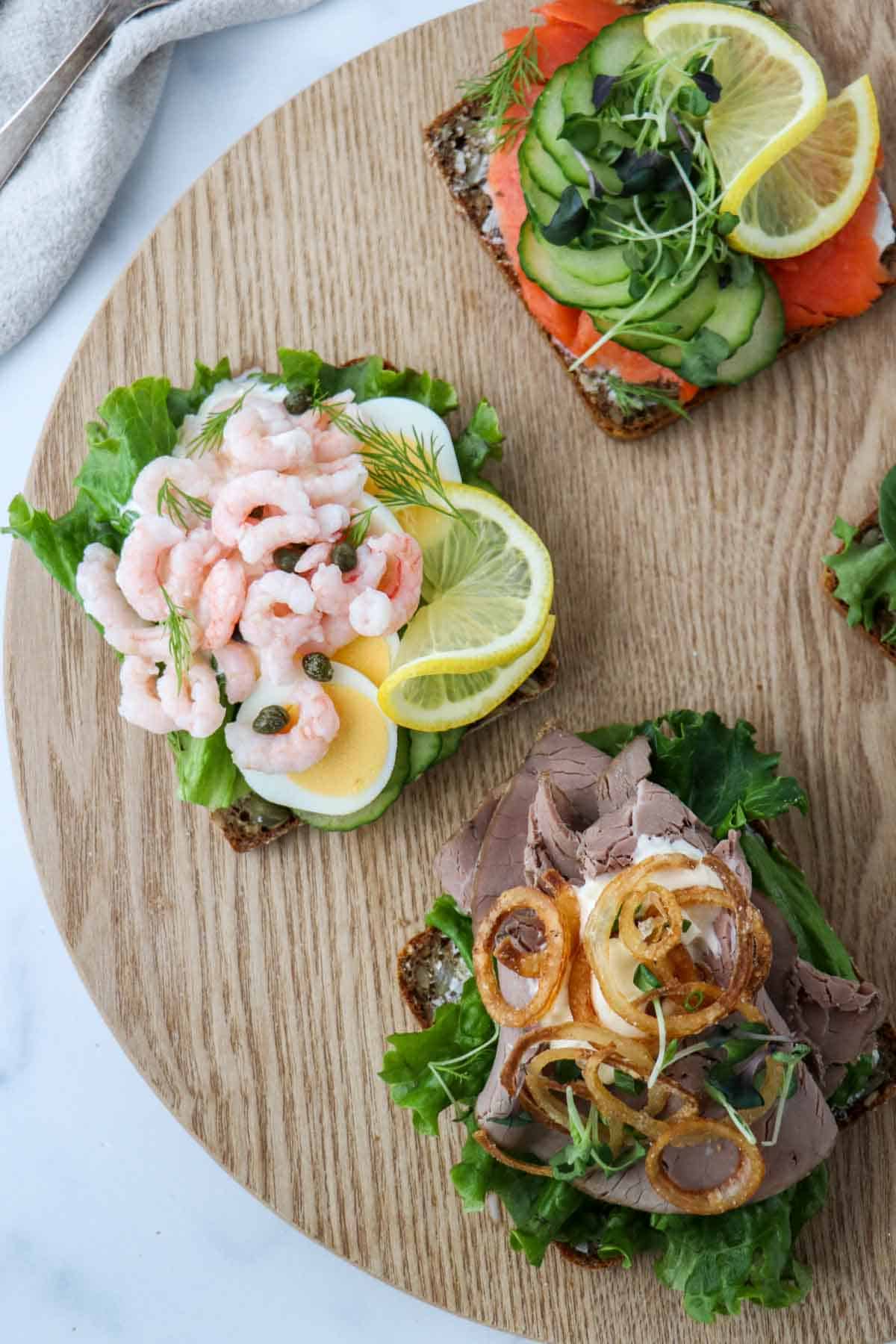 What are Smørrebrød?
Smørrebrød are Danish open faced sandwiches. The word smørrebrød literally translates to "butter bread" which basically describes the foundation of this iconic Scandinavian dish. Indeed, a slice of bread (mostly likely rye) slathered with butter is smørrebrød in its simplest form. But this is usually just the starting point of a more elaborate open faced sandwich that is piled high with a variety of tasty toppings.
The History of Smørrebrød
The Scandinavian region's food culture is largely based on bread. According to The Nordic Cookbook, before potatoes arrived on the Scandinavian mainland in the early 1800's, most people ate one to two pounds of bread a day! It's no wonder that the open faced sandwich became a staple of Nordic cuisine.
The origins of smørrebrød can be traced back at least as far as the Middle Ages. At that time the open faced sandwich would have been a rather simple affair, probably some kind of fat (butter or animal fat) spread on a dense rye bread with leftover meat or vegetables piled on top.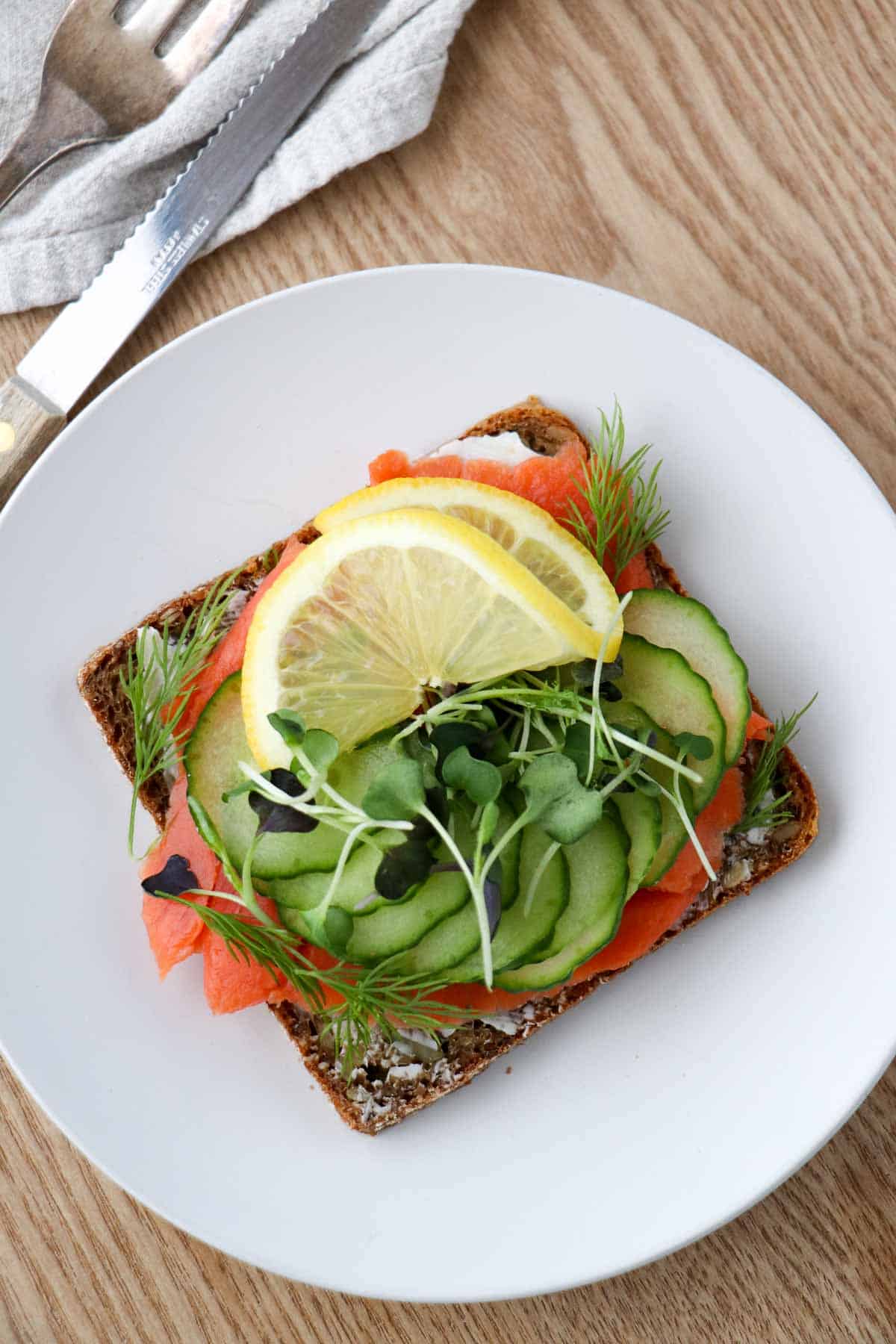 Smørrebrød in Denmark Today
As fresh ingredients became more available, smørrebrød evolved into something more refined and elegant. There are entire restaurants devoted to the open faced sandwich in Denmark, and it is even possible to attain the a professional qualification known as "Open Sandwich Master". In a restaurant setting, smørrebrød is truly an art form as great care is often taken in creating a visually stunning sandwich.
Classic Smørrebrød Combinations
While there are an unlimited number of smørrebrød combinations, here are a few that are considered classics:
But not all open faced sandwiches are fussy restaurant affairs. Smørrebrød is frequently prepared simply at home for lunch or a light supper. An open faced Danish sandwich made at home might be as basic as a buttered slice of rye bread and a few slices of cheese or last night's leftovers arranged on top.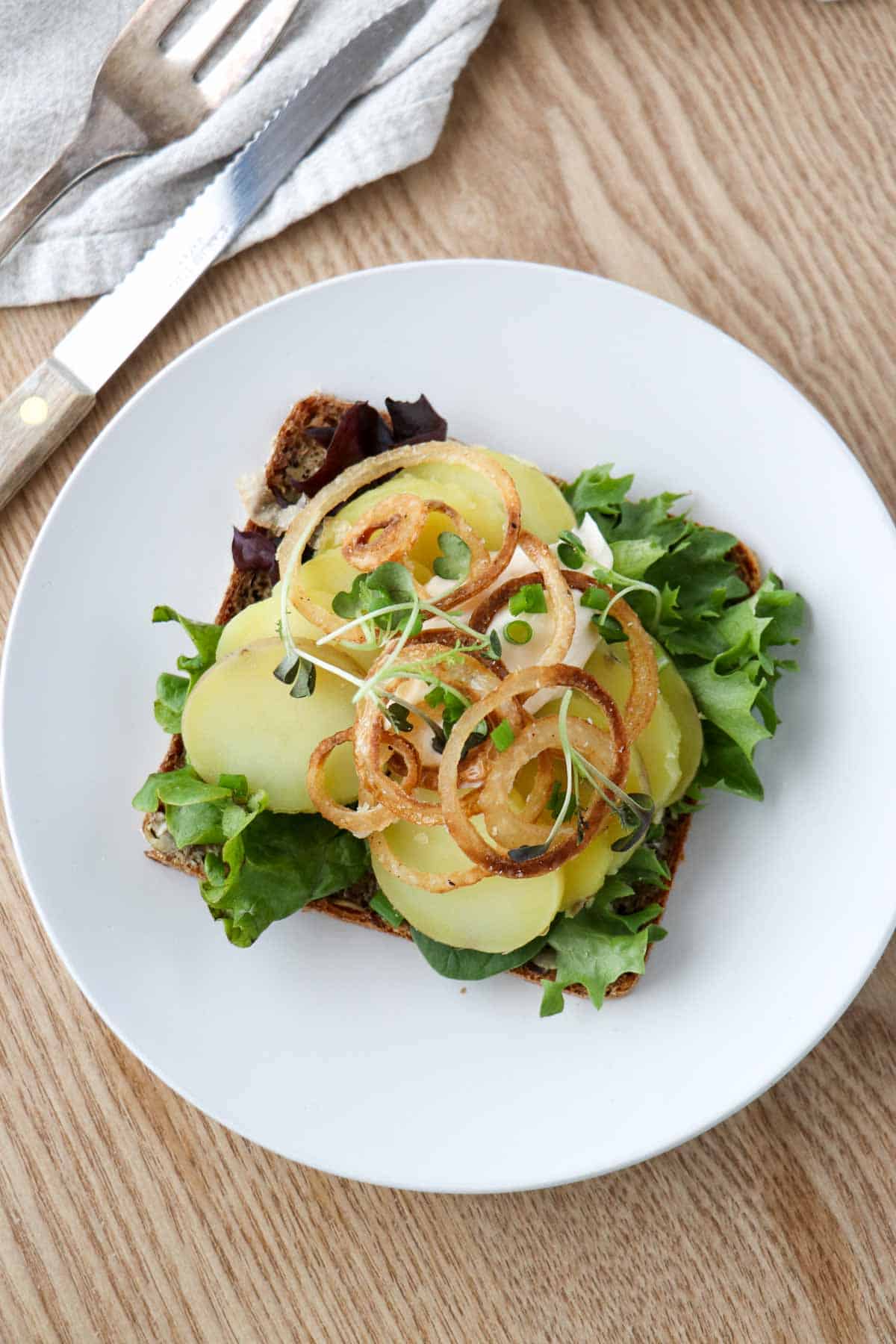 Open Faced Sandwiches throughout Scandinavia
While Denmark is the most well-known for smørrebrød, you will find open faced sandwiches throughout the Scandinavian region, particularly in Norway where they are known as smørbrød and Sweden where they are called smörgås.
The Basic Ingredients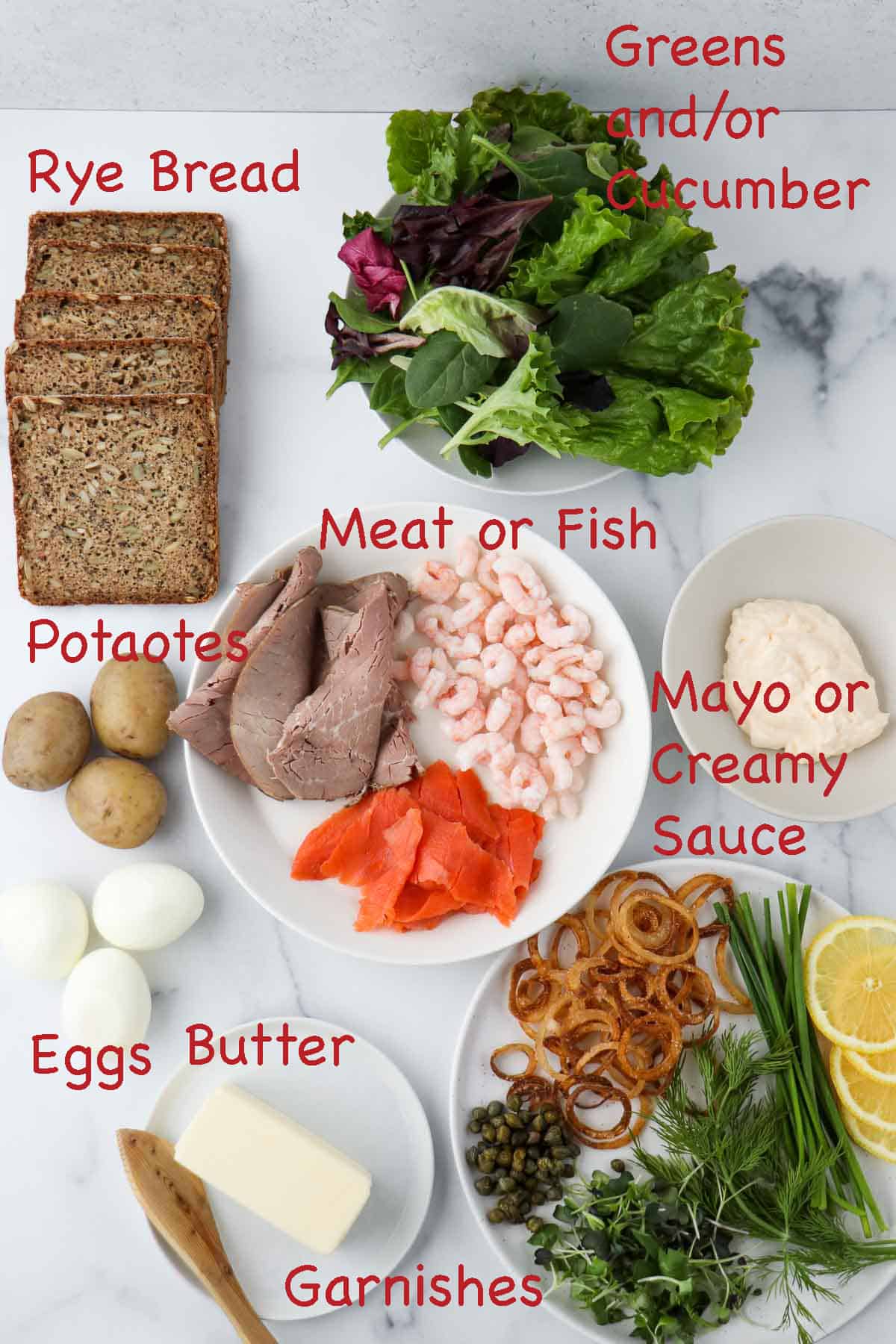 How to Make Smørrebrød at Home
Spread butter (or another spread such as pâté, cream cheese or hummus) generously on a slice of dense rye bread.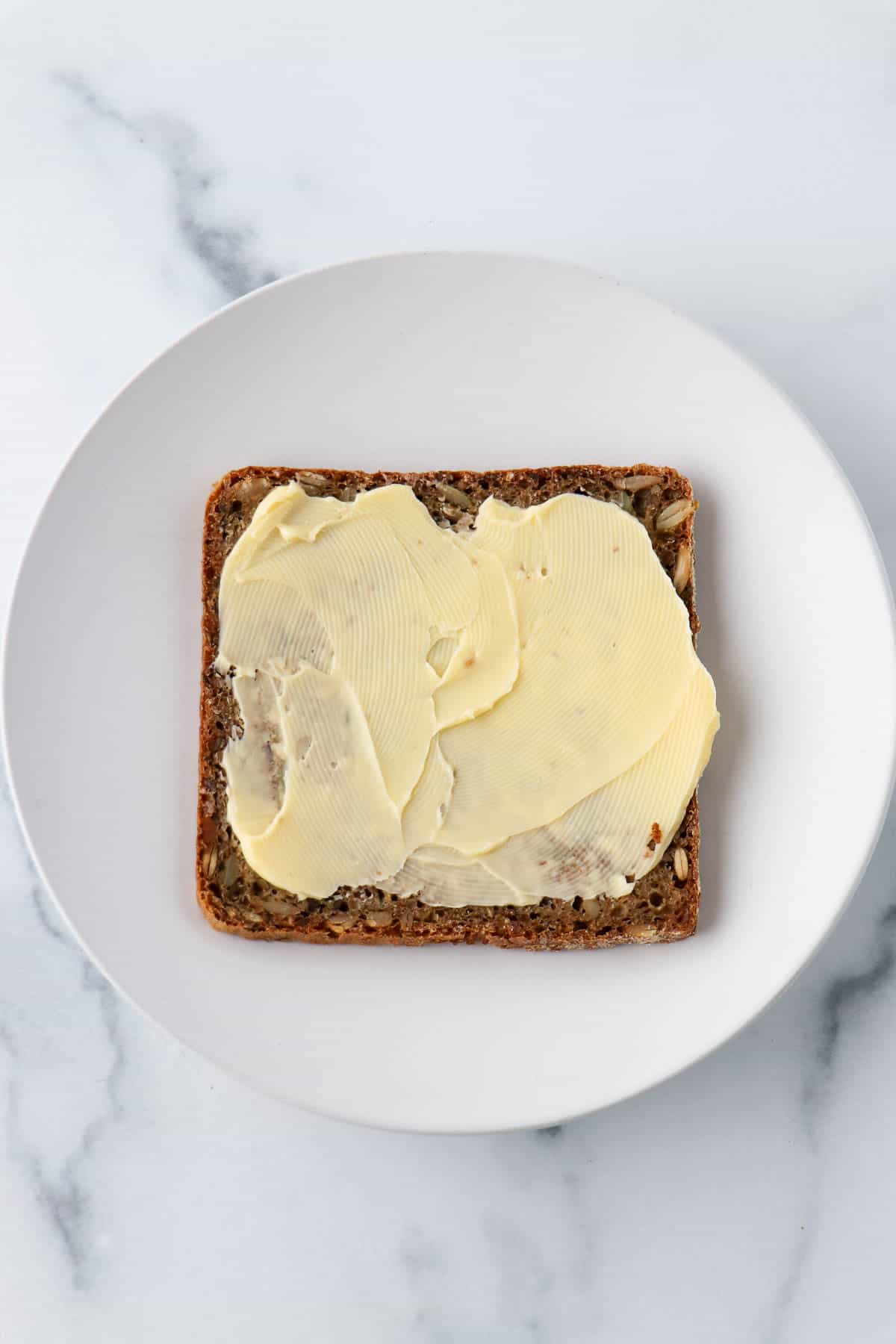 Add greens and/or cucumber slices if desired.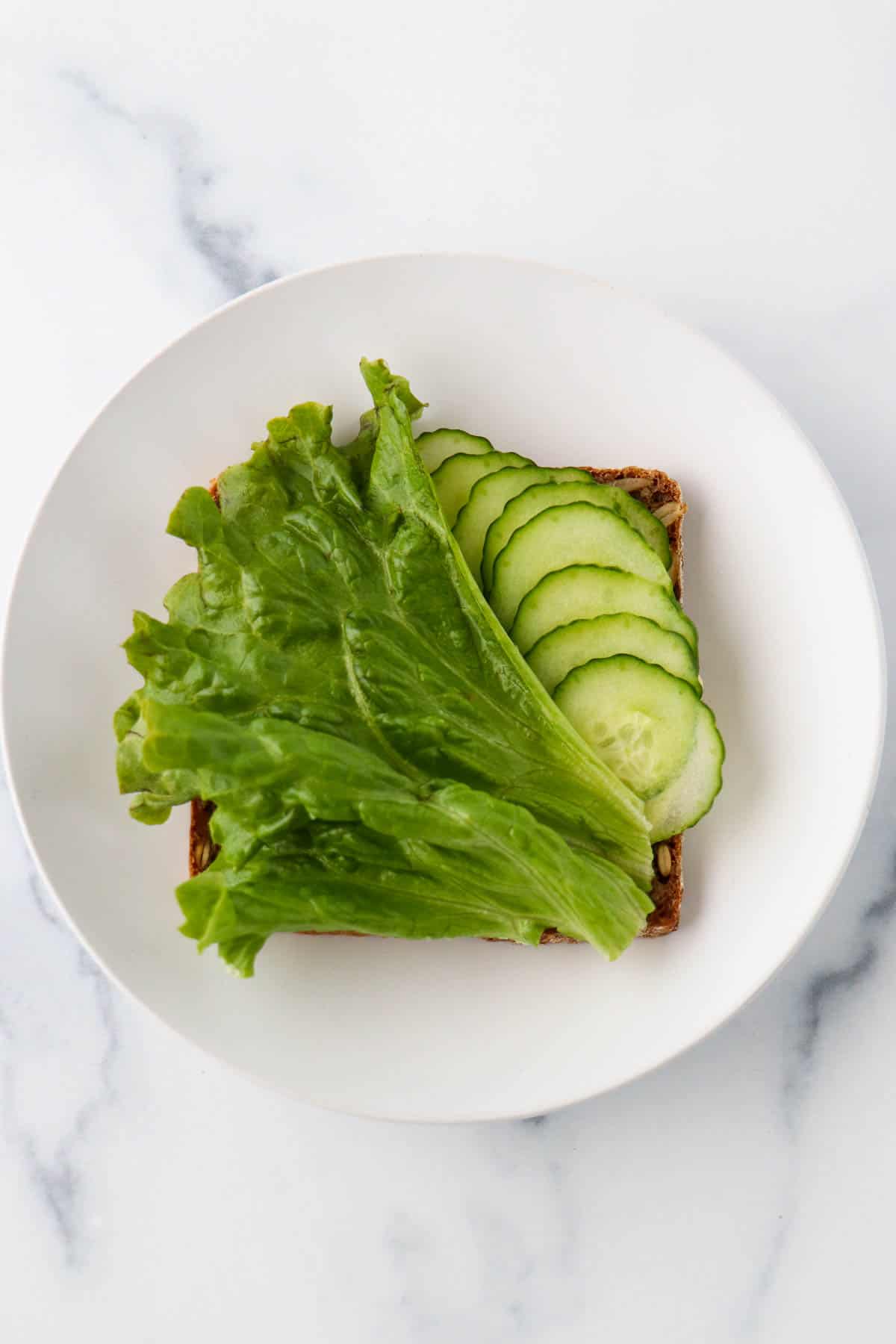 Begin adding your main ingredients such as sliced hard-boiled egg, cooked potato slices or other vegetables, thinly sliced cheese, meat or chicken, shrimp, fish or smoked salmon.
Dollop on a creamy sauce such as mayonnaise (or a flavored mayo), herbed skyr sauce or Danish remoulade sauce. You can also put the sauce under the main ingredient if that makes more sense for the particular sandwich you are making (the smørrebrød pictured below has mayo underneath the shrimp rather than on top).
Finish with any desired garnishes (such as micro-greens, fresh herbs, crispy fried shallots or onions, capers and/or lemon slices).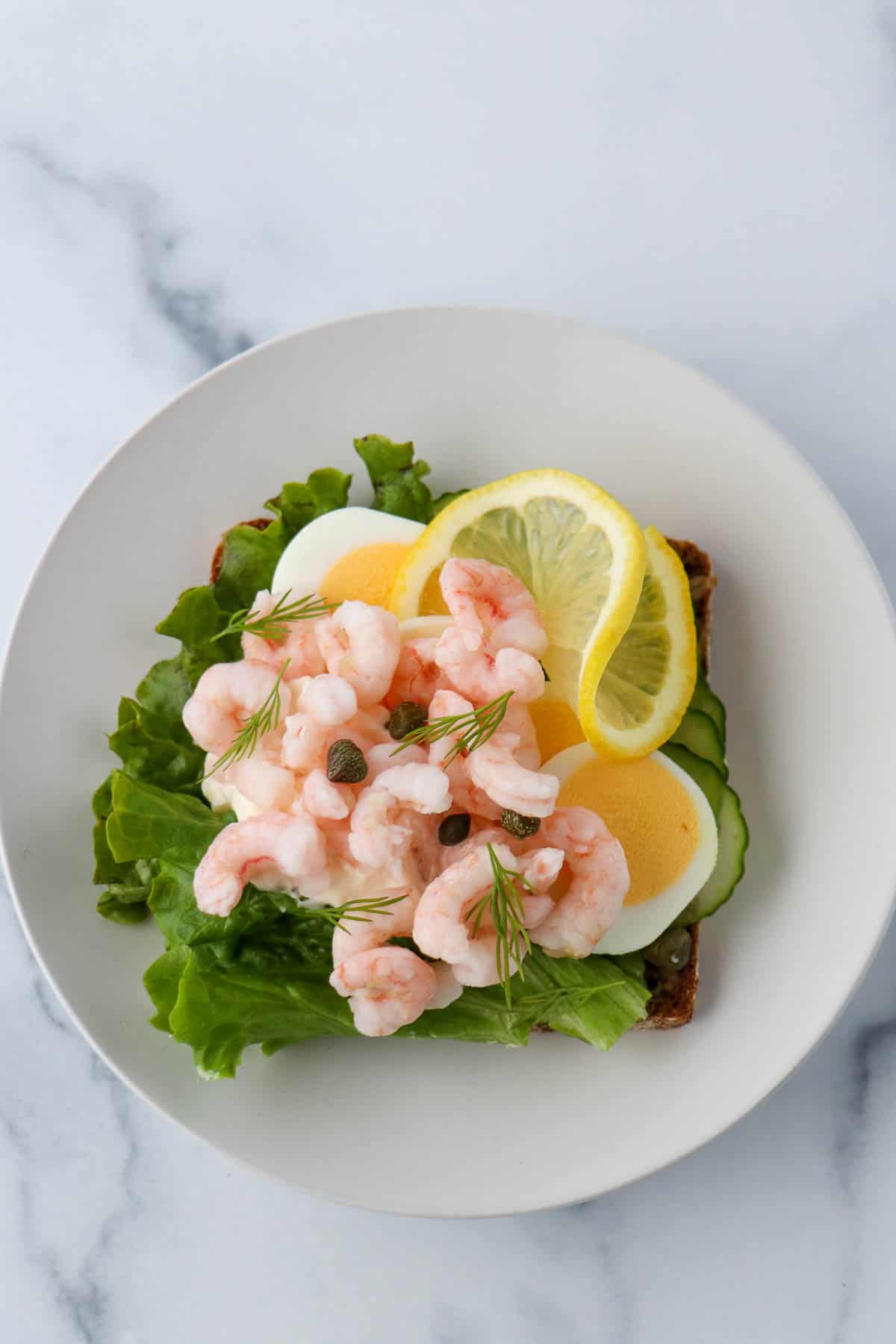 Expert Tips
Here are a few tips and tricks to help you create beautiful and delicious smørrebrød at home and enjoy your open faced sandwiches as the Danes do:
Barring a few exceptions, smørrebrød is served on dense rye bread (rugbrød in Danish) which has been sliced quite thin. I've got you covered on this one....check out my super easy recipe for rugbrød here!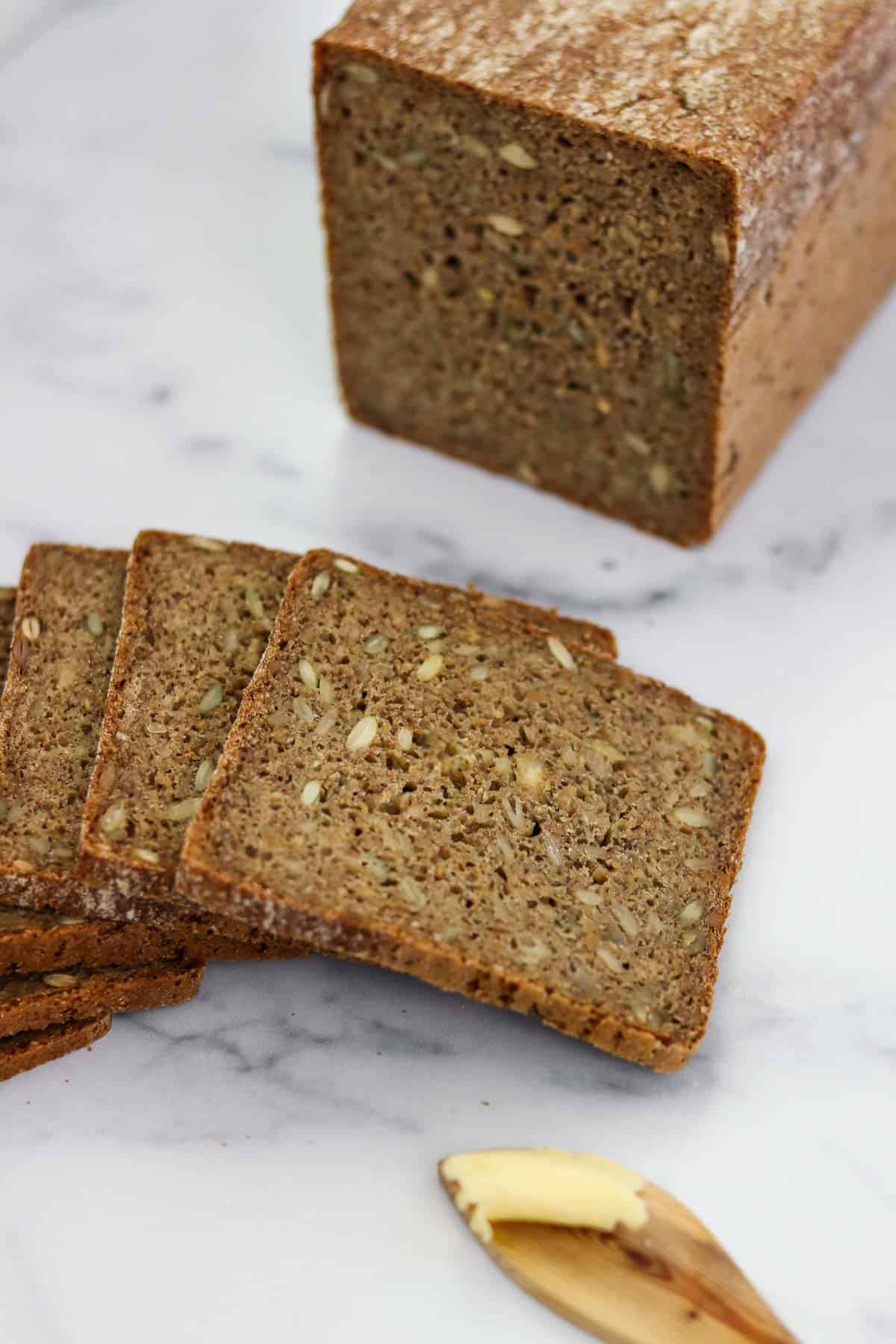 If you are using a dense rye, the bread is simply sliced, not toasted. That said, I will sometimes do a light toast on mine just to freshen up the bread slightly without causing the exterior to get overly crispy.
The bread is usually buttered quite liberally with salted butter or another rich spread such as pâté. If you don't usually have salted butter in your refrigerator, you can use unsalted butter and sprinkle a little salt on it after you spread it on the bread.
There is typically one main topping and a combinations of condiments. A well-designed smørrebrød has a variety of flavors and textures that come together to create a sandwich that is more delicious than the individual components might suggest.
Smørrebrød can be meat or fish based, or it can be vegetarian. Traditional Danish open faced sandwiches relied heavily on meats or fish as a main topping, but as plant forward diets have gained popularity, so has vegetarian smørrebrød. See the roundup of recipes below for a few ideas to get you started in a plant-based sandwich direction!
Smørrebrød doesn't have to be fancy, but it should be pleasing to the eye. That's part of the fun of the open faced sandwich...with no top to disguise what's inside there is much opportunity for creating something that is as beautiful as it is delicious.
Season as you layer. If your main ingredient is sliced cold potatoes or hard-boiled egg slices, you are going to want to season that particular layer with salt and pepper before adding the remaining condiments. This is not necessary if your main ingredient is something that is already salty or heavily seasoned such as ham or pickled herring.
Think about your layering, both in terms of visual presentation and what makes sense in terms of the temperature and shape of the main ingredient. If your topping is warm roast pork, for example, you aren't going to want to put tender arugula leaves underneath it. That's a recipe for soggy greens. Layer in a way that lets each ingredient shine.
If you really want to get serious about aesthetics, consider placing any sauces that you are using into a squeeze bottle, plastic piping bag or ziploc bag (with a corner of the bag cut off). This allows you to squeeze the sauce onto the sandwich exactly where you want it. It can be difficult to artfully arrange sauces with just a spoon.
Unless it really doesn't seem appropriate, always add a shower of something small and green on the very top for garnish. Chopped fresh herbs, capers, microgreens, sprouts, or watercress are all good choices.
Eat your sandwich as the Danes do: with a knife and fork. If you've created a lovely smørrebrød piled high with delicious ingredients, don't try and pick the whole thing up and take a bite. These sandwiches are usually a knife and fork affair.
Serve with a Danish beer or chilled aquavit (or a cold glass of milk, for the younger folks at the table) for a traditional beverage pairing!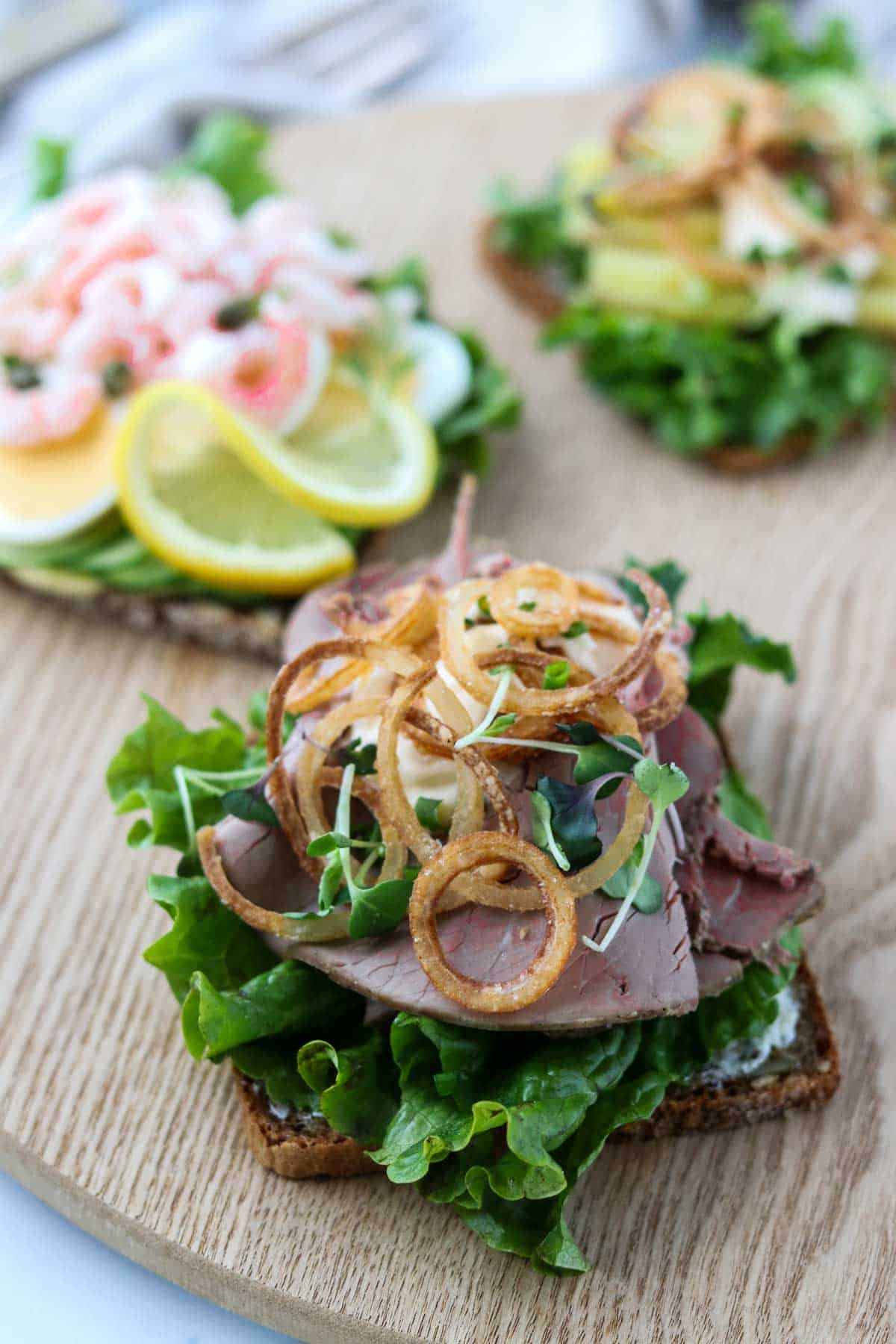 A Roundup of Delicious Smørrebrød Recipes
Ready to make your own smørrebrød at home? Here are a few recipes to get you started OR jump down to the recipe card below to begin assembling your own open faced sandwich masterpieces!
Picasso once said, "learn the rules like a pro so you can break them like an artist." Make a classic smørrebrød or two (recipes listed and linked above), but also get into the kitchen and play! Let your bread be your canvas and get creative. Anything goes when it comes to designing your own open face sandwiches.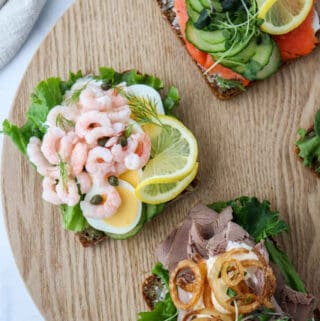 Smørrebrød (Danish Open Faced Sandwiches)
How to make delicious smørrebrød (Danish open faced sandwiches) at home.
Print
Pin
Rate
Ingredients
2

tablespoons

salted butter (or cream cheese, pâté, hummus or other creamy spread)

greens and or thinly sliced cucumber

meat, fish, smoked or cured salmon, cooked shrimp, potatoes, hard-boiled eggs

¼

cup

mayonnaise or other creamy sauce

garnishes such as chopped herbs, micro greens, capers, pickled shallots/onions
Instructions
Generously butter each piece of rye bread.

Top with greens and/or cucumber slices.

Add the main ingredients such as meats, cheese, cooked shrimp, smoked or cured salmon, hard boiled eggs or combination of these.

Top with a creamy sauce such as mayo, Danish remoulade or creamy skyr sauce.

Finish with any desired garnishes and serve immediately!
Notes
Eat your sandwich as the Danes do: with a knife and fork.
Nutrition
Calories:
228
kcal
|
Carbohydrates:
16
g
|
Protein:
3
g
|
Fat:
17
g
|
Saturated Fat:
5
g
|
Polyunsaturated Fat:
7
g
|
Monounsaturated Fat:
4
g
|
Trans Fat:
0.3
g
|
Cholesterol:
21
mg
|
Sodium:
327
mg
|
Potassium:
58
mg
|
Fiber:
2
g
|
Sugar:
1
g
|
Vitamin A:
186
IU
|
Vitamin C:
0.1
mg
|
Calcium:
26
mg
|
Iron:
1
mg
If you loved this recipe, give it a star review! Also, snap a picture of your smørrebrød and share it with me on Instagram using the hashtag #truenorthkitchen and tagging me @true_north_kitchen.