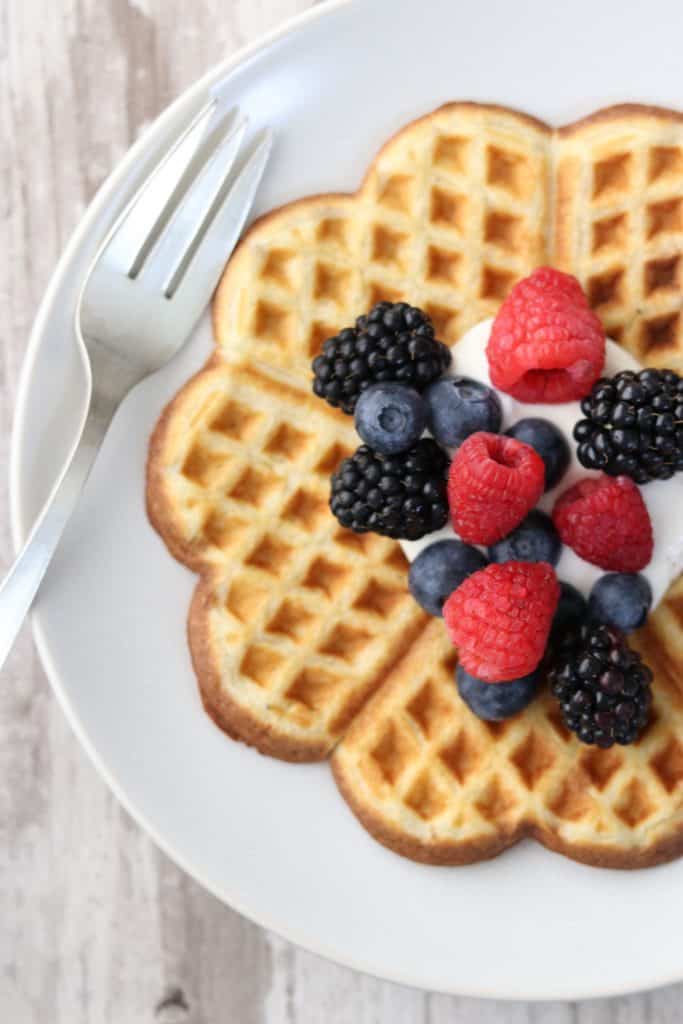 Beatrice Ojakangas says that there are many different Nordic waffle recipes, "one for every Scandinavian cook." In her book, Scandinavian Feasts she describes the waffle cottages of the Swedish province of Dalarna:
The waffles that are served in waffle cottages are baked in irons that separate each one into five small hearts, which when attached are called a lagg. When broken into individual sections, they are eaten like cookies, with jam and sweetened whipped cream or sour cream in the middle. Waffle cottages are open all winter to serve skiers. In the summertime, when visitors come to enjoy the midnight sun, the waffle cottages also add an old-fashioned stew called söpådor to the menu.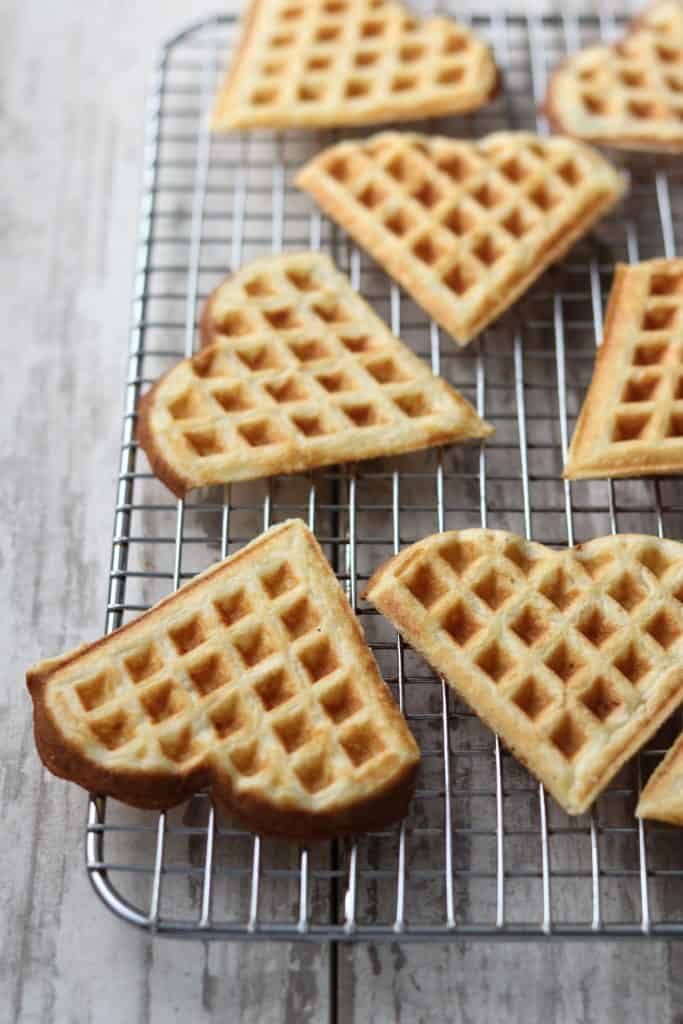 If you have ever visited a waffle cottage, please let me know. I would love to hear about it. I have not yet had the pleasure, but that's not going to stop me from making my own version of Nordic waffles at home. It's not as though we are unfamiliar with waffles here in America. Slathered in butter and drizzled with maple syrup, waffles are a Sunday morning mainstay. But they do waffles their own way in Scandinavia. A few distinct differences:
They are charmingly heart-shaped.
The batter is often made with cream or sour cream.
The batter usually contains cardamom.
They are delicious hot but are often served room temperature.
Whipped cream and fresh berries or jam are the toppings of choice.
When I set out to make my own recipe for Nordic waffles, I began by trying what was out there. I loved the addition of cardamom, but using cream in the batter yielded a VERY rich waffle, a bit too rich for my taste. Maybe that's the idea, but as these are MY Nordic waffles, I decided to use buttermilk instead of cream. I went back to my favorite basic buttermilk waffle recipe, courtesy of Martha Stewart. I tweaked it slightly, adding cardamom, vanilla extract and an extra tablespoon of sugar (Nordic waffles tend to be sweeter as they are not served with maple syrup). The result was just what I was looking for. Tender and buttery without being over the top. And the combination of vanilla and cardamom gave them that quintessential Scandinavian touch.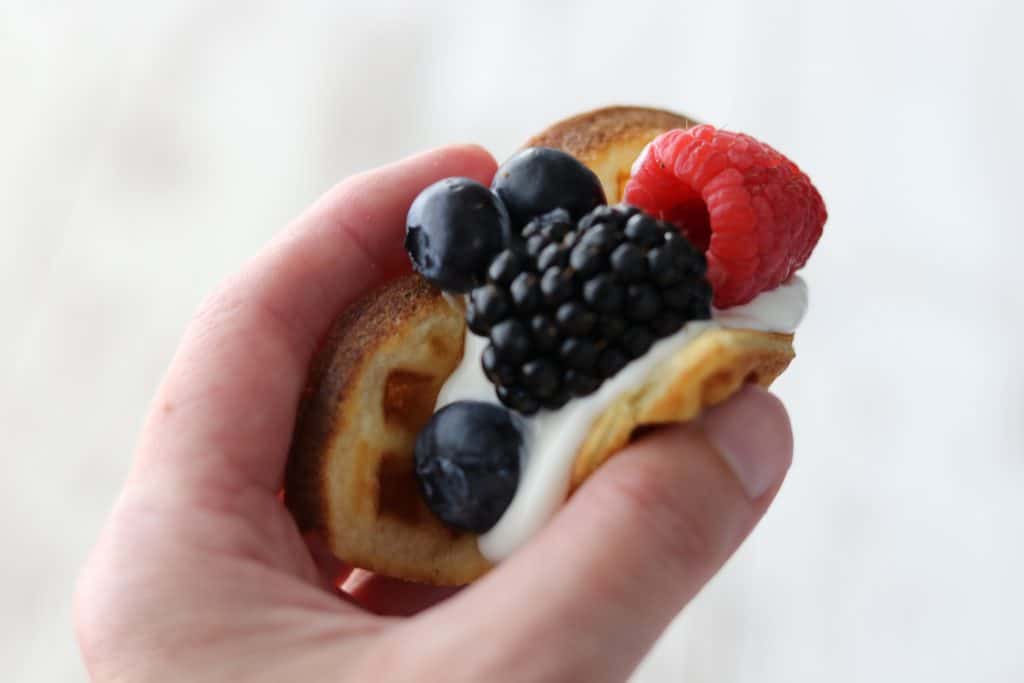 Whipped cream is always lovely, but I began thinking about how I could jazz up the topping a little. I remembered a version of whipped cream I used to make to go with a favorite apple tart that was half cream, half sour cream. What if I tried something like that with skyr, the deliciously creamy Icelandic yogurt? I changed the ratio slightly for my version, opting for a bit more yogurt than cream and added a touch of vanilla and sugar. The result? A tangy and creamy topping that is the perfect compliment to waffles and fresh berries.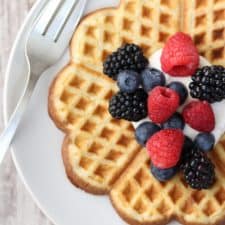 Nordic Buttermilk Waffles
Buttery heart-shaped Nordic waffles with just a hint of cardamom and vanilla.  Perfect with whipped skyr cream and fresh berries!
Print
Pin
Rate
Ingredients
For the Waffles:
1

cup

all-purpose flour

2

tablespoons

sugar

1

teaspoon

baking powder

½

teaspoon

baking soda

½

teaspoon

fine salt

¼

teaspoon

cardamom seeds

ground in a mortar and pestle or a spice grinder (or ¼ teaspoon ground cardamom)

4

tablespoons

unsalted butter

melted and cooled

1

cup

buttermilk

1

egg

½

teaspoon

vanilla extract
For the Whipped Skyr Cream:
1

cup

plain full-fat skyr or Greek yogurt

½

cup

heavy whipping cream

½

teaspoon

vanilla extract

2

tablespoons

sugar

To Serve:

Fresh berries

sliced peaches, jam or fruit compote
Special Equipment Needed:
Instructions
Make the Waffles:  Whisk flour, sugar, baking powder, baking soda, salt and cardamom together in a medium bowl.  Set aside.

Whisk buttermilk, butter, egg and vanilla together in a large bowl until fully combined.  Add dry ingredients to wet ingredients and stir until the mixture just comes together (It will not be entirely smooth). 

Heat up

waffle iron

according to manufacturer's instructions.  Cook waffles one at a time until golden brown and crisp. Transfer to a wire rack to cool or to 200 degree oven to keep warm.  

Make the Whipped Skyr Cream:  Combine skyr and whipping cream in the work bowl of a stand mixer.  Using the whisk attachment, whisk on medium speed for one minute. Add vanilla and sugar.  Continue whipping on medium high until mixture is light and fluffy, like a loose whipped cream.  Serve waffles with fresh berries, sliced peaches, jam, fruit compote, Whipped Skyr Cream and/or other toppings of your choice.
Nutrition
Calories:
300
kcal
|
Carbohydrates:
28
g
|
Protein:
8
g
|
Fat:
17
g
|
Saturated Fat:
10
g
|
Cholesterol:
81
mg
|
Sodium:
429
mg
|
Potassium:
148
mg
|
Fiber:
1
g
|
Sugar:
11
g
|
Vitamin A:
630
IU
|
Calcium:
144
mg
|
Iron:
1
mg