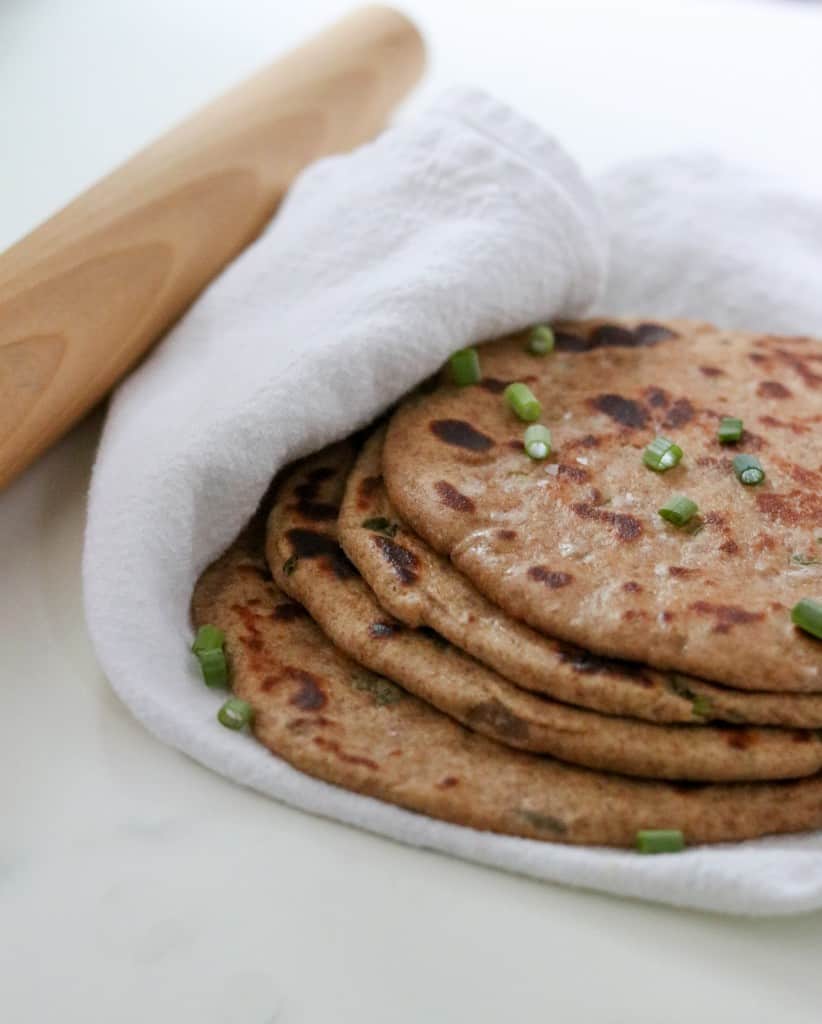 Inspired by the wide variety of soft flatbreads native to the Nordic region, these Whole Wheat Rye Flatbreads with Scallions are as versatile as they are delicious. They make a lovely companion for soups and stews or a bowl of creamy hummus; or pile your favorite ingredients on top and create a tasty wrap sandwich. The options are endless.
And did I mention that these flatbreads are 100% whole grain? Made with a combination of whole wheat and rye flour, they are most definitely wholesome and hearty while still managing to be soft and tender. What more can you ask for in a flatbread?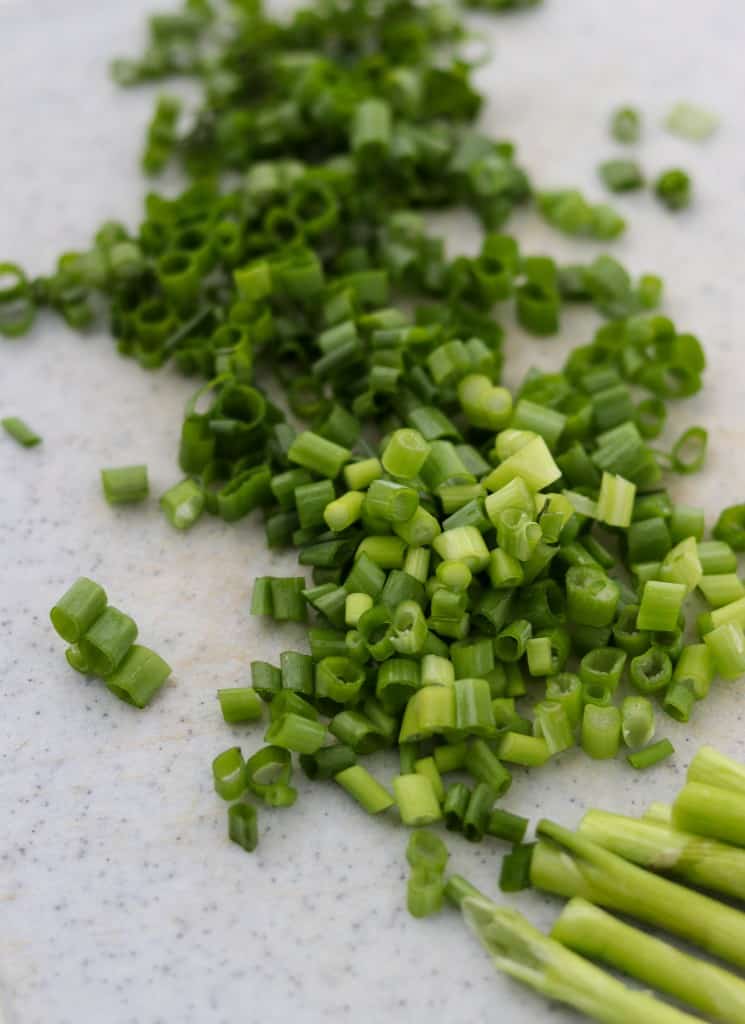 The Ingredients
Whole Wheat Flour. Hearty and sweet and full of good-for-you nutrients, whole wheat flour is a delicious and nutritious addition to these flatbreads, and also provides the gluten network necessary to hold them together.
Dark Rye Flour. Rye is THE quintessential Nordic grain and brings it's distinctive earthy flavor to this recipe. Rye flour does not contain much gluten, which helps keep these flatbreads on the tender and soft side.
Instant Yeast. This recipe calls for instant yeast. The beauty of using instant yeast here is that it can be mixed directly with other dry ingredients. No proofing in warm liquid is necessary. Should you be using active dry yeast rather than instant, you will need to proof it in warm (about 110 degrees) liquid for about 10 minutes prior to adding it to the dough. You can easily heat the buttermilk in this recipe in the microwave until it is warm to the touch and add the active dry yeast for proofing if necessary.
Honey. For sweetness and color. It's such a nice match with whole wheat flour.
Unsalted butter. For richness and flavor.
Buttermilk. Buttermilk serves as our liquid in this recipe. It is quite acidic in nature and keeps baked goods tender.
Egg. For richness and stability.
Sliced Scallions. For herby green flavor. You can always leave these out if you would rather but they are a very tasty addition to the dough.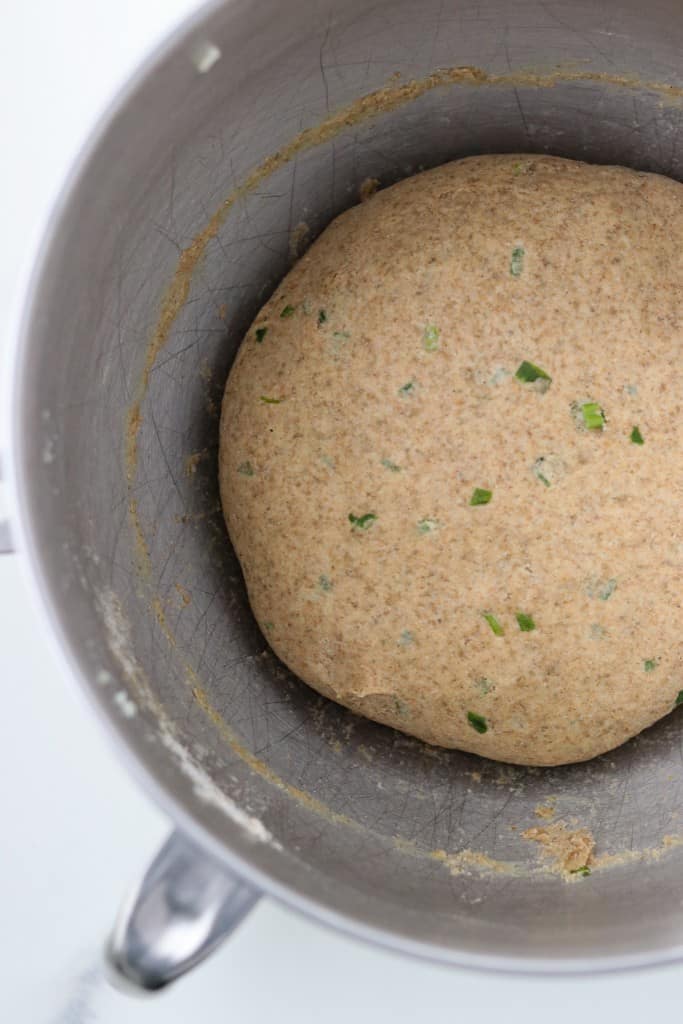 The Method
These Soft Whole Wheat and Rye Flatbreads with Scallions cook VERY quickly in a hot skillet (preferably cast iron) on the stove top. No baking required.
Divide, roll and work efficiently. Once the dough is mixed and has had a chance to rise at room temperature for about an hour, divide it into 8 equal pieces. Roll each piece into a thin round, about ⅛ inch thick (they will puff up when you cook them). I roll one piece at a time, add it to the hot skillet and then roll another one while the first one is cooking. This is efficient, and you'll cook up all 8 flatbreads in no time.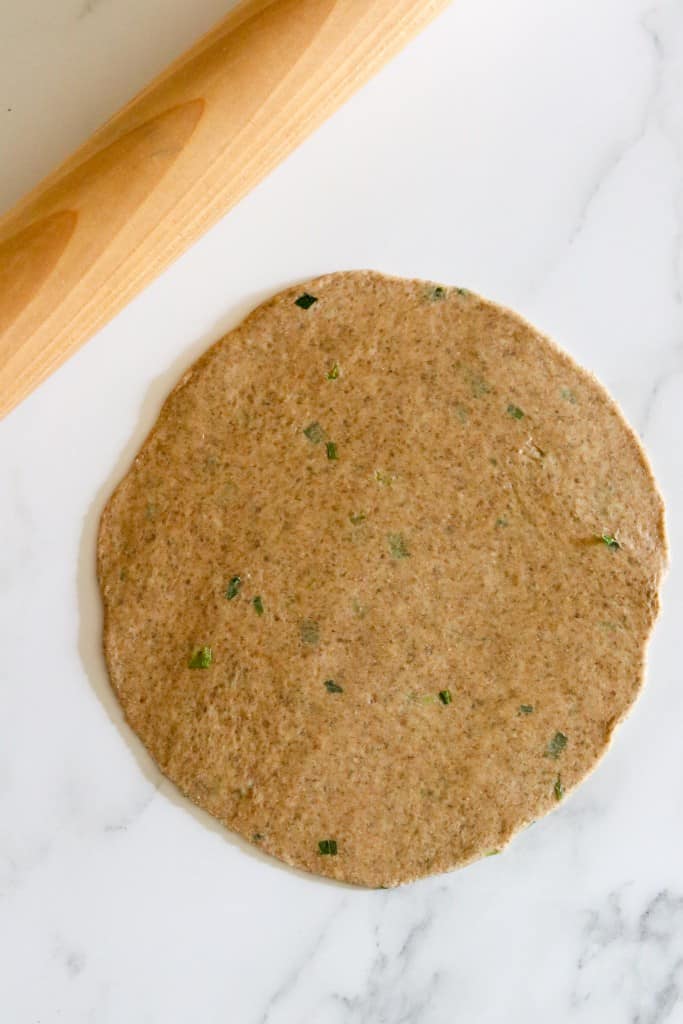 I prefer to not use any extra flour when rolling the dough. Extra flour can create a tough exterior and I actually think it's easier to just roll them right on a clean countertop. That way the dough rounds adhere just enough to create a nice shape. Use a metal dough scraper to help coax each round off of the work surface when you are ready to transfer it to the skillet.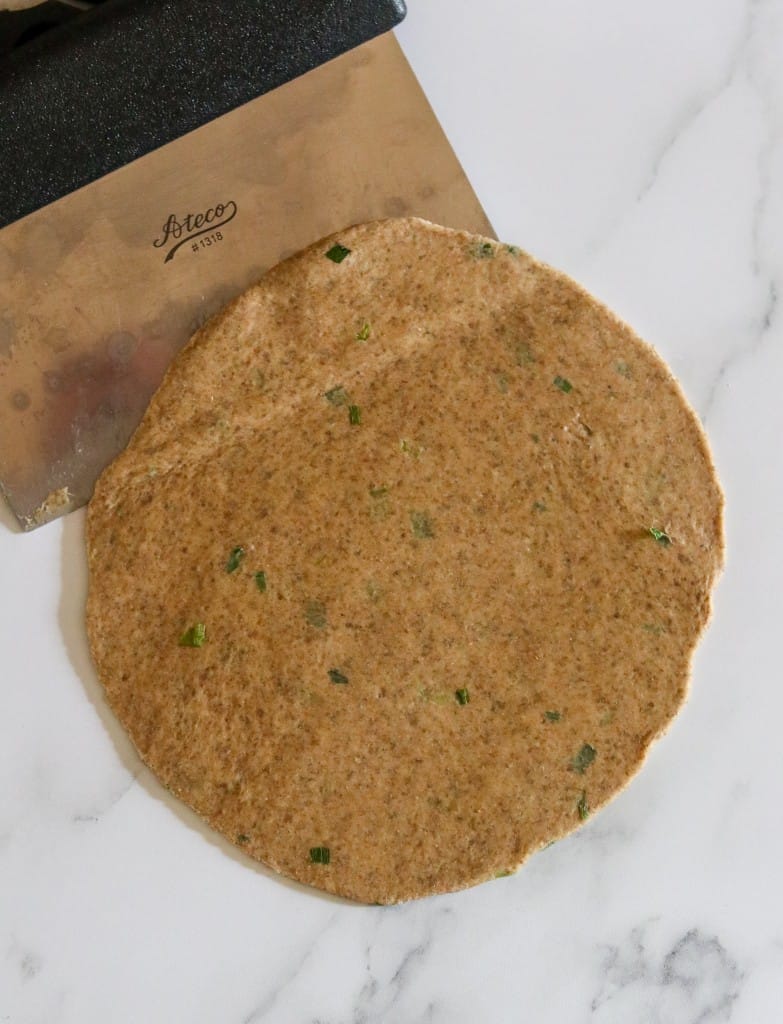 Start your skillet on medium heat for the first flatbread, and then reduce the heat to medium low afterwards for the remaining breads. Otherwise the skillet has a tendency to get too hot.
Add more oil as necessary. There should be a nice thin layer at the bottom of the skillet each time a new dough round goes in.
Keep an eye on your flatbreads, or at the very least, set a timer. They really do cook fast and it's easy to get distracted and forget to flip them.
Brush with melted butter when they come off the skillet. Butter means extra flavor and richness and an even softer soft exterior.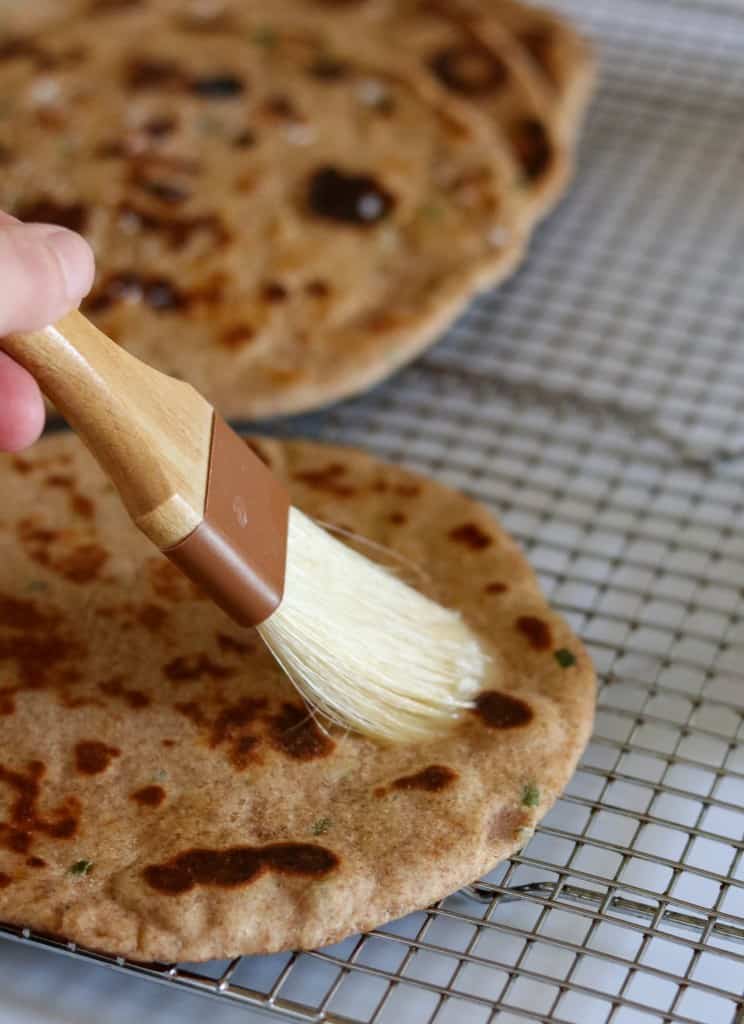 Sprinkle with sea salt flakes, such as Maldon. A little extra saltiness on the outside is very tasty here. You can always skip this step if you don't love salt as much as I do, but it is really is good.
Storing Flatbreads
These flatbreads are EXTRA delicious when they are warm, straight from the skillet. Like most things are. But, they keep nicely at room temperature for a day or two, and you can freeze them for longer storage. To reheat, simply pop them straight from the freezer into a hot oven until they are warmed through.
I hope you bake up a batch of these flatbreads sometime soon! I think you'll be surprised and delighted by how easy and delicious they are. And let me know in the comments below how it goes! I always love hearing from you.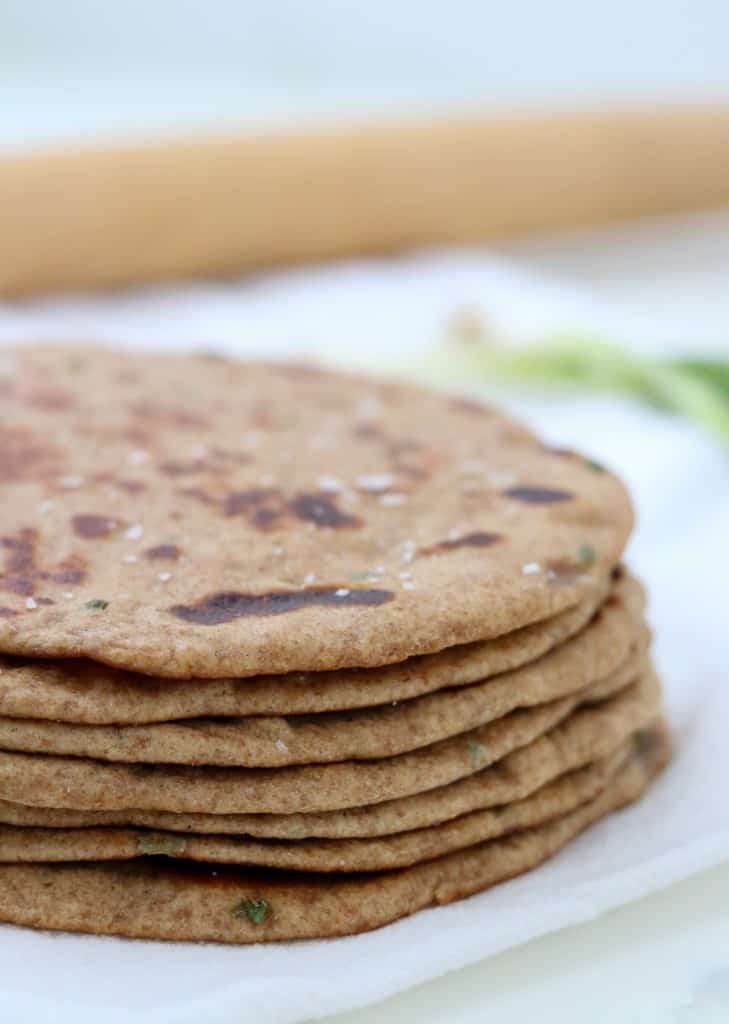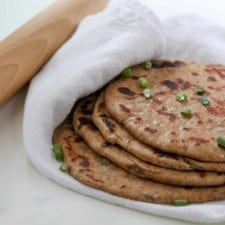 Soft Whole Wheat Rye Flatbreads with Scallions
Delicious, tender and easy flatbreads made with whole grain flours, buttermilk and chopped scallions. Perfect for dipping, wrapping or even as a base for a quick pizza!
Print
Pin
Rate
Ingredients
1 ½

cups

whole wheat flour

1 ½

cups

dark rye flour

1

teaspoon

fine salt

2

teaspoons

instant dry yeast

2

teaspoons

honey

3

tablespoons

unsalted butter

melted and cooled

1

cup

buttermilk

1

large egg

½

cup

sliced scallions

Canola oil for frying

Melted butter for brushing

Sea salt flakes

such as Maldon, for sprinkling
Instructions
Whisk whole wheat flour, rye flour, salt and yeast together in the bowl of a stand mixer.  Set aside.

In a seperate bowl, combine honey, melted butter, buttermilk and egg.  Add wet ingredients to dry ingredients.

Using the dough hook attachment, mix on low until mixture is just combined.  Increase speed to medium and knead dough for 3-4 minutes, adding the scallions during the final minute of kneading.  The dough will clear the sides and bottom of the bowl and be slightly tacky to the touch.  Remove bowl from the mixer and cover with plastic wrap.  Let the dough rise for about an hour.

Remove dough from the bowl and divide into 8 equal pieces.  Cover with plastic wrap.  Working with one piece of dough at a time, shape into a ball and then, using a rolling pin, roll into a thin round, about ⅛ inch thick.  

Heat 1 tablespoon of canola oil in a large skillet, preferably cast iron, over medium heat.  With the help of a metal dough scaper, carefully remove dough round from the work surface and transfer to the skillet.  Cook until spotty brown and cooked through, about one minute on each side.  Transfer to a wire rack and brush with melted butter.  Sprinkle with sea salt flakes if desired.  Reduce heat to medium low and continue with remaining pieces of dough, adding more oil as necessary to keep a thin layer on the bottom of the skillet.  Serve immediately or freeze.
Notes
Adapted from Sift Magazine, Fall 2017
Nutrition
Calories:
232
kcal
|
Carbohydrates:
35
g
|
Protein:
8
g
|
Fat:
8
g
|
Saturated Fat:
4
g
|
Cholesterol:
36
mg
|
Sodium:
334
mg
|
Potassium:
247
mg
|
Fiber:
6
g
|
Sugar:
3
g
|
Vitamin A:
281
IU
|
Vitamin C:
1
mg
|
Calcium:
56
mg
|
Iron:
2
mg