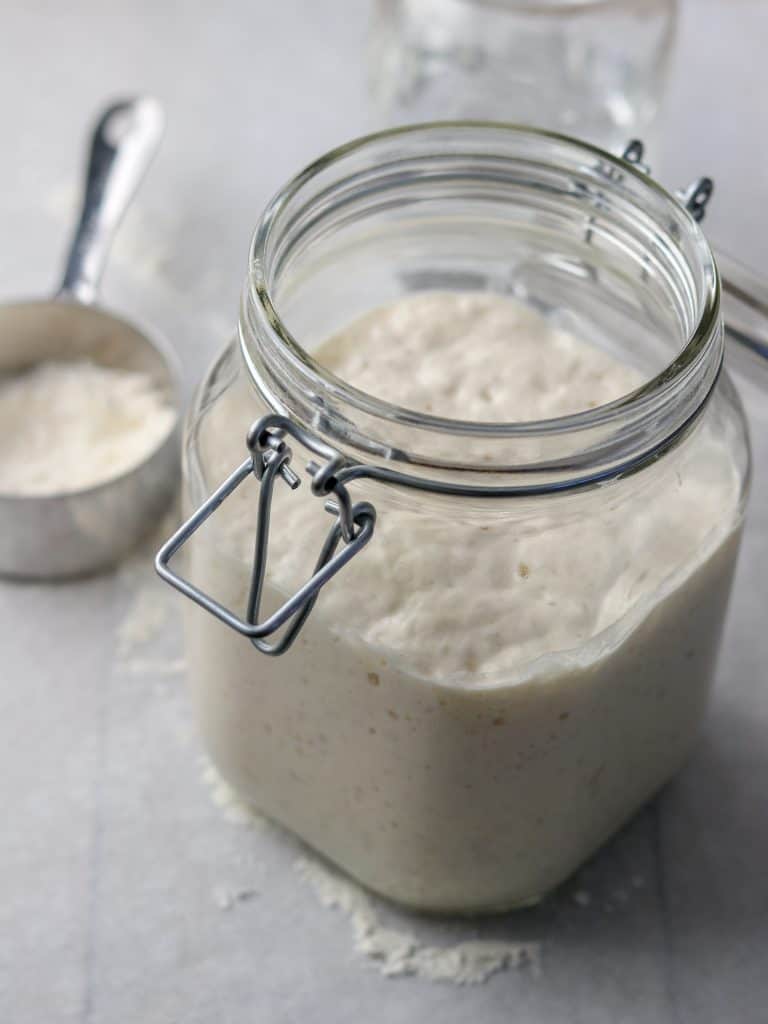 I've been baking sourdough bread in my home kitchen for nearly five years now and teaching sourdough workshops to small groups of people for three years. It's something I've wanted to share here on the blog for some time now, but I've been hesitant to to do so. Why? Because there is so much I want to tell you, and I want to do it right. I want you to see the beauty in the process. I want you to see how simple the whole seemingly complicated world of sourdough baking can be. Most of all, I want you to succeed. I want you to experience the feeling of pulling your own beautiful sourdough loaves from the oven with a deep sense of pride. So I'm setting my fears aside, taking a deep breath and starting at the very beginning. The Sourdough Starter. Without the starter, there can be no sourdough. Let's begin by covering some of the basics and learning how to create your own starter.
What is a Sourdough Starter?
It's a self-contained culture of yeast and bacteria that is used to leaven bread. We create a starter by leaving a combination of water and flour in a bowl on our kitchen countertop to essentially "invite" the right combination of yeast and bacteria to come and live (and most importantly eat) there. So a starter really is a living thing! Or technically speaking, it's many microorganisms living together as a community that we help create and sustain by regularly feeding it a mixture of fresh flour and water. You might think of your starter as a pet. A really useful pet that doesn't shed or need walks AND helps you bake bread.
What Does a Sourdough Starter Do?
A sourdough starter does essentially three things:
It leavens bread;
It causes the bread to develop complex flavor; and
It breaks down the natural barriers present in whole grains making the nutrients found in those grains more available to the human body and making the bread easier to digest.
By way of comparison, commercial yeast will leaven your bread, but that's about it. The other two functions of the starter are made possible by a beneficial strain of bacteria that is present in the starter culture called lactobacilli. These bacteria convert starches and sugars into lactic acid. This process is called lacto-fermentation, and it creates flavor, acts as a natural preservative, and makes our bread more nutritious and easier to digest.
How Long Will It Take to Create My Sourdough Starter?
The entire process of creating a sourdough starter takes 7 days. So in one short week you will have a culture that is ready to use for baking bread in your own kitchen!
Once I've Created My Starter, How Do I Keep It Alive?
Good question. I'm not going to lie to you, the ownership and care of sourdough starter is a commitment. It will need regular feedings, as discussed in the instructions below, especially when it is left out at room temperature. The good news is that we can store our starter in the fridge for a week or so and not have to feed it at all during that time. So if you bake once a week, you can leave your starter in the fridge until a day or two before you plan to bake with it. Give it a couple of feedings at 12 hour intervals and it is ready to use in your next batch of bread. Once you are done using it, you can feed it and return it to the fridge for storage. I try not to let my starter go for more than 2 weeks at a time without being fed. Even if I'm not planning on baking, I might take it out of the fridge and give it a feeding just to keep it happy and healthy.
What Equipment Will I Need?
To create your sourdough starter you will need:
A Kitchen Scale: We will be using weight measurements to create our starter. Remember when I said that what I wanted most of all was for you to succeed in the bread baking process? Using a scale will ensure that success. And it's important to have one a going forward basis as most sourdough recipes are measured by weight rather than by volume. Weighing your ingredients is a really easy process and far more accurate than measuring by volume. I really like this one from the good people at Oxo but it's a bit expensive. There are plenty of affordable kitchen scales on the market for $20 or less.
Two Bowls: While we are creating our sourdough starter, we will be feeding it at 12 hour intervals. You will need two medium size bowls for this process: One for the current starter and one to transfer a portion of that starter to for the next feeding. Be sure your bowls are at least medium size to allow for growth. Once your starter gets active, it can bubble over in a container that is too small for it.
A Spoon: For stirring the starter mixture. I just use a regular metal spoon.
Plastic Wrap: While we are creating our starter we are going to keep it loosely covered in plastic wrap on the kitchen counter. Why loosely covered? Because if we cover it too tightly, the yeast and bacteria that we are hoping to attract with our "food" (a.k.a. flour and water) may not be able to get to it. It would be like you throwing a party and making a bunch of awesome food but then locking all the doors and refusing to let your guests inside. We want to be hospitable to our yeast and bacteria friends and make them feel welcome. We do not, however, want flies or other household pests finding their way into our starter. So loosely covered it is.
What Ingredients Will I Need?
Pretty basic stuff, really, with one notable exception:
Bread flour: Go ahead and stock up on this one because you are going to go through a lot of it while you create your starter. A little pro tip: I buy my bread flour at a local bakery supply store in 50 pound bags. It is CONSIDERABLY more cost effective to do so. You may not bake as often as I do so you might want to find a friend who wants to be your sourdough buddy and split a giant bag of flour with you. If you do buy your flour in bulk, make sure you store it properly. I use two airtight plastic containers that I purchased from King Arthur Flour that hold 25 pounds of flour each.
Whole Wheat Flour: Just a small bag will do. We will be using some in the very first build of our starter.
Water: Naturally. I use the filtered water straight from the refrigerator door dispenser.
Diastatic Malted Barley Flour: This is the notable exception I mentioned above. You can make a starter with just regular flour and water, but a little pinch of diastatic malted barley flour is a fantastic jump-starter for getting everything going. This particular flour increases the enzymatic activity of your starter environment and provide more "food" for the yeast and bacteria that you are trying to attract, thus contributing to the success of your starter. I highly recommend using it, but just a pinch! A little goes a long way. Again, this would be a great ingredient to share with a friend or two as you literally just need a pinch. And remember to plan ahead on this one...it's probably something you will need to order (I get mine from Breadtopia.
That's Sourdough Starter 101! Now it's your turn. Order that diastatic malted barley flour and kitchen scale and stock up on bread flour. It's time to create your starter!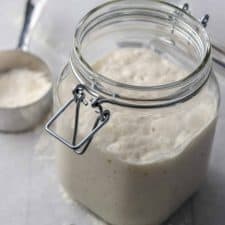 Creating Your Own Sourdough Starter
A step-by-step guide to creating your own sourdough starter.
Print
Pin
Rate
Instructions
Day One:
Combine all ingredients in a bowl and mix thoroughly.  Cover loosely with plastic wrap and let the mixture sit at room temperature (ideally around 70-75 degrees) overnight.  Remember, it is important to leave the mixture loosely covered at this point.
Day Two:
Stir the mixture once or twice (do not feed), cover loosely and continue to let sit at room temperature.
By this time you should be starting to see some evidence of yeast and bacteria activity in the form of bubbles.  If so, combine:
5 ounces of starter

4 ounces of water

5 ounces of bread flour

in a clean bowl.  Stir until smooth.  Cover loosely and let sit at room temperature.  Discard the remainder of the original starter.
Days Three Through Seven:
Repeat the above feeding process every 12 hours.  Feeding at regular intervals will help with the success of your starter.  Consider setting an alarm on your phone to help remind you, and choose a feeding time that consistently works with your schedule.  Continue these twice a day feedings through Day Seven. At this point your starter should smell sweet and faintly of alcohol and be ready to use.  Be aware that in the middle of the week there may come a time when your starter does not smell very good. Don't worry and don't throw it out! It will all come together by Day Seven.
If your starter is bubbly and happy (doubling or tripling in volume between feedings) feel free to start feeding it as follows:
5 ounces of starter

5 ounces of water

5 ounces of bread flour

If you are leaving our starter at room temperature, I would continue feeding it every 12 hours for a few weeks.  Once the culture is well-established, you can stretch your feeding schedule out to once every 24 hours. But while you are still building and strengthening your starter it is helpful to do more frequent feedings.

If you do not plan on baking for a few days and want to move your starter to the refrigerator so that you do not need to feed it so often, go ahead and feed your starter as you normally would, let it sit at room temperature for 30 minutes and then refrigerate.  Cover tightly for refrigeration to prevent your starter from drying out.

Once your sourdough starter is well-established, it can be left in the refrigerator for up to a week between feedings.  I like to take it out at least a day or so before I plan to bake and feed it a couple of times at 12 hour intervals before using it in a recipe.
Nutrition
Calories:
795
kcal
|
Carbohydrates:
164
g
|
Protein:
29
g
|
Fat:
5
g
|
Saturated Fat:
1
g
|
Sodium:
16
mg
|
Potassium:
525
mg
|
Fiber:
15
g
|
Sugar:
1
g
|
Calcium:
56
mg
|
Iron:
5
mg