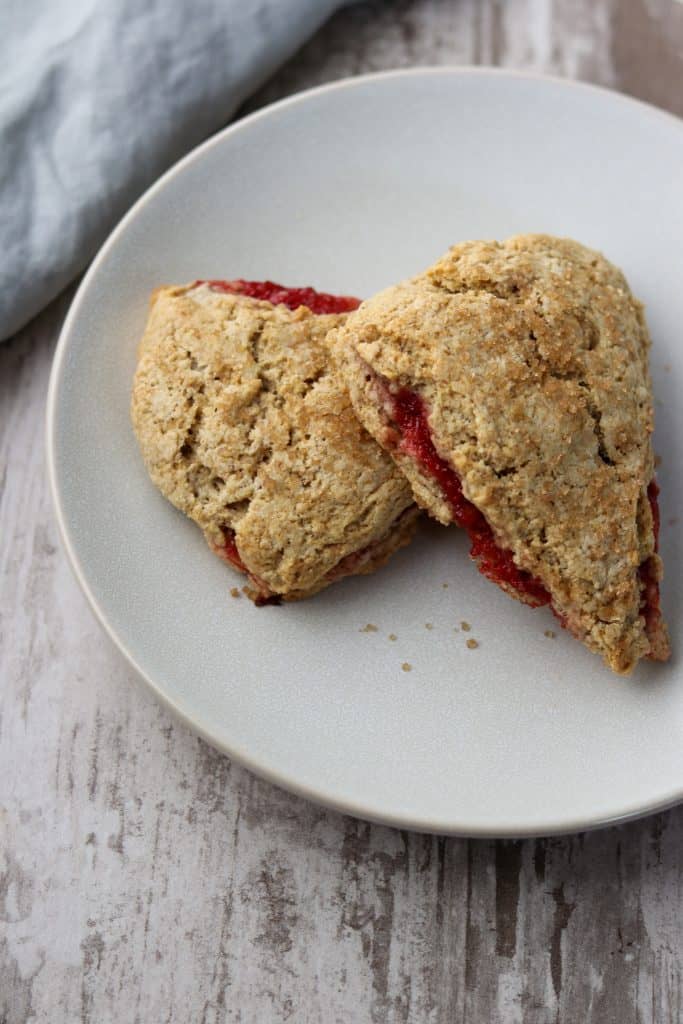 Better Together
My original plan for this recipe was rhubarb rye scones. No strawberry, just rhubarb. It seems that whenever I make something with rhubarb, strawberries are there, too. Couldn't rhubarb just have its moment in the sun all on its own? I played around with the recipe for a few days and made a few batches of scones that were okay but that I didn't really love. The trouble is that rhubarb by itself, without the assistance of a lot of sugar (and/or strawberries), can be aggressively sour. So theses rhubarb-alone scones required copious amounts of sugar in order to make them tasty, defeating my desire for a not too sweet scone. By Wednesday I was ready to admit that as hard as I might try to fight it, strawberry and rhubarb were meant to be together in this recipe.
And then I pulled out my copy of Kim Boyce's brilliant book, Good to the Grain and found her recipe for Strawberry Barley Scones. Yes! This would be my starting point. I loved the whole concept of what she had created….a half barley flour, half wheat flour scone with a layer of homemade jam baked in the middle. I could hardly get to the kitchen fast enough to give them a try.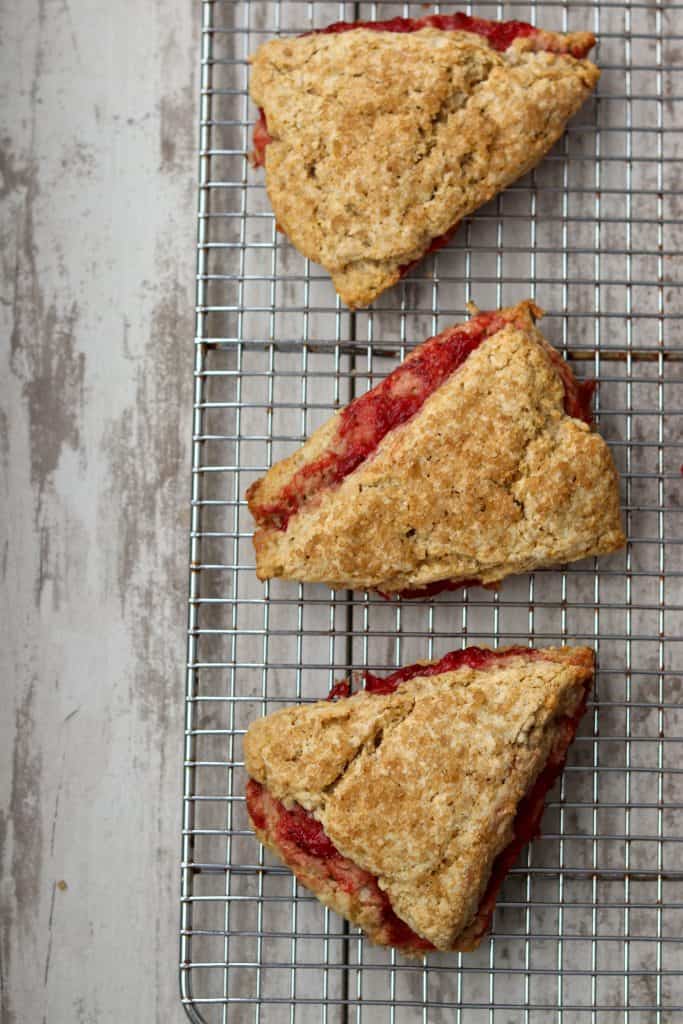 Making a few minimal adjustments to the dough and replacing the strawberry jam with my Roasted Strawberry Rhubarb Compote, I hopefully slid my batch of scones into the oven. 25 minutes later, out came the perfect scone…tender, moist, not too sweet and full of strawberry rhubarb flavor. Sorry, Rhubarb! It looks like that moment in the spotlight will have to wait. You and strawberries are, once again, perfect together.
Tips for Scone Success
Scones are a relatively easy thing to bake, but there are a few tips and tricks that will help your scones turn out perfectly every time:
Keep everything cold. This is the number one thing to remember when baking scones. They are very much like biscuits in that you want to cut cold butter into the flour in order to create a flaky, tender texture. I store my barley flour in the freezer which not only helps keep it fresh but also helps the scone dough stay nice and cool.
Be organized and work quickly. This is all in pursuit of keep things cold. Have your ingredients and equipment prepped and ready to go, and store all cold ingredients in the refrigerator until you need them.
Do not over process the butter. There should be some pea-sized pieces of butter remaining once you are done processing the butter and flour together. This helps to contribute to the tender, flaky texture of your scone.
Do not over work the dough. After adding the wet ingredients to the dry, just mix everything together until it is just combined. The dough will look shaggy which is exactly what you want. You can give it a couple of kneads with your hands to help bring it all together and the go ahead and pat it out into circles from there.
Flour your work surface and use a dough scraper. The dough will be sticky. Make sure your work surface is generously dusted with flour, and dust the tops of the dough circles with flour as needed when you are patting them out. Use a dough scraper or thin metal spatula to help release the dough from the countertop and transfer the scones to the baking sheet. Barley flour has very little gluten so they will be delicate and a bit fragile when you try to move them.
Eat them the same day you bake. It's not that these scones aren't tasty the next day, but they are best when they are freshly baked. As most things are.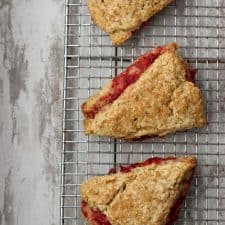 Strawberry Rhubarb Barley Scones
A tender, delicate scone with a layer of strawberry rhubarb compote in the center.
Print
Pin
Rate
Ingredients
1

cup

+ 2 tablespoons barley flour

1

cup

all purpose flour

¼

cup

packed dark brown sugar

2

teaspoons

baking powder

½

teaspoon

baking soda

¾

teaspoon

fine salt

8

tablespoons

cold unsalted butter

cut into ½ inch pieces and chilled

½

cup

cold buttermilk

1

large egg

1

teaspoon

vanilla extract

½

cup

chilled Roasted Strawberry Rhubarb Compote

1

tablespoon

cooled melted butter

Coarse sugar for sprinkling
Instructions
Preheat oven to 350 degrees.  Combine flour, barley flour, sugar, baking powder, baking soda and salt in the work bowl of a food processor.  Process a few times to combine ingredients. Sprinkle half of the cold butter cubes over the top of the flour mixture and process until fully combined, about 6-8 long pulses.  Sprinkle the remaining cold butter cubes over the mixture and pulse just until these butter pieces are about the size of a pea, about 6 short pulses.

Transfer mixture to a bowl.  Whisk buttermilk,egg and vanilla together in a liquid measuring cup.  Make a well in the center of the dry ingredients and pour the buttermilk mixture in the center.  Using a rubber spatula, fold everything together until a shaggy dough forms, kneading with your hands a couple of times if necessary to just bring everything together.  Do not overmix.

Transfer dough to a floured work surface.  Divide dough in half. Pat dough out into a two 7-inch circles that are about ¾ inch thick, dusting it with additional flour if necessary to keep it from sticking to your hands as you work.  Cover the top of one circle with

Roasted Strawberry Rhubarb Compote

leaving a ¾ inch border around the edge of the circle.  Place the other circle on top of compote. Press down slightly to help everything adhere together.  

Cut the dough into 8 wedges, cleaning off your knife or dough scraper in between each cut with a paper towel.  Using a dough scraper or spatula, carefully transfer scones to parchment lined baking sheet (they will be delicate).   Brush with melted butter and sprinkle generously with coarse sugar. Bake 22-26 minutes or until golden brown. Serve warm.
Notes
Adapted from

Good to the Grain

by Kim Boyce.
Nutrition
Calories:
338
kcal
|
Carbohydrates:
48
g
|
Protein:
5
g
|
Fat:
14
g
|
Saturated Fat:
9
g
|
Cholesterol:
56
mg
|
Sodium:
428
mg
|
Potassium:
127
mg
|
Fiber:
3
g
|
Sugar:
18
g
|
Vitamin A:
448
IU
|
Vitamin C:
2
mg
|
Calcium:
101
mg
|
Iron:
2
mg