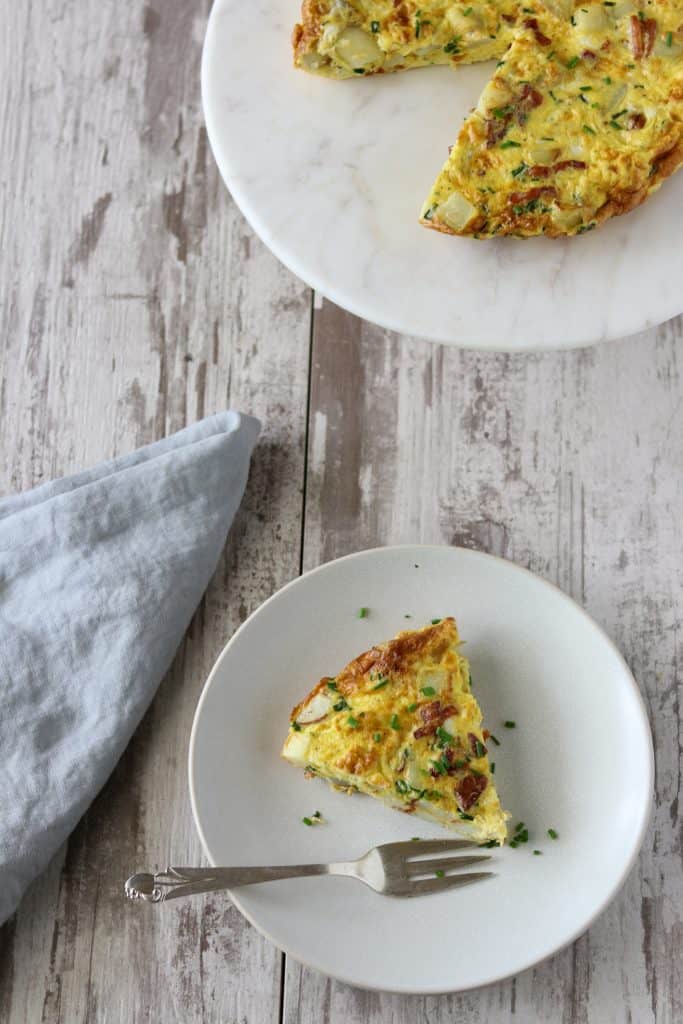 I love recipes that are so practical that they appear in a similar form in a variety of different food cultures. This Danish Egg Cake, for example, bears a striking resemblance to an Italian frittata, Spanish tortilla or a French omelette. I'm quite sure this dish transcends international boundaries not only because it is delicious, but also because of its simplicity and versatility...eggs baked together with leftover vegetables and maybe a little meat and/or cheese. It makes for a quick and easy brunch, lunch or dinner, and comes together with everyday staples that you are likely to have on hand in the fridge. Everyone needs tasty and resourceful recipes like this one in their back pocket!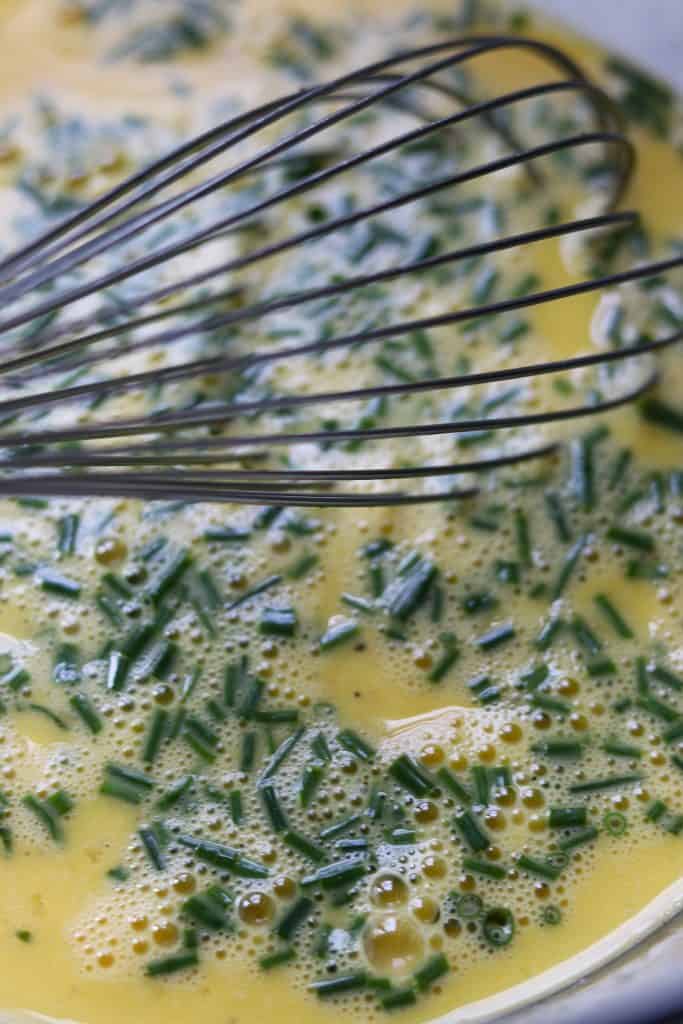 Most of the recipes I found in my research contained bacon, one calling for a whopping 24 slices! I've whittled that down to a more reasonable four. Some included potatoes while some didn't, and a few added a tablespoon or two of flour, which didn't prove to be all that useful or necessary, so I left the flour out entirely. This recipe is most certainly a template. You could easily switch up the filling ingredients, eliminating or increasing the amount of bacon or adding cooked sausage instead, or maybe switching out the potatoes and/or chives for other seasonal vegetables and herbs that you might have on hand. Perhaps adding a little cheese. Once you have the technique down, the sky is the limit!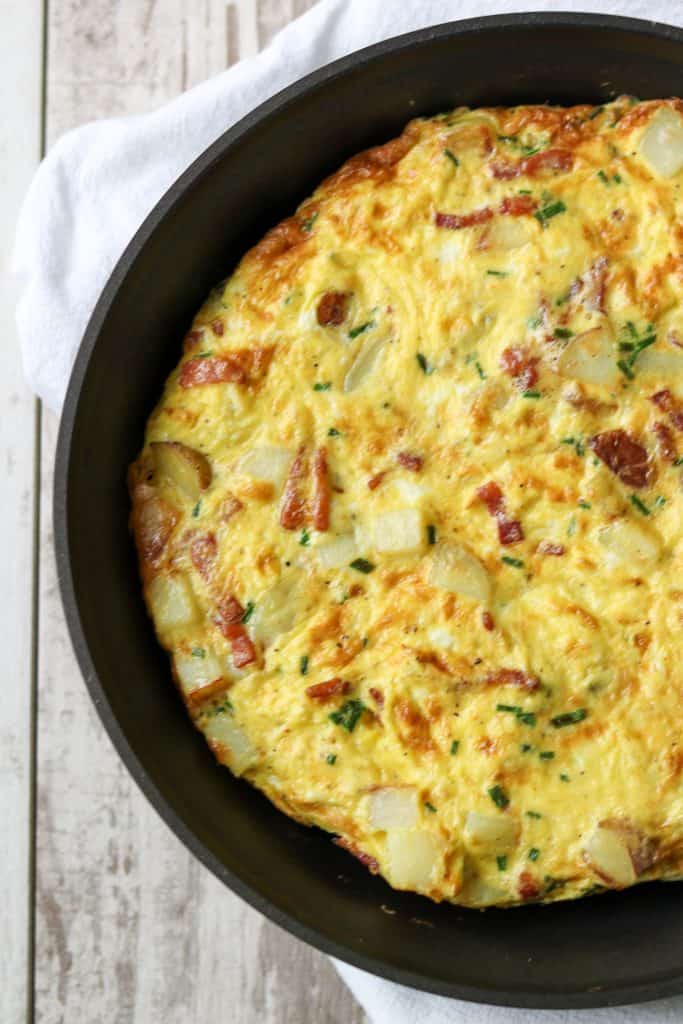 Speaking of technique, I've got a few tips for ensuring your Danish Egg Cake success:
Use a medium (10 inch) nonstick skillet. You don't want your cake sticking to the pan when you try to slide it out.
Position your oven rack approximately 8 inches from the broiler heating element. In my oven this means that the oven rack is in the lower-middle position. If the egg cake is too close to the heating element, the top will brown before the inside finishes cooking.
Be sure to stir the eggs constantly with a heat-proof rubber spatula, scraping the bottom of the pan while the cake is cooking on the stove top until large, wet curds form. This will help ensure that the eggs cook evenly all the way through and that the cake doesn't get too brown on the bottom.
Pat down the top of the large curds of eggs with the rubber spatula and let it cook on the stovetop for 30 seconds without stirring the mixture before sliding it into the oven. This helps it develop on the bottom and form into a cohesive cake.
Let the cake rest in the skillet for 5 minutes after it comes out of the oven. This will help the eggs finish cooking all the way through.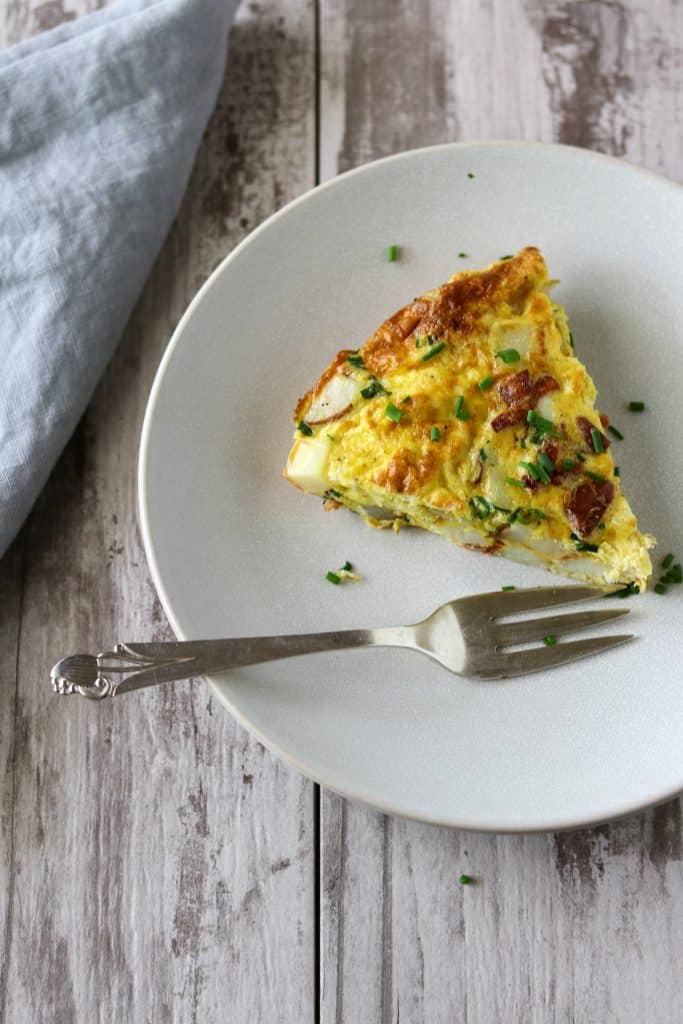 In her book, Scandinavian Feasts, Beatrice Ojakangas writes that the Danish egg cake is usually served as a lunch dish, "after a tray of cold herring, salmon, bread, and salads has been enjoyed." This sounds delightful, of course. But feel free to just opt for a simple side salad to round out your meal if you aren't feeling that ambitious. Or if you are feeling brunchy about it, maybe a big bowl of seasonal fruit and a batch of Strawberry Rhubarb Barley Scones. This is a recipe that you can turn to again and again, in any season and at any time of day.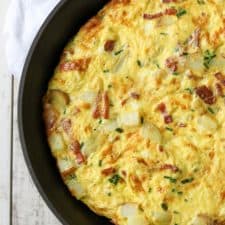 Danish Egg Cake with Potatoes, Bacon and Chives (Æggekage)
A quick and easy Scandinavian style omelet with potatoes, bacon and chives.  A perfect meal for any time of day!
Print
Pin
Rate
Ingredients
10

eggs

3

tablespoons

half and half

2

tablespoons

chopped fresh chives

additional chives for serving if desired

Coarse salt and freshly ground pepper

4

slices

of thick cut bacon

or 6 regular slices of bacon, chopped into ½ inch pieces

1 ½

cups

cooked new potatoes

cut into half-inch pieces
Instructions
Set oven rack so it is about 8 inches from the heating element.  Turn on broiler.

Whisk eggs, half and half, chives, ½ teaspoon salt and a few grinds of freshly ground pepper in a large bowl.  Set aside.

Fry bacon over medium heat in a 10 inch nonstick skillet until crisp.  Using a slotted spoon, remove bacon from the skillet and drain on paper towels.

Pour off all but 1 tablespoon of bacon fat from the pan.  Add potatoes and cook until golden brown, about 3-5 minutes.  Add reserved bacon and stir to combine.

Pour egg mixture into the skillet.  Using a rubber spatula and being sure to continuously scrape the bottom of the pan, stir eggs constantly until large curds begin to form, about 2-3 minutes.  Shake the skillet and use the spatula to arrange eggs in an even layer in the pan, patting down the top (eggs will still appear quite wet at this point). Allow the eggs to cook without stirring for 30 seconds to set the bottom of the cake.

Transfer the skillet to the oven and broil until surface is just beginning to brown, about 2 minutes.  Carefully remove the skillet from the oven and let the egg cake rest for 5 minutes. Using a clean rubber spatula, loosen the cake from the sides of the pan and gently slide onto a serving plate.  Sprinkle with additional fresh chives if desired. Serve.
Nutrition
Calories:
225
kcal
|
Carbohydrates:
11
g
|
Protein:
15
g
|
Fat:
13
g
|
Saturated Fat:
5
g
|
Cholesterol:
414
mg
|
Sodium:
166
mg
|
Potassium:
403
mg
|
Fiber:
1
g
|
Sugar:
1
g
|
Vitamin A:
699
IU
|
Vitamin C:
12
mg
|
Calcium:
80
mg
|
Iron:
2
mg