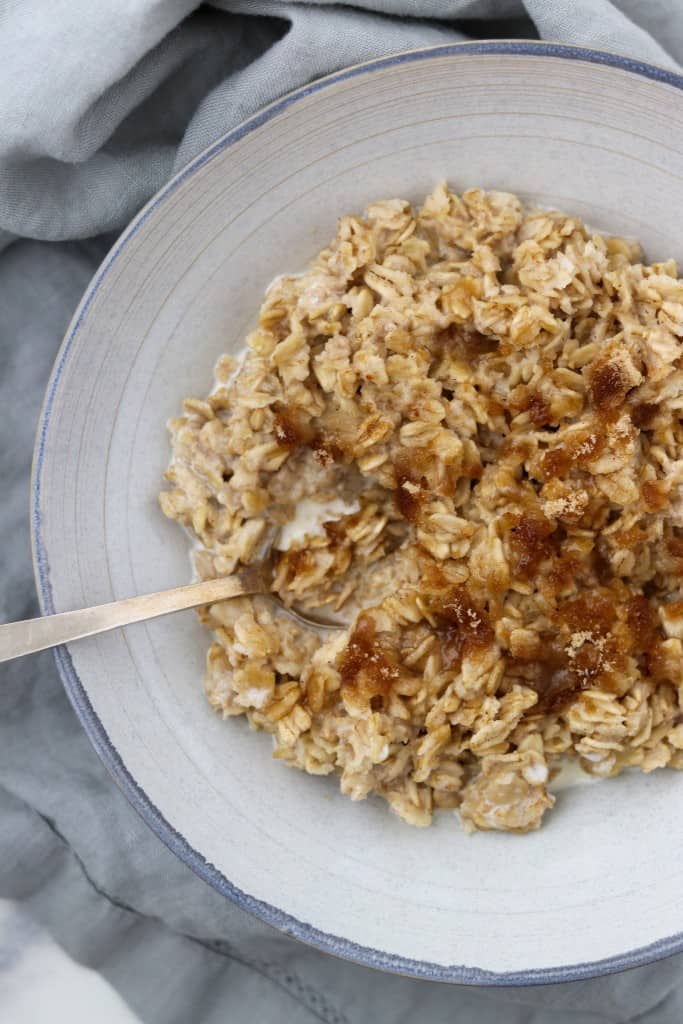 Porridge has been a cornerstone of the Scandinavian diet since prehistoric times. Nutritious and easy to store, it only makes sense that hearty grains such as oats, barley and rye would be important to people living in a cold, harsh climate. According to food historian Henry Notaker, porridge was once served as often as three times a day! While things have thankfully changed since the days of eating porridge for every meal, it has most definitely made a culinary comeback in recent years. Trendy porridge bars such as GRØD in Denmark have revived an interest in this ancient food by finding innovative and delicious new ways to enjoy porridge.
Innovation is good, but so is getting back to basics. Back to something easy for those hectic weekday mornings when we are short on time but still want something warm and comforting to carry us through until lunch. Enter this Simple Oatmeal with Brown Sugar and Cream. It's one of the easiest and most satisfying breakfasts I know, and it only requires about 5 minutes of hands on cooking time. Which is just the amount of time I'm willing to invest in breakfast prep on an average weekday.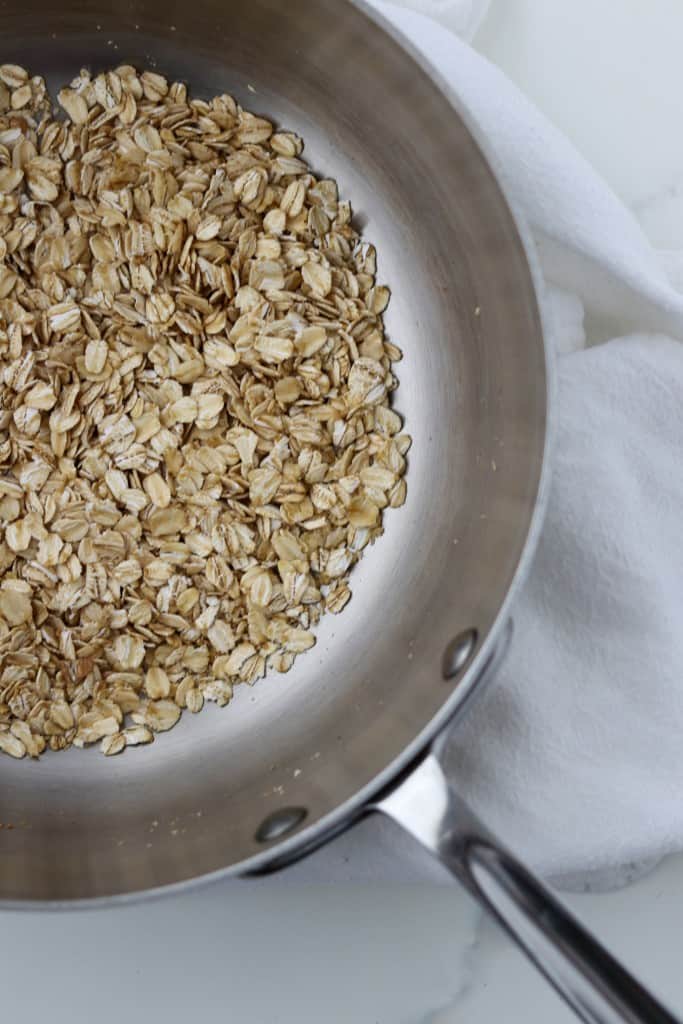 What are the Different Types of Oats?
Oats come in several different forms. This oatmeal is made with Old-Fashioned Rolled Oats, which differ significantly in both cooking time and texture from other types of oats. Curious about how these different types of oats compare with one another?
Oat groats: These are the most whole form of the oat grain as they are simply hulled oats. Each groat is about the size of a grain of barley or farro. Because they are minimally processed they take longer to cook, up to an hour of simmering time.
Steel cut oats: Steel cut oats are hulled oat groats that have been cut into smaller pieces which decreases the overall cooking time. A batch of steel cut oats generally takes about 30 minutes to cook.
Old-Fashioned Rolled Oats: These are oats that have been steamed and flattened in a roller (hence their flat shape). Thanks to this processing technique, rolled oats only take about 5-7 minutes to cook.
Instant Oats: These are the kind of oats you might find in one those little packages of oatmeal that require that you simply add water. They are old-fashioned rolled oats that have been cut into smaller pieces and, as the name suggests, they cook almost instantly.
The good news is that all types of oats are incredibly nutritious and high in fiber, regardless of what form they take.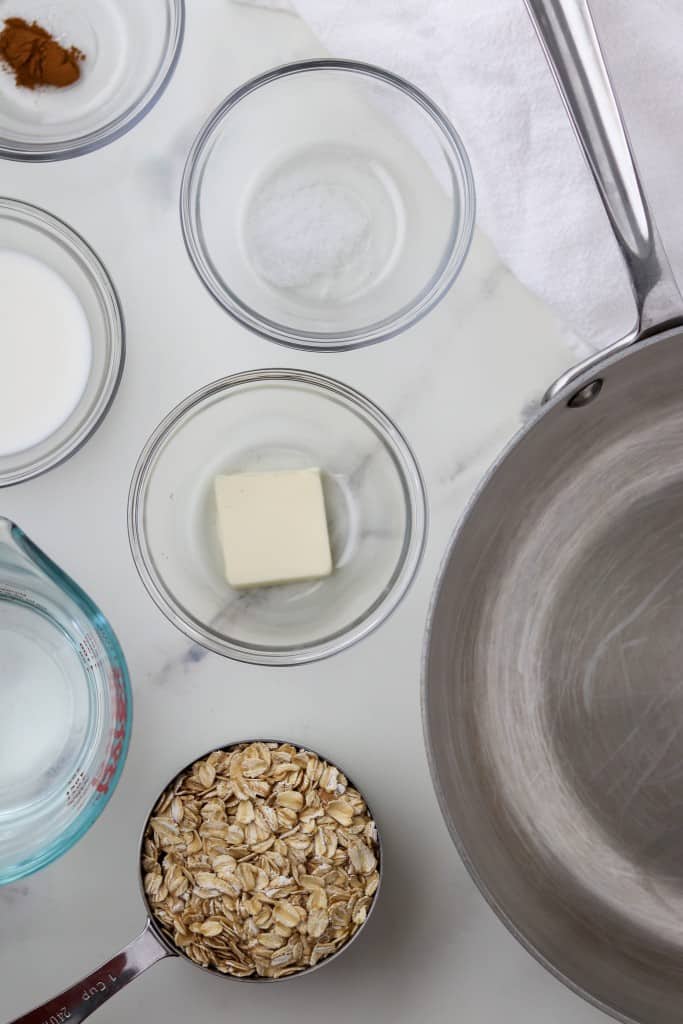 The Ingredients
The ingredients here are exactly what you would expect and are readily available. You probably them in your kitchen already!
Butter
Water
Milk (nut, soy or oat milk works just fine)
Salt
Brown Sugar, Cream and Flaky Sea Salt such as Maldon for serving (optional but delicious)
The Method
While the ingredients might be quite ordinary, what really makes this recipe special is the technique. Yes, anyone can follow the instructions on the box and make a bowl of oatmeal. But this particular variation is adapted from Megan Gordon's DELIGHTFUL book, Whole Grain Mornings. And there are a couple quick steps which elevate this oatmeal recipe above all others:
Toast the oats in the butter. This one simple trick takes just two minutes but imparts deep toasty, buttery flavor to your oats. Do not skip this step!
Use only 1 cup of liquid for every cup of oats. The ratio suggested on the box is twice that: 2 cups of liquid for every cup of oats. Using a smaller amount of water helps the oats maintain their integrity while cooking rather than becoming a bowl of mush. This particular recipe calls for a combination of water and milk which adds just the right amount of creaminess.
Let the oats sit off the heat to finish cooking for exactly seven minutes. Why seven? I don't know but it works every time. Your oats will be perfectly creamy but still distinct in texture rather than mushy. And this hands off time is the perfect opportunity to continue that morning routine: Enjoy a cup of coffee, check your e-mail or let the dog outside. You do you while the oatmeal takes care of itself.
Serve with Brown Sugar, a drizzle of cream and a sprinkle of sea salt. Brown sugar and cream and classic oatmeal toppings for a reason. And you really don't need much cream...just a drizzle is enough to add a welcome richness to your breakfast. And the salt? Definitely optional, but I love the way it plays off of the brown sugar and heightens the flavor of the oatmeal.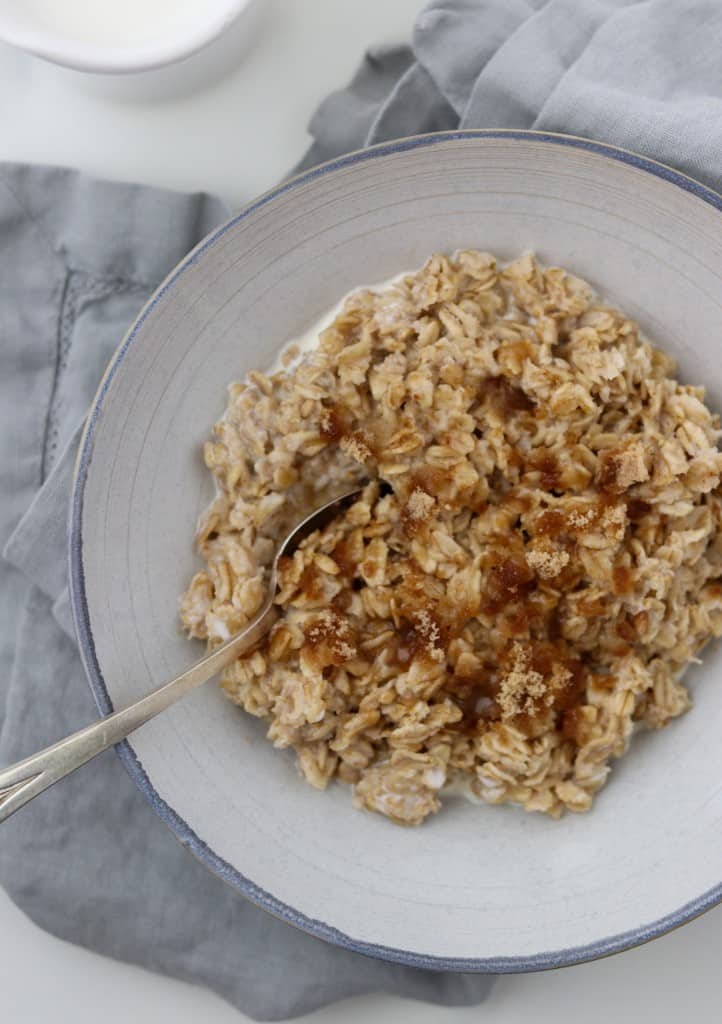 Going Beyond the Basics
As I said above, simple is sometimes best, especially on a busy Tuesday morning. But if you are looking for some other topping ideas, I've got a few easy additions/substitutions to consider:
Sliced bananas and toasted walnuts
Cubed crisp apples and substitute maple syrup for the brown sugar
Sliced ripe pears and toasted almonds and substitute honey for the brown sugar
Quartered fresh strawberries (tossed in a little brown sugar) and a dollop of sour cream
Sliced ripe peaches and a spoonful of creme fraiche
More Recipes for Old-Fashioned Oats
Looking for ways to use up those oats? I've got several great recipes on the site that I hope you'll try:
I'm so excited for you to try this recipe for Simple Oatmeal with Brown Sugar and Cream! It's been a family favorite around here for a few years now, and I know you are going to love it, too.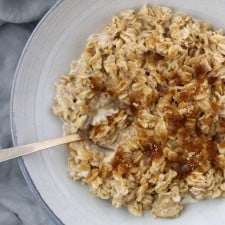 Simple Oatmeal with Brown Sugar and Cream
Simple, delicious and creamy oatmeal served with brown sugar and a drizzle of cream.  Perfect for busy weekday breakfasts!
Print
Pin
Rate
Ingredients
1

tablespoon

unsalted butter

1

cup

old-fashioned rolled oats

¼

cup

milk

regular, nut or oat milk is fine

¾

cup

water

Pinch

of coarse salt

¼

teaspoon

ground cinnamon

Brown sugar

heavy cream, and flaky sea salt such as Maldon for serving
Instructions
Heat butter over medium heat in a saucepan.  Add oats.  Cook, stirring frequently, until oats begin to smell toasty, about 2-3 minutes.  Add milk, water, salt and cinnamon and stir to combine (be careful, the liquid may splatter a bit when you pour it in).  Bring the mixture to a boil and then turn off the heat and cover the saucepan.  Let sit for 7 minutes.

Remove the lid and serve with a generous sprinkle of brown sugar, a drizzle of cream and a dash of flaky sea salt over the top.
Nutrition
Calories:
223
kcal
|
Carbohydrates:
29
g
|
Protein:
6
g
|
Fat:
9
g
|
Saturated Fat:
5
g
|
Cholesterol:
18
mg
|
Sodium:
21
mg
|
Potassium:
187
mg
|
Fiber:
4
g
|
Sugar:
2
g
|
Vitamin A:
224
IU
|
Calcium:
56
mg
|
Iron:
2
mg