Happy New Year! Let me guess....you're ready to leave the Christmas cookies and rich holiday foods behind in favor of something light and healthy this month. But at the same time, it's January. It's still cold and dark outside and the craving for comfort is very real. What to do?
This Creamy Barley Risotto with Roasted Mushrooms and Crispy Kale might just be answer to your dilemma. Nutritious pearl barley prepared in a risotto style creates a creamy, satisfying base for hearty roasted mushrooms and crispy, garlicky kale. Call it comfort food with a healthy twist if you like, it makes a cozy and delicious winter supper.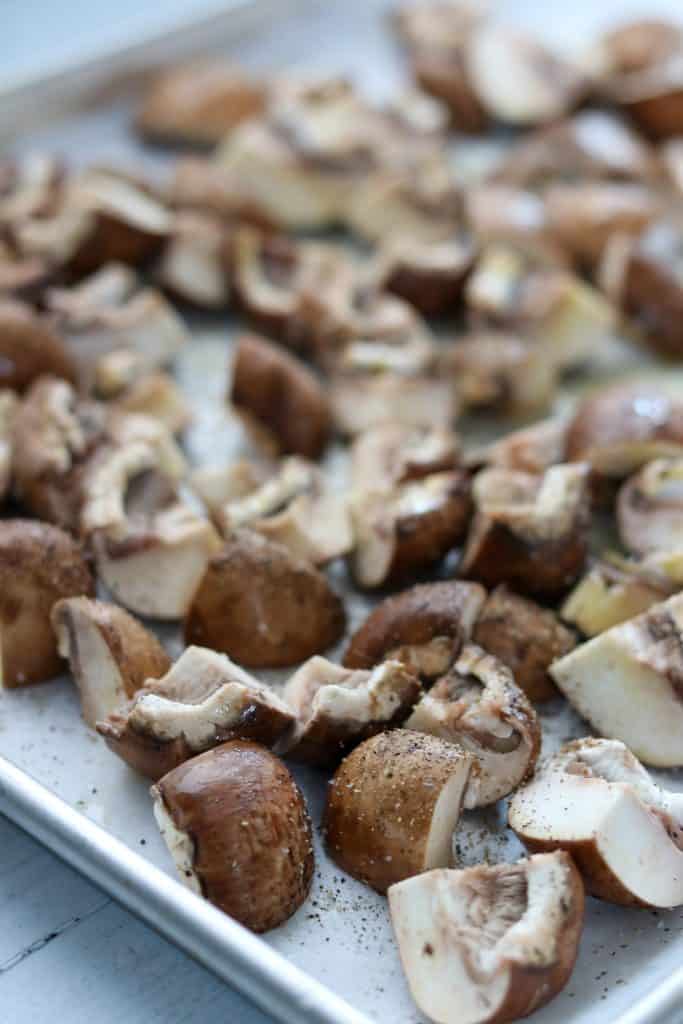 The idea for this recipe came after visiting the New Nordic Cuisine exhibit at the Museum of Danish America last weekend. One of the recipes showcased throughout the exhibit was a delicious looking barley risotto like this one; an excellent example of how a traditional Nordic ingredient can be transformed into something fresh and modern. I knew I had to give it a try.
As it turns out, pearl barley is a wonderful grain to use for making risotto. Because the outer hull and bran layers of the barley grain have been removed, it releases starch as it cooks, similar to Arborio rice, the traditional grain used for risotto. The result is an ultra-creamy, hearty dish you won't soon forget.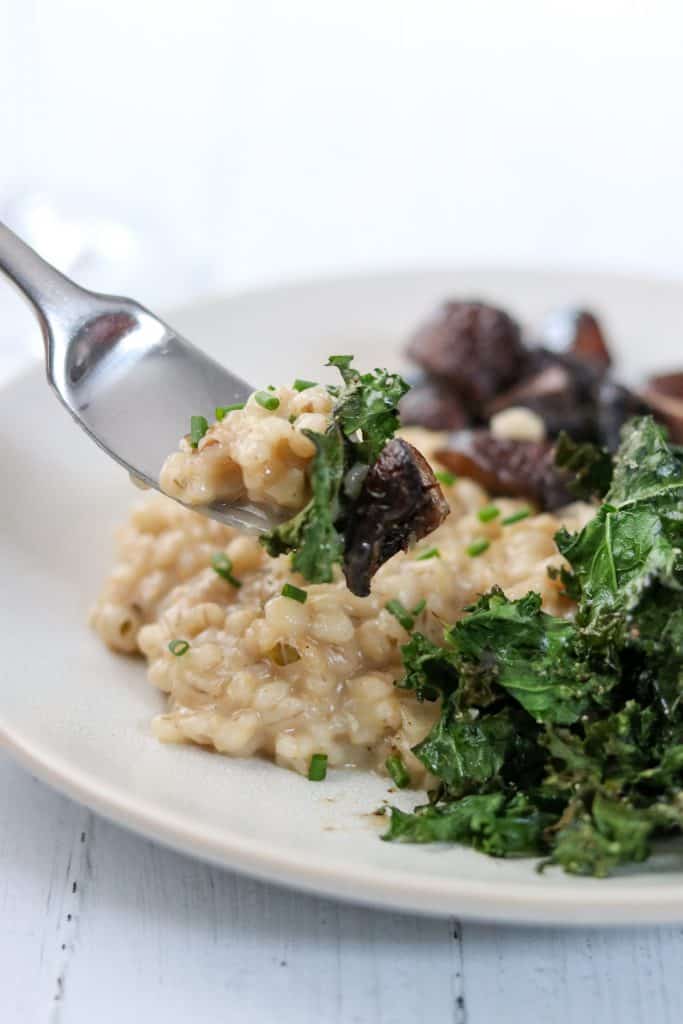 If you are new to making risotto, you should know that it is a bit of a process. Broth (or a mixture of broth and water) is heated in a separate pot and then gradually added to the grains as they cook and absorb the warm liquid. This process along with frequent stirring creates the creamy final result. There is nothing difficult in the technique, but it does require some attention on the part of the cook. I recommend that you have a glass of wine nearby and maybe someone pleasant to keep you company as you stir.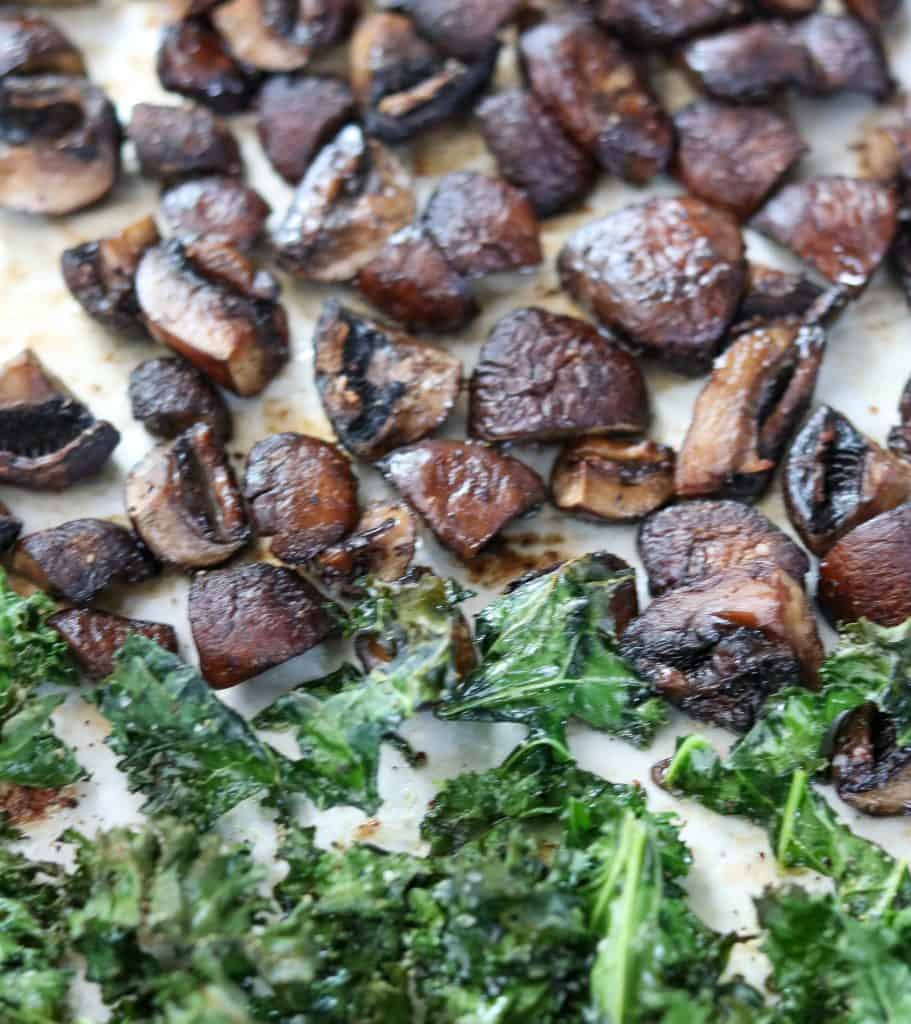 The vegetables practically cook themselves in the oven while you stir the risotto, which streamlines the process and keeps you from having another pan to attend to on the stove. And if you've never had roasted kale before, you're in for a treat....it's crispy texture and hearty flavor are sure to win you over.
One word of caution here.... you must use PEARL BARLEY for making risotto. Hulled barley or a quick barley will not work in this recipe. Hulled barley is a more whole version of the grain with only the outer hull removed. It takes significantly longer to cook than pearl barley which has both the outer husk and bran layers removed. Quick barley, on the other hand, is pre-steamed and takes only 10 or 15 minutes to cook (not long enough for this dish). Just make sure that you have pearl barley and all will be well.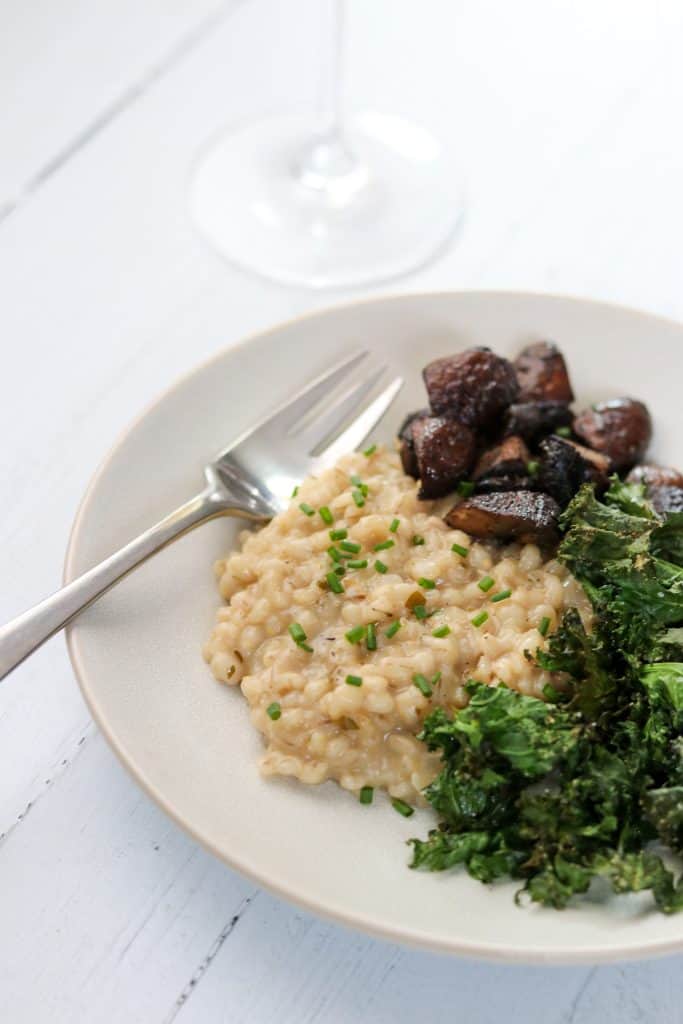 I hope you give this recipe a try to start the new year off right! It's the perfect way to head into January feeling a little lighter and yet still satisfied.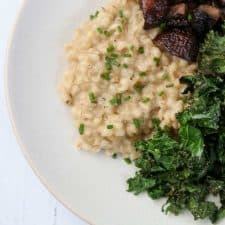 Creamy Barley Risotto with Roasted Mushrooms and Crispy Kale
A creamy risotto made with pearl barley instead of rice.  Topped with hearty roasted mushrooms and crispy, garlicky kale, this dish makes a delicious and comforting vegetarian winter supper.
Print
Pin
Rate
Ingredients
For the RIsotto:
4

cups

chicken or vegetable broth

2

cups

water

1

tablespoon

extra-virgin olive oil

1

onion

finely chopped

2

garlic cloves

minced

2

teaspoons

chopped fresh thyme

1

cup

pearl barley

½

cup

dry white wine

¾

cup

shredded parmesan cheese

1

tablespoon

unsalted buter

Chopped fresh parsley or chives for serving

Coarse salt and freshly ground pepper
For the Roasted Mushrooms and Crispy Kale:
2 10-

ounce

packages cremini mushrooms

cleaned and quartered

4

tablespoons

extra-virgin olive oil

divided

4

cups

chopped curly kale

stems removed

1

garlic clove

minced

Coarse salt and freshly ground pepper
Instructions
Preheat oven to 425 degrees.  Toss kale with 1 tablespoon of olive oil and garlic.  Massage the oil into the kale with your hands until it darkens in color.  Season with salt and pepper and set aside.

Toss mushrooms with remaining 3 tablespoons of olive oil on a sheet pan lined with parchment paper (for easy clean up).  Season with salt and pepper. Transfer pan to oven and roast mushrooms for 30 minutes, stirring halfway through.   

Meanwhile, Combine broth and water in a saucepan over medium high heat and bring to a simmer,  Reduce heat to low and keep warm.

Heat olive oil over medium heat in a large saucepan.  Add onion and saute until soft and translucent, about 3-5 minutes.  Add garlic and thyme and cook for one more minute. Add barley and cook for an additional 2-3 minutes.

Add wine, stirring constantly until liquid is fully absorbed.  Add two ladles of the broth/water mixture and reduce heat to medium low.  Continue cooking, stirring frequently, until liquid is fully absorbed. Continue adding the broth/water mixture, one ladleful at a time, stirring frequently and allowing the liquid to fully absorb into the barley mixture before adding more liquid to the pan.  Continue the process until the barley mixture is tender and creamy, about 45 minutes total.  You may not need to use all of the broth/water mixture.  Stir in butter and cheese. Season to taste with salt and pepper.

Once the mushrooms have roasted for 30 minutes, remove pan from the oven, push mushrooms to one side and add the kale to the pan.  Reduce oven temperature to 375 and roast vegetables for an additional 10 minutes or until kale is tender and beginning to look crisp around the edges.

Serve risotto topped with with the roasted mushrooms, kale and a sprinkling of fresh chives or parsley.
Nutrition
Calories:
534
kcal
|
Carbohydrates:
57
g
|
Protein:
17
g
|
Fat:
27
g
|
Saturated Fat:
8
g
|
Cholesterol:
20
mg
|
Sodium:
1285
mg
|
Potassium:
944
mg
|
Fiber:
9
g
|
Sugar:
5
g
|
Vitamin A:
7545
IU
|
Vitamin C:
87
mg
|
Calcium:
378
mg
|
Iron:
3
mg