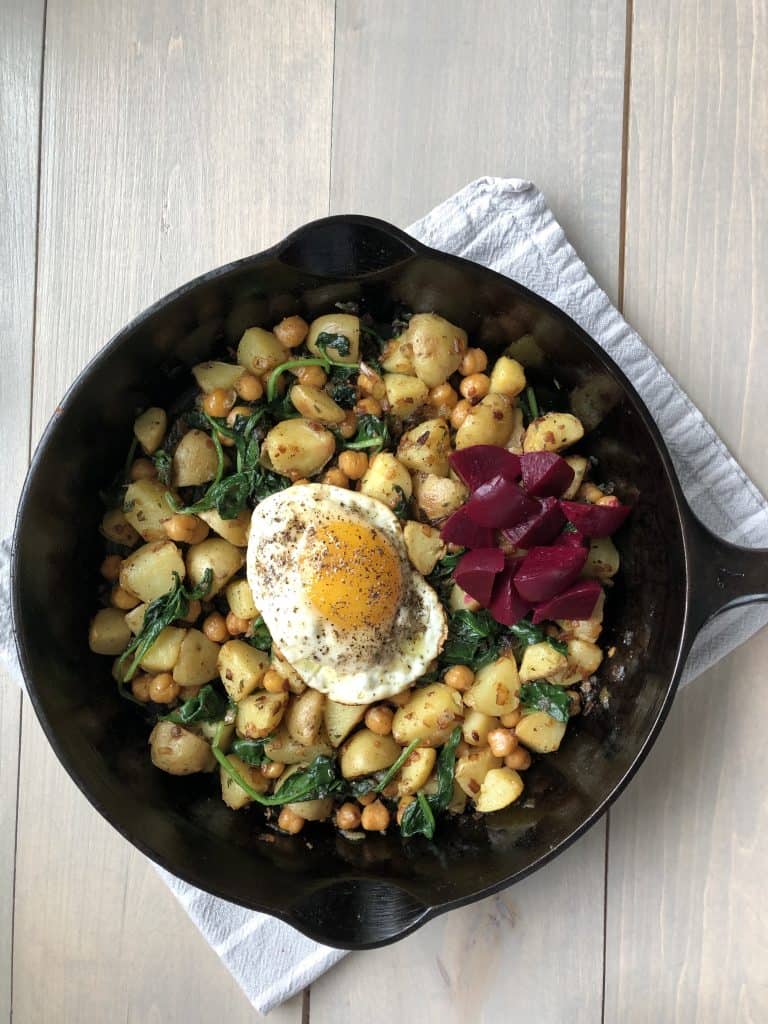 Now that you have a batch of Spicy Pickled Beets in the fridge, what to do with them (other than eat them straight from the jar)? Pytt i panna is a great place to start. Swedish for "pieces in a pan", pytt i panna is traditionally made with leftover meat and potatoes, very much like what we call hash here in America. At its heart, pytt i panna is a dish that honors resourcefulness and creativity, it's about using up the bits and pieces of whatever is languishing in the fridge and repurposing them into something delicious. This particular version is vegetarian, trading protein-rich chickpeas for the meat and including a little fresh spinach for brightness and green, earthy flavor. As far as I'm concerned, the fried egg and pickled beets are essential components of this dish. It would still be a tasty mix without them, but it is these ingredients that make this pytt i panna quintessentially Scandinavian.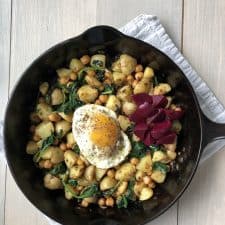 Ingredients
2

tablespoons

olive or canola oil

divided

1

onion

finely diced

2-3

garlic cloves

minced

1

teaspoon

chopped fresh thyme

2

tablespoons

unsalted butter

2

cups

leftover boiled new potatoes

cut into quarters

½

cup

cooked chickpeas

2

cups

packed baby spinach

Salt and freshly ground pepper

2

eggs

Spicy Pickled Beets

chopped, for serving
Instructions
1.  Heat 1 tablespoon oil in a medium-size skillet (preferably nonstick or well-seasoned cast iron) over medium heat.  Add onion and sauté until soft and beginning to brown, about 3 minutes.

2.  Add garlic and thyme and sauté until aromatic, about 1 minute.  Add butter.  Once it has melted, add potatoes.  Cook until warmed through and beginning to brown, 3-4 minutes.

3.  Add chickpeas and cook until warmed through, about 2 minutes.  Add spinach, in handfuls if necessary, and cook until wilted, another 2 minutes or so.  Season everything to taste with salt and pepper.  Set aside and keep warm.

4.  Meanwhile, heat 1 tablespoon of oil in a small to medium-size nonstick skillet over medium heat. Crack eggs into the pan, season with salt and pepper and reduce heat to medium-low.  Once the bottom of the eggs are set, carefully tip the pan and spoon some of the hot oil over the top of the eggs.  Reduce heat to low and cover the pan.  Cook until eggs are done to your liking, another 1 or 2 minutes if you like a runny yolk.

5.  Serve the pytt i panna topped with a fried egg and the pickled beets.
Nutrition
Calories:
506
kcal
|
Carbohydrates:
46
g
|
Protein:
14
g
|
Fat:
31
g
|
Saturated Fat:
10
g
|
Cholesterol:
194
mg
|
Sodium:
103
mg
|
Potassium:
1059
mg
|
Fiber:
8
g
|
Sugar:
6
g
|
Vitamin A:
3518
IU
|
Vitamin C:
47
mg
|
Calcium:
120
mg
|
Iron:
4
mg